By: Aaron Lai
March 15, 2019
In junior high school, we had to make a presentation about our hero. Being an avid hockey fan, I decided to pick my favorite player, Jarome Iginla. To me it was a pretty easy choice, but more so because he was the stats leader and captain of the Calgary Flames. However, if I were to look back, I never really considered who he was when he was not on the ice. Last weekend was pretty special for him as his number was retired by the Flames organization despite only retiring from playing in mid-2018. He still is a hero for me, not only because he was one of the best of the power forwards, but his ability to give back to his teammates, the fans, and the community. If you ask any of his teammates, they often talk about how genuine he is and how much he wants to talk to fans. They often joked about how he would be late because he wanted to talk with a kid or sign an autograph for a fan. His conduct of humility and grace off the ice was met with a competitive and fierce attitude on the ice, leaving a legacy of how players can conduct themselves whether they are in the arena or in the neighborhood. When we come to Noctua, I think it is fair to say they have an amazing reputation in the CPU cooling department. Whether in their heatsinks or their fans, Noctua have often shown their experience in this area. So when we got word they were updating their thermal paste from the already venerable NT-H1, we knew we had to try this out. How does the NT-H2 compare to the original, and is it capable of helping out at near the hottest parts of your computer? Let us read on to find out!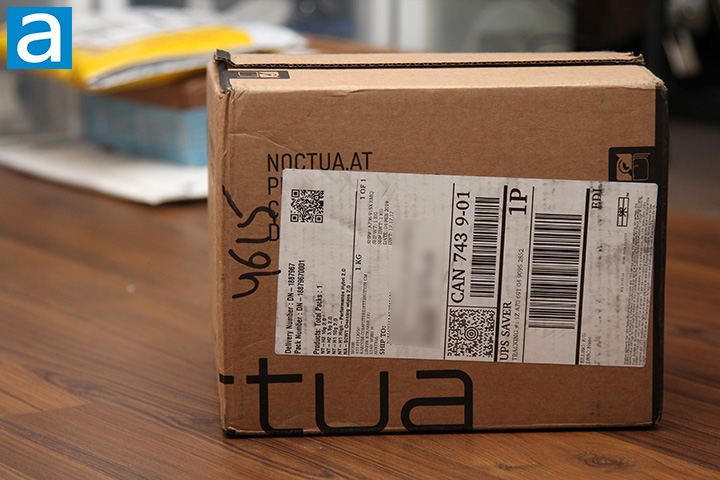 Our review samples arrived from Noctua's offices in Vienna, Austria. Traveling with UPS Saver and their speedy service, this box arrived in excellent condition. I love it when companies send their products in their own marked cardboard shipping containers, and Noctua has done so. The printing marks of the Noctua owl logo on all of the panels, I just think it shows that much more effort in these companies, even though this may just be something only reviewers get the privilege of seeing. This box arrived to our APH Networks location in Calgary, Alberta. Otherwise, all of the samples are inside and are protected by some plastic air pockets.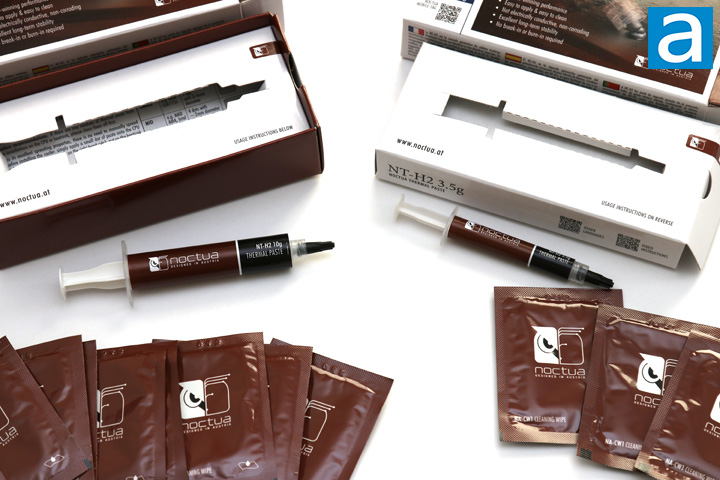 As we have two products, the first one I pulled out was the Noctua NT-H2 thermal grease. As you can see, Noctua has sent us both sizes, as they have a 10g and 3.5g size available. While this may not necessary sound like a lot, I would be surprised if you actually use all of the 3.5g of the tube over several years unless you swap your coolers every day. Both of these tubes are packed in a small box that bear resemblance to their CPU heatsink boxes. In addition to the tubes, you actually get some of their cleaning wipes. The larger tube comes with ten of these sheets while the smaller one comes with three. Otherwise, Noctua has included some instructions for how to apply the thermal paste depending on the type of processor you are using. Of course, you can also apply thermal grease to other components like the GPU, but their main intention is for use on the outside of your processor.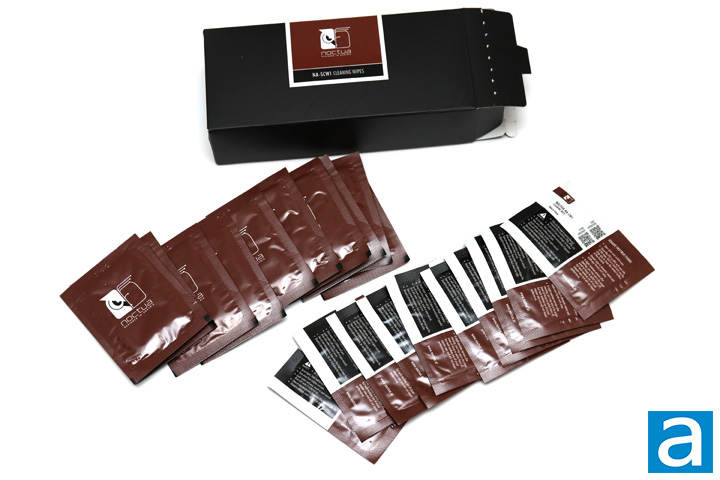 If you only want the cleaning wipes, Noctua also sells the NA-SCW1, which is a box of twenty wipes. I presume the name of the box of these wipes is the NA-SCW1 for a "set of cleaning wipes" or something to this effect, as each individual package is labeled as NA-CW1. Thus, when I refer to a single wipe, I will be referring to each individual wipe as an NA-CW1. These wipes are intended to be used for cleaning old thermal paste off any area, such as on your processor or your heatsink. These are each sealed in a brown Noctua marked packages meant for a single time use. Otherwise, twenty is quite a lot of wipes, as these can be used to clean off both the CPU and the installed heatsink each time, as we will see later on.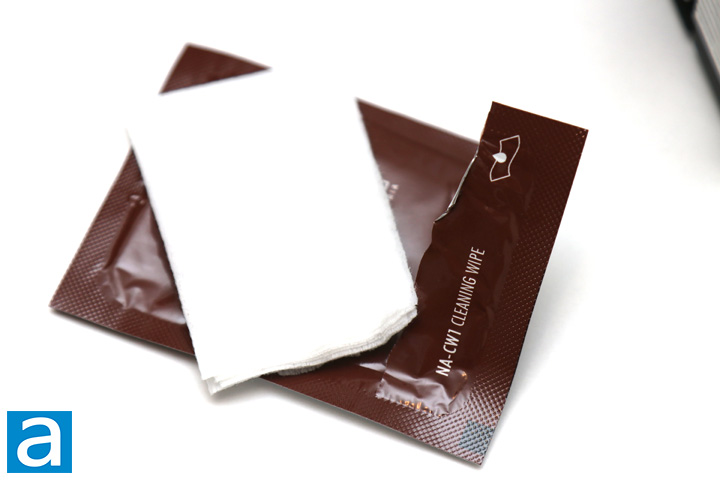 Out of each pouch, you will get a single wipe that is folded down to fit this pouch and also maintain its wetness. Unfolded, the wipe measures 15cm by 12cm, which should provide enough surface area to wipe down even the largest of processors. It comes quite wet out of the pouch, which is a good thing. I could not really get the actual contents of what is infused into the wipe, but I can presume it is some sort of alcohol-based wipe. Be sure to take care when using these wipes as well as during disposal, as they do not flush down the toilet. Despite it being a paper soaked in a liquid, it is actually quite durable and does not break down.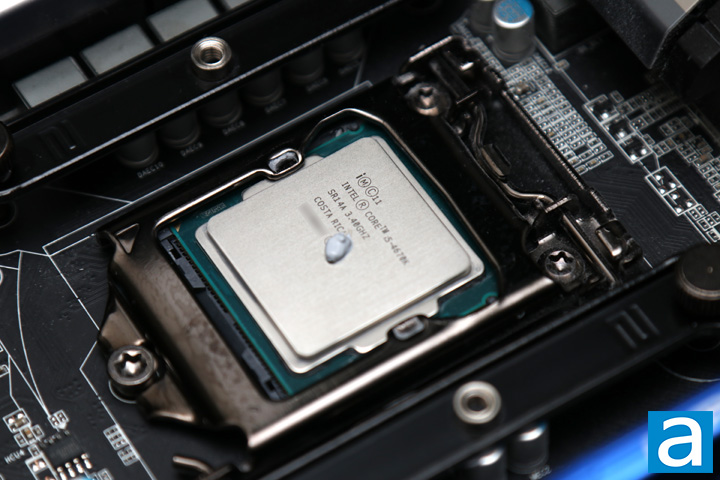 You may be wondering what has changed from the original NT-H1 to the current NT-H2. We reviewed the NT-H1 in our Thermal Paste Roundup in August 2008. According to Noctua, the NT-H2 has been further improved to keep the same longevity and ease of use from the original and refined for better thermal performance. From the box, Noctua has actually increased the density of the NT-H2, from 2.49g/cm3 to 2.81g/cm3. From a visual comparison, the Noctua NT-H2 looks like a lighter colored thermal paste, as the original NT-H1 was a darker grey compared to what we see above. Marketed as enthusiast-grade thermal paste, we will see what the thermal results are when we get to the tests.
According to Noctua, they recommend using only a single 3 to 4mm diameter drop in the middle for smaller Intel LGA115x processors, as I have done above. Other processors like AMD's Zen or Threadripper are larger and thus Noctua recommends a different pattern for application. The whole application process is pretty straightforward as you push this out of the tube without needing to spread out the paste. Noctua has said this thermal grease should spread by itself across the top and also does not need any settling time to spread into place. Otherwise, Noctua also recommends reapplying the thermal paste at least once every five years.
-----------------------------------------
The Tests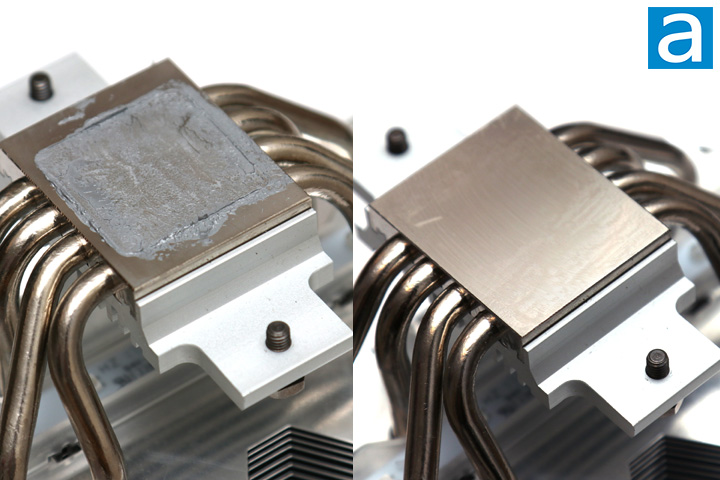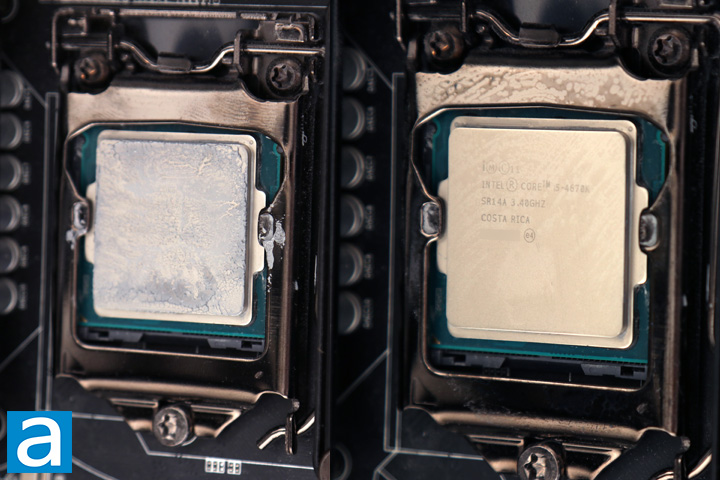 As I had multiple thermal pastes to test, I used the cleaning wipes between each application. Noctua recommends using a single sheet for cleaning off both the heatsink and the processor, so this is what I did. I first took the sheet, folded it up for a smaller size, and wiped down the heatsink. I then flipped the wiped off gunk inside and wiped down my CPU with the clean side of the wipe. As you can see, above are the before and after shots of both my heatsink and my processor. Looking at the after shots on both, you can see that the wipe absolutely does its job in cleaning off the remaining thermal grease. I wiped down both surfaces two times before it was this clean. You may notice the wipes have left a few hazy marks on both of the cleaned surfaces. Noctua says you can then clean off this residue with a paper towel or tissue, but it is only a visual thing and should not affect performance. Noctua does write that alternatives like isopropanol or rubbing alcohol with paper towels should do a similar job in removing the thermal paste, but I think these wipes make for a simpler cleaning solution.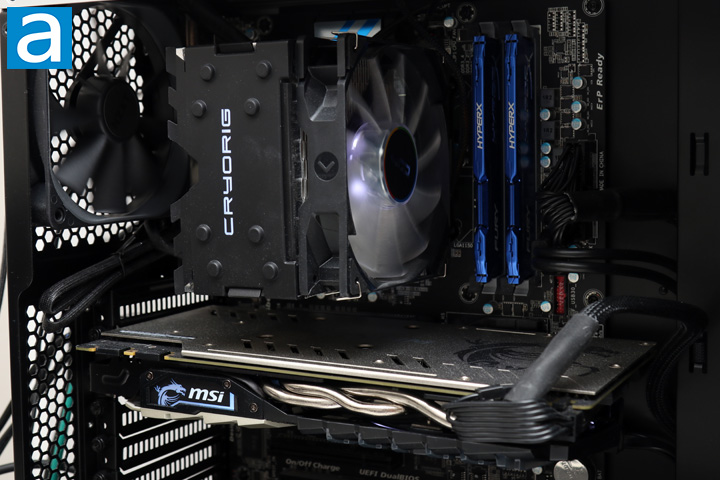 Our test configuration is as follows:
CPU: Intel Core i5-4670K (OC to 3.8GHz)
CPU Cooler: CRYORIG H7 Quad Lumi
Motherboard: Gigabyte Z87X-D3H
RAM: Kingston HyperX Fury DDR3 2x8GB
Graphics: MSI GeForce GTX 1070 Ti Titanium 8G
Chassis: MetallicGear Neo
Power: Seasonic FOCUS Plus 850 Gold 850W
Storage: OCZ ARC 100 240GB, Western Digital Blue EZEX 1TB
Operating System: Microsoft Windows 10 Professional x64
Compared thermal grease:
- Noctua NT-H2
- CRYORIG CP7
- Noctua NT-H1
As for the thermal paste, we ran all tests in our custom built computer to best reflect real life performance. The computer remained in the same place and room for all tests with an ambient temperature of approximately 20c. The tested thermal paste were applied to the CPU with sufficient time between testing for the paste to settle. The test computer was turned on and idling for at least one hour for the idling tests. High CPU load results were obtained using the Prime95 in place large FFTs test with four worker threads for a minimum of fifteen minutes and recorded when the temperature was deemed stable. The temperature results for each cooler was measured with AIDA64, which reports the CPU's integrated digital thermal sensor for maximum accuracy. Each temperature result was calculated by taking the maximum value of the cores inside the CPU.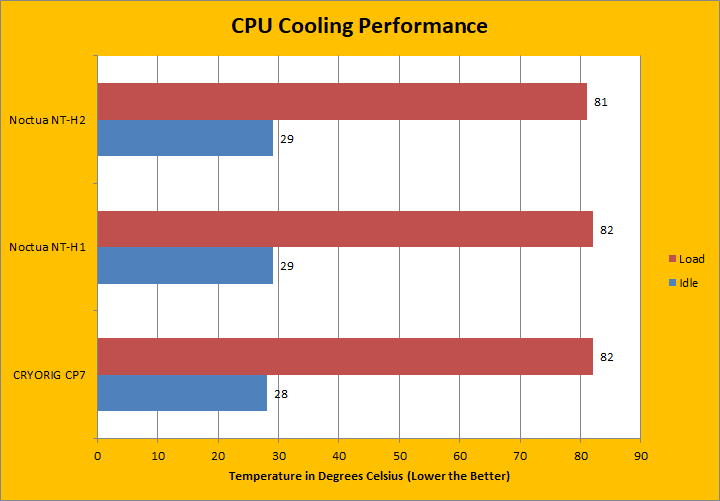 I decided to overclock my processor before all of these tests to hopefully get more varying temperatures. I ended up at a stable overclock of 3.8GHz, which represents a small 12% overclock. The thermal results above may not be the most exciting of results, especially as we are looking at deltas of about one degree between the three tested results. Interestingly enough, the CRYORIG CP7 actually had the lowest idle temperature at 28c, while the two Noctua thermal greases were tied at 29c. However, in our load tests, the Noctua NT-H2 was able to squeak out a narrow victory at 81c compared to the 82c peak temperature reached with the CRYORIG CP7 and Noctua NT-H1. Even though this one degree difference is not a huge deal, I think it just goes to show that all three of these compared products are competitive thermal pastes. As it was in our 2008 Thermal Paste Roundup, you are not likely to see big differences.
-----------------------------------------
With Jarome Iginla's number now hanging in the rafters at the Saddledome, it is a bit sad to look back on a person with such a decorated career in both statistics and awards and not to have him now on our team. However, we now have several capable goal scorers and the team is on a better trajectory than it was back then. Similarly, Noctua's NT-H1 is now succeeded by the NT-H2. However, we can see Noctua has built upon the legacy the original paste has left. Noctua offers a paste that is both effective in cooling and easy to apply. Noctua provides clear instructions for using their thermal paste with various CPUs and their sizes, which is quite helpful. When it comes to performance, we do see the NT-H2 pull out a victory, albeit a small one, with it keeping one degree cooler than the rest of the competition. As for the cleaning wipes, the Noctua NA-SCW1 is a wipe that is easy to clean with and sufficient in doing what you expect. Its large size means users can fold this sheet around to clean off all of the necessary hardware with a single sheet. Obviously, it is more of a convenience product, but it does still work really well and simplifies the cleaning process. My only small complaint would be the fact it leaves a visual residue, but this can easily be wiped off with any dry tissue and will not affect the thermal performance. At press time, the retail price for the NT-H2 is $13 USD for 3.5g and $25 USD for 10g. Compared to the NT-H1, these are a bit more expensive. The Noctua NA-SCW1 can be had for $8 USD, which is actually not too bad for a simple cleaning solution. All in all, I think these cooling accessories continue the legacy of Noctua's prowess in their cooling solutions.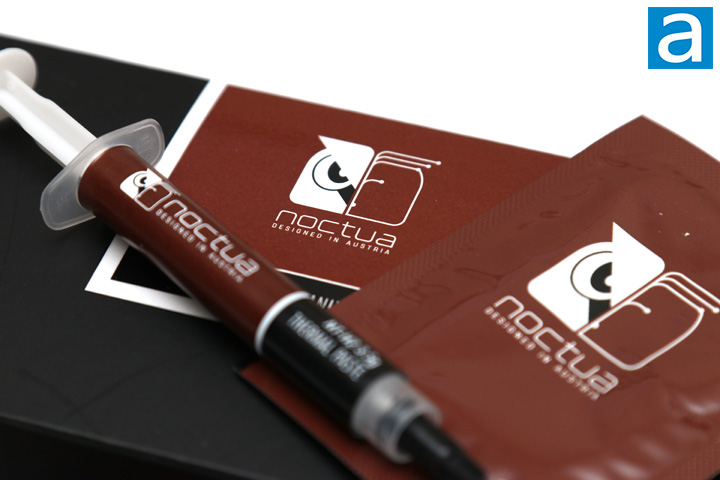 Noctua provided this product to APH Networks for the purpose of evaluation.
Noctua NT-H2



APH:Recommended Award | APH Review Focus Summary:
8/10 means Definitely a very good product with drawbacks that are not likely going to matter to the end user.
-- Final APH Numeric Rating is 8.0/10
Please note that the APH Numeric Rating system is based off our proprietary guidelines in the Review Focus, and should not be compared to other sites.
Noctua NA-SCW1
APH Review Focus Summary:
8/10 means Definitely a very good product with drawbacks that are not likely going to matter to the end user.
7/10 means Great product with many advantages and certain insignificant drawbacks; but should be considered before purchasing.
-- Final APH Numeric Rating is 7.8/10
Please note that the APH Numeric Rating system is based off our proprietary guidelines in the Review Focus, and should not be compared to other sites.
The Noctua NT-H2 and NA-SCW1 are effective solutions in keeping the CPU cool and clean, respectively.
Do you have any comments or questions about the Noctua NT-H2 and NA-SCW1? Drop by our Forums. Registration is free, and it only takes a minute!