By: Aaron Lai
December 14, 2018
Despite being in Canada, I did my own share of Black Friday shopping, though most of it was online. Interestingly enough, I did also go to a mall, but it was to buy something from a person through Kijiji. Anyway, because Canada Post's workers were going through strikes, most online shops were forced to find an alternative means to transport its goods. Unfortunately for me, a lot of my products ended up being delayed. The timing of the whole debacle was also pretty frustrating as it collided with the start of the Christmas shopping season, though I think this was intentional. On the other hand, I found it intriguing that almost all of the retail shops I shopped at acknowledged the delays and had their own backup plan rather than expecting anything else to change. Most of them shipped with UPS or Intelcom Express for Amazon purchases. Thankfully, everything did come by the time of this review, so I guess the alternatives were effective enough. Today's product comes from a less familiar face, which is MetallicGear. However, if you remember Computex from earlier this year, you would know this was launched then by Phanteks. To me this new brand is meant to be an alternative, especially since this brand and its lineup is targeting a different market and style. We have praised Phanteks in the past for producing some really good creations, so it is interesting to see what this Dutch company can do with the new MetallicGear. Is this case a worthy option or does it let me down like Canada Post? Let us see as we head into our review!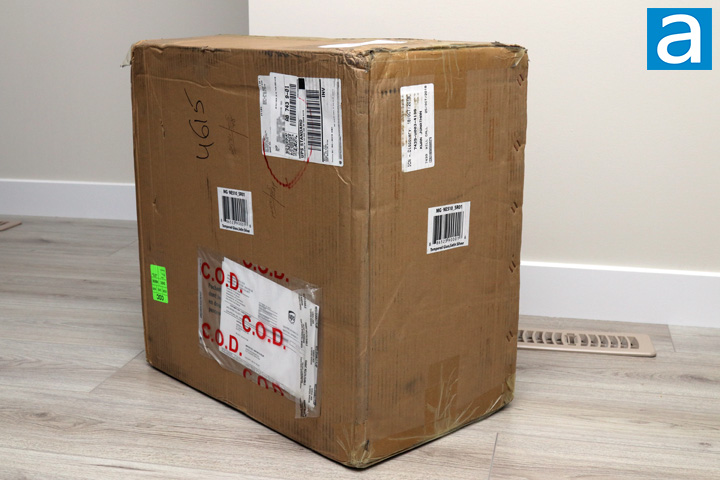 Today's review unit of the MetallicGear Neo arrived in relatively average condition. Just like my personal purchases, this case came to us by UPS and their standard Ground service. The brown corrugated cardboard box arrived with several dents and bruises around the edges and corners. There are a few holes on the side panels too, which are a bit concerning. This came from Walnut, California, which is the home of MetallicGear and its parent company, Phanteks. Otherwise, there is not much else to see here, so I grabbed a pair of scissors to open up the box.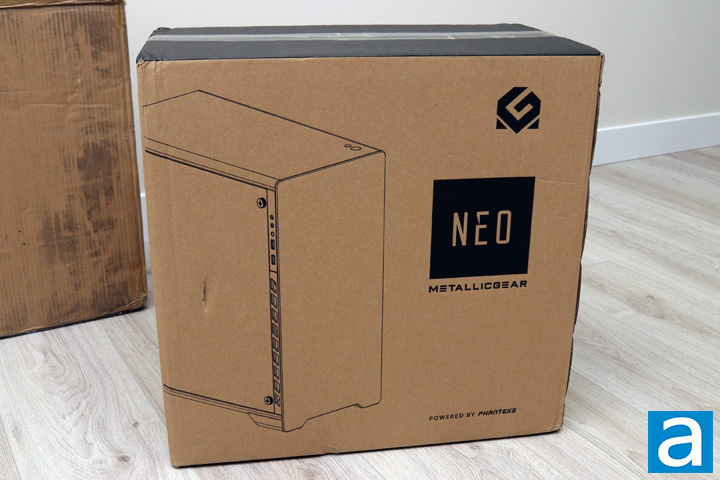 Unfortunately, it does look like some of the bruises and one hole made it through the shipping box and to the retail container of the MetallicGear Neo. As you can see, the box itself is pretty minimal. This panel shows off an outline of the Neo with the product name and manufacturer's name and logo on this area. At the bottom you can see a "Powered by Phanteks" tag to show where this product hails from. We have not seen a Phanteks case for a while, but both my colleague Jonathan Kwan and I have had first-hand experience with their cases. The whole Neo lineup seems to be a target at a minimal design and high quality materials used while keeping the price low. I presume all their products will have metal or metal-like materials used, at least based on the brand. We will see what that translates to when we take a closer look at the Neo later on.
Before we move on, I have grabbed the specifications from the manufacturer for your perusal:
Case Specifications
Dimension (WxHxD): 210 mm x 450 mm x 400 mm, 8.3 in x 17.7 in x 15.7 in
Form Factor: Mid-tower
Materials: Sandblasted Aluminum, Steel Chassis, Tempered Glass
MB Support: ATX, Micro-ATX, Mini ITX
Front I/O: 2x USB 3.0, Mic, Headphone, Reset Button, RGB LED SW
Side Window: Yes, Dual Tempered Glass
PCI Slots & Drive Bays
PCI slots: 7x
Internal 3.5": 2x (2 included)
Internal 2.5": 2x (2 included)
Fan
Front: 2x 120mm (2 included), 2x 140mm
Rear: 1x 120mm
Radiator
Front: Up to 240, 280
Rear: 120
Included Accessories
120 mm Fan: 2x
2.5" SSD Bracket: 2x
Clearance
CPU Cooler: 170 mm (6.7 in)
Cable Management: 36 mm (1.4 in)
Graphics Card: 360 mm (12.6 in)
Power Supply (incl. cables): 195 mm (8.5 in)
Packaging
Net Weight: 8 kg (17.6 lbs)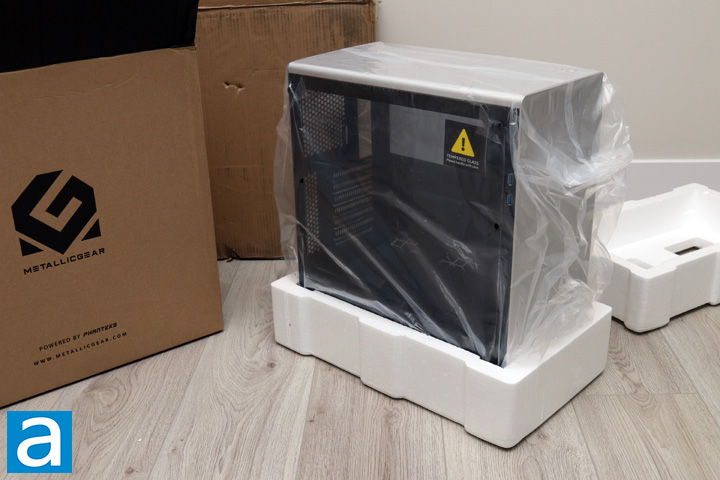 Out the box, there are no real surprises to be found here. The MetallicGear Neo can be found in a large clear plastic bag to prevent any scratches or surface marks in shipping. Both glass panels are also wrapped with plastic wraps to prevent any further damage to the glass. Overall, the whole case is fitted in between two white foam brackets to prevent any more structural damage to the case. Thankfully, nothing was damaged during shipping. As well, I am happy to see that MetallicGear placed their "Tempered Glass" caution sticker on top of the plastic adhesive for easy removal. It is these small details that make me happy with case manufacturers, and hopefully we will see more of this as we continue on.
---
Page Index
1. Introduction, Packaging, Specifications
2.
Physical Look - Outside
3.
Physical Look - Inside
4.
Installation and Conclusion