By: Aaron Lai
April 26, 2019
There were not too many times in my life where I have been surprised. The last I remember was when I was in high school and we blew up a few capacitors when we connected it incorrectly. As we continue the hot potato saga, after finding the castle plush in her room, my friend Esther was less than impressed. For one, she had no idea who actually had access to her room to leave the pink and purple castle. In addition, she told me when her friends found it, they screamed and knocked into each other's heads out of bewilderment. By this time, it was the last day of the camp so I was a lot more conscientious. The day was uneventful and we started packing our luggage into the cars to head back into town. I had driven a bunch of younger girls to camp, so it only made sense I drove the same people back home. When we got back to church, I unloaded the luggage, and there at the bottom of my trunk was the plush castle. My first response was one of astonishment as my mind raced through all the times Esther had access to my car. I kept thinking until I whipped my head to the people I drove. "Who did this?!" I exclaimed. Luckily, the one girl could not hold back her laughter and exclaimed, "It was me!" as she pranced around. It looked like she had bamboozled me. As for what we review, it is not often we are surprised when we get certain products. On the other hand, what can be surprising is when we receive certain types of products from certain manufacturers. For example, Fractal Design has always been about traditional Scandinavian looks, which means simple and clean. Today, we have their first RGB fans, a foray into what some might see as a shift from their design ideology. How do the Prisma AL-12 fans look like and can they perform as their purpose intends? Let us read on to find out!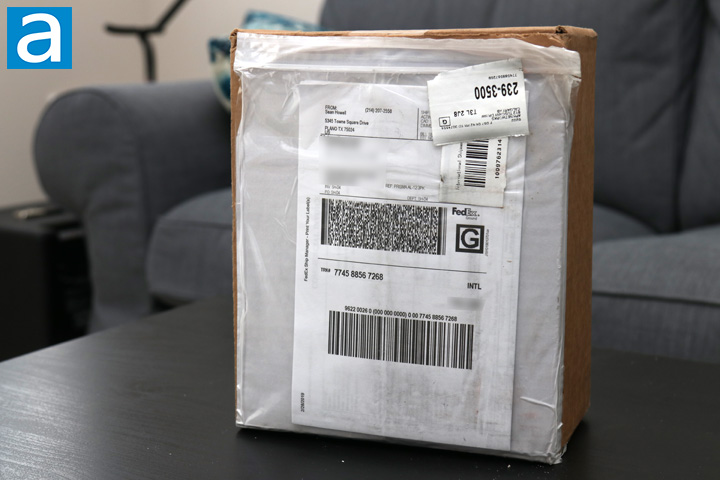 Today's review unit of the Fractal Design Prisma AL-12 arrived from Fractal Design's offices in Texas, USA. Traveling via FedEx Ground, the box arrived in excellent condition without any real issues. It should be noted because of a lack of RGB headers on any of my computers, Fractal Design also sent over their Adjust R1 RGB controller, which we will also be looking at in this review. This too arrived from Texas with no real concerns, albeit in a separate white plastic envelope. Otherwise, I grabbed a pair of my scissors and cut the two packages open.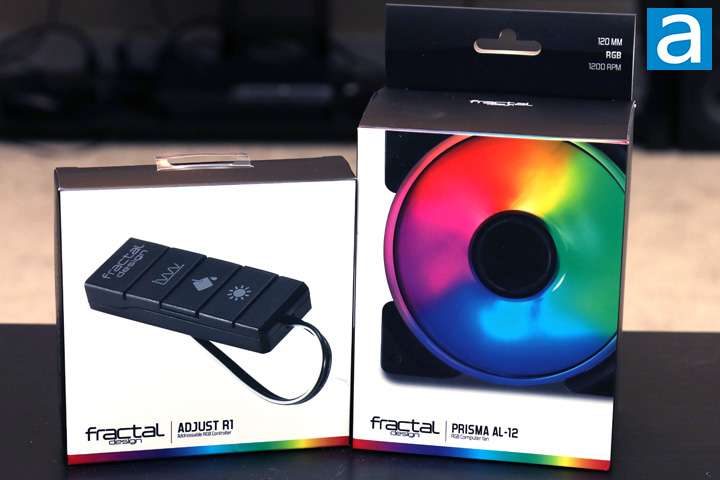 As you can see, both the Fractal Design Prisma AL-12 and Adjust R1 embrace the rainbow LEDs with its retail packaging. Both of them have a white background with a black overlay. The company and product name can be found on the lower edge with a nice rainbow trim underneath. In the middle of both boxes, you will find the product in question, with the addressable RGB controller and the Prisma AL-12 fans all lit up. Otherwise, at the back of both boxes are some features and specifications about the products inside. The Prisma AL-12 also has a flip open front panel so you can get a look at the fans inside.
Before we continue on, I have grabbed the specifications from the manufacturer's website for your viewing pleasure:
Prisma AL-12 Specifications
Size: 120 x 120 x 25 mm
Blade color: Semi-opaque white
Frame color: Black
LED type: Addressable RGB
Screw hole pattern: 105 x 105 mm
Power connector: 3-pin
Bearing: LLS
Number of blades: 7
Rotational speed: 1200 RPM
Noise level: 19.5 dB(A)
Airflow (CFM): 50.63 CFM
Airflow (m3/h): 86.02 m3/h
Static pressure: 1.27 mmH2O
Fan input power: 1.2W
Fan max input current: 0.10A
Fan input voltage: 12V
Fan starting voltage: 7V
LED input power: 1.50W
LED max input current: 0.30A
LED input voltage: 5V
MTBF: 100,000 hrs
Fan weight: 167 g
Package weight: 210g
Package weight 3-pack: 590g
Cable length: 500 mm
Cable type: Black sleeved
Adjust R1 Specifications
Compatibility: 5V Addressable RGB devices with standard 3-pin connector
Color modes:
- Preset color: Set all LEDs to red, green, blue, orange, cyan, yellow, purple, or white
- Color cycle: All LEDs change color in unison
- Custom color: Freeze color cycle mode on the exact color of your choice
- Long rainbow: Colors animate in a long sequence
- Short rainbow: Colors animate in a quick succession
Brightness settings: 5 levels
Pulse and motion effects:
- On (constant brightness)
- Slow breathing effect
- Fast breathing effect
- Slow single pulse sequence
- Fast single pulse sequence
- Slow marquee chasing effect
- Fast marquee chasing effect
- Off (LEDs disabled)
Maximum load: 2.6A
Unit dimensions (LxWxH), Excluding cable: 45 x 17 x 8 mm
Net weight: 14 g
Out of the Fractal Design Prisma AL-12 box, you will get the three fans all stacked inside with all cables attached to the fans. Three separate bags of screws are also provided so you can mount the fans in your computer case. In between each fan, we have small squares of cardboard to protect the fan blades from each other. Just to note, Fractal Design sent us the three pack version of their 120mm voltage-controlled fans, but the Prisma series of fans include both 120mm and 140mm variants, in three- and four-pin connections for voltage and PWM control, respectively. All of these variants are available in single and triple packs. Otherwise, there is not much else to talk about, so let us take a closer look at the fans themselves.
---
Page Index
1. Introduction, Packaging, Specifications
2.
A Closer Look - Hardware
3.
Performance Tests
4.
Conclusion