By: Aaron Lai
December 6, 2019
If there is one thing I really enjoyed about New York, it was the amount of good food we had. Whenever I travel with my friend, he is much more interested in the food places than I am, especially as I actually do not snack around too much. As such, while I looked for all the attractions to visit, he was in charge of finding food places nearby. We ended up trying a whole lot of different things from various places. Obviously, we had typical New York items like pizza, cheesecake, and bagels. Along the way, we also found random places that looked good, so we decided to go try it out. One of my favorite food places was near Central Park called Levain Bakery. While they are apparently well known for their cookies, I loved their Cinnamon Butter Brioche. I am not too sure why I liked it so much, but it was also possible it was just my sweet tooth calling. However, I think it also stood out because it was fresh and packed with so much flavor. On a similar note, my friend's favorite place was Los Tacos, which served many tacos. We both loved these tacos, especially since they had so many different but complementing flavors packed in each bite, making them delicious. When Corsair sent us their iCUE QL120 RGB fans, it started to look like another RGB fan. However, upon closer inspections, I realized they were packed with an astonishing number of LEDs. This prompted me to ask what this would look like while rousing similar curiosities about its performance. What does it look like in real life and can its performance keep up with its looks? Let us read on to find out!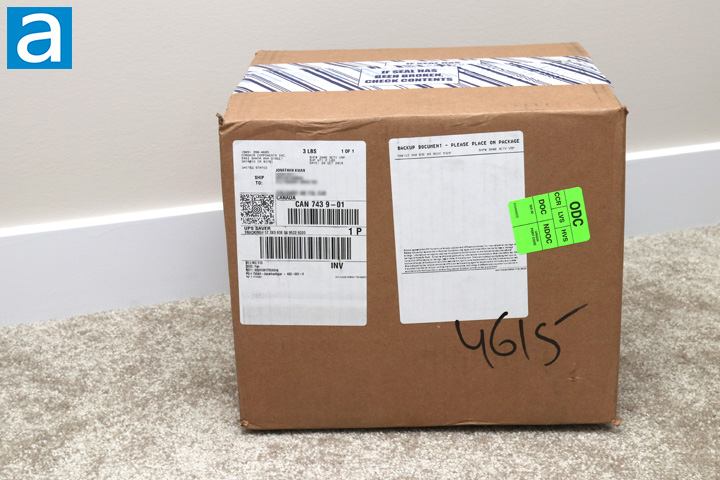 Today's review unit of the Corsair iCUE QL120 RGB arrived via our friends at UPS and their Saver service. Traveling from Corsair's American offices in Ontario, California, this box traveled quite a way to get to our APH Networks offices here in Calgary, Alberta. This box arrived in excellent condition with no real dents or bruises to be concerned about. In addition, Corsair has packed quite a few packing bubbles internally to keep the contents safe despite bumps and drops that occur during shipping.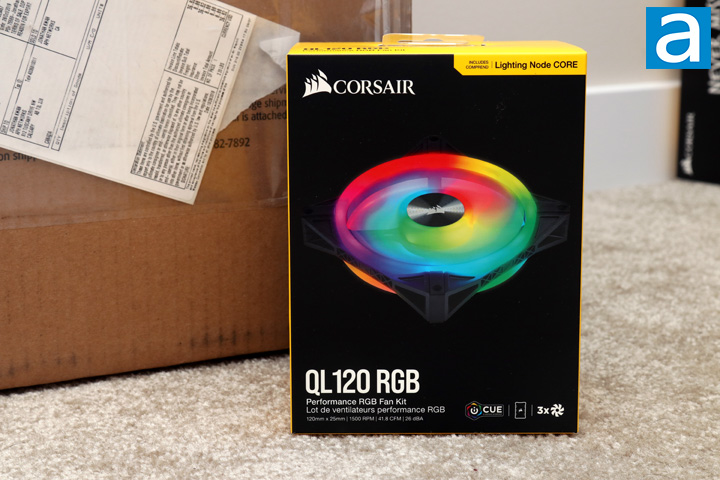 Similar to the most recent Corsair products we have looked at, the iCUE QL120 RGB comes in a black and yellow product packaging, which have been synonymous with Corsair colors for a long while. At the top, we have Corsair's logo with their sails design, while the bottom has the product name of "QL120 RGB" and a description of "Performance RGB Fan Kit". You may wonder where the iCUE branding is, and it actually is not in the name but on the bottom. In the middle, we have an image of the fan all lit up with rainbow lighting. Otherwise, we also have a label at the top saying this comes with a Lighting Node CORE controller. We will see what all of these things mean as we continue on.
Before we move forward, I have grabbed the specifications from the manufacturer for your perusal:
Fan Warranty: Two years
Fan Size: 120mm x 25mm
Bearing Type: Hydraulic
Flow Type: Static Pressure
LED Color: RGB
Operating Voltage: 6V - 13.2V
PWM Control: YES
CORSAIR iCUE Compatibility: YES
Fan Model: QL Series
Weight: 0.514 kg
Package Quantity: 3
Speed: 1500 ±10% RPM
Sound Level: 26 dBA
Power Draw: 0.30 A
Static Pressure: 1.55 mm-H2O
Adaptive Sync: RGB
Fan Airflow: 41.8 CFM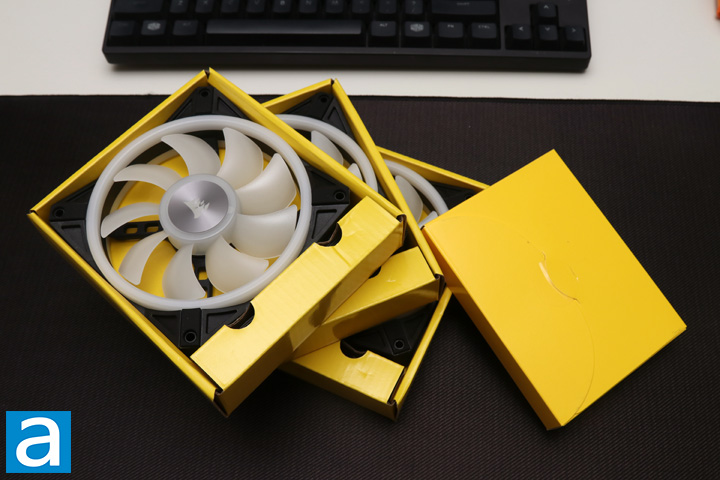 Our pack of the Corsair iCUE QL120 RGB arrived as a kit with three fans and a lighting controller included. As such, you can see the three fans packed away in a yellow box. A fourth yellow box holds the Lighting Node CORE controller and its necessary cables, some screws for fan mounting, and some documentation about the fans. This includes both a quick setup guide and some warranty information. Speaking of which, Corsair covers their iCUE products for two years.
---
Page Index
1. Introduction, Packaging, Specifications
2.
A Closer Look - Hardware
3.
Performance Tests
4.
Conclusion