Page 2 - A Closer Look - Hardware
Traditionally, fans are not the showpiece of the computer, but the Corsair iCUE QL120 RGB is not a traditional fan. This fan instead is meant to catch the attention of viewers. The plastic frame is black in color, while the impeller and the surrounding ring is translucent white. All these translucent parts help with dispersing light out, as we will see later on. The center of the impeller is covered with a chrome-like center with the Corsair sails logo inside, providing a bit of shine in the middle. On the edges, you can also see there are black pads at each mounting hole. These act as dampeners for the fan, reducing vibration noises the fan may make when mounted onto something else. Overall, we can begin seeing what Corsair focused on when designing these fans.
Internally, the fan utilizes hydraulic bearings. These bearings are similar to sleeve bearings in the sense they have a lubricant inside the bearing to keep operation smooth and friction at a minimum. However, they have been modified to operate at a lower noise and a longer lifespan compared to traditional sleeve bearings. Unfortunately, we were unable to find a fan lifespan specification from Corsair. We will see what the noise output is like when we test these fans later.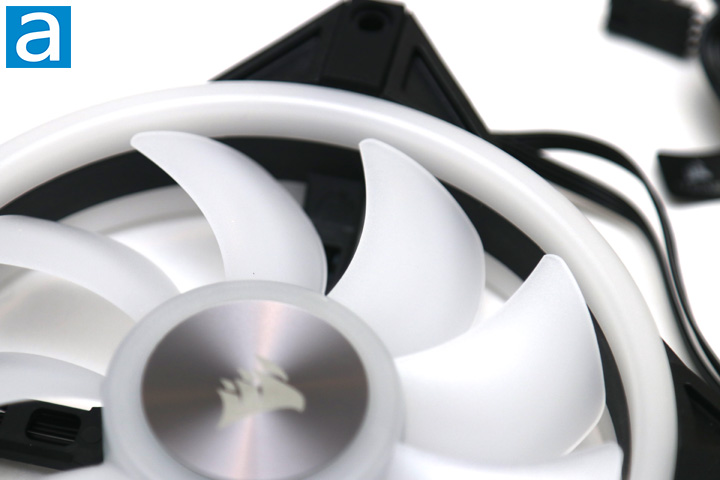 Taking a better look at the fan blade, you can see some notable features here. The fins are a bit narrower than some other fan blades with a more angled slope near the tip. There is a gap in between each fin with no overlap, but this gap is not the biggest. The angle each blade sits in comparison to the rotating middle is close to 45 degrees. The overall blade is shaped a bit like a sickle, though the curvature is not as extreme as some other fans. There is a total of nine blades on the impeller. Otherwise, each blade is pretty smooth.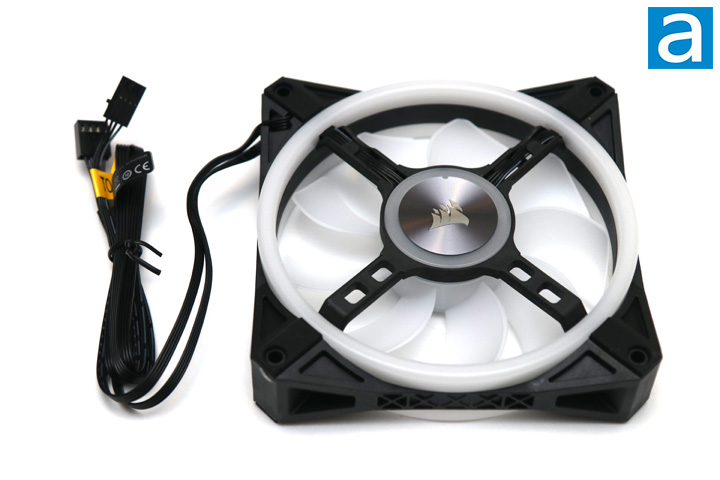 On the output side, four arms hold the fan and obstruct air from passing through, which means we should have a near maximum amount of air flowing through the passage. On the other hand, you should be careful that your fingers do not get in the way of a moving impeller, especially with the lack of any grille here. The two cables on the Corsair iCUE QL120 RGB are attached to each fan for two different jobs. The first one is a 4-pin PWM controlled header. The other cable is used to control the RGB LEDs that are in the fan. I will look into this cable a bit later. They both measure approximately 600mm in length. This should have enough length to maneuver around most cases. The cables are quite flexible but they are not braided. I personally would have liked to see some sort of sleeve over these cables, especially as it increases its durability.
On the topics of sound, airflow, and static pressure, the following lesson on these issues have been borrowed from my colleague Jonathan Kwan's review of the Noctua NF-F12 PWM and NF-P12 PWM fans.
Noise and CFM relates to the big challenge when designing fans is to provide the best airflow to noise ratio. One would want the best amount of airflow while keeping it as quiet as possible. Even with the best ratio, it is quite difficult to measure objectively at all times. The most common unit of objective measurement is CFM (Cubic feet per minute) of air for airflow, and dB noise, respectively. We will go over how application and CFM is related with regards to its standard measurements, but let us discuss perceived noise first.
dB (Decibels) is a logarithmic unit of sound intensity. While it provides what appears to be an objective measurement for the most part, it should be noted that perceived noise levels to the human ear and actual sound intensity could result in very different things. Human ears are more sensitive to particular frequencies, and when those particular frequencies are emitted from its source, it may appear louder than its numbers suggest. That same can be said vice-versa -- frequencies that human ears are less sensitive to can actually have louder dB measurements from a sound meter, yet the human ears do not perceive it to be as loud as the numbers suggest. Other factors such as turbulence noise are often not measured correctly, therefore, while it usually provides a good reference, it does not necessarily reflect real life performance all the time.
With regards to the application and CFM, it is generally optimal to have a fan to have a high air volume flow rate -- but as aforementioned, pure CFM values are limited to an extent with regards to its indication on fan performance. It is not completely about how much air in can move per minute quantitatively, but equally as important is how it is executed in reality. Airflow to noise ratio is an essential factor as mentioned earlier. Static pressure is also very important depending on application. High resistance applications such as dense fins on a large heatsink require high static pressure, while case fans need less static pressure and faster airflow. There are times where case fans will require higher static pressure too, such as the frontal intake fans where a mesh grille would create some resistance. The differences in application is like a large truck that has a diesel engine with lots of low end torque for towing compared to a sports car with a high revving gasoline engine with lots of power to beat around the track -- they are simply designed for different purposes, so choose one appropriate to your needs.
With all this out of the way, let us look at the technical detail of the fans. The Corsair iCUE QL120 RGB spins at 1500RPM and is rated at a maximum 41.8 CFM, 26 dB, and 1.55 mmH2O. From these numbers and the bright LEDs, I would expect users to put these as case fans with its priority towards showing off these lights while not generating a whole lot of static pressure to be used in denser applications like heatsinks or radiators. We will see how this actually transfers into our classic performance tests, which looks at more than just the numbers.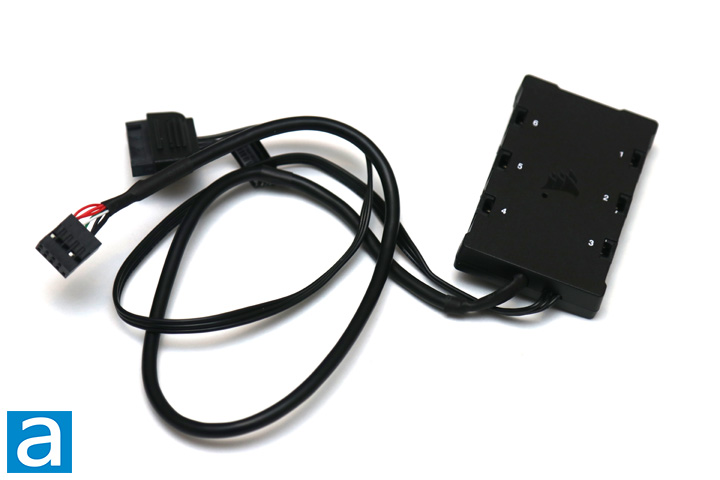 Based on the name, it is no surprise the Corsair iCUE QL120 RGB feature addressable RGB lights. Since we received the three-pack version of the fans, we also received the Lighting Node CORE controller to manage the lighting on these fans. This does mean we have proprietary RGB headers, which is probably only a good thing if you have other Corsair fans. I personally would have liked to see a universal layout that users can directly plug their fans into their motherboards for lights, but that is just me. As for the Lighting Node CORE, it is a relatively small controller with six light headers to plug the fans into. The controller is powered with an attached SATA connection, which is preferred compared to the older Molex standard. The other cable attached is a USB 2.0 header, which is used for communication between the controller and Corsair's utility.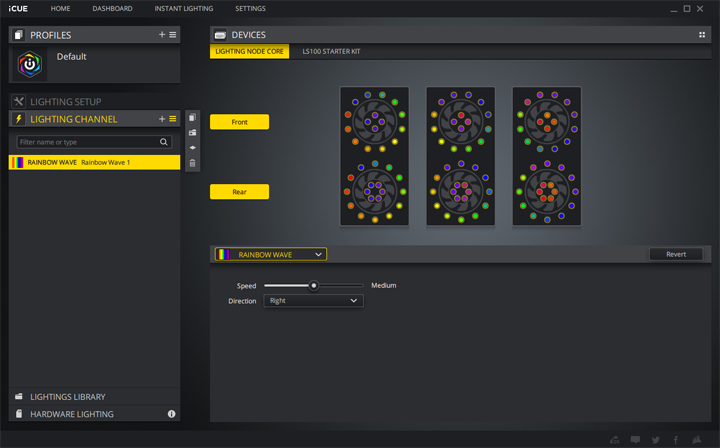 With the controller connect, you can use Corsair's iCUE software to change the lights. We have already seen several reviews with iCUE for lighting, so I will cover just the changes with respect to these fans. The software is used for the lighting and there are many colors and effects to use here. This ranges from static modes, various rainbow and other movement effects, as well as custom modes. You can also set these lights to synchronize with the lights on other Corsair products using iCUE, including their peripherals and hardware. What is neat is that you can customize each of the thirty-four lights here for full control. This is overall probably the greatest number of effects I have seen on any fan.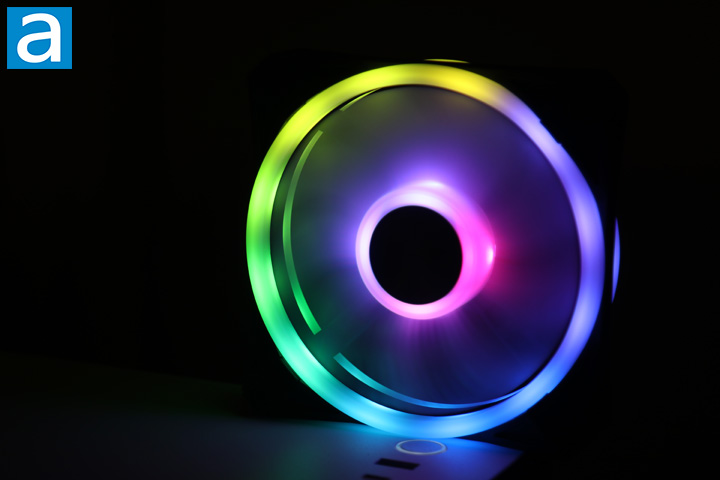 As for the lighting in the Corsair iCUE QL120 RGB fans, this is probably one of the most vibrant looking fans. As there are LEDs in both the ring around the fan as well as in the middle impeller, the effects are sure to disperse out into the rest of the fan. It still is not as vivid as it looks on the box, but it definitely is pretty. The lighting is even, despite the camera picking up the gaps between individual lights, and bright enough for most use cases. Corsair really packs many colorful effects here and they look great in the process.
---
Page Index
1.
Introduction, Packaging, Specifications
2. A Closer Look - Hardware
3.
Performance Tests
4.
Conclusion