By: Jonathan Kwan
September 2, 2011
Being fascinated with the concept of time travel for as long as I can remember, there are always moments of my life where I would just sit there and wonder, "If I could travel back in time, would I have done things differently?" While my enthusiastic self-study of theoretical physics in my free time (I am actually in Electrical Engineering) after reading piles after piles of scientific references has brought me to the conclusion that backwards time travel is probably not possible, sometimes it does not hurt to sit there and imagine about what has been, and what is to be. And if going back in time is probably not possible, I think the only thing we can do right now is to live today as if we have come from the future, and to experience the present as we inevitably journey forward. Approximately six years ago, I have wrote my first ever professional review on the Pure Energy XL rechargeable alkaline set. The fact is, November 19, 2005 will never come back again -- but the traces of which remains here at APH Networks until this very day. So why a trip down my memory lane right now? Laying down the foundations of this humble technology-focused website more than half a decade ago, I am happy to say we are back to our roots in our latest review this afternoon. With the technical knowledge we are known for, in conjunction with brand new testing processes, how does the ARCTIC Power Charger Plus and rechargeable NiMH set step up against the competition? We took in a set, fired up our Canon 430EX II external dSLR flashgun, and... you know the rest.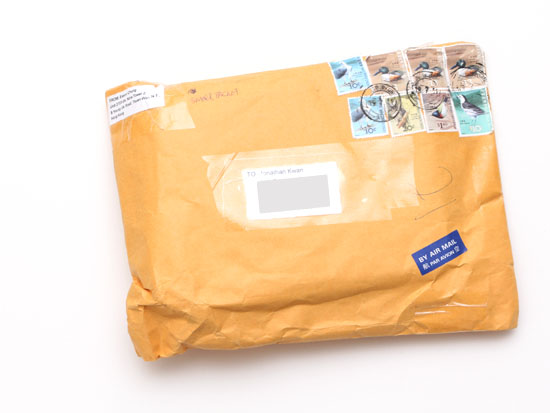 Our review unit of the ARCTIC Power Charger Plus with four AA and four AAA nickel metal hydride batteries came in a brown bubble envelope from Arctic Cooling's Hong Kong offices. I haven't seen postage stamps with product samples in quite a while; not to mention the good old postman actually managed to fit it into the mailbox across the street. Fortunately, while the package was not shipped in the most ideal manner, its contents arrived in pristine condition with absolutely no known damage. Therefore, I took out my camera, and carried on our usual procedure.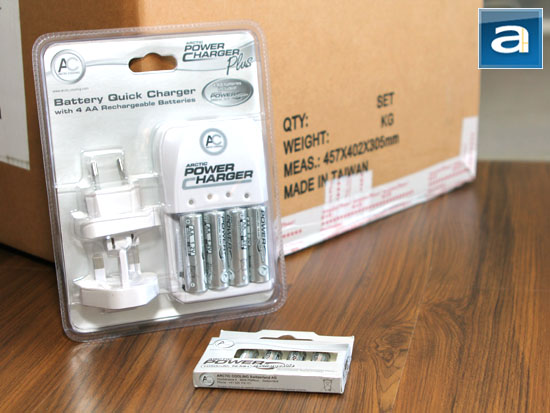 Awaiting us inside the bubble envelope is the retail package of ARCTIC Power's Charger Plus, along with a separate box of AAA batteries. It is unfortunate to say the ARCTIC Charger Plus does not come in just any retail package; it is the blister pack type we have come to strongly dislike over the years. If you do not know why I feel this way, try opening one -- generally speaking, just whip out a knife and cut closely, and don't cut yourself. As far as its design is concerned, the silver and white color scheme is complemented by mainly black text across the top. Prominently displayed across the front is the charger itself, four AA batteries, European adapter, and UK adapter. ARCTIC also kindly included four AAA batteries in a separate box, which can be purchased separately.
Before we move on, let's take a look at the specifications of the ARCTIC Power Charger Plus and batteries, as obtained from the manufacturer's website:
Charger
Limited Warranty: 2 years
Trickle Charge: AA @ 50 mA
AAA @ 30 mA
Dimensions (Packaging): 195 L x 150 W x 52 H mm
Dimensions (Product): 114 L x 70 W x 28 H mm
Input: AC 100-240 V ~ 50/60 Hz
Output: AA - 1000 mA (1-2pcs), 500 mA (3-4pcs)
AAA - 600 mA (1-2pcs), 300 mA (3-4 pcs)
itemnumber: DCACO-APC01-CSA01
UPC: 0872767002821
Gross Weight: 0.3 kg
Batteries
Limited Warranty: 2 years
Designation: AA - HR6, DC 1500
AAA - HR03, DC 2400
Nominal Capacity: AA - 2650 mAh
AAA - 1050 mAh
Nominal Voltage: 1.2 V
Operating Temperature: 0°C to 45°C
Storage Temperature: -20°C to +35°C
Chemistry: Nickel-Metal Hydride (NiMH)
Net Weight: AA - 0.02g
AAA - 0.01g
Service Life: 1000 cycles
UPC: Rechargeable AA : 0872767002746
Rechargeable AAA: 0872767002753
itemnumber: ORACO-BA011-GBA01
Gross Weight: 0.13 kg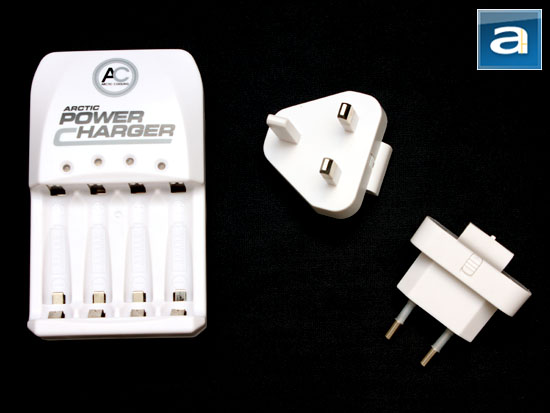 The ARCTIC Power Charger Plus itself is quite a compact and lightweight unit. Packaged in the form of a travel charger and encased in a white plastic shell, its physical shape is no different than commonly available wall units from various manufacturers. The difference in appearance really boils down to its distinctive white shell -- so to make photography just a little bit easier, I have resorted to using a black background instead (Sorry Devin!). Under Arctic Cooling's logo and ARCTIC Power Charger branding is an array of four LEDs; each used to indicate the status of independent battery charging channels. It glows red when charging is in progress, and turns green when charging is complete.
Thanks to its four independent charging channels, batteries of different sizes, types, and discharge statuses can be inserted simultaneously. The only limitation is you cannot have an AAA and AA battery on the same channel at once -- makes sense. Although it is clearly labeled how the batteries are to be inserted into the ARCTIC Power Charger Plus on all channels, the charger has built-in reverse polarity protection in addition to a slew of other standard safety features (Negative delta voltage cut-off, timer control protection, over temperature protection, over current protection, short circuit protection, and defective battery protection). We are not going to put it to the tests for our own safety, so let's just take their word on it, haha.
Based on my understanding of the ARCTIC Power Charger Plus and the way it is designed, it is unquestionably a smart charger. What makes a 'smart charger' a smart charger is the use of a monitoring chip as part of the circuitry handle the charging process, ability to detect different battery chemistries, as well as providing the safety features described in the preceding paragraph. Therefore, while Arctic Cooling advertises a form of trickle charging on their website, I highly doubt it is an implementation of the traditional method. Variants pulse charging are used for smart chargers, and pulse charging can be used as a form of trickle charge to maintain the battery level.
As the name suggests, pulse charge applies pulses of current to the battery as the battery is being charged up. The rise time, pulse width, frequency, and amplitude of each DC pulse is controlled by the charger's microprocessor. When the current stops between pulses, the battery's current is measured by the charger. The OCV (Open circuit voltage) measurement between pulses compensates for the internal resistance component of the voltage during charge. As the batteries' OCV rises above a certain point, pulses are blocked until the OCV of the battery decreases. The more the battery charges up, the more pulses are blocked because the batteries' OCV stays above the certain point for a longer period of time. The pulse charging method causes the average current to taper to zero as the battery becomes charged up. This type of charging is very precise and usually increases charge cycle of batteries, due to the fact that it is very controlled and prevents overcharging of the battery.
Flipping the ARCTIC Power Charger Plus around, we will see the standard North American plug recessed into the body, so it flushes in with the rest of the unit. To use it, simply rotate the prongs 90 degrees out. If you plan to travel worldwide with the ARCTIC Power Charger Plus, fear not -- UK and European heads are also included out of the box, as shown in our photo above. They clip onto the default North American prong when it is still in its recessed position, so the charger can still remain conveniently perpendicular to the wall when plugged in. Since the ARCTIC Power Charger Plus has automatic voltage and frequency selection (100-240V, 60/50Hz), no transformer is required. Overall, I will have to give Arctic Cooling a pat on the back for keeping the consumer in mind for everything!
On the DC output side, for AA batteries, it is rated 1000mA for two batteries, and 500mA for four batteries. For AAA batteries, it is rated 600mA for two batteries, and 300mA for four batteries. To charge all four Arctic Cooling rechargeable AA NiMH batteries at the same time from zero to full, it will take a theoretical 5.3 hours (But 6.5 according to the datasheet, due to how pulse charging works as described earlier). For what it is worth, the ARCTIC Power Charger Plus is an overnight charger and not a fast charger. Overnight chargers generates significantly less heat in the process, as well as providing a more precise charge to maximize all available capacity in the battery. Please keep in mind fast chargers and overnight chargers cater to different priorities of different users, so neither one is 'better' or 'worse'.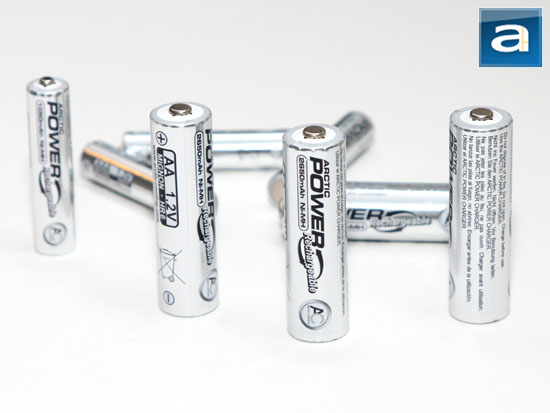 All ARCTIC Power nickel metal hydride batteries carry the same design scheme, which consists of a shiny silver background with black text on top. Using nickel oxyhydroxide as its positive electrode (Making the "nickel" part of its name), and a hydrogen-absorbing alloy as its negative electrode (Which is the "metal hydride"; an intermetallic compound), the ARCTIC Power rechargeable batteries has a nominal voltage of 1.2V, and comes loaded with a massive 2650mAh capacity for AA sized units. Its AAA counterpart comes in at 1050mAh. Promising up to 1000 recharge cycles and no memory effect, we don't have much question about the battery life or endurance -- the only unfortunate news I have to bring up is that these are not low self discharge NiMH batteries, so it does not come pre-charged, nor does it hold its charge as well as the photographer-favorite Sanyo Eneloop. Low self discharge NiMH batteries are made by improving its separator and positive electrode, but you can't get them with capacity as high as the ARCTIC Power rechargeables. All in all, because of its high capacity and relatively higher self discharge characteristic, you will want to use them in high drain devices such as personal electronics rather than your favorite graphing calculator.
-----------------------------------------
The Tests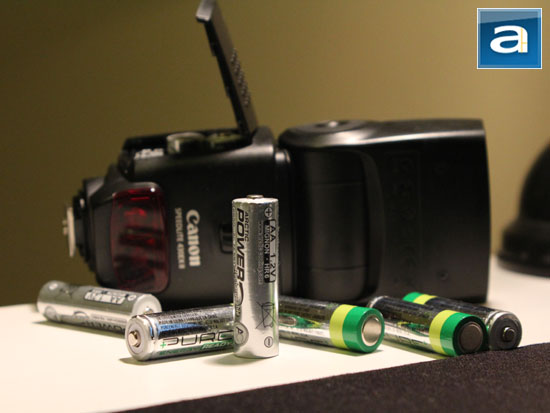 To test the performance of the ARCTIC Power NiMH rechargeable batteries, I have installed them my Canon SpeedLite 430EX II flashgun. This allows us to see how long they last on a single charge, as well as measuring its power deliver and internal resistance indirectly by measuring the maximum recycle time after a full power flash discharge. Pure Energy Ready NiMH 800mAh batteries were used for comparison purposes.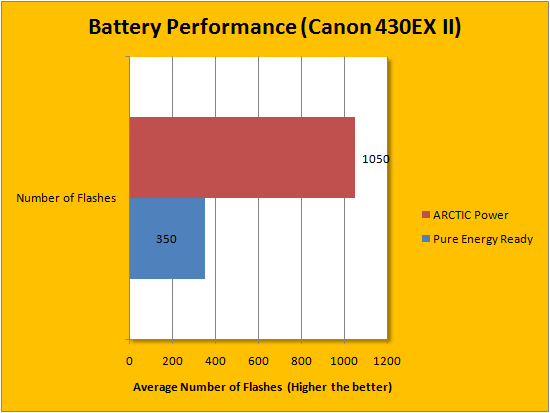 Using my Canon 430EX II under regular usage, the average amount of flashes I was able to obtain on my Pure Energy Ready low discharge NiMH batteries was about 350, as shown in our graph above. The ARCTIC Power 2650mAh rechargeable AA batteries took that number up to an impressive 1050. However, do keep in mind these are my average numbers; the flash power can vary according to the power setting on the Speedlite. A quick calculation indicates the amount of flashes I was able to get out of the ARCTIC Power is about three times as much as the Pure Energy Ready batteries -- which makes sense, because the ARCTIC Power is a little more than three times the size of their Pure Energy counterparts. Any lost shots can be attributed to stuff like power settings as aforementioned, variation in manufacturing capacity, and possibly self discharge. It takes longer to finish a real life test cycle on the ARCTIC Power rechargeable batteries, and while we wait, it loses some power by itself, too.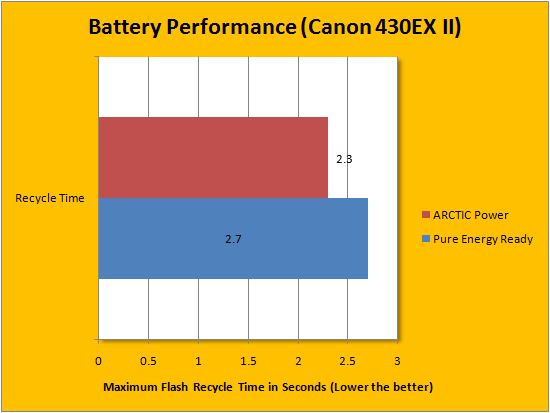 One thing often not tested with rechargeable batteries is its real life performance in demanding applications like external dSLR flashguns. While having a large capacity is certainly crucial to any battery product, its recycle time after a full power flash discharge is also extremely important to demanding photographers. As the ARCTIC Power NiMH rechargeables delivered an impressive amount of flash cycles to my 430EX II as shown on our last graph, the tested recycle time is also quite decent. My Pure Energy Ready batteries required 2.7 seconds to recycle from a full power flash discharge, but the ARCTIC Power bested it by 0.4 seconds. However, what the graph doesn't tell is the ARCTIC Power only the 2.3 second figure is only achievable when the batteries are fully charged. When the battery depletes past half way, don't be surprised to get recycle times in the 10 second range -- a figure most photographers would consider something better measured with a calendar instead.
As far as charging time is concerned, it really depends on the size of the batteries. ARCTIC rates it to be 6.5, 5.0, and 3.6 hours for four 2700mAh, 2000mAh, and 1500mAh AA batteries, respectively; and 4.0 and 2.4 hours for four 1000mAh and 600mAh AAA batteries, respectively. From my tests, the numbers turned out to be about right on the mark.
-----------------------------------------
Don't get me wrong -- while Arctic Cooling probably isn't the first company that comes to mind for rechargeable batteries, I think they have an excellent product in the market today. Firstly, let's talk about the charger. The sleek, lightweight unit signified by a distinctive white shell is probably nothing out of the ordinary for a smart charger, if it wasn't for the fact the company includes every plug available in the world out of the box. Really, that's quite a convenience for the end user. And by "ordinary features" of a smart charger, of course that includes a vast array of standard safety features, along with independent charging channels for each connected battery. Secondly, let's talk about the battery themselves. Carrying a massive 2650mAh capacity for the AA batteries, and equally as impressive 1050mAh capacity for the AAA batteries, if you are into high drain personal electronic devices or RC toys, these nickel metal hydrides are just the right tools for the job. One thing it doesn't do well in is that these are traditional NiMH batteries are not of the low self discharge type; you are going to lose quite a bit of capacity anyway if you don't use them quickly -- limiting the amount of devices you can use it with. Also, I can't recommend ARCTIC Power batteries for external dSLR flashguns. While it delivers excellent flash recycle times when it is fully charged, its non-linear power delivery characteristic increasing recycling time to the 10 second range is something I would not consider desirable. At the end of the day, if ARCTIC could have gone back in time, should they have done things a bit differently? Well, in my personal opinion, some low self discharge NiMHs with a more linear power delivery to get with the times can really work for a whole lot of devices for a whole lot of people.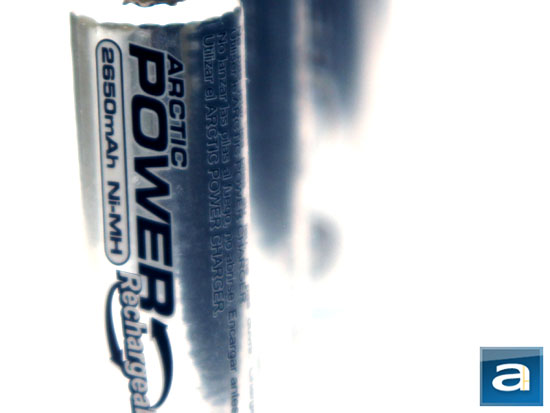 Arctic Cooling provided this product to APH Networks for the purpose of evaluation.
APH Review Focus Summary:
6/10 means A product with its advantages, but drawbacks should not be ignored before purchasing.
7/10 means Great product with many advantages and certain insignificant drawbacks; but should be considered before purchasing.
-- Final APH Numeric Rating is 6.7/10
Please note that the APH Numeric Rating system is based off our proprietary guidelines in the Review Focus, and should not be compared to other sites.
Combining a great universal smart charger and massive capacity nickel metal hydride batteries, the ARCTIC Power Charger Plus and batteries cater to those who have high drain electronic devices.
Do you have any comments or questions about the ARCTIC Power Charger Plus? Drop by our Forums. Registration is free, and it only takes a minute!