By: Aaron Lai
March 25, 2022
How would you categorize your music as a whole? I know for myself, I often categorize based on genres, putting music I like into playlists based on those, and then playing tunes based on what I feel like listening to at the time. However, I know others, including Spotify, can categorize music based on what listeners might be doing or based on their mood. I was chatting with some of my friends and they were trying to define the difference between music that is a "bop" and a "vibe". My girlfriend soon expanded this into more categories like "banger" and "jam", all with varying degrees of head movement and emotions. From what I have gathered, it seemed like she intended these to be mutually exclusive categories. As I went through my head on my music, I realized this sort of categorization created divisions in my genre-based playlists. For example, I have an instrumental playlist with classical and more instrument-based tracks. Some may classify these mostly as a vibe, but I think there are some boppers in my playlist. The same can be said for other genres, as difference pieces of music within one genre will fit different categories. While this conversation was mostly for fun or in curiosity, it is clear that music and audio is a common talking point regardless of who you are. There are very few people who go through a day without hearing some sort of music, whether intentionally or in passing. Today, we have the ASUS ROG Fusion II 500, a set of gaming headphones that are packed with features that suggest these are made for both gaming and media consumption. Will the ROG Fusion II 500 be able to provide a pleasant listening experience for both bangers and vibes and everything in between? Let us read on to find out!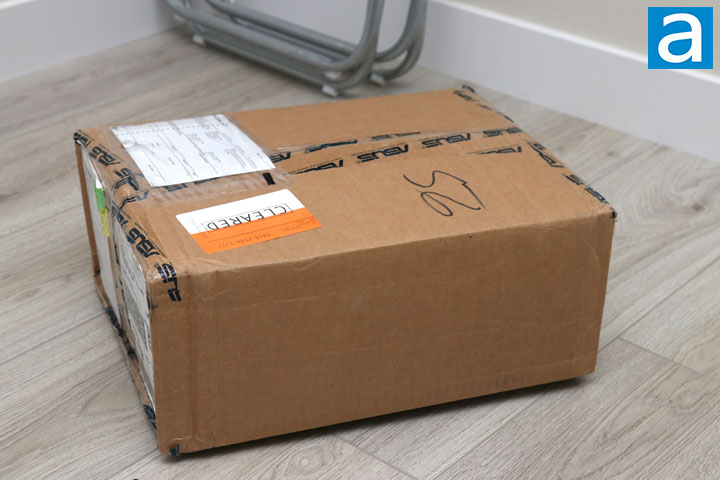 Today's review unit of the ASUS ROG Fusion II 500 arrived from ASUS' offices in Newark, California. Traveling with FedEx and their International Economy service, this box arrived at our APH Networks offices here in Calgary, Alberta, in excellent condition and with no observable problems around the box to be concerned about. While we have received several different ASUS products recently, the ROG Fusion II 500 arrived on its own, packaged with quite a bit of packing material and inside a plastic bag to keep the product secure and safe.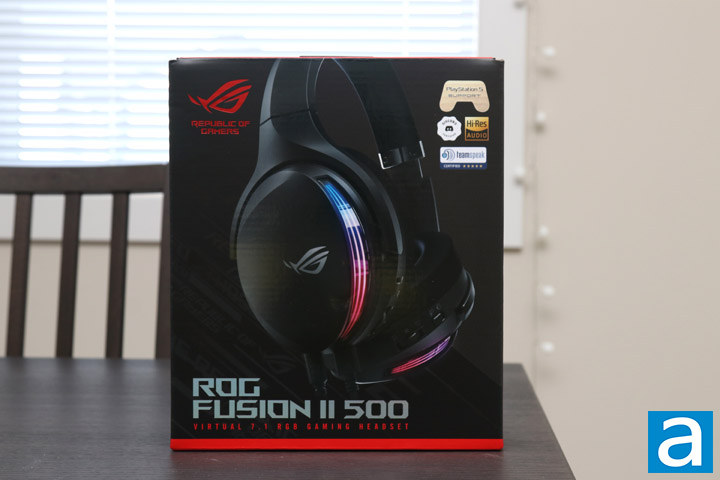 Following with other ASUS ROG products, the ROG Fusion II 500 comes in a black and red retail container. The gaming brand logo can be seen on the top left corner. In the middle is a side profile view of the headset with the RGB bands illuminated. At the top right corner, we have several labels to show its certifications like Discord, TeamSpeak, Hi-Res Audio, as well as its PlayStation 5 support. At the bottom, we have the product name with a descriptor of "Virtual 7.1 RGB Gaming Headset". Around the box, we have some features and specifications with a bigger breakdown of the large features at the back of the box.
If you are interested, I have obtained the specifications from the manufacturer's website for your viewing pleasure:
Interface: Wired
Connector: USB-A, USB-C, 3.5mm
Support Platform: PC, MAC, PlayStation® 4, PlayStation® 5, Nintendo Switch, Xbox One, Xbox Series X, Xbox Series S, iPad
Driver Material: Neodymium magnet
Driver Size: 50mm
Headphones Impedance: 32 Ohm
Headphones Frequency Response: 20 ~ 40000 Hz
Microphone Pick-up Pattern: Omnidirectional
Microphone Sensitivity: -37 dB
Microphone Frequency Response: 100 ~ 10000 Hz
AI Noise Cancelling Microphone: Yes
Hi-Fi DAC: ESS 9280
Hi-Fi Amp: ESS 9280
Channel: Virtual 7.1
Lighting: RGB
Aura Sync: Yes
Foldablility: Yes
Weight: 310 g
Extra ear-cushion: Yes
Color: Black
Cable: USB-C cable: 1.5m; 3.5 mm cable: 1.5m
Accessories: User guide, ROG Hybrid ear cushion, 3.5 mm cable, USB-C cable, USB-C to USB-A adapter dongle
Note: Support PCs, PS4, PS5 via using included USB-C to USB 2.0 adapter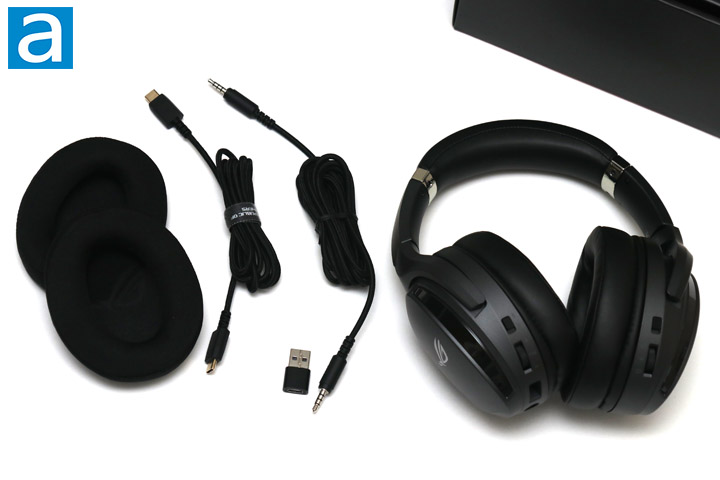 One thing I liked from this unboxing experience was how the retail container opened from the bottom like a clamshell case. I really like this box design, even if most people will probably forget it after they take the headphones out. Otherwise, the ASUS ROG Fusion II 500 can be found in a plastic tray. Underneath, there is a small cardboard box that holds some additional ear cushions as well as the extra included cables. Finally, a USB Type-C to USB Type-A adapter is included, but we will explore these accessories later on in our review. A small piece of documentation is also included with some quick start and warranty information.
---
Page Index
1. Introduction, Packaging, Specifications
2.
Physical Look - Hardware and Software
3.
Subjective Audio Analysis
4.
Conclusion