Page 3 - Subjective Performance Tests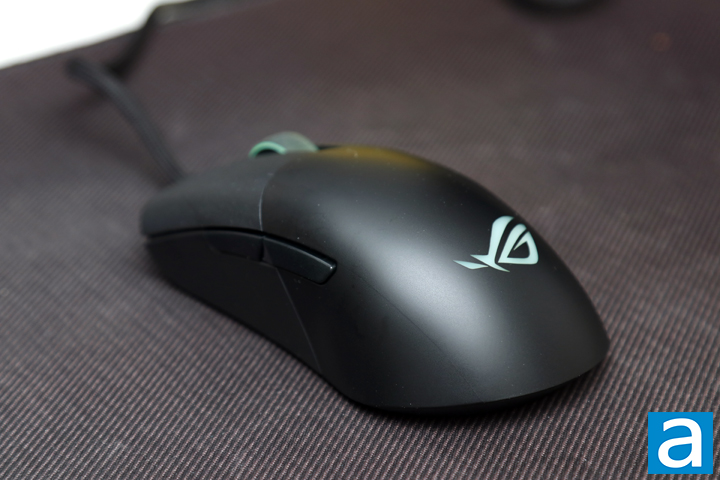 After plugging the ASUS ROG Keris Wireless in with the wireless dongle and setting up the software, I ran the mouse through our series of standard tracking performance tests. This includes normal office usage in the Windows environment as well as gaming. Some graphics work and testing were done with Adobe Photoshop. Games used in this test primarily include VALORANT, League of Legends, and Genshin Impact. This spans multiple genres and allows us to get a feel as to how the mouse responds in different situations. All testing was completed on a cloth surface, primarily the XTracGear Carbonic XXL. Please note these are subjective tests, but we will attempt to make it as objective as possible with our cross-reference testing methods. I did use the ROG Keris Wireless in wired and wireless operation modes, but majority of my testing was with the mouse connected via the wireless dongle.
With the smaller size and asymmetrical shape of the ASUS ROG Keris Wireless, I held it with a claw grip. The body is a bit longer but slimmer than what I am used to. Those with medium-sized hands should find this mouse comfortable, but there is no place to rest your thumb or pinky without making contact with your mousing surface. I also found the surface of the ASUS ROG Keris Wireless to be a bit slippery to easily grip. Weight-wise, the ASUS ROG Keris Wireless is pretty light at 79g. This is still a bit heavier than what I am used to compared to some ultralight mice, but I think this is pretty good when we consider this is wireless. Obviously, this comes down to preference as some may prefer heavier or lighter mice. For the sensitivity range, I rarely went above 1200DPI in my daily use despite ASUS allowing up to 16000DPI of sensitivity. As for inputs, I found all of the buttons to be in a good placement for my hands to avoid accidental presses. Audible and tactile feedback of the primary buttons were generally quite good.
The ASUS ROG Keris Wireless is made for gaming, so it only makes sense I gamed with this mouse. The slightly heavier weight meant it did take a bit of time to adjust, but it was generally a seamless transition. Afterwards, I jumped into a handful of games to test it out. While I am not the best gamer, I found the ASUS ROG Keris Wireless and the PixArt PAW3335 to be quite great. Tracking was consistent and smooth. I was never able to spin out the mouse. In games like VALORANT or Overwatch, flick shooting was made easier with the relatively light body. However, I think I would want some sort of grip on the Keris Wireless, as the only slightly contrasted surface meant I had to subconsciously use more force to keep my grip on the mouse. In games like League of Legends, the tracking performance was great and held up, even in quick movements, without losing tracking. With the ROG Keris Wireless plugged in, I barely even noticed a difference as performance was consistent between the wired and wireless modes. There was a slight difference in the button click latency, but I rarely noticed it in day-to-day use.
When looking at more technical flaws, the PAW3335 in the ASUS ROG Keris Wireless held up. Some Photoshop tests with free-hand lassoing revealed small details and movements were picked up without problem. Moving in straight lines showed zero signs of prediction or angle snapping. There was no input lag or jitter, even at higher DPI settings, and response time felt consistent throughout my use. Lift off distance, when configured to low, was pretty low and was lower than the thickness of one optical disc.
Overall, the ASUS ROG Keris Wireless was a great performing mouse with a power-sipping but dependable sensor and a good feel. Tracking is great in both gaming and technical tests. Its conventional shape is pretty easy to hold onto, though I still recommend trying it out before you buy. I would still want an improvement to make the surface easier to grip to, but I was quite impressed with wireless performance that felt very similar to its wired performance.
---
Page Index
1.
Introduction, Packaging, Specifications
2.
A Closer Look - Hardware and Software
3. Subjective Performance Tests
4.
Conclusion