By: Aaron Lai
April 9, 2021
Sometimes, I get asked for recommendations about certain products and I run into a bit of a pickle. As a reviewer, I should know the objective ways to tell if one product is better than the other, especially when it comes to measured things. For example, I think people asking for recommendations about laptops is pretty straightforward, because there are many comparable metrics, whether it means looking at the processor, memory, storage size and speed, screen size, and other specifications. However, a recommendation differs from a review because recommendations should be based on a certain context or for a certain person. Objectively, a model of the highest-end gaming laptop may be the fastest, but if someone wants something light and portable with a long battery life, the mobile gaming rig would be a poor recommendation. Furthermore, I also have to remember to keep my own biases or preferences out of the way. This is pretty easy to do on a review because of the objective measurements we have, but if someone asks me why I like my current keyboard or mouse, the reasons I give will be both objective and subjective in nature. For example, all of my recent mice have been ultralight ones that weigh less than 80g and are generally small. This is because I enjoy playing first person shooter games that generally benefit from having a more agile mouse. I also have been using only wired ones because of my disdain to needing to charge them. However, today we have a bit of a blend here with the ASUS ROG Keris Wireless. This mouse from ASUS is said to fit in the ultralight category while operating wirelessly. Will this ASUS ROG Keris Wireless be enough to shake off my preconceived notions, or will I be returning to a wired one afterwards? Let us read on to find out!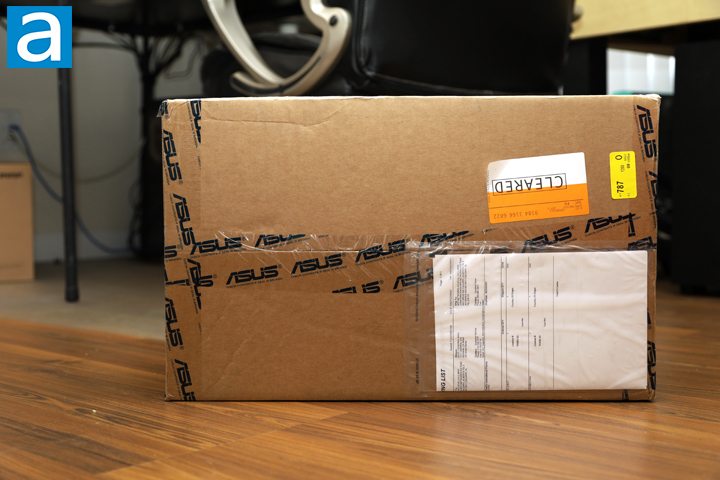 Today's review unit of the ASUS ROG Keris Wireless arrived from ASUS' offices in Newark, California. Traveling with FedEx and their International Priority service, this box arrived in excellent condition with no dents or bruises to be concerned about. The box was sealed off with ASUS branded tape to ensure there were no curious eyes in here before I received the box as well. Along with the ROG Keris Wireless, ASUS sent us their ROG Strix Scope, which I reviewed last month. Everything was packed well bubble pockets to prevent further damage to the boxes within.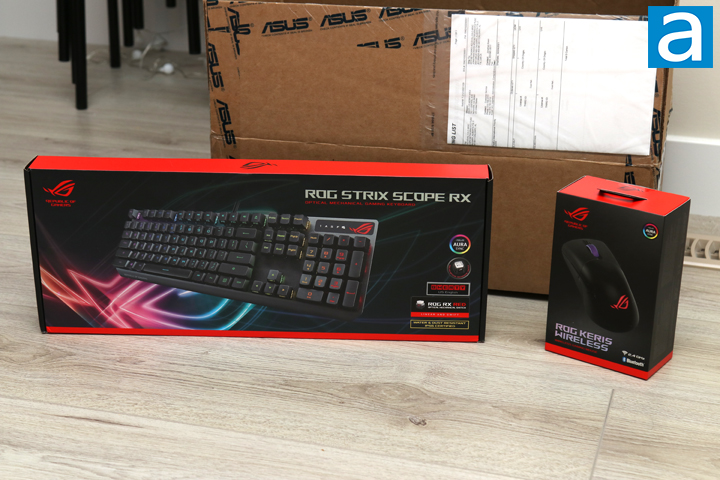 ASUS' Republic of Gamers brand has always been focused on gamers, as made obvious by the name, so it is no surprise we see the black and red color scheme and the aggressive eye or mask logo. The front of the ROG Keris Wireless retail container is kept pretty clean still with the ROG logo at the top corner and the product name on the bottom. This product name is printed with foil paper to create a reflective finish. Underneath, there is a simple product description of "Wireless Gaming Mouse". The front shows off the mouse, illuminated in purple and red, while we have an AURA Sync logo at the top to show this mouse supports ASUS' RGB synchronization implementation. Otherwise, we also have some specifications of 2.4GHz and the Bluetooth logo on the front to show the different operating modes of the ROG Keris Wireless. Flipping to the side and back, we have more specifications and features pointed out to us, but we will explore all of these later in our review.
Before we continue, I have grabbed the specifications from the manufacturer's website for your perusal:
Connectivity: USB 2.0, Bluetooth, RF 2.4GHz
Sensor: PAW3335
Resolution: 16000DPI
Max Speed: 400IPS
Max Acceleration: 40G
USB Report rate: 1000 Hz
RF 2.4G Report rate: 1000Hz
L/R Switch Type: ROG 70M Micro Switch
Button: 7 programmable buttons
AURA Sync: Yes
Battery Type: 500mAh
Battery Life:
- 78 hours without lighting
- 52 hours with default lighting (Breathing)
Shape: Right-handed
Grip style: Claw grip, Fingertip grip
Game Type: FPS
Cable: 2.0m type-C ROG Paracord
OS: Windows® 10
Software: Armoury Crate
Dimensions: 118(L)x62(w)x39(H) mm
Weight With Cable: 79g
Weight Without Cable: 79g
Color: black
Contents:
- 1 x ROG Keris wireless gaming mouse
- 1 x ROG Paracord
- 1 x User Guide
- 1 x warranty card
- 2 x Spare side buttons
- 1 x Mouse feet sheet
- 2 x Omron 1M micro switch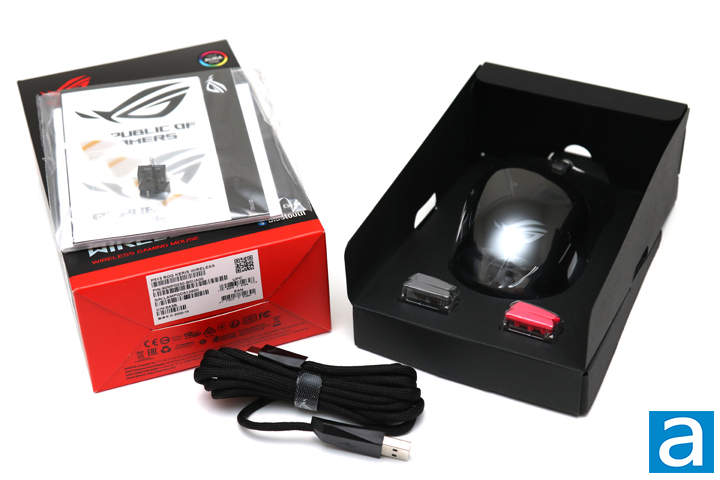 The ASUS ROG Keris Wireless comes packaged in a plastic shell with a black cardboard box around it. The hard plastic holds the mouse and a few accessories that we will take a look at later. There are also some more accessories in a plastic bag, which also holds some documentation about warranty and quick start guide. Otherwise, everything was packaged well. ASUS also packaged a 2.0m wire to let you operate the mouse in wired mode, but we will look at this later on. Let us now move onto the ASUS ROG Keris Wireless itself.
---
Page Index
1. Introduction, Packaging, Specifications
2.
A Closer Look - Hardware and Software
3.
Subjective Performance Tests
4.
Conclusion