By: Aaron Lai
March 12, 2021
A lot of people have asked me when I became interested in hockey, and I usually point back to around 2002 or 2003. This was when the Calgary Flames were sitting near the bottom of the standings. At that time, I cannot say I was really a huge Flames fan, especially since Hockey Night in Canada showed mostly Toronto Maple Leafs games every single weekend. However, this coincided around the time when Darryl Sutter was first brought in as the head coach of the Calgary team. I was too young to really care or notice the coaching styles. However, I think the results speak for themselves, as he, along with many memorable players, led the Flames to their first Stanley Cup finals appearance the year after. Even though the end result was not what I wanted, especially since everyone knows "it was in", the team was a memorable one for me. Fast forward to last week when my friend messaged me with a message that said "DARRYL SUTTER?". At first, I thought he was pulling my leg, but then I realized the Calgary Flames had brought back Darryl Sutter as the head coach to the surprise of myself and many others. I do not really know what to think about this hiring, even one week after the announcement, but I am pretty excited in a nostalgic way. In a similar line of thinking, when I heard from Editor-in-Chief Jonathan Kwan that some products from ASUS are coming in for review, I was honestly a bit nostalgic. Despite not being an editor when we last reviewed an ASUS product, the ASUS P8H67-I Deluxe, I have generally held ASUS in high regards for the quality of their products. My most recent motherboard was also made by ASUS. Today, we have the ASUS ROG Strix Scope RX, a full-sized optical mechanical keyboard. Taking away my nostalgia-tinted glasses, how does this keyboard perform? Does it live up to my expectations? Let us read on to find out!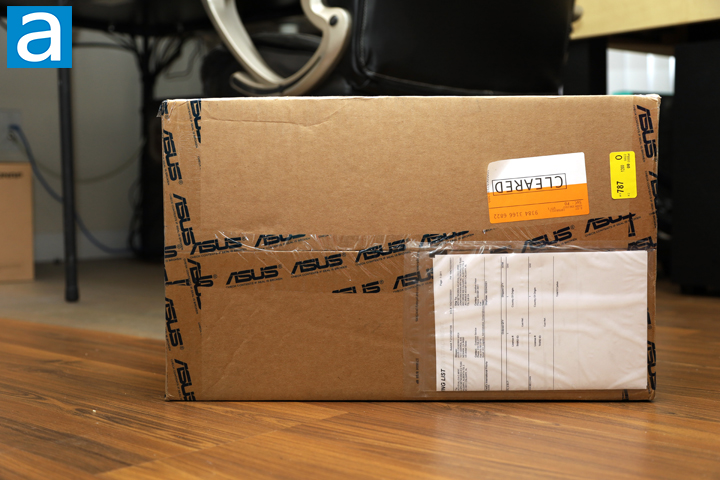 Today's review unit of the ASUS ROG Strix Scope RX arrived from one of their office locations in Newark, California. While the more famous Newark is located in New Jersey, the Californian version of this city is a small surrounded by Fremont. These two cities and Union City make up the Tri-City Area, and are all located northwest of San Jose. Otherwise, this box was sealed by ASUS branded tape to ensure no one else got into the box. This box was shipped to us via FedEx and their International Priority service to our APH Networks offices here in Calgary, Alberta. In addition to the ROG Strix Scope RX, ASUS also sent us their ROG Keris Wireless, which I will be looking at in the coming weeks.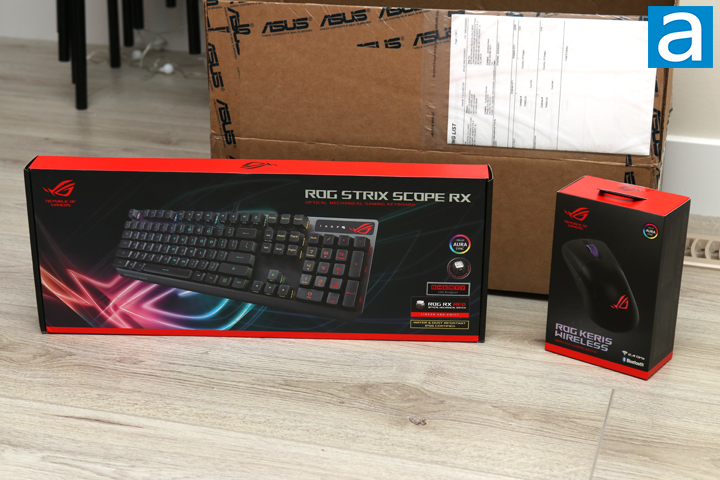 While we may joke that red and black are gaming colors, ASUS follows this color palette on their Republic of Gamers, or ROG, lineup to a tee. This is clearly seen on the box design for both the Strix Scope RX and the Keris Wireless. From this photo, you can see the ROG logo on the top left corner with the product name on the opposite side. A descriptor of "Optical Mechanical Gaming Keyboard" can be found in red. In the middle, we have a scaled-down image of the keyboard glowing in rainbow lights. We also have a much larger ROG logo in the background with a rainbow outline. Down the right side, we can see all the different features and specifications ASUS wanted to highlight, including the fact this keyboard is Aura Sync compatible, uses linear optical switches, has a QWERTY layout, and is IP56 certified for water and dust resistance. We will see what these all mean throughout our review.
Before I continue, I have grabbed the specifications from the manufacturer's website for your perusal:
Key Switch: ROG RX RED Optical Mechanical Switch
Connectivity: USB 2.0
Size (Full/TKL): 100%
Lighting: Per-Key RGB LEDs
AURA Sync: Yes
Anti-Ghosting: 100% Anti-Ghosting
Macro Keys:
- All Keys Programmable
- On-the-Fly Recording Support
USB Report rate: 1000 Hz
USB Pass through: Yes, full function
Profile Hot Keys: Fn + 1 / 2 / 3 / 4 / 5 / 6
Lighting Effects Hot Keys: Fn + Right or Fn + Left
Brightness Setting Hot Keys:
- Fn + Up: Brightness up
- Fn + Down: Brightness down
Macro Hot Keys:
- On The Fly Macro Recording
- Step 1: Fn + Right-ALT to start recording
- Step 2: Fn + Right-ALT to end recording
- Step 3: Assign Macro Key
Media Hot Keys:
- Play/Pause (F5)
- Stop (F6)
- Backward (F7)
- Forward (F8)
- Mute/Unmute (F9)
- Volume Up (F10)
- Volume Down (F11)
- Stealth key - Show desktop & mute (F12)
OS: Windows® 10
Software: Armoury Crate
Dimensions: 440x137x39 mm
Weight: 1.07kg
Color: BLK
Contents:
- 1 x ROG STRIX SCOPE RX Keyboard
- 1 x Warranty card
- 1 x Quick Start Guide
- 1 x ROG logo sticker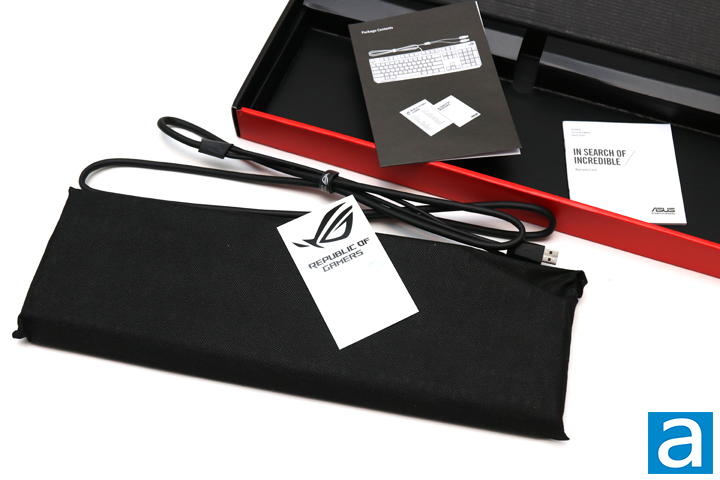 As you can see above, the box contents are pretty straightforward. The ASUS ROG Strix Scope RX can be found in a fabric bag to prevent any surface scratches on the keyboard. Several pieces of documentation are included with the keyboard, including a quick start guide, and some warranty information. Finally, there is a pair of Republic of Gamers stickers in black and gray so that you can stick these where you would like. Otherwise, let us take a closer look at the keyboard itself.
---
Page Index
1. Introduction, Packaging, Specifications
2.
A Closer Look - Hardware and Software
3.
Conclusion