By: Jonathan Kwan
January 26, 2008
When I got my first TV tuner card on my computer back in the ATI All-In-Wonder 9600XT days, I could have almost sworn that I would get a TV tuner card on every main computer I use from that day on. Later, I upgraded to an ATI All-In-Wonder 9800 Pro (That was because the AIW 9600XT literally went on fire by itself, which was kind of sad, and it smelled really bad too!). After a while, things sort of died down as I was already running my fourth Intel Core 2 based computer already by the end of 2007. And sadly, none of them had TV tuner cards... until one day I received an email from AutumnWave. To be absolutely honest with you, I hadn't maintained much contact with the whole world of TV tuner products, so I never really heard of the company until recently. Being that, their OnAir GT USB HDTV tuner that they offered me to review looked quite amazing on paper -- all the way from its specifications to its listed capability and incredible convenience. I admit I thought about getting a new PCI or PCIe x1 TV tuner, but a USB unit? I've never paid much attention (Or much respect, for that regard) to USB TV tuners for various reasons. How does the latest pocket sized USB tuner capable of handling high quality digital and HDTV signals in addition to the old school low resolution, analog signal step up onto my computer screen? There's only one way to find out -- and we'll dig into that today.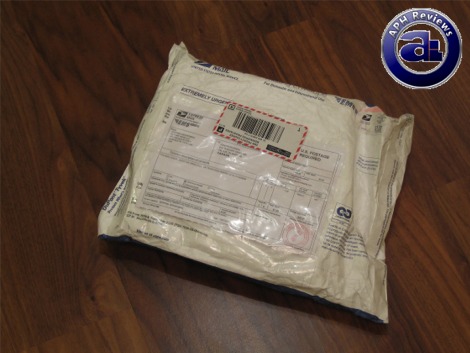 Our review unit of the AutumnWave OnAir GT came in a USPS Express Mail International from AutumnWave's offices in the United States to APH Networks Headquarters here in Calgary, Alberta, Canada. It was transferred to the good ol' Purolator man who came quite often this month -- from delivering one of my new Dell laptops, to the Dell SP2008WFP I bought over Christmas, and even the Spire Dart we reviewed last week. Back on topic, despite the relatively simple envelope with limited packing materials, everything arrived in excellent condition for our review.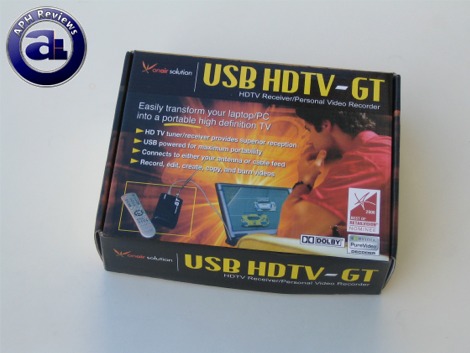 The retail box of AutumnWave's OnAir GT USB TV tuner came in a relatively small, flap-top closed cardboard package. Encompassing an orange, black, white, and yellow color scheme, the product name and feature highlights are bold to the consumer looking at first glance. More features, photos, specifications, as well as other miscellaneous information are printed all over the box.
Before we move on, let's take a look at the features and specifications of AutumnWave's OnAir GT HDTV tuner, as obtained from their website:
HDTV (ATSC) / Analog TV (NTSC) / QAM Digital Cable Features
- Supports HDTV resolutions up to 1920 x 1080 (ATSC)
- Watch Digital (ATSC), Analog (NTSC) (Even if you are in an area where digital cable broadcasting is unavailable, you can still watch analog TV over-the-air (captured by antenna) and cable TV analog broadcasts.), or Digital Cable (unencrypted QAM) TV (The tuner processes unencrypted high resolution signals in both QAM64 and QAM 256.)
- The latest 5th-generation LG Electronics tuner/demodulator offers unsurpassed metro and fringe area reception (The fifth generation VSB chip manufactured by LG has enhanced features that improve reception of digital TV signals even in fringe areas. It supports Terrestrial Digital TV (VSB: Vestigial Side Band) and Digital Cable TV (QAM: Quadrature Amplitude Modulation)) with virtually no multi-path problems.
Playback Features
- Pause Live TV and Timeshift (Pause TV at your convenience, and press Play when you want to continue) using DVR features (Digital TV)
- Playback HD stream files (ATSC) (Playback previously recorded material in original quality)
- Select from six speeds for fast forwarding or rewinding through recorded files
Recording Features
- Schedule to record (The Scheduled Recording function allows you to record your favorite shows in your absence. It is possible to set up a schedule to record programs on a daily, weekly, or special occasion basis. If the computer is in Standby or Hibernate, the computer will be automatically powered on to run your scheduled item.) up to 80 programs
- Real-time (The instant record button allows you to save Over-The-Air (OTA) or Cable broadcasts to your hard disk in their native resolution for playback at a later time.) or Scheduled Recording on Digital / Analog TV
- Still image capture (While watching TV, it is possible to capture and save your favorite scene easily in either BMP or JPEG format.) on Digital and Analog TV (JPEG or BMP format)
- Time-shift support(Have you ever had to stop watching TV briefly to answer the phone, go to the door, or for other reasons? When enabled, simply click the Pause button, and the Timeshift function will automatically record up to 120 minutes of any TV program you are watching. Return within 120 minutes, and you can click Play to resume watching your show, without missing any program content.) (Digital TV)
- Record while in time-shifting mode (Have you ever wished you could go back and record a great scene? Now you can! If timeshifting mode is enabled, simply rewind to the beginning of the scene and click the Record button.) (Digital TV)
- Recording during playback (While playing back a file, clicking Record will save a clip to a separate file.) (allows editing / saving of previously recorded material)
- D-VHS (You can use your D-VHS device to record Digital programming from the OnAir HDTV Program. You can also playback (and record) clips from your D-VHS device to your PC's hard drive.) HD Stream playback and recording (Windows XP only)
- Connect your VCR or Camcorder (Simply connect your Camcorder, VCR, or gaming system to the Composite or S-Video input. Click the Record button to save it as an MPEG-2 file on your computer. You can use various 3rd party utilities to then burn this .MPG file to CD or DVD) to record your favorite tapes to PC
- Connect your favorite gaming console to play and record games on your PC (Connect your favorite video game console to the tuner and use your PC monitor to play your game. Also, record your favorite game sessions so you can play them back for your friends. (Supports up to 720x480))
Audio and Video Features
- Dolby Digital® 5.1 (Equipped with the most up-to-date HDTV decoding engine, you can experience 5.1 output if your sound card supports it. In addition, with an SPDIF port, you can pass the audio to an external sound system.) Channel support (Digital TV)
- AC3 / AAC audio decoding
- Stereo and multiplex sound support
- SPDIF Output for Digital TV through an AAC compatible sound card (not included)
User-Friendly Features
- GT easily fits into pocket, backpack or laptop case
- USB Powered for maximum mobility
- Remote control (The full featured remote control allows you to control the functions of the TV program from a distance. You can also set it up to control your other PC programs.)
- Digital Signal Strength Display makes antenna pointing easy
- Electronic Programming Guide (Electronic Program Guide data is received from Digital TV (OTA) broadcasts. For other sources, our program is compatible with TitanTV's website.) (EPG) (OTA Digital TV)
- Sleep timer
- Zoom Navigator (You can zoom in on a certain area of the screen while watching TV. The picture can be zoomed from the default (100%) to a maximum of five times of the current TV view (500%).) to select and enlarge the TV picture
- Titan TV integration
- Digital and Analog Closed Caption support
- Wallpaper TV View (live video or captured images as your desktop background)
Specifications
Main Chipset: CX25843, CY68013A
Tuner:
- LG ATSC / NTSC Tuner (LG TDVS-H062P) 5th Generation Chipset
- 1 Antenna Input [Digital/Analog TV (OTA and Cable)]
- ATSC / NTSC OTA Ch 2 - 69
- Unencrypted ATSC / NTSC Cable Ch 2 - 125 & QAM
Audio:
- Digital TV AC3 & 5.1 Channel Decoding Support
- Analog TV Stereo / Multi Lingual Support
Video Input: Composite Video / S-Video
RF Input: Over-The-Air and Cable TV
Interface: USB 2.0
Video Formats:
- Digital TV: MPEG-2 TS (up to 1920 x 1080 resolution)
- Analog TV and Video Input:
o MPEG-2 (720x480, 640x480, 480x480, 352x480) for SVCD or DVD
o MPEG-1 (352x240) for VCD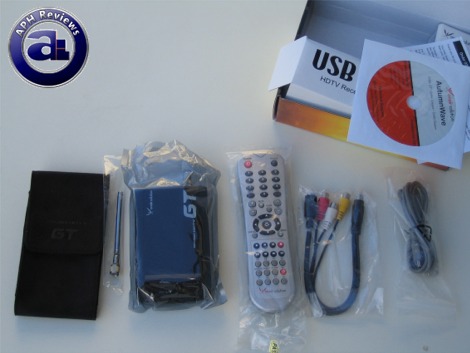 Out of the box, you will get the AutumnWave OnAir GT itself; other accessories include a pocket/velcro flap closed bag for holding the OnAir GT, remote control, composite audio/video in dongle, antenna, USB cable, as well as a driver/software CD. I would assume batteries for the remote is included, except for the fact that I discovered the batteries had somehow already found its way into the remote control when I pulled it out.
Being a portable USB TV tuner, it is excellent to see it containing an included pouch for protection during transport -- it fits very snugly with the AutumnWave OnAir GT. Being that, it only has a side loop to fit the antenna -- it has no side pockets for carrying anything else other than the OnAir GT itself, so the USB cables and the such would need to find a place somewhere else in your laptop bag.
---
Page Index
1. Introduction, Specifications, Bundle
2.
A Closer Look - Hardware
3.
Testing/Usage and Conclusion