By: Jonathan Kwan
March 24, 2017
If you have ever paid attention in a university engineering lecture, you will notice there are always interesting things going on. By "interesting", I really do not mean what the professor is talking about -- honestly, deriving equations and solving them is of little interest to most people. What I do mean are the interactions between students. A few years ago, I was in a first year C++ programming class, and I overheard one female student talking to another male student. "Have you figured out the second assignment yet?" she asked. "Yes," the male student answered. "I can text message you the code. What is your number?" I kind of just chuckled a bit in the row behind, thinking to myself how awkward male engineering students can be. In the end, the guy only got the girl's university email address, and I do not believe he had much luck beyond that. More often than not, strategies are used to achieve certain goals. There are strategies that work, and there are ones that do not. For example, when gaming peripheral manufacturers got together to think of ways to get people to spend $100 rather than $30 on their next keyboard, they came up with the mechanical keyboard. To try to get people to spend $150 rather than $100 on their next mechanical keyboard, someone started to put in RGB backlights. These are strategies that worked in the past. But are there more ways to tread into waters that other people have not trod? AZIO thinks so. The MK MAC is a mechanical keyboard aimed for Mac users, complete with white backlighting and white bead-blasted aluminum finish. We know Apple users like to spend money on their accessories, will this convince them to spend $85 on their next keyboard? Read on to find out!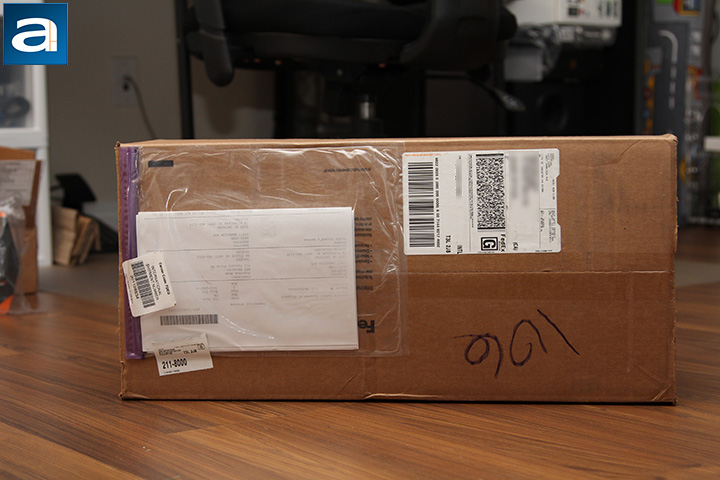 Our review unit of the AZIO MK MAC came in a medium sized, brown corrugated cardboard box from AZIO's American headquarters in City of Industry, California, USA. It is rather unfortunate things always come from sunny California to us here in Calgary, Alberta, Canada, where our temperature can jump from -20c in one day to +10c, and not the other way around. Fortunately, they things are not people, and they do not get sick like I am right now with all the crazy weather, haha. Also inside the box is the AZIO Armato, the company's new flagship keyboard my colleague Aaron Lai is reviewing. Using FedEx International Ground, everything arrived in excellent condition for our review today.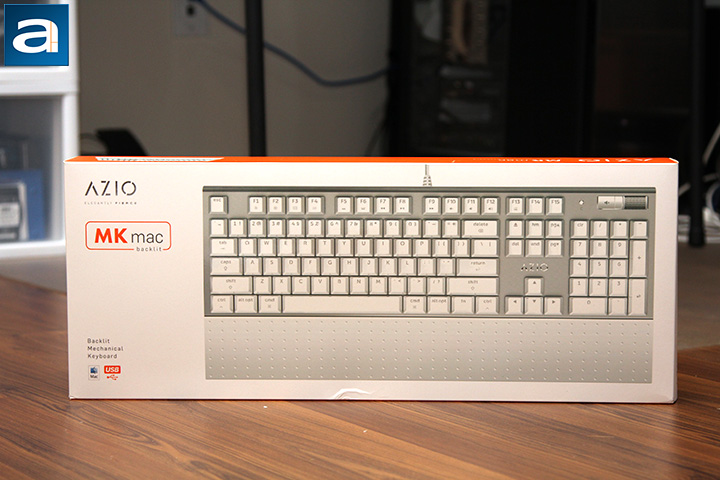 One's impression of a product usually begins with the retail box, and AZIO has done quite a bit of work to ensure your impression of the MK MAC is what they want to you to have: To see this as a legitimate Apple accessory. The front of the box is predominantly white, while the majority of the space is occupied by a photo of the keyboard itself. AZIO's logo is found at the top left corner, followed by their slogan "Elegantly Fierce". A stylized model name is placed below AZIO's logo. At the bottom left corner, the words "Backlit Mechanical Keyboard" is shown above two icons indicating its Mac compatibility and USB interface. Feature highlights is printed at the back of the box. Overall, I would say AZIO has done a brilliant job at designing the MK MAC's retail package. It is clean and distinct with an Apple overtone, yet they were able to retain their own brand identity with elements such as the orange highlights.
Before we move on, let us take a look at the specifications of the AZIO MK MAC, as obtained from the manufacturer's website:
MODEL: MK-MAC-U01
INTERFACE: USB
SWITCH TYPE: Kailh Brown
NKRO: 6-Key Rollover
BACKLIGHT: White
CABLE: 6 ft. / 1.8 m / Braided
OS SUPPORT: OS X / macOS
DIMENSION: Keyboard: 17.5 x 1.37 x 5.4 in / 445 x 35 x 137 mm
Palm Rest: 17.5 x 0.7 x 2.5 in / 445 x 18 x 64 mm
WEIGHT: 2.3 lbs / 1060 g
BOX CONTENTS: MK MAC Keyboard, Thank You Card, User Guide, Palm Rest
WARRANTY: 2 Year Limited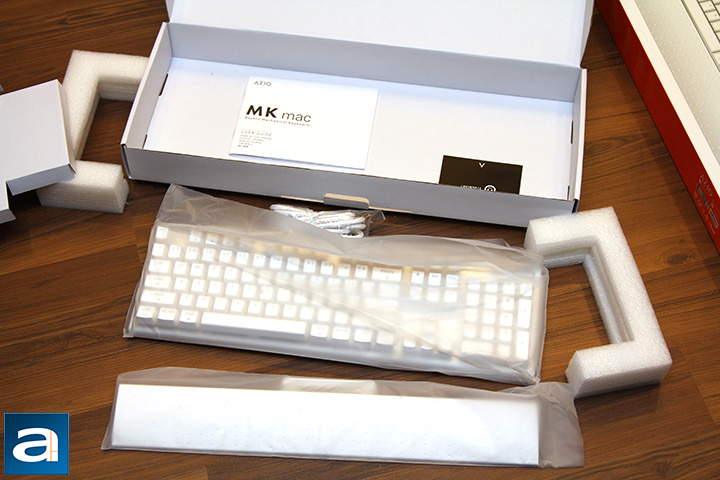 Contents inside the retail package can be removed after opening the large flap at the top. The keyboard is secured inside a cardboard tray inside a translucent plastic bag. As you can see in our photo above, the bundle is totally minimalist. Out of the box, in addition to the AZIO MK MAC keyboard, you will find a wrist rest, user guide, and warranty guide. I am very happy AZIO has included a wrist rest just like their other products, considering how much I am used to having one, and how often manufacturers are neglecting to include one nowadays. A driver CD is nowhere to be found, but this is okay, since you can do everything without installing extra software. This is not to mention a lot of new systems are not even equipped with optical drives.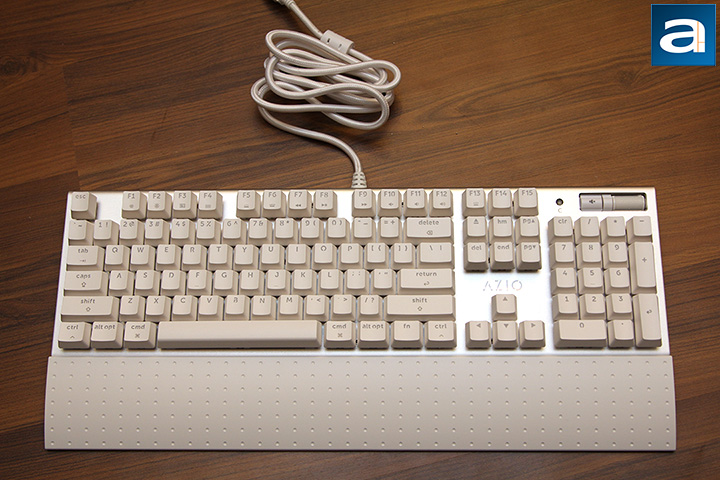 At first glance, the AZIO MK MAC will make you think of Apple. It is a backlit mechanical keyboard made for Mac, and I think the company has achieved their goal well. Users who are familiar with the AZIO MGK 1 RGB will immediately realize this is the same keyboard with a different color scheme and a slightly modified layout -- but what a difference a different color scheme and a modified layout makes. Faithful to the Apple niche, the MK MAC is very minimalist and clean looking. With straight edges and a practically reference layout, this is a good old mechanical keyboard with Kailh Brown switches. Its floating key design with an exposed aluminum backplate is very slick looking to say the least. The CNC edges with a bead blasted finish reminds me of my MacBook Pro, while the white keycaps are quite self-explanatory to those in the Apple ecosystem. AZIO's diamond cut logo below the productivity keys is subtle and well-integrated. The detachable plastic wrist rest clips on securely by a large bracket at the bottom. The wrist rest's pitted design with matte UV coating makes it interesting to look at, and comfortable to use every day. The downside to this is dust will catch on, and a soft rubber coating will feel better.
The AZIO MK MAC measures in at 445mm width, 137mm depth, and 35mm height. The wrist rest adds 64mm to the depth. This is about as compact as a standard QWERTY keyboard will go. To go along with its medium footprint and medium profile, the keyboard weighs about 1060g according to the manufacturer. This is pretty heavy, but this is expected from a mechanical keyboard. If you do not know what a mechanical keyboard is, there are three main types of keyboards on the market today. The cheapest is the membrane keyboard, which is the easiest to make, but also has poor typing feel and response due to squishy keys. A scissor switch keyboard has its own independent keyswitch mechanism for each key, which delivers improved tactile response and typing experience. Modern scissor switch keyboards can be very good for everyday office use. Mechanical keyboards such as the AZIO MK MAC costs the most, because each keyswitch is an independent part.
Like all mechanical keyboards, the MK MAC with Kailh Brown mechanical switches is quite audible to type on, but certainly not the loudest. Brown switches are like a silent Blue. It still has a small tactile bump, but it is much lighter than the Blue for extended periods of typing. In gaming, you can hold the switch above the actuation point, which can be beneficial. The maximum key travel distance is 4mm, with actuation at 2mm. With an actuation force of 55cN with a light tactile bump, our AZIO MK MAC will feel different than non-mechanical keyboards, but not as drastic as going to linear switches. Personally, I think this keyboard is good to type on. I may be a bit biased, but I have always preferred original Cherry MX switches. If you use a keyboard with real Cherry MX Brown switches right next to this one, the feel and quality can definitely be felt even by non-enthusiasts. That aside, if you are looking for a mechanical keyboard that will not completely change the way you type, Brown switches are a great choice. It is rated for fifty million operations like other mechanical switches. As expected, the base is rock solid, so you will not get any keyboard flex, which is excellent.
The AZIO MK MAC is a 6KRO keyboard. 6KRO stands for 6-key rollover. If you have used keyboards with limited NKRO capabilities, you may have experienced ghosting issues in the past -- where when too many keys are pressed at the same time, your system unable to register any more strokes. A 6KRO keyboard like the AZIO MK MAC overcomes this by changing the way keys are polled, making up to six inputs detectable by the hardware at the same time. You will probably not have more than six keys depressed simultaneously, but since you have ten fingers, it is a possibility, although this is not a gaming keyboard. I will still appreciate it if the MK MAC had full NKRO support though.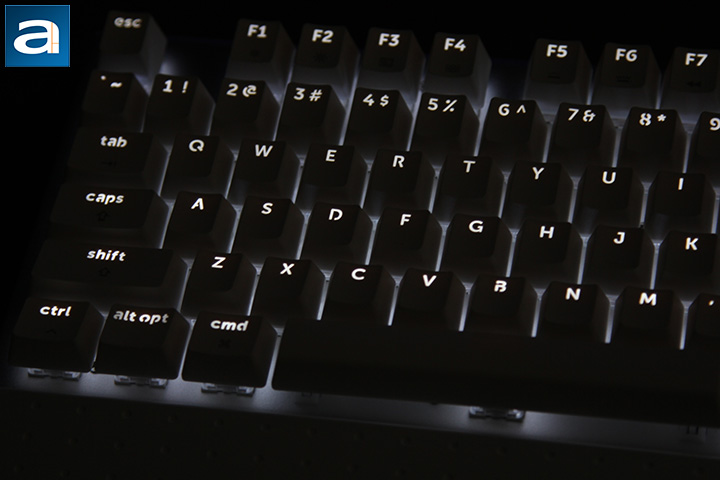 Once you turn off the lights and activate the AZIO MK MAC's backlit keys, the keyboard really shines -- no pun intended. The font of the key labels is large and easy to read. The MK MAC features full key backlighting, but in only one color, and that is appropriately white. The function keys at the top are identical as any standard Apple keyboard; the only addition is F5 and F6 allows you to control the keyboard backlight intensity, which is the same as any MacBook. There are four brightness levels. Holding down the Fn button will return you to standard F-key programming, which Mac users should be quite familiar with. There are some additions, which Windows users may be unfamiliar with, and that is F13 to F15. Hitting F13 will toggle illumination modes between off, reactive, and steady. Reactive is where each key light up for about a second immediately after being pressed.
The AZIO MK MAC's key illumination distribution is mostly even. This was done by completely avoiding double line text labels. Normally, for any key with more than one line of text label on a standard mechanical keyboard, you will notice the top half is lit, while the bottom is not. This is due to physical design limitations of most mechanical switches. That said, you can clearly see the light below and around the keys, because the MK MAC has an exposed, rather than recessed, plate.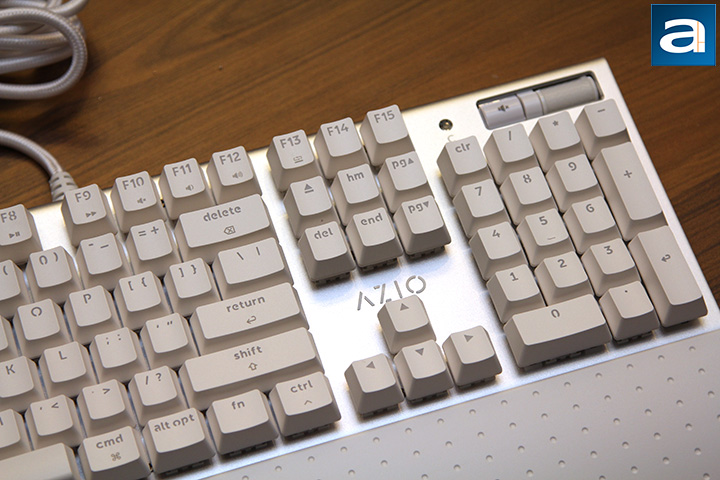 Everything here is pretty standard in terms of layout for an Apple keyboard. I am a big fan of the single row Return key layout, as present on our US QWERTY AZIO MK MAC. Keyboards with a double row Return key usually means the "\" button is moved to the left side of the right "Shift" key; reducing the size of the latter. I am more used to having a full width Shift on the right, and a half height Return. Obviously, this is more or less personal preference, but having a half height Return key makes a lot more sense to me.
One standard indicator LED corresponding to Caps Lock can be found above the number pad. It glows white when activated, and its intensity cannot be changed. This is not a big deal, since almost no one I know enables Caps Lock on a constant basis anyway. Next to it is a dedicated mute button along with a plastic volume roller or you to increase or decrease volume with style.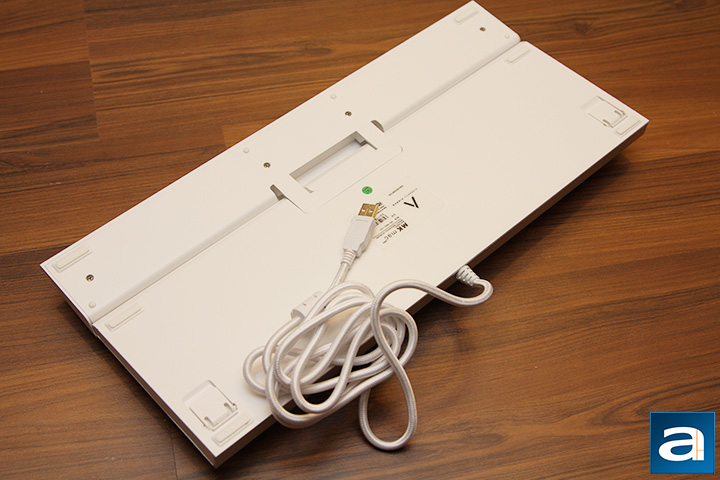 At the back of the AZIO MK MAC is the USB cable lead out. The thick cable comes out from the center, and is not detachable from the keyboard. This nicely braided white cable extends 1.8m in length to connect to your computer via a gold-plated USB connector. When we bring about the question of whether gold plated connectors are actually useful or not, let us just say if it was the actual pins, then possibly -- since gold offers better conductivity than other metals. This theoretically establishes a better connection with your computer, but on a digital signal level, we must understand it is a discrete one or zero; if anyone tells you they can tell the difference, you can definitely defeat their theory with a double blinded test. Additionally, if you are referring to the gold part of the connector you see on the plug, I would like to point out it actually does not make any physical contact electrically with your computer other than ground. In other words, it is nice to have, and it is pretty to look at, but it is not anything significant on a practical level. The presence of a gold-plated USB connector will not have any performance impact on the AZIO MK MAC.
At the bottom are four rubber pads -- two at the back and two at the front -- to help the MK MAC stay in place on your desk. Two additional ones can be found on the wrist rest. The pair of flip-out risers at the front tilts the keyboard up for those who prefer it. Once flipped out, you will lose out on the front rubber grips, since the risers are not rubber coated. Thankfully, the AZIO MK MAC is a pretty heavy keyboard by itself; definitely helps to keep it in its place during intense video editing sessions or whatever people do on a Mac. No keyboard drain holes are available, so be sure to keep your Coca-Cola far away.
-----------------------------------------
Did the formula of modifying the AZIO MGK 1 RGB and turning it into a mechanical keyboard aimed at Apple users work? In many ways, I would say so. AZIO has always been a company that tries to emphasize more on lifestyle than hardcore gaming, and this philosophy certainly resonates with Mac users. The company's products have experienced generally quite positive reviews from my colleagues in the last little while as well. The MGK 1 was a great keyboard to begin with, thanks to its minimalist and clean looks, and the MK MAC's the exposed aluminum backplate with CNC edges and a bead blasted finish made it intrinsically Apple-esque. Complete with the white keycaps, white backlight, and a standard Mac layout, this is everything an Apple user could ask for in an aftermarket keyboard. There is practically nothing I can get picky on with regards to the construction quality of the MK MAC -- AZIO has done a brilliant job. Heck, it even comes with a wrist rest! However, if Apple users are really looking for the best of the best, then there is one area I will have to get picky on: The mechanical switches. I know many people, my colleagues included, will argue Kailh switches are great, and are quite comparable to OEM Cherry MX units. While I may not disagree with them on that claim, I will still say no matter how good the imitation is, it is still not the original thing. I tried the AZIO MK MAC side by side with another keyboard that has Cherry MX Brown switches, and the difference is evidently in favor of the Cherry MX keyboard. The devil is in the details. If Mac users are willing to pay more money for the best of the best, then why skimp on the details of the peripherals? For about $85 at press time, the AZIO MK MAC is pretty economical for what you get. But for me, economical is not the main concern. Having the best is. And if that is the case, I would not mind paying more money for the best.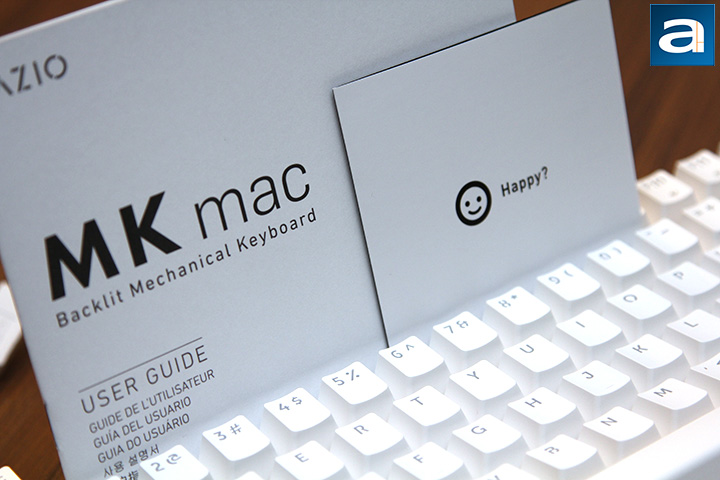 AZIO provided this product to APH Networks for the purpose of evaluation.
APH Review Focus Summary:
8/10 means Definitely a very good product with drawbacks that are not likely going to matter to the end user.
7/10 means Great product with many advantages and certain insignificant drawbacks; but should be considered before purchasing.
-- Final APH Numeric Rating is 7.1/10
Please note that the APH Numeric Rating system is based off our proprietary guidelines in the Review Focus, and should not be compared to other sites.
The AZIO MK MAC is an aptly named and well-designed mechanical keyboard with Kailh Brown switches for Apple users.
Do you have any comments or questions about the AZIO MK MAC? Drop by our Forums. Registration is free, and it only takes a minute!