By: Aaron Lai
April 1, 2016
Two weeks ago, I received my Iron Ring, signaling the beginning of my career as an engineer. However, it did not really mean a whole lot to me yet, especially as I still have a month of school to go. While the ceremony itself was interesting itself, since then, I have found it hard to actually remove the ring from my hand. No, this is not like a "Lord of the Rings" ring to rule them all, especially everyone else there received a ring like mine. Rather, I have become used to the ring itself. When I first received it, it was weird to keep it on, and I fidgeted with it all the time. After two weeks, however, my right handed pinky finger feels lighter and feels awkward without the ring on. This is quite like my left wrist, as it feels really awkward to not have a watch on. Some of my friends attributed it to feeling naked without their timepiece. Once you get used to having a sort of accessory on yourself, it feels weird to not have it on compared to having it. Similarly, this can also be seen with keyboards and wrist rests. I only was recently introduced to having a wrist rest with the Patriot Viper V760, but after a few weeks of using it, I cannot even go to any keyboard without one. Considering I use it every day now to rest my palms upon, it feels awkward to use any other keyboard without some sort of hand support. Thankfully today's AZIO MGK 1 RGB comes with one. With a full plastic removable palm rest, in addition to a similar floating design to the Viper V760, is this keyboard something I will get used to, and furthermore, not be able to live without? Will it have features that stand above the rest? Let us see what AZIO offers to us with their first product at APH Networks, the MGK 1 RGB!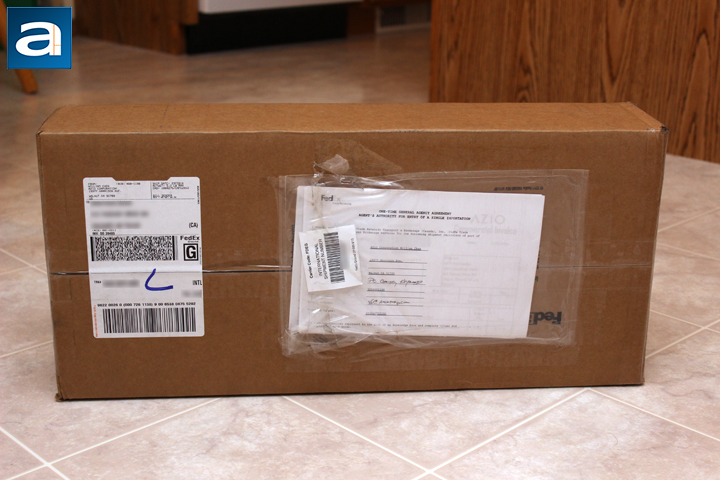 Today's review unit of the AZIO MGK 1 RGB arrived from their offices down in Walnut, California. Other companies have also shipped from this small suburb in the Los Angeles County, including Phanteks, Adesso, and AZZA. Using FedEx's Ground service, we received this keyboard in excellent condition, with very little damage to speak of. The brown corrugated cardboard box was quite large, but considering its contents, this is understandable. Opening up this box reveals the AZIO MGK 1 RGB, with only a single sheet of brown packing paper to protect the keyboard from any bumps. From the box's condition, we can safely assume the FedEx people took care of our package, or at the very least, any impact the box took was not physically apparent.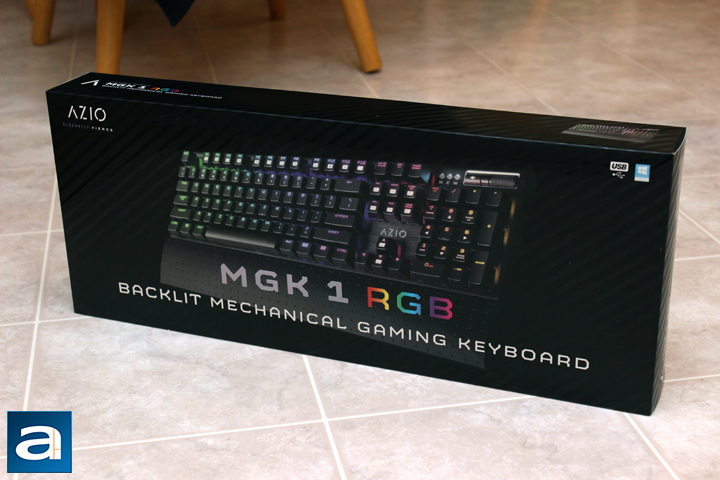 Out of the box, we have the retail container of the AZIO MGK 1 RGB. The front of the box is clean, with just the keyboard glowing on the front. While it is not noticeable in the photo, the background of the box is filled with diagonal stripes, which alternate between a glossy and matte finish. This makes the box easy to grip, and it looks unique. The product's name is printed smack dab in the center. I should note AZIO also sells a non-RGB version called the MGK 1. A descriptor is printed below if you still did not know what the product inside was at this point. AZIO's logo is printed at the top left corner, with a slogan of "Elegantly Fierce" printed below. On the top right corner we have two small specifications. From here, we can see this keyboard connects via USB, and it is "Windows 8 compatible". Both of these are practically assumed, as most keyboards work via USB and support Windows OS as a whole, in addition to Mac OS X. Flipping to the back and we have more features and specifications, listed in English, Spanish, Portuguese, French, Traditional Chinese, Simplified Chinese, and Korean. For those master linguists, you can see AZIO's website for all their languages. Otherwise, we have listed the specifications from AZIO, in English, for your perusal:
Specifications
- Model: MGK1-RGB-BU
- Interface: USB
- Switch Type: Kailh Blue
- Backlight: RGB
- Cable: 6 ft. Braided
- OS Support: Windows XP, Vista, 7, 8, 10, Mac OS X
- Dimension: Keyboard / 445 MM x 35 MM x 137 MM, Palm Rest / 445 MM x 18 MM x 64 MM
- Weight: 1060 g / 2.3 lbs
- Box Content: MGK 1 RGB Keyboard, Thank you card, Key Puller
- Warranty: 3 Years Limited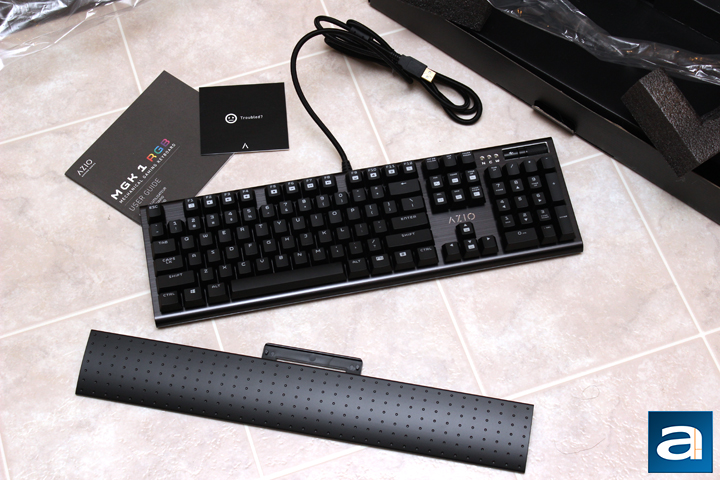 As listed in the specs above, these are the things you get out of the box of the AZIO MGK 1 RGB. First is the keyboard itself, which I will look more at later. Next, we have a long black bar, which is the physical wrist rest. I am really happy to see this in here, but again I will look closer at it later. Otherwise, we have a red key puller for removing the keycaps, and two pieces of documentation. One is the user guide, which goes over some quick functionality and light illumination options. It also tells me I am part of the AZIO family -- hooray! The other is a small card, which provides contact information for support and for further updates about AZIO Corporation. For your information, the warranty provided with the keyboard is a three years. This is longer than most warranties for peripherals with other companies. Hopefully you will never need to actually use it, but either way, this is encouraging to see AZIO stand behind their products for so long.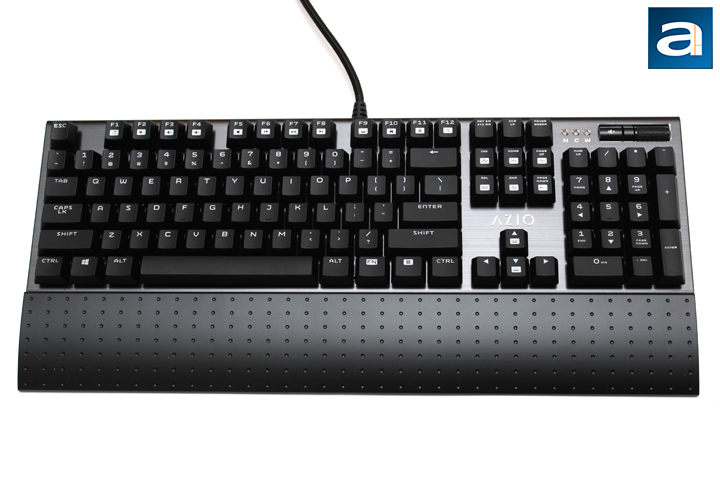 "Elegantly fierce" is the slogan for AZIO Corporation as a whole, and looking at the MGK 1 RGB, I think this keyboard is quite true to the slogan. On a whole, the AZIO keyboard looks clean. Gamers nowadays are not always looking for "gamer-centric" parts with a flamboyant design. Many users instead prefer the minimalist look, and this keyboard fits right in. The black theme seen on the MGK 1 RGB is common, but this is not a bad thing either. There are some silver chamfered edges around the top right side, where the LED indicator and volume control wheel sits. Much like the recently reviewed Patriot Viper V760, we have a floating design for its keys, with a cool-to-touch, exposed aluminum backplate. It is brushed horizontally to make for a sleek look. This aluminum sits on the top of the keyboard, rounding out at the back and the front. Underneath this surface is the plastic body, which is not as pretty, but still looks okay. AZIO's only place of branding is found near the arrow keys in silver lettering. The edges of these letters are actually quite sharp, and will scratch your fingers should you move them around this area. AZIO has definitely make a pretty keyboard, with its minimal styling, even more so than the Viper V760. The smaller overall footprint is much appreciated by myself. Honestly, there is not much I would change with this keyboard, as it is one of the best looking keyboards I have seen to date. I might experiment more with the chamfered edges, possibly running them down the two sides of the keyboard, but this is just my opinion.
While most keyboard manufacturers have been removing their wrist rests, AZIO has included a fully detachable wrist rest. I think this is a necessity and should be included with all keyboards, especially as it really adds extra comfort for users. Even if they do not use it, I think it would be a good gesture to provide them for everyone. The wrist rests attach to the bottom of the keyboard with a plastic plate, and two pegs stick into place. Overall, this is a good solution, as it holds in place well, but can be removed easily on purpose. The entire top is covered in a dimpled design, which is nice and feels okay. I would have liked to see possibly some aluminum here for a more solid construction, or at least a soft rubber coating for a better feel. In addition, the dimples sometimes catch onto a bit of debris, but it can be easily cleaned with a cloth.
As for dimensions, the keyboard is 445mm in width, 35mm in height, and 137mm in depth. Adding the wrist rest adds an additional 60mm in depth. As you can tell, the slim design and lack of bezel means this keyboard is quite a bit smaller than most keyboards. In terms of mass, this keyboard is relatively light for a mechanical keyboard. At a little over 1kg, the AZIO MGK 1 RGB feels solid. The keyboard exhibits zero flex in the body or the keys. This is helped by the aluminum top, which makes it feel sturdier, too. Even though the rest of the keyboard is plastic, it still feels like a durable product.
The AZIO MGK 1 RGB keyboard came to us in a standard 104-key QWERTY ANSI layout. This should mean a few notable differences including the elongated, but single-row, Enter key, and an approximately fifty percent larger backslash key. Otherwise, most of the keyboard is laid out in the same way as every other keyboard sent to APH Networks. One Windows key is placed on the left side, between the Ctrl and Alt buttons, with a Function button on the right side of the keyboard. At the top right corner are three white LED indicators. The first two are the traditional Num and Caps lock, but the last one is an interesting one. A printed W is shown and this light indicates whether or not the Windows lock is active or not. The Windows key can lock and unlock by pressing Fn + Win. A Mute button and volume scroll wheel is located near the top right, which is refreshing to see. Personally speaking, I really like the scroll wheel, as it gives users a faster option at varying the volume without having to press multiple keys. The keycaps themselves are decent in quality, with the letters being translucent to allow the backlighting through, as you will see soon enough. They do show fingerprints and stains, but it is not too big of a deal.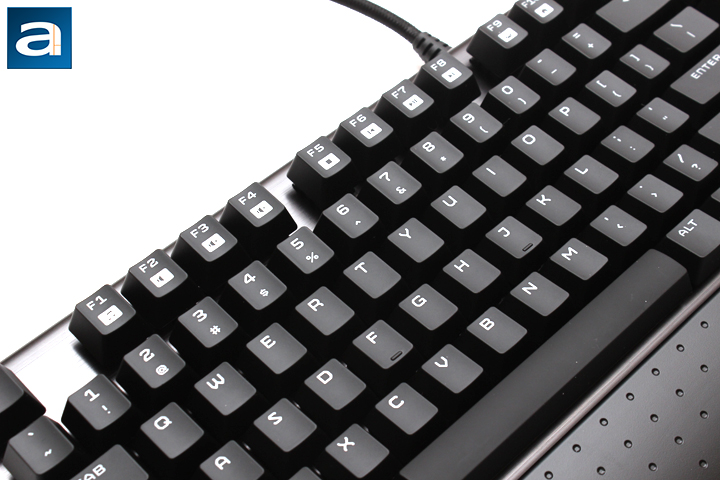 As the case with many keyboards, the AZIO MGK 1 RGB implements some secondary functions into their keyboards. This allows additional actions to be activated, and can be executed using the Fn key in conjunction with the corresponding key. The top row of function keys hold majority of these secondary functions, so I will go through all of them. Starting at F1, we have a shortcut button to open up your default music player. For example, it opened up Windows Media Player on my computer. F2 to F4 are used for volume control, and from left to right they are Volume Down, Volume Up and Mute. In my opinion, I think it is kind of odd for AZIO to implement the volume controls twice on the keyboard, but at least it gives users different ways to achieve the same task. From F5 to F8 we have the media keys, and in order they are Stop, Previous, Play/Pause, and Next. Again, this allows you to control your music or videos through the keyboard shortcuts.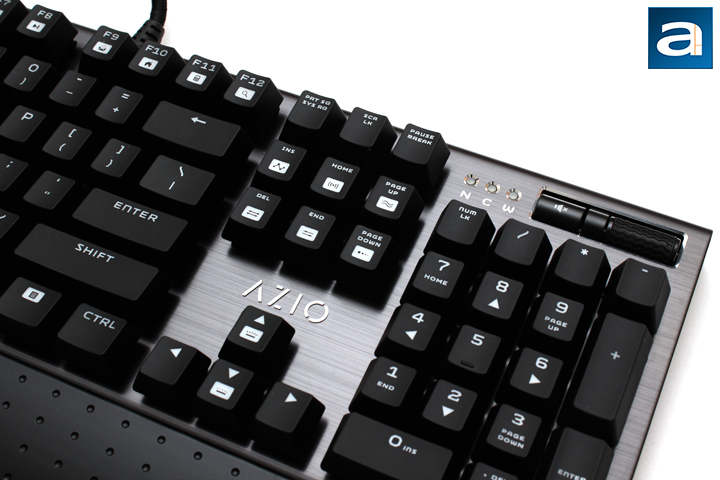 Continuing on, from F9 to F12, we have more shortcut keys, as these all launch other applications. F9 launches the default mailing application. F10 is a home icon, and it can do one of two things. If you do not have an internet browser open, it will automatically open your default browser. However, if you have it open, it will redirect your page to your "home" webpage set for the given browser. F11 opens up a calculator for some quick calculations, and finally F12 opens up your search bar. On Windows 10, this activates Cortana, Microsoft's personal assistant similar to Apple's Siri. On the far right of the keyboard, we have two more buttons, as I have mentioned prior, and they are the volume scroll wheel and a mute button.
The other secondary keys are displayed on the six keys above the arrow key, as well as on the up and down of the arrow keys. All of these vary the lighting colors and effects, so I will run through these effects. Starting at Insert, this activates the "Spectrum Cycling" mode, where all of the keys cycle through various colors in a uniform manner. The Home key activates "Splash" mode, which is a ripple effect, dispersing from the middle of the keyboard. The Page Up key is a "Wave" mode blending two colors a time, going across the keyboard from left to right. The Delete key is a "Color Marquee" mode, used to show off the RGB capabilities of the MGK 1 RGB, and again it scrolls from left to right. The End key is their "Custom" mode, and users can set a color on a per key basis. The Page Down key is the "Reactive" mode, where the keys light up and fade out slowly based on where they are pressed. In addition, pressing all of these keys twice will either change the colors displaying on the keyboard, or pause the mode at the current lighting colors. Unfortunately, you cannot save the paused lights as a custom setting, as there is no internal memory to store these options. I think it would have been nice to give this extra customizing. Finally, all of the lighting modes can be changed in terms of brightness by using the Arrow keys, and can also be turned off by reducing the brightness to zero.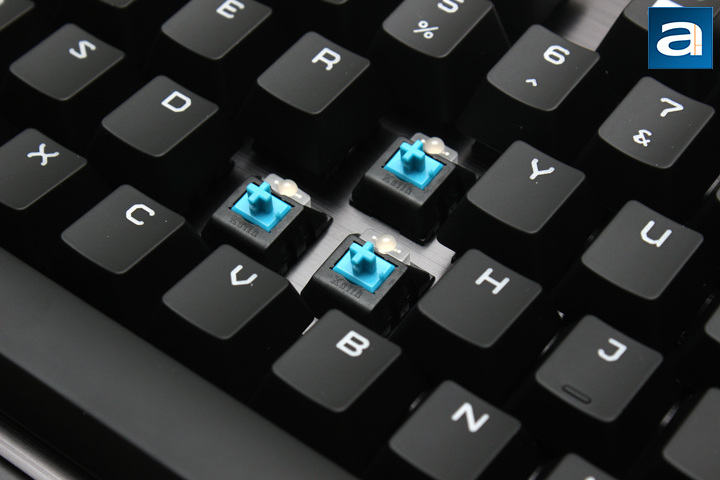 As for key rollover, the AZIO MGK 1 RGB offers NKRO mode over USB. NKRO is abbreviated for n-key rollover, and it refers to the number of keys independently scanned by the hardware. The larger the number, the more key presses detected regardless of other keys being pressed at the same time. In essence, this fixes ghosting issues found in cheaper and/or laptop keyboards. While ghosting is a marketing term, there are cases where keyboards will not be able to recognize more than one keystroke at a time, causing for missed keys. This can be frustrating when you are playing games, or even if you are just a very fast typist. In fact, the original usage of ghosting in keyboards actually referred to a third key being registered when two other keys were pressed. 6KRO is generally sufficient, allowing users to press six keys at a time while the keyboard will recognize all six independent strokes, but having the extra keys to see is nice.
Before continuing on, one of the main selling points of the AZIO MGK 1 RGB is its mechanical key switches. There are three main types of keyboards in the market today. The cheapest but most common is the membrane keyboard, which is the easiest to make, but also has poor typing feel and response due to squishy keys. Next is a scissor switch keyboard. This can be thought of as an enhanced rubber dome, with two extra interlocking plastic pieces connected to the key and the keyboard. This creates a better tactile response and typing experience in comparison to the aforementioned membrane. Mechanical keyboards, such as the MGK 1 RGB, costs the most, because each key switch is an independent part. These switches are generally composed of a base, stem, and spring, with varying degrees of tactile and audible feedback. Our unit of the AZIO MGK 1 RGB features Kailh Blue mechanical switches. These keys are rated to last up to fifty million keystrokes. Blue switches are what I would call a typist's switch. They feature low resistance to typing, low actuation force of around 50g to trigger them. With a 'click' on every key press, and a non-linear bump in the middle of the key travel, both audible and tactile feedback tell you when the key has been actuated. Gamers can still use Kailh Blue switches, but the real issue comes with double tapping, since it requires a bit more effort and travel distance for a double tap to be registered. Preference of which keys will come down to consumer opinion.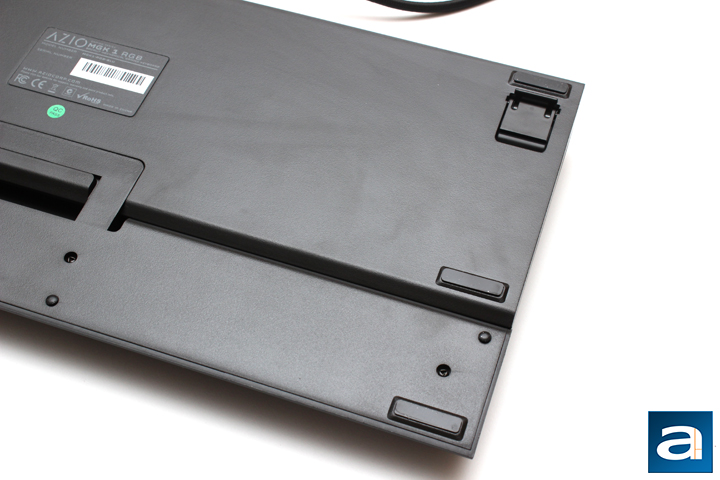 Flipping the keyboard over reveals a few unsurprising details. As usual, we have the standard rubber feet in all four corners. The wrist rest has an additional set of rectangular rubber feet and some smaller circular rubber nubs. Here, you can also see how the wrist rest is attached, with the protruding plastic arm inserted into an indent on the keyboard. Two feet swivel out at the back of the keyboard to help change the incline on the keyboard. Unfortunately the feet are not wrapped in rubber, and thus can possibly slide around. Out of the back of the keyboard, we have a USB cable extending out. It measures approximately 200cm in length, and is braided to protect the cable and make it more flexible. Otherwise, there is not too much else to note here.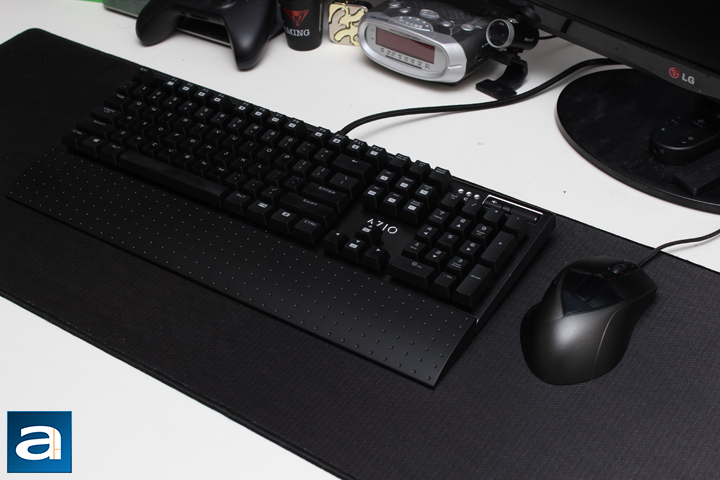 I plugged in the AZIO MGK 1 RGB into my computer and started typing. Every time I go from any switch to a Blue switch, the first thing I am always reminded about is the clicky sounds it produces upon every key actuation. With the MGK 1 RGB, I can once again happily report Kaihua, the manufacturer of its switches, has done a relatively good job of replicating the original German Cherry MX switches. While it is still different in minute ways, overall it is a solid reproduction of a similar type. Despite the keyboard crowd seeing Kailh as more of a budget option, I do not feel like I am missing out on anything by using these Chinese switches. Kaihua has stated a fifty million actuation lifespan, which is the same as the Cherry MX counterpart. As noted, there are a few minute differences, especially with the location of the bump during the key travel, but otherwise it still is a pleasant experience. Otherwise, the typing experienced offered by AZIO and Kailh is satisfying to say the least.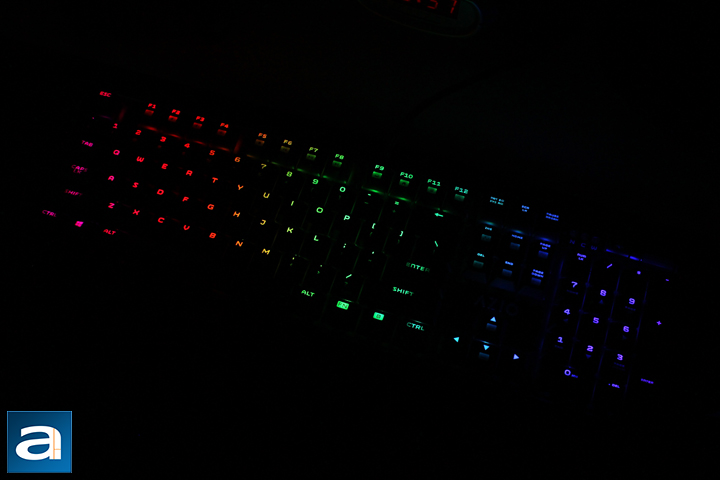 As you can tell by the name, the AZIO MGK 1 RGB comes with RGB LEDs, with 16.7 million different options for colors. I have already gone through the numerous lighting modes available with this keyboard. As for lighting quality, it suffers from the same problem we have seen on practically every backlit mechanical keyboard. As the LED is located near the top of the key, the bottom part of the key is not lit as brightly. This uneven brightness is more noticeable on keys with two rows of printing, such as the number row. Otherwise, the keys still glow pretty bright. As the back of the keyboard is metal and thus reflective in nature, a neat under glow-like effect is created under the island style keys. If there is one thing annoying about the lighting, it is not the LEDs on the keys, but rather the indicator lights. They are white in color and very bright compared to the rest of the keyboard, which can be very distracting. I think if AZIO dimmed these indicator lights, it would be better.
Unlike many keyboard manufacturers, this AZIO keyboard does not come with any accompanying software or utility, as this keyboard can be played right after plugging it in. While this can be seen as a good or bad thing, it does mean there are no macro keys, or in-game integration of the LEDs, which SteelSeries has done with their Apex M800. Considering how often macros are used for some people, even if they are not gaming, I think it would be good to see at least reassigning of keys implemented.
-----------------------------------------
When AZIO first contacted us, I was exhilarated to review the MGK 1 RGB, because it looked like a great product. The brushed metal surface and minimalist look is fine in pictures, but now with the keyboard in my hands, it is even nicer. The included wrist rest is a great sight to see, and it is easy to affix or remove whenever. Build quality is also superb, as we have seen with many mechanical keyboards. Using the keyboard daily, I think the AZIO MGK 1 RGB feels good. Despite having Kailh switches, which are seen as more of a budget option, they hold up in use, and are not far off from their Cherry MX counterparts. As for the layout, seeing secondary shortcut keys are a bit odd if I do say so myself, but they can be handy for quickly launching other applications. On the other hand, a rubber scroll wheel on the top right corner to control volume is definitely a plus, as it is not necessarily a common feature. Lighting overall is average, with a sufficient amount of RGB illumination options and customization. However, there are a few things I think AZIO should address for their next keyboard. For one, a few refinements to the wrist rest and the extending feet would be an easy change. Next, I would like to see them implement a way to record and play macros, as these can be handy for some games. Whether it is with or without software, I think AZIO should consider this, especially as the keyboard is targeted at gaming. On a minor note, I think a reduction in the brightness of the notification LEDs would be much appreciated. Looking at the market, the AZIO MGK 1 RGB is regularly priced at $140 USD, which is a good, but not great price. It competes with some other keyboards, but considering the Patriot Viper V760 can be had for approximately $30 less, I would say you are really paying for a more minimal look. Thankfully, the MGK 1 RGB is also often on sale at $90 USD, which is much more competitive. AZIO Corporation has proven to me they are able to make a great mechanical keyboard, and with some small changes, I have great expectations for their next one too!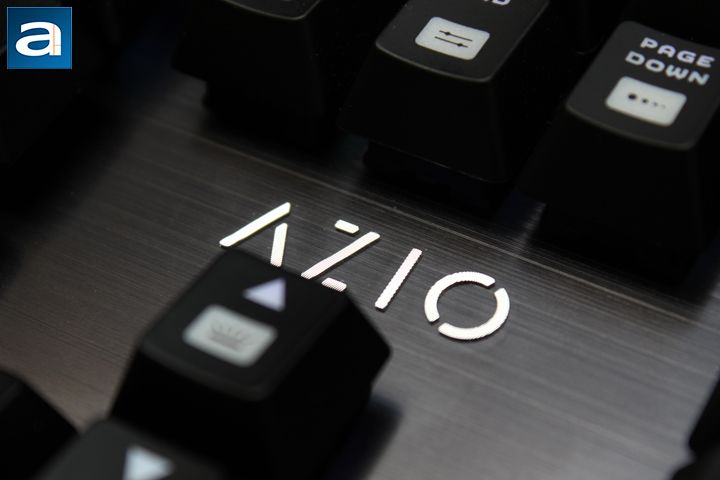 AZIO provided this product to APH Networks for the purpose of evaluation.
APH Review Focus Summary:
8/10 means Definitely a very good product with drawbacks that are not likely going to matter to the end user.
7/10 means Great product with many advantages and certain insignificant drawbacks; but should be considered before purchasing.
-- Final APH Numeric Rating is 7.1/10
Please note that the APH Numeric Rating system is based off our proprietary guidelines in the Review Focus, and should not be compared to other sites.
This may not be the one to rule them all, but the AZIO MGK 1 RGB is a minimally designed, solidly built mechanical keyboard.
Do you have any comments or questions about the AZIO MGK 1 GRB? Drop by our Forums. Registration is free, and it only takes a minute!