By: Aaron Lai
March 4, 2016
I think by now you have read quite a bit about Editor-in-Chief Jonathan Kwan and his dating advice. Whether it is the comparison of girls and cars, the emotional appeal of products, or more recently, the LPSE formula, we all can tell by now Jonathan Kwan is the master of relationships. All joking aside though, I was asked why I never give any dating or relationship advice, and today I can respond with three reasons. For one, APH Networks is not a dating website, and hopefully it never will become one. I do not really expect readers to be searching our site for such information. Secondly, I am not an expert on relationships, especially as I am quite new to it myself. If I had more experience, I probably would also have more to tell. But most importantly, I think I should only give advice I myself am for sure able to keep. If I provide insight on something, yet do not even heed my advice, it would make my advice quite hollow. In no ways am I trying to imply Jonathan does or does not follow the things he speaks of for these topics, but rather this is just my own opinion. This is not just for relationship advice either, and it can be expanded to other topics. No one follows those who tell others to "do as I say, but not as I do". I think it is important to ensure the claims of anything, whether a person or product, are backed up with actual proof. When Patriot released their gaming peripheral lineup, I was quite excited. As you have already seen with the Viper V360 and V560, results have been generally positive, with some tweaks to be had in each. The Viper V760 today is their mechanical keyboard with aircraft grade aluminum and a magnetic wrist rest. With full RGB lighting and much more, are these features just words on a page, or are there more than meets the eye? Hopefully this review will cover all your questions!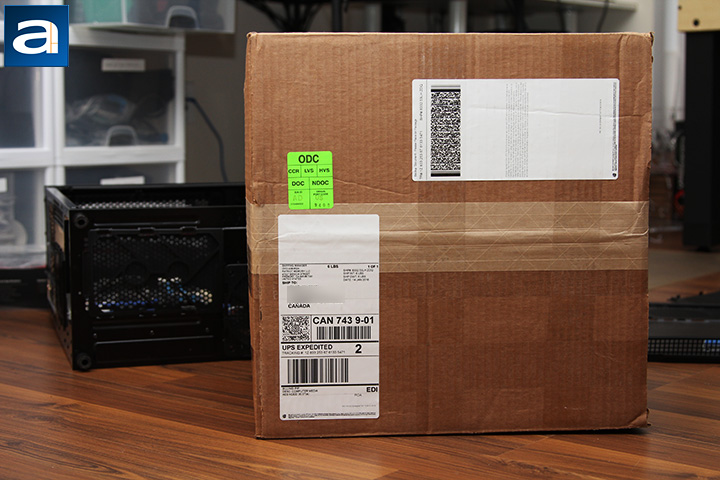 Today's review unit of the Patriot Viper V760 arrived from Patriot's offices in Fremont, California. Along with the Viper V760 was the Patriot Supersonic Magnum 2 256GB, which has already been reviewed by Editor-in-Chief Jonathan Kwan last week. With the men in the brown suits, the UPS people delivered this product in great condition, without any external issues or problems to speak of. There was some bruising at the top, but otherwise, it is pretty good.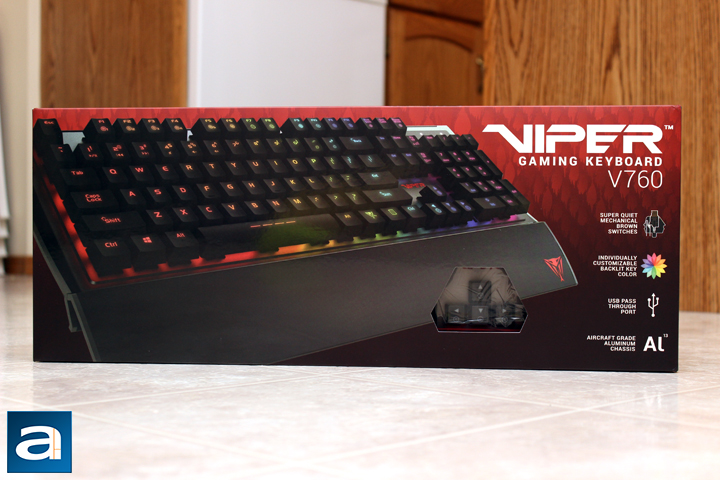 Out of the shipping container, we have the retail container of the Patriot Viper V760. Much like the other two products in the Viper gaming lineup, this box follows the same red and black coloring scheme. The keyboard is shown on the left side with a nice glossy finish. Patriot's branding is not even displayed on the front panels, with only a brief mention of it at the back of the box. It seems Patriot is really pushing its Viper branding, much like Kingston has done with their HyperX lineup. Four big features are displayed on the front, including the quiet Brown switches, custom RGB colors for each key, USB pass-through, and aircraft grade aluminum chassis. In addition, a small hexagon window show the arrow keys to allow users to try out the switches before buying it. Of course, this is only helpful if you buy it in the stores, and not online. At the back, more features and specifications are listed with a larger image of the keyboard.
Before continuing on, let us look at the aforementioned features and specifications, as obtained from the manufacturer's website:
Features
- 100% Kailh mechanical brown switches
- 104 key rollover anti-ghosting
- Full spectrum RGB LED
- Individually customizable backlit keys up to 16.8 million colors
- USB pass through port
- Game Mode
- 104 programmable macro keys
- 5 Profile control key
- 14 light control keys
- 10 level LED reaction management
- Multi-level LED backlit dimming
- Removable magnetic palm rest
- Aircraft grade aluminum chassis
Specifications:
- Warranty: 2 Years
- Certifications: RoHS, FCC, CE
- Packaging Type: Retail Box
- Unit Dimension Width: 46.6 cm
- Unit Dimension Height: 4 cm
- Unit Dimension Length: 20.3 cm
- Unit Weight: 1230 g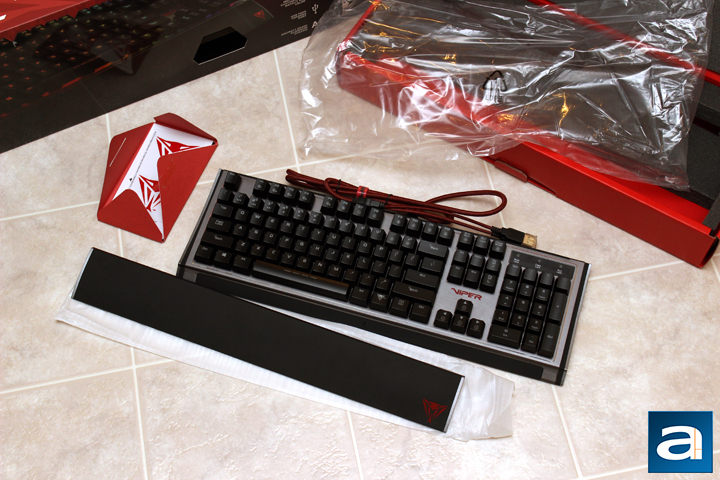 The unboxing experience for the Patriot Viper V760 is a pretty standard one. Take off the outer shell, and in front of us is a pure red cardboard box. Inside this box is lined with foam to prevent any damage from occurring to the keyboard during shipping. The Viper V760 itself is wrapped in plastic, and is the first thing out of the box. Underneath we have a long bar, which is wrapped in a foam pocket. This is the wrist rest for the Patriot Viper V760, and it is a very good sight for sore eyes, or sore wrists in this case. This is the first keyboard I have reviewed that comes with a detachable wrist rest. Otherwise, there is a small red envelope holding some Viper stickers, small user manual, and some warranty information. As with many keyboards nowadays, the Viper V760 comes with a standard two year warranty. Finally, there is a small bag holding an orange key cap puller. With all this out of the way, let us take a closer look at the keyboard itself.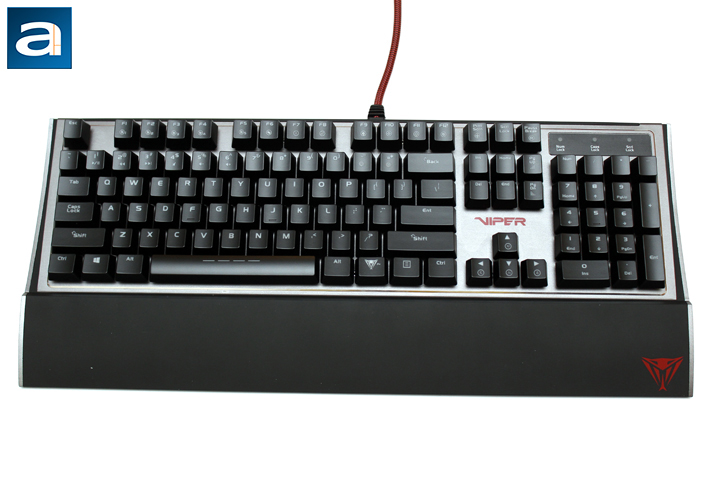 Normally, when you say gaming, you might think of something a bit more outgoing. Patriot, despite calling this a gaming keyboard, has seemed to take a different route with design. The Viper V760 is unlike anything I have held in my hands before, and the main reason is the lack of any plastic enclosure. Most keyboards I have reviewed look like any other keyboard with a plastic enclosure and a metal plate inside. Much like the G.Skill Ripjaws KM780 RGB, Patriot has removed the notion of an enclosure, and instead exposed the plate, creating a floating look for the keys. The exposed aluminum plate is what Patriot calls "aircraft-grade aluminum", and is cool to the touch. Otherwise, there is a minimal amount of branding on the keyboard, with only a Viper brand name near the arrow keys, and a Viper logo on the bottom right corner of the wrist rest. There is a smaller Viper head on the Function key, but it is not too obnoxious in its design to be out of the ordinary. Overall, I really like what Patriot has done with the V760. It is simple yet classy. It may not necessarily be the first thing I think of when I hear gaming peripheral, but I like it nonetheless. If there was anything I would change, it would be the side edges, which bear a relatively sharp edge. It is not sharp enough to really hurt anyone, but it may be uncomfortable. Thankfully, you would not normally rest your hands there, but I think it would be good to just smooth it out.
Unlike what I have seen from many manufacturers, Patriot included a fully detachable wrist rest. This is something I have not seen in a long time. One of the neat things about it is the fact it is held to the keyboard magnetically. There are two magnets, one on each side, to hold the additional bar to the keyboard. A small divot protrudes from the wrist rest and slots into the bottom of the keyboard to ensure it does not slide about. This solution is quite effective in providing a secure hold, while still being easy to purposefully remove. Picking up the keyboard by its side does not dislodge the wrist rest either, which is great to see. This area is also covered in my ever favorite soft-touch rubber-like material. On the other hand, this surface easily attracts fingerprints, which is unfortunate, since you will inevitably be touching this area when using the keyboard.
As for its dimensions, the V760 measures in at a width of 466mm, a depth of 152mm, and a height of 40mm. With the wrist rest, however, this grows to a depth of 203mm. Generally, this is a pretty slim design, with a minimal amount of surrounding bezel. Its sides also have a look which makes the keyboard look even slimmer than it actually is. Compared to most keyboards, the V760 is noticeably deeper, and this is due to the included wrist rest. In terms of mass, the keyboard and wrist rest weigh approximately 1.2kg, which is about right for its size. As for build quality, the aluminum backplate alone says quality. The keyboard offers zero flex, and the smooth surface again is a huge plus in my books. Even though the underside of the keyboard is hard plastic, it still feels solid overall.
As for the layout, the Patriot Viper V760 came in a standard QWERTY ANSI 104-key layout. This should mean a few notable differences including the elongated, but single-row, Enter key, and an approximately fifty percent larger backslash key. Otherwise, most of the keyboard is laid out in the same way as every other keyboard sent to APH Networks. One Windows key is placed on either side near the Alt button, with a Function button on the right side of the keyboard. At the top right corner are three white LEDs for Caps, Num, and Scroll Lock, respectively. The keycaps themselves are decent in quality, with the letters being translucent to allow the backlighting through, as you will see soon enough. They do show fingerprints and stains quite easily however, but it is not too big of a deal.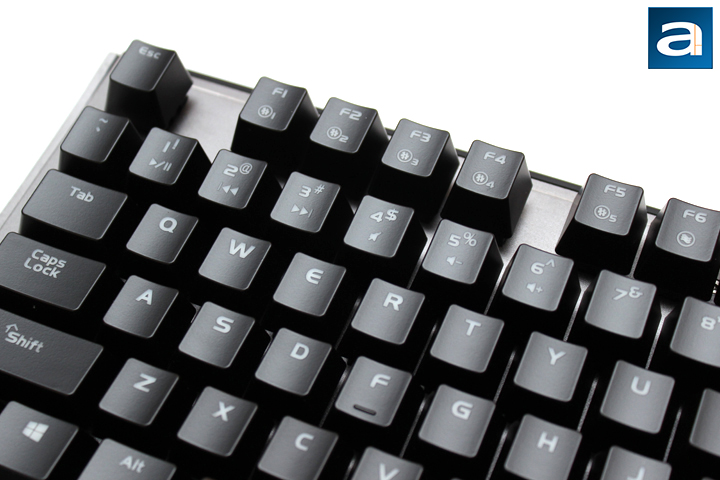 As for secondary functions, there are actually quite a few. In fact there are so many, the media keys have been bumped out of the function row, and into the number keys. However, most of these additional functions are for lighting effects, so I will try to go through all of them. All of these keys are activated by pressing the Viper key, also known as the Fn key, before pressing any of the keys marked with a secondary logo. Starting with the media keys, this set is displayed from numbers 1 to 6. From left to right there is Play/Pause, Previous, Next, Mute, Volume Down, and Volume Up. These are quite standard on most keyboards, and it is more surprising to see them not there. Moving to the Function row, we have F1 to F5, which allows you to store up to five different color profiles. This gives you control of customizing each key into a certain color, and store it in the profiles. This is done by pressing F12 and recording your colors on the keyboard.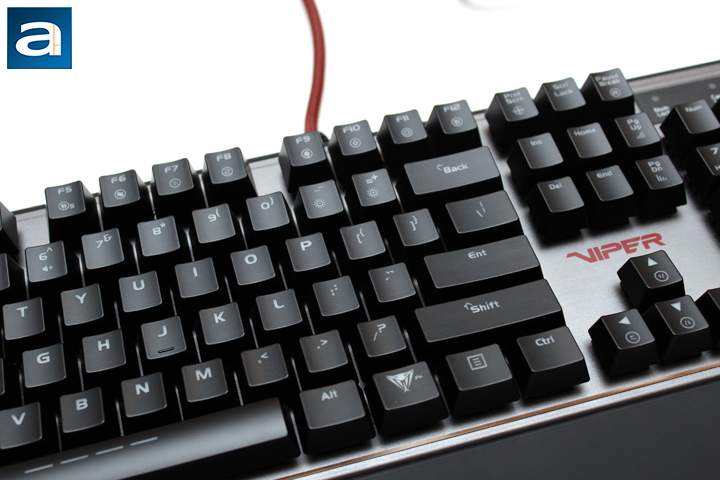 From F6 to F11, we have all sorts of different lighting effects, with multiple assigned to each key. Starting with F6, we have the usual Rainbow Wave, which is a must have on RGB keyboards just to demonstrate its colorful capabilities. There are a few more tricks up the sleeve, as you can not only vary the speed of the spectrum movement, but also the direction. Using the arrow keys, with the Fn key pressed, you can make the wave move in all directions, both horizontally and vertically. Pressing F6 again shows other wave patterns, but they are all quite nauseating after a while. F7 is a Water Drop reactive mode, in which each key actuation acts as a water drop, and the lights disperse out in a circular pattern across the keyboard. Cycling through F7 varies the different colors. F8 has a snake-like mode, in which the lights move around the keyboard from row to row. Unfortunately, you cannot actually play snake on this keyboard, unlike the CM Storm Quick Fire XTi. F9 is a raining mode, in which various keys light up to simulate water drops. Cycling through F9 changes to a reactive mode, which only lights up the keys you have pressed recently. F10 is a breathing mode, which can either cycle through multiple colors, or stay on a certain color. Finally, F11 is the standard always on light, but it can cycle through the spectrum, or stay constant on one color. All of these modes can be varied in speed, where applicable, or brightness. Speed is increased and decreased by pressing the function key with Page Up or Page Down, respectively. Brightness is changed by using the '-' and '+' keys.
There are two more secondary function keys, and these are the Print Screen and Pause Break buttons. The secondary function on the Print Screen is to activate gaming mode, which allows you to use the macros created in the software, as you will see soon enough. The Pause Break secondary function is to reset the entire keyboard, and it is done by holding it down for several seconds. Otherwise, the only thing I am surprised it is missing in action is the Windows lock key, because I would think most keyboards would include this. You can do this in the software, but I am disappointed in this omission, as it is helpful to be able to change it on the fly.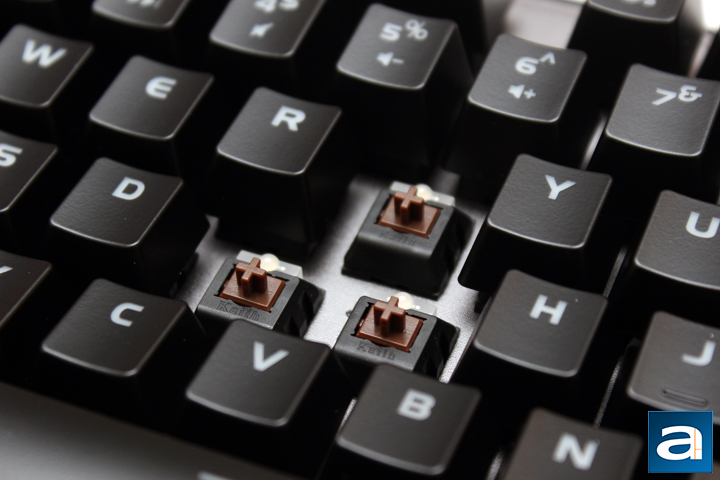 As for key rollover, the Patriot Viper V760 offers 6KRO and NKRO mode over USB. Patriot has specifically noted NKRO maxes out at 104 keys, but I have yet to see anyone with this many fingers to activate all of the keys. NKRO is abbreviated for n-key rollover, and it refers to the number of keys independently scanned by the hardware. The larger the number, the more key presses detected regardless of other keys being pressed at the same time. In essence, this fixes ghosting issues found in cheaper and/or laptop keyboards. While ghosting is a marketing term, there are cases where keyboards will not be able to recognize more than one keystroke at a time, causing for missed keys. This can be frustrating when you are playing games, or even if you are just a very fast typist. In fact, the original usage of ghosting in keyboards actually referred to a third key being registered when two other keys were pressed. 6KRO is usually sufficient, as it allows users to press six keys at a time, and the keyboard will recognize all six independent strokes, but having the extra keys to see is nice.
Before continuing on, one of the main selling points of the Patriot Viper V760 is its mechanical key switches. There are three main types of keyboards in the market today. The cheapest but most common is the membrane keyboard, which is the easiest to make, but also has poor typing feel and response due to squishy keys. Next is a scissor switch keyboard. This can be thought of as an enhanced rubber dome, with two extra interlocking plastic pieces connected to the key and the keyboard. This creates a better tactile response and typing experience in comparison to the aforementioned membrane. Mechanical keyboards such as the Viper V760 costs the most, because each key switch is an independent part. These switches are generally composed of a base, stem, and spring, with varying degrees of tactile and audible feedback. Our unit of the Patriot Viper V760 features Kailh Brown mechanical switches. These keys are rated to last up to fifty million keystrokes, just like Cherry MX switches. Brown switches are what I would call a hybrid switch, combining the silent design of the Reds, with the nonlinear travel and tactile feedback found in the Blues. The Browns also feature low resistance to typing, and an actuation force of around 45g to trigger them. In a recent survey, it was found most users actually prefer Brown switches over everything else. Preference of keys and their flavors will ultimately come down to consumer opinion.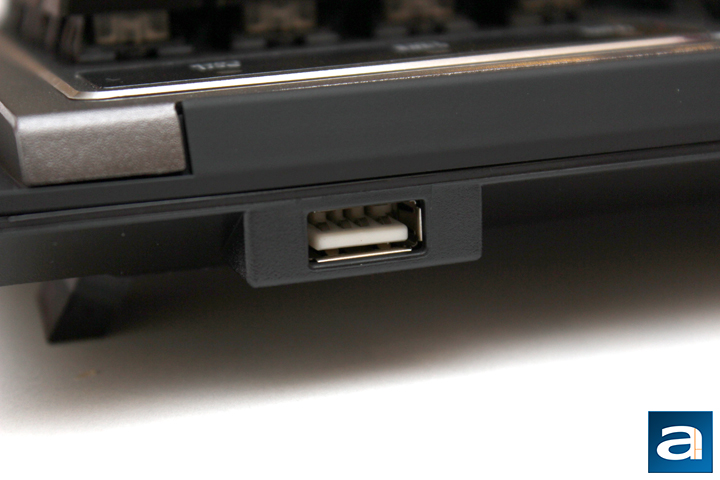 At the back of the Patriot Viper V760 are two things to note. One is a USB 2.0 pass-through port, which allows users to plug their USB devices into the keyboard for various needs. The other is the USB cable. This cable measures approximately 150cm in length. While this is shorter than most keyboards, it is also adequate in length, and connects to my desktop without any length issues. The cable is braided with a red and black design to stay in line with the Viper branding. It also has a small Velcro wrap to make tying up the cable easy. I should mention there are actually two USB plugs to put into your computer, with one for the pass through port. While I am used to seeing this, I wish Patriot made it easier to differentiate which plug is for which. Both of them are labeled the same, with the only difference being the plastic inside the USB plug. In addition, since Patriot does not provide much documentation about the two, so I will just say the pink port is for connection, while the green is for pass-through.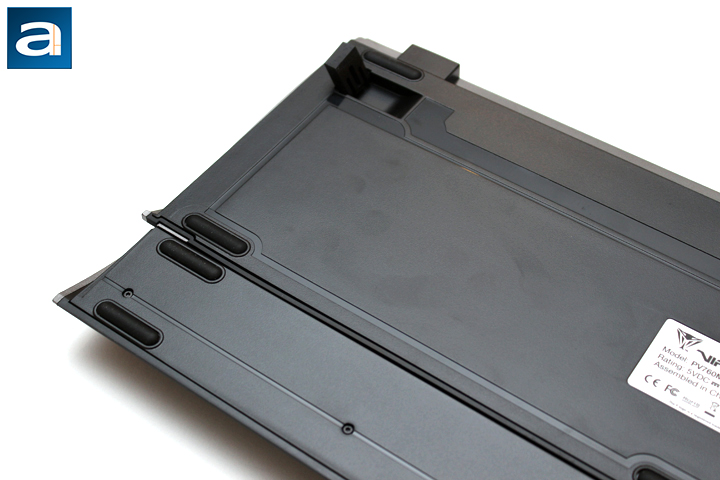 Flipping the entire keyboard to the bottom, and we have a clear view of the rubber feet. The Patriot Viper V760 is held quite well in place with a total of five rubber feet on the keyboard itself, and an additional six on the wrist rest. There are two kickstand feet, which pop out sideways rather than the standard vertical extension. The good thing about this is the fact moving the keyboard back and forth should not accidentally fold the feet in. As with most keyboards, the feet are also rubber tipped for better grip on the surface. Overall, the amount of grip generated at the bottom is great, and I never had stability or movement issues while using the V760.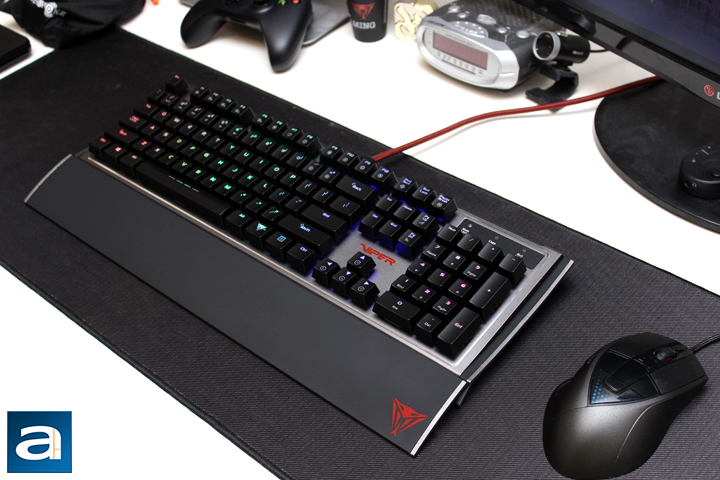 Yes, there is a Patriot-branded shot glass near my Xbox One controller, which was obtained during our CES 2016 visit.
When I first tried this keyboard, I had some expectations in mind, considering I have tried and used most common types of keyboard switch colors, from Red to Brown to Blue. My own keyboard, the Cooler Master Storm Quick Fire Ultimate, is a Cherry MX Brown flavor too. Thus, I have a pretty good idea of what Brown switches should feel like. With the Patriot Viper V760 and the Kailh Brown switches, I can happily report Kaihua, the manufacturer of these switches, has done a relatively good job of replicating the original German switches. Despite the keyboard crowd seeing Kailh as more of a budget option, I do not feel like I am missing out on anything by using these Chinese switches. Kaihua has also stated a fifty million actuation lifespan, which is the same as the Cherry MX counterpart. There are a few minute differences, especially with the location of the bump during the key travel, but otherwise it still is a pleasant experience. One thing I noticed apart from the switches itself was the hollow echo created by pressing these keys. This is probably due to the contact between the keys and the metal backplate. It might be annoying to some, but it is only heard on hard striking of the keyboard.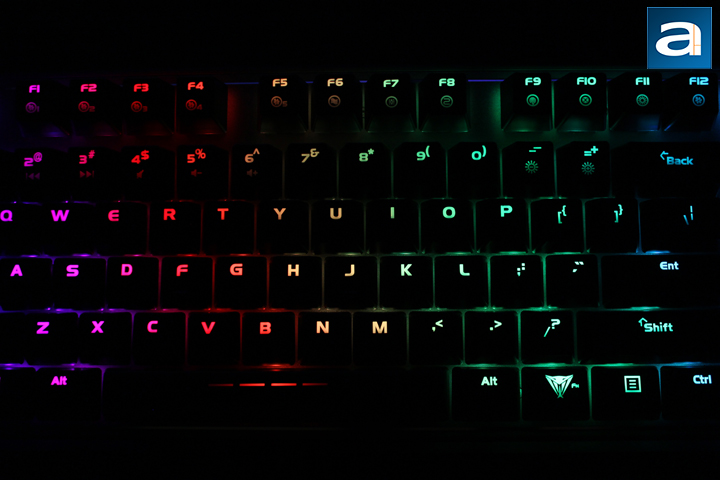 As this is an RGB keyboard, it is only meaningful for us to check out the lighting. One problem I have seen on many mechanical keyboard backlighting is the fact most keys with two rows of printing will have inconsistent brightness between the two rows. This is due to the fact the light is located at the top of the key, and thus will be brighter at the top. Unfortunately, the Patriot Viper V760 is no different, but this is up to either the switch manufacturer to implement better lighting, or for peripheral makers to change up the inscription layout on each individual key. What I can say is the Viper V760 is definitely capable of lighting up each key to a total of 16.7 million different colors. Other than the inconsistency for each key, overall the V760 gets quite bright and glows vibrantly.
As I have mentioned before, the Viper V760 also comes with a lot of different lighting options, from their spectrum wave to varying reactive modes, and bunches more. All in all, the possibility of all these color effects is good to see, but I have to start wondering where the purpose of this is. While it could just be sold on the fact there are a boat load of coloring modes, I would like to see more usefulness too. SteelSeries has done so in their Apex M800, and shows promise in developing an engine to work with their keyboards to display useful information. This being said, considering this is only Patriot's first entry into the peripheral market, I am not expecting this of them right away, but it is a suggestion.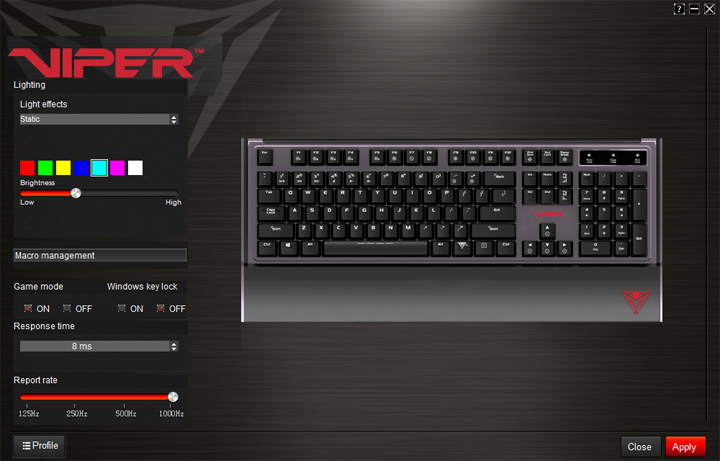 Patriot's Viper V760, much like the V560, comes with its own software utility to customize the keyboard even more. Just to note, at the time of review, version 2.4 is currently available. As for today's utility, there are a few things you can do in it, including changing the lighting mode, creating and assigning macros, and varying some small things like keyboard response time and report rate. Other profiles are also available to save and load to the keyboard. All of these generally work quite well, despite the relatively sparse appearance. I think if there is anything I would suggest to Patriot, it would be to provide some visual indication for different profiles. Doing so would give the users a peace of mind as to which profile they loaded in to the keyboard. Otherwise, this small tweak should be easy to fix, and Patriot has been responsive in the past to fix other issues, so I do not put it past them to possibly address this.
-----------------------------------------
Patriot may have made many claims with the Viper V760, but I can say overall it is a pretty good mechanical keyboard. Starting with its build and design, the Viper V760, while not necessarily a new look, is still a great looking keyboard. Its clean design is complemented by great material choices, whether it is the exposed aluminum backplate, or a soft rubber coat on the plastic areas. Even more so, we have a wrist rest, and it is implemented quite well. The magnets to hold it in place are effective, and it allows users to remove it without fiddling with plastic clips. Build quality is superb and solid, as the Patriot Viper V760 feels robust. As for typing quality, the V760 may not be populated with Cherry MX keys, but the Kailh switches on it are an excellent budget choice for keyboard manufacturers. The feel between a Cherry MX Brown and Kailh Brown switch is quite similar, with only small differences if inspected closely. Furthermore, seeing all these lighting options and effects is cool to see. Considering it allows for a lot of different modes and colors, this gives users a lot of options in customizing their keyboard. As for their software, the Patriot Viper V760 provides a basic utility, and it generally works. Better yet, when I had a few concerns, they were quick to acknowledge and address these issues, which only bodes well for future updates. The only blip I see in this keyboard is the lack of a physical way to disable the Windows key. Considering this is targeted at a gaming audience, I think this feature should be standard on all keyboards in this market. With a price tag of $110 USD direct, the Patriot Viper V760 is an average priced keyboard. However, when you consider it comes with a well-implemented keyboard and full RGB lighting, the Viper V760 is an excellent value pick.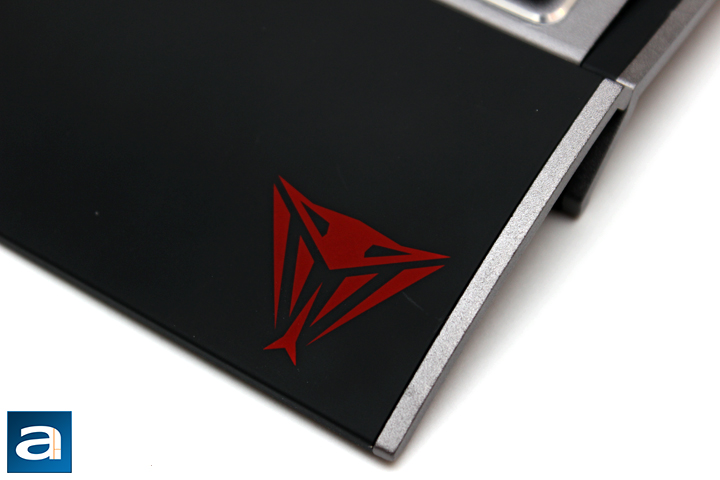 Patriot provided this product to APH Networks for the purpose of evaluation.
APH Review Focus Summary:
8/10 means Definitely a very good product with drawbacks that are not likely going to matter to the end user.
7/10 means Great product with many advantages and certain insignificant drawbacks; but should be considered before purchasing.
-- Final APH Numeric Rating is 7.5/10
Please note that the APH Numeric Rating system is based off our proprietary guidelines in the Review Focus, and should not be compared to other sites.
For Patriot's first mechanical keyboard, the Viper V760 is a premium piece of hardware at a competitive price.
Do you have any comments or questions about the Patriot Viper V760? Drop by our Forums. Registration is free, and it only takes a minute!