By: Jonathan Kwan
February 26, 2016
For most people living in Alberta, traveling between Edmonton and Calgary is almost a routine drive. Since this route is so familiar to everybody, it is a common occurrence see people interpret the 110km/h speed limit like it is 110mph (Not that I have done it before, of course). Therefore, the Queen Elizabeth II highway can be heavily enforced by the police. As a law abiding citizen who prefers to cruise in the right lane close to the posted speed limit, covering that 300km or so on such a flat and straight road can be pretty boring. To make things a little more interesting, one of my favorite things to do -- besides singing songs, talking to my fellow passengers, or both -- is to keep track of all my police encounters. Last month, I was driving up to Edmonton for a conference with a couple of friends. Upon the first alert from my Escort Redline, I began to explain to my co-driver the logging procedure. "Take out the logbook located in the compartment next to you, and write down the following information," I said. "Radar frequency Ka 34.687GHz, time 14:06, current speed 110. Let me know when you have a visual." Confused and surprised, she reached for the logbook and said, "Normally, the police keeps track of you. Why do you keep track of the police?" The way I see it, with the right equipment and intentions, there are times where you can flip some roles. Back in 2011, I reviewed the Patriot Supersonic Magnum 64GB, a speedy USB 3.0 flash drive with a large capacity. Today, we will take a look at its successor, the aptly named Patriot Supersonic Magnum 2 256GB. With a massive capacity and advertised transfer rates of up to 400MB/s read and 300MB/s write, on paper, it is bigger and faster than some SSDs from just a few years ago. Has Patriot flipped some roles with the Supersonic Magnum 2 256GB, like I have with the good people in traffic enforcement last month? We got five pages of benchmarking to find out in our review today.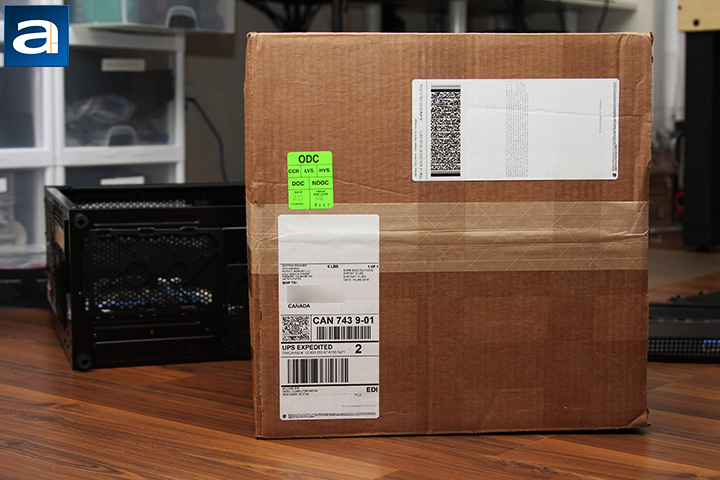 Our review unit of the Patriot Supersonic Magnum 2 256GB came in a large, brown corrugated cardboard box from the company's American headquarters in Fremont, California, USA. If you are wondering why they used such a big box to ship such a small drive, rest be assured they are not just throwing away money for fun. It actually came with the Patriot Viper 760 mechanical keyboard, which, as you may have already guessed, is pretty big itself. Using UPS Expedited, everything arrived in safely and in great condition to us here in Calgary, Alberta, Canada for our review today.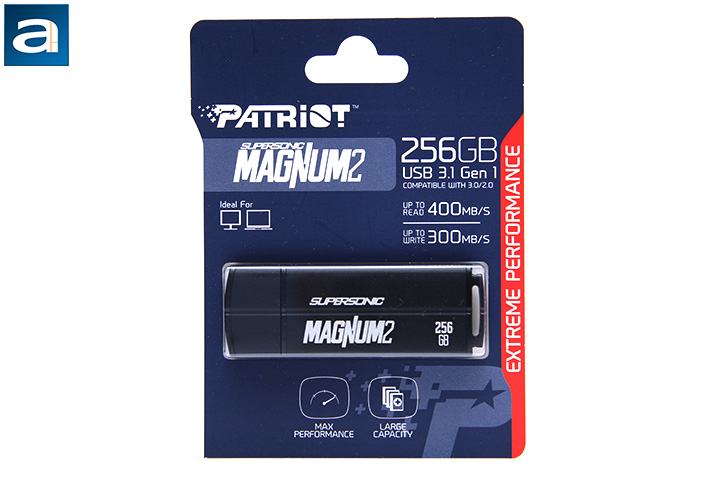 The Patriot Supersonic Magnum 256GB may be a supercar of the USB flash drive world, but there is nothing particularly exotic in nature for its retail packaging. Flash prices have gone down a lot in the last few years, and for about $130 at press time, the relatively unsophisticated retail package fits the bill. This is the same kind where you can hang it on a store shelf rail, but chances are that it will be locked up in the glass cabinet behind a counter. As far as its design is concerned, it combines a clean multi-shade blue background, and a clear plastic shell that encases the drive itself. The template is pretty much standard fare for Patriot products as of late, like the Patriot Viper 4 PC4-22400 2x8GB I reviewed a few months ago. The overall concept is extremely simple, but it gets the job done. Patriot's logo and model name is prominently displayed on the left, along with its capacity and rated performance on the right, as demonstrated in our photo above. A red strip on the right highlights its "Extreme Performance". The text says the Patriot Supersonic Magnum 2 256GB is a USB 3.1 Gen 1 product. In case you are not familiar, it is the same thing as good old USB 3.0.
Before we move on, let us go over the specifications of this drive, as obtained from the manufacturer's website:
Weight: 32.8 g
Dimensions: 13.2 x 10 x 1.04 cm
Capacity: 256GB, 512GB
USB Technology: USB 3.0, USB 3.1
Warranty: 5 Years
Certifications: RoHS, FCC, CE
Country of Origin: Taiwan
Unit Dimension Width: 2.69cm
Unit Dimension Height: 7.18cm
Unit Dimension Length: 0.91cm
Unit Weight: 21.9gm
---
Page Index
1. Introduction, Packaging, Specifications
2.
A Closer Look, Test System
3.
Benchmark: AIDA64 Disk Benchmark
4.
Benchmark: ATTO Disk Benchmark
5.
Benchmark: Crystal Disk Mark 3.0
6.
Benchmark: HD Tach 3.0.1.0
7.
Benchmark: HD Tune Pro 4.60
8.
Conclusion