By: Jonathan Kwan
June 17, 2011
'Appearance versus reality' is one of my favorite things to write about when I studied English Language Arts IB back in high school. Unlike most topics people like to study in literature, this actually applies to our daily lives just as much as what we are about to have for lunch this afternoon. Whether it be the Hyundai girl I have talked about in my ASUS P8H67-I Deluxe review, or the "change is certain, progress is not" attitude discussed in my Intel Core i3-2120 article last month, it is surprising how much we can all relate to it. Just last night, after eating out with a friend here in Toronto, he drove me home because I don't have my car with me at the time. As we walked out into the parking lot, I was excited to see him point at the shiny new Graphite Luster Metallic Acura TSX in front. "Nice car", I thought to myself. Unfortunately, what he actually meant was the dull little Hyundai Elantra parked behind it. It is unfortunate to say sometimes in life, things are just not as good as we perceive them to be. On the other hand, the ambitiously named OCZ Vertex 3 Max IOPS 240GB I have reviewed last week seems to be quite the opposite. Carrying a name that expresses no attempt at being modest, we later found out this is only a part of the story -- its performance is simply matchless and beyond imagination. That's nice to hear. But how about yet another ambitiously named product, the Patriot Supersonic Magnum 64GB? With a capacity in the area of 'ridiculous', and promises to deliver up to 200MB/s read and 120MB/s write over USB 3.0 in conjunction with its 8-channel technology, is this what Jeremy Clarkson would refer to as the fastest USB flash drive... in the world? We have it thoroughly tested in our eight-page review today.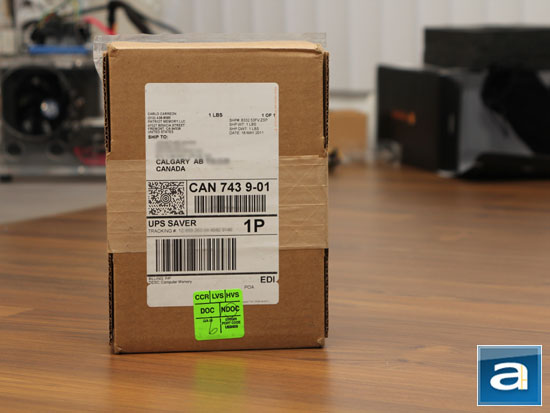 Our review unit of the Patriot Supersonic Magnum 64GB flash drive came in a relatively compact, brown corrugated cardboard box from Patriot's American headquarters two thousand kilometers away in California, USA. Using UPS Saver, it hopped onto the same flight as the OCZ Vertex 3 Max IOPS 240GB solid state drive we have reviewed last week. Everything arrived in excellent condition, and after digging out the packing material, I took out my camera and got straight to work.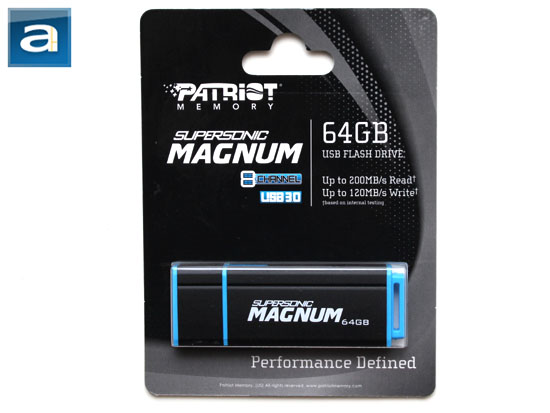 The packaging for this exotically priced USB flash drive is nothing particularly exotic in nature. Carrying a price tag of approximately $200 at press time, our review unit of Patriot's Supersonic Magnum 64GB came in a surprisingly unsophisticated retail package. This is the same kind where you can hang it on a store shelf rail, but for something that costs as much as this, chances are that it will be locked up in the glass cabinet behind a counter. As far as its design is concerned, it combines a clean black-and-grey textured gradient background, and a clear plastic shell that encases the drive itself. The overall concept is extremely simple, but it gets the job done. Patriot's logo and model name is prominently displayed on the left, along with its capacity and rated performance on the right, as demonstrated in our photo above.
Before we move on, let's go over the specifications of this drive, as obtained from the manufacturer's website:
- USB 3.0 compliant
- 8-Channel technology for fast read/write performance
- Up to 200MB/s read*
- Up to 120MB/s write*
- Backwards compatible with USB 2.0
- Aluminum housing for shock resistance up to 15G
* based on internal testing
---
Page Index
1. Introduction and Specifications
2.
A Closer Look, Test System
3.
Benchmark: AIDA64 Disk Benchmark
4.
Benchmark: ATTO Disk Benchmark
5.
Benchmark: Crystal Disk Mark 3.0
6.
Benchmark: HD Tach 3.0.1.0
7.
Benchmark: HD Tune Pro 4.60
8.
Conclusion