Page 8 - Conclusion
As I have mentioned earlier in this review, it has been a good three years since we have last looked at a USB flash drive in this amount of detail -- and looking back at what we have done in the past, our new set of performance benchmarks is quite a deviation from the battery of tests we used to implement in our evaluation. The elimination of real life performance tests using Windows File Copy is probably a controversial decision even for me, but I am confident our updated format is far more indicative of actual drive performance than what we have done in the past.
Fundamentally, I was not able to create consistent results due to drive caching under Windows 7 Professional. To ensure no bottlenecks were involved, I used an OCZ Vertex 3 Max IOPS 240GB SSD; which is the fastest single SATA 6Gb/s drive at press time. Its performance demonstrated in our review last week clearly exceeds the Patriot Supersonic Magnum 64GB in every way, and there is no question about that. Unfortunately, under this setup, I was not able to obtain any consistent results that accurately reflect the performance of Patriot's flagship USB 3.0 device. Therefore, I modified our standard array of SSD testing programs, and only used the ones that are applicable to our product today. This eliminates PassMark PerformanceTest 7.0 and PCMark Vantage, in which we see no value when evaluating removable storage for obvious reasons.
In the end, the results paid off; and I think we were successful in painting a very clear picture of the performance characteristics of Patriot's Supersonic Magnum 64GB USB 3.0 flash drive. It performed extremely well in sequential reads and writes, which translates to high data throughput when dealing with large files. This is extremely evident in my day-to-day usage when moving stuff like HD movies onto the Supersonic Magnum. Unfortunately, its low input/output operations per second -- otherwise known as IOPS -- greatly crippled the drive when it came to small file read and writes, so if you have a lot of Word documents to carry with you, then you will need to be a little more patient. Even the dual channel, USB 2.0 OCZ Rally2 Turbo 4GB from 2008 performed competitively with the 8-channel, USB 3.0 Patriot Supersonic Magnum 64GB in this area. Although it is a fact USB flash drives are not necessarily known for high IOPS, many would hope the Patriot has broken ground with their flagship performance drive. It turned out it is only marginally better than those of the past. The good news is you probably won't be filling a 64GB removable storage device with only Word documents and text files, so any disadvantages noted here with regards to speed is probably negated by obscurity. No one in the right mind would complain when you're seeing megabytes-per-second rate in the high double to low triple digits as your favorite episode of Top Gear in 1080p is stored. If you own a dSLR with each JPEG image 6MB or larger, performance remains commendably high. This is even truer for purists shooting in RAW. I mean, how else are you going to fill a 64GB USB flash drive?
As we recap upon Page 2 of this review, the aluminum casing and relatively thin -- albeit a little wide for my likings -- design of the Supersonic Magnum constitutes a high quality product that feels solid in anyone's hands. There is absolutely nothing to complain about in this regard, but it is important to note I am not a big fan of the fact that it lacks a drive activity LED. At the end of the day, there are tradeoffs that needs to be made. If you have $200 cash, and are looking for the fastest and smallest (For its capacity and performance, anyway) USB 3.0 flash drive at press time, the Patriot Supersonic Magnum 64GB is the drive made for you. I just wish it performed better in small file I/O operations. It is not particularly terrible; it is just marginally better than performance drives of the previous generation. But if big files and 'drag races' are what you are after, then this is where Patriot has a product that truly shines. If we step back and round everything up in one sentence, I would assert the Patriot Supersonic Magnum is probably still the product Jeremy Clarkson would look at and say, "This is fastest USB flash drive... in the world."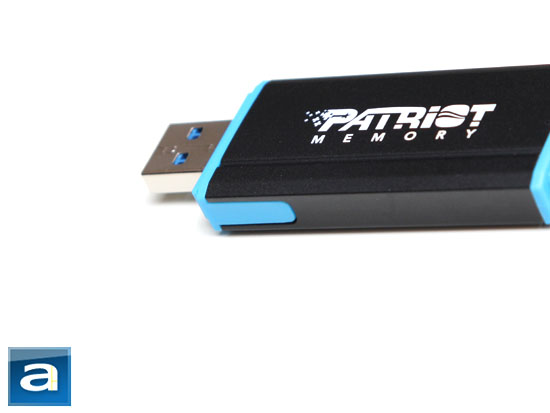 Patriot Memory provided this product to APH Networks for the purpose of evaluation.
APH Review Focus Summary:
7/10 means Great product with many advantages and certain insignificant drawbacks; but should be considered before purchasing.
8/10 means Definitely a very good product with drawbacks that aren't likely going to matter to the end user.
-- Final APH Numeric Rating is 7.4/10
Please note that the APH Numeric Rating system is based off our proprietary guidelines in the Review Focus, and should not be compared to other sites.
The Patriot Supersonic Magnum 64GB delivers matchless large file performance for a USB 3.0 flash drive that will fit in your wallet or keychain. It might not be faster than drives of the past if you do a lot of small file read/write operations, however.
Do you have any comments or questions about the Patriot Supersonic Magnum 64GB? Drop by our Forums. Registration is free, and it only takes a minute!
---
Page Index
1.
Introduction and Specifications
2.
A Closer Look, Test System
3.
Benchmark: AIDA64 Disk Benchmark
4.
Benchmark: ATTO Disk Benchmark
5.
Benchmark: Crystal Disk Mark 3.0
6.
Benchmark: HD Tach 3.0.1.0
7.
Benchmark: HD Tune Pro 4.60
8. Conclusion