By: Jonathan Kwan
June 10, 2011
Updated August 23, 2011
Back when I was in high school, I got this particular memorable encouragement note in a fellowship group activity from this girl in church. "Being outspoken all the time does not necessarily make you cool", it read. "Sometimes there is a need to shut up." Well, for one thing, this 'encouragement' note did not sound very... encouraging. And secondly, in my defense, it is not my fault I have so much to say. I am just so well learned in every subject; I simply cannot help it if everyone wants to listen to me, haha. You know what? Even I impress myself sometimes. I bet she is just jealous. At this point, you are probably tempted to hit the back button. You are probably thinking to yourself, "What a jerk. He is so cocky!" (Oh hey, how did I know that?) To quote what I always say, "It's not showing off if it's a fact". (By the way, if you don't want any friends, this is how you should act -- the note is real; the rest, I am just poking around with you, haha.) But let's pause for a moment and think. Is it really showing off if something is, in fact, brilliant? With a name like OCZ Vertex 3 Max IOPS, where 'vertex' means "the highest point; the top or apex" or "the crown of the head", '3' is self-explanatory, and 'Max IOPS' tacked on as an extra performance designation, I have to admit this sounds pretty ambitious to me. Or is it just so matchless and amazing in every way, the name is just a mere statement of the facts? Benchmarks are everything. Let's waste no time.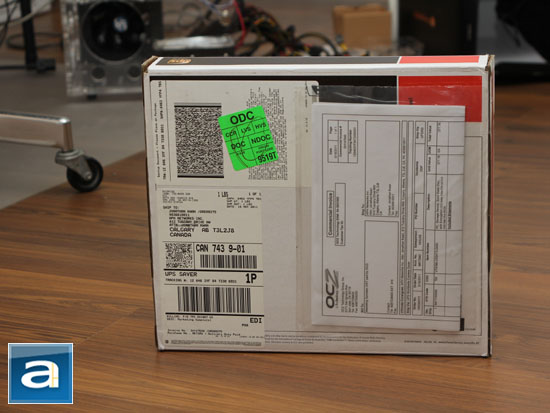 Our review unit of OCZ Vertex 3 Max IOPS 240GB solid state disk came in a medium sized UPS Express branded corrugated cardboard box from OCZ's corporate headquarters at San Jose, California, USA. Using UPS Saver, everything was handled appropriately, and arrived in pristine condition in less than 24 hours. It has been a while since I have been excited for any products for review; and knowing the Vertex 3 hopped on the same flight as the Patriot Supersonic Magnum 64GB USB 3.0 flash drive I am reviewing next week -- that was a good day.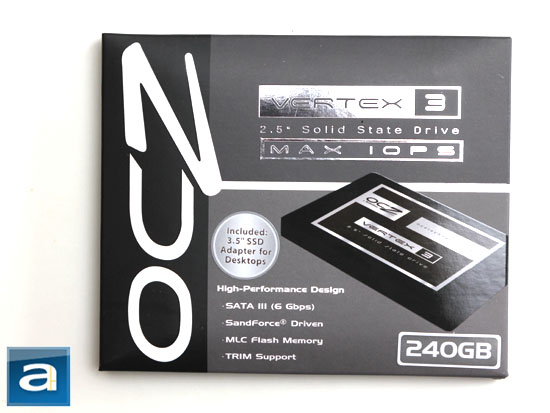 Hollowing up the packing material from inside the shipping package is the retail box of OCZ's Vertex 3 Max IOPS 240GB SSD. It comes in a compact and lightweight box, with a design appropriately derived from its predecessor, the OCZ Vertex 2. The company incorporates a sleek and attractive design composed mainly of a black, gray, and white color scheme with elements of shiny silver where it says "Vertex 3 Max IOPS" across the front. Asymmetrically tiled into three sections, OCZ's logo is very prominently featured on the left hand side, while a photo of the SSD itself at 3/4 angle can be noticed on the bottom tile. A short list of feature highlights is printed under the "Included: 3.5" SSD Adapter for Desktops" notification, as shown in our photo above.
If you turn the box around, you will find a product description paragraph as well as a specifications table. Speaking of which, before we move on, let's take a look at the specifications of the OCZ Vertex 3 Max IOPS 240GB, as obtained from the manufacturer's website:
- MLC NAND Flash
- Interface: SATA 6Gbps / Backwards Compatible 3Gbps
- Native TRIM support
- Seek Time: .1ms
- Slim 2.5" Design
- 99.8 x 69.63 x 9.3mm
- Lightweight: 77g
- Operating Temp: 0°C ~ 70°C
- Ambient Temp: 0°C ~ 55°C
- Storage Temp: -45°C ~ 85°C
- Low Power Consumption: 3W Active, 1.65W Idle
- Shock Resistant up to 1500G
- RAID Support
- Included 3.5" Desktop adapter bracket
- Compatible with Windows 7, Vista, XP 32-bit/64-bit, Mac OSX
- MTBF: 2 million hours
- 3-Year Warranty
- Max Read: up to 550MB/s
- Max Write: up to 500MB/s
- Random Read 4KB: 55,000 IOPS
- Random Write 4KB: 65,000 IOPS
- Maximum 4K Random Write: 85,000 IOPS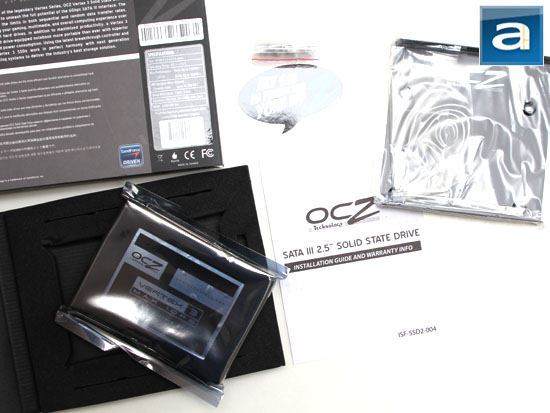 Inside the retail box is familiar black package, consisting of a foam bracket sandwiched between a cardboard flap to house its internal contents. Despite the natural ability of SSDs to withstand high impact forces, OCZ made sure everything will end up safe and sound for the end user. After all, it is almost $600 of awesomeness inside. Out of the box, you will receive an OCZ Vertex 3 Max IOPS SSD inside an anti-static bag, 3.5" adapter bracket, eight screws (Four for attaching your SSD to the adapter bracket, with the remaining four for installing it into your chassis), installation/warranty guide, and a not-so-modest "My SSD is faster than your HDD" sticker.
---
Page Index
1. Introduction and Specifications
2.
A Closer Look, Installation, Test System
3.
Benchmark: ATTO Disk Benchmark
4.
Benchmark: Crystal Disk Mark 3.0
5.
Benchmark: AIDA64 Disk Benchmark
6.
Benchmark: HD Tach 3.0.1.0
7.
Benchmark: HD Tune Pro 4.60
8.
Benchmark: PassMark PerformanceTest 7.0
9.
Benchmark: PCMark Vantage
10.
Conclusion