Page 10 - Conclusion
To reflect upon the question posed in the introduction of this review, did OCZ get ambitious in naming this SSD, or is its name just a mere statement of the facts? From one generation to the next, 20-30% gain in performance is considered massive in the technology world. But what we have witnessed here today with the OCZ Vertex 3 Max IOPS 240GB is not just a marginal difference in the charts. Delivering nearly twice the performance in majority of the benchmarks compared to its predecessors, this SandForce SF-2281 based SSD is not just a leap in storage performance -- it is a quantum leap that takes digital storage to an entirely different level, and truly redefines what we call 'fast'. In reality, while the name may be ambitious, it is only telling a part of the story. The amount of speed you are getting is, fundamentally, ridiculous and beyond words. It is an unquestionable fact that the OCZ Vertex 3 Max IOPS 240GB is the fastest single SATA drive available in the market at press time. For around $600 at the time of writing this review, yes, it's expensive, but this money will buy you the very best. My only complaint not previously discussed in this review is that I experienced weird hanging/freezing/locking up/crashing issues with Windows 7 Professional installed. Initially, I thought I imaged the new drive incorrectly, but cloning the data from my known working OCZ Vertex 2 a second time did not help. To work around this issue, I later found out I had to enable Hot Plug for the SATA 6Gb/s port on my ASUS P8P67 WS Revolution motherboard. This rectified most of my stability issues. However, I have still experienced some BSOD issues with this drive, and I hope a firmware update in the near future will fix these problems. With that in mind, to answer the quote from my dear female friend mentioned at the beginning of this review, yes, sometimes there may be a need to shut up -- but if you own an OCZ Vertex 3 Max IOPS 240GB, other times there is just a need to show off.
Update July 8, 2011: After updating the OCZ Vertex 3 Max IOPS 240GB to Firmware 2.08, all BSOD issues are now gone. This is confirmed with extended periods of testing under Windows 7 Professional. If you still have stability issues, Firmware 2.09 is available to provide a temporary fix for SF-2281 based OCZ SSDs at the expense of performance. Fortunately, this was simply not necessary on the OCZ Vertex 3 Max IOPS 240GB (It was necessary on our OCZ Agility 3, however). With this in mind, the OCZ Vertex 3 Max IOPS 240GB is truly the fastest single SSD in the market today -- now delivering flawless and matchless performance untouched by its peers at press time. What can I say? If this is not enough, just buy a few of these in RAID. But if money will buy you the very best, then the OCZ Vertex 3 Max IOPS 240GB is the very best you can get.
Update August 23, 2011: For those who still have issues with their drives, Firmware 2.11 replaces Firmware 2.09 with no performance penalty. All our OCZ SF-2281 based drives exhibited perfect stability with the latest update.
Ladies and gentlemen, mark today's date down: When we first announced the APH One award on March 7, 2010, we did not expect to wait almost one and a half years for the first product to take this honor. But the wait is over, because the OCZ Vertex 3 Max IOPS 240GB is the first -- and so far, the only -- product to ever receive the most prestigious recommendation here at APH Networks. This is APH One. This is ultimate.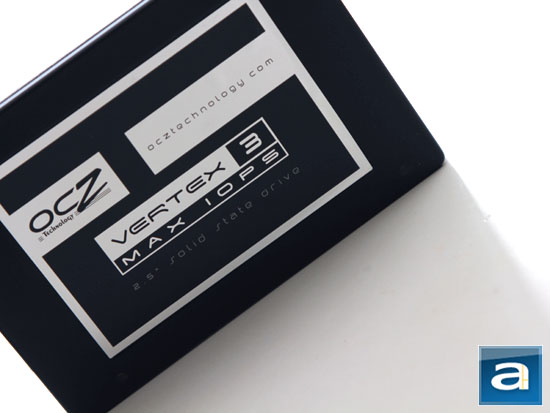 OCZ provided this product to APH Networks for the purpose of evaluation.


APH One Award
APH Review Score Record Holder - July 8, 2011 (Preceded by: Logitech G5 V2; Succeeded by: OCZ RevoDrive 350 480GB)
Since April 30, 2007, Number Ratings have been dropped for all CPUs, motherboards, RAM, SSD/HDDs, and graphics cards. This is to ensure the most appropriate ratings reflected without the inherent limits of using numbers. Everything else will continue using the Number Rating System.
More information in our Review Focus.
The OCZ Vertex 3 Max IOPS 240GB is a simply groundbreaking and exuberantly awesome SSD that takes storage to unmatched heights of truly matchless performance at press time.
Do you have any comments or questions about the OCZ Vertex 3 Max IOPS 240GB? Drop by our Forums. Registration is free, and it only takes a minute!
---
Page Index
1.
Introduction and Specifications
2.
A Closer Look, Installation, Test System
3.
Benchmark: ATTO Disk Benchmark
4.
Benchmark: Crystal Disk Mark 3.0
5.
Benchmark: AIDA64 Disk Benchmark
6.
Benchmark: HD Tach 3.0.1.0
7.
Benchmark: HD Tune Pro 4.60
8.
Benchmark: PassMark PerformanceTest 7.0
9.
Benchmark: PCMark Vantage
10. Conclusion