By: Jonathan Kwan
July 25, 2014
Ask any automotive enthusiast what is the most ridiculous road legal sports car ever created, do not be surprised to hear the name "Bugatti Veyron" more than a handful of times as an answer. When the Volkswagen Auto Group launched the car back in 2005, it simply redefined the entire hypercar category; bar none. Equipped with an 8.0L W16 quad turbocharged engine that delivers 987 hp at the crank, the Bugatti Veyron can reach 100 km/h from a dead stop in just 2.46 seconds. Flat out, it can do an astounding 408.47 km/h. At this point, it is important to point out while the Veyron can accelerate with neck breaking forces and capable of traveling faster than an average airplane's V1 speed, it does not mean you can get from New York to Los Angeles in less than eleven hours. At its top speed, the tires will wear out in fifteen minutes, but there is nothing to worry about, because you will run out of fuel in just twelve. Is this a classic case of engineering pushing the envelope so hard, it essentially outdesigned itself, instituting limitations of its own? The OCZ RevoDrive 350 480GB we are reviewing today shares a similar story. It specifies a whopping 1800MB/s sequential read, 1700MB/s sequential write, and up to 140,000 IOPS according to the manufacturer. In fact, it is so fast, it needs to be connected to your motherboard's PCI Express x8 slot directly, because SATA is simply too slow for this beast. Do we have the Bugatti Veyron of SSDs in our hands today? We took in this $800 hyper-solid-state-disk to find out.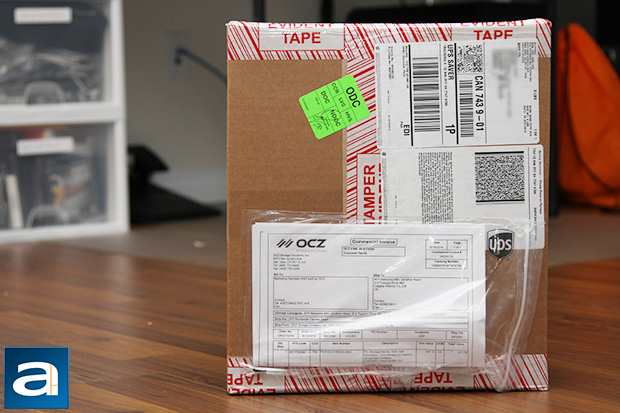 Our review unit of the OCZ RevoDrive 350 480GB came in a medium sized, brown corrugated cardboard box from the company's American headquarters in California, USA via UPS Saver. This one is not exactly traditional, because every OCZ product that has been sent to us in recent memory came in a UPS branded shipping box. The brown shipping box also came with quite a bit of tamper-proof tape, just so we will not have anyone touching its contents without leaving any evidence behind. As for me, I went ahead and left no evidence behind either, because I threw the entire box into the recycle bin shortly after. Anyway, with everything safely in our hands here in Calgary, Alberta, Canada, it is now time for APH Networks to dig down to the details.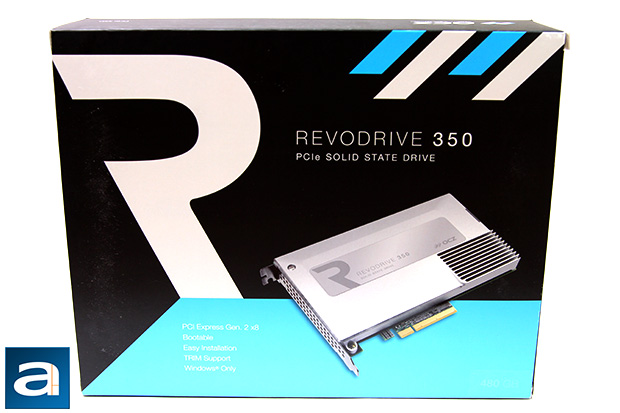 Pulling out the retail box, and it is understandable why the OCZ RevoDrive 350 480GB required a bigger box to ship. If I saw this at a computer store, the geek inside of me would be super excited, because I already am. In my opinion, the company's marketing team has done a wonderful job at slapping together a package that ensures people know what is inside, while keeping the interface clean and visually appealing. The black, white, and teal color scheme is taken directly from OCZ's rebranding efforts after its purchase by Toshiba. A stylized "R" occupies a large western area of the box, with "RevoDrive 350 Solid State Drive" printed right next to it in two lines. A photo of the SSD itself is located at the bottom right corner. Five lines of text at the bottom highlight some characteristics of the RevoDrive 350 480GB. This includes its PCI Express 2.0 x8 interface, bootable, easy installation, TRIM support, and Windows support only.
Before we move on, let's take a look at the specifications of this drive, as obtained from the manufacturer's website:
PERFORMANCE
Sequential Reads: 1800 MB/s
Sequential Writes: 1700 MB/s
Random Read Speed (4K, QD32): 90,000 IOPS
Random Write Speed (4K, QD32): 140,000 IOPS
PHYSICAL
NAND Components: 19nm Multi-Level Cell (MLC) Flash
Interface: PCI Express Gen. 2 x8
Form Factor: Full-Height/Half-Length (FH/HL)
NAND Controller: LSI® SandForce® SF-2282*
Storage Controller: VCA 2.0 (Virtualized Controller Architecture™)
Dimension (mm): 180.9 (L) x 126.3 (W) x 21.6 (H)
Weight: 310g (may vary by capacity)
* 2 x controllers on 240GB, 4 x controllers on 480GB & 960GB
ENVIRONMENTAL
Power Consumption: 240GB: Idle 8.0W, Active 10.5W
480GB: Idle 9.5W, Active 14.0W
960GB: Idle 10.0W, Active 14.5W
Operating Temperature: 0°C ~ 55°C
Storage Temperature: -45°C ~ 85°C
Shock Resistance: 500G/0.5ms
Vibration (Operational): 2.17Grms (7-800Hz)
Vibration (Non-Operational): 3.13Grms (8-800Hz)
Altitude (Operational): -1,000ft to 10,000ft
Altitude (Non-Operational): -1,000ft to 40,000ft
Airflow: 300LFM @ 55°C
Certifications: UL C/US, FCC, CE, C-Tick, KCC, BSMI, VCCI, WEEE
RELIABILITY / PROTECTION
Mean Time Between Failures (MTBF): 2 million hours
Endurance Rating: Rated for 50GB/day of host writes for 3 years under typical client workloads
Data Encryption: AES-128 compliant
Product Health Monitoring: Self-Monitoring, Analysis and Reporting Technology (SMART) Support
COMPATABILITY
PCI Express: PCI Express x8 or x16 slot; Fully compliant with the PCI Express Electromechanical Specification Rev. 2.0, and PCI Express Base Specification Rev. 2.0
Operating System: Microsoft Windows 7, 8, 8.1 32/64-bit, Linux support planned
Power Requirements: PCIe 12V & 3.3V
Target Applications: Client workstations and performance gaming systems
ADDITIONAL FEATURES
Performance Optimization: TRIM (requires OS support), Garbage Collection
Service & Support: 3-Year Warranty, Toll-Free Tech Support, 24 Hour Forum Support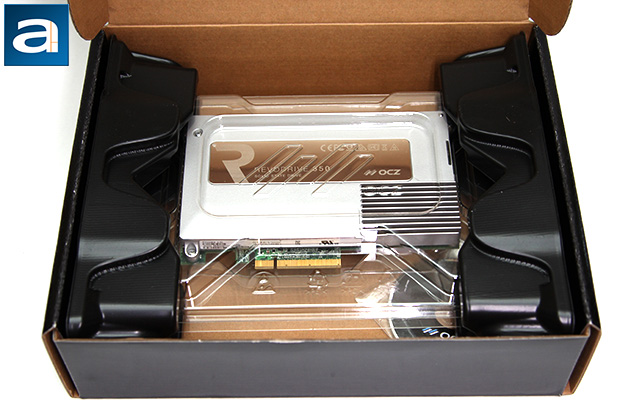 Upon opening the box, I was quite surprised at first to find not a whole lot of stuff is included from the factory. Clipped between two PET shell brackets are two corresponding clear plastic tray pieces that houses the OCZ RevoDrive 350 480GB. The only other thing included is a mini driver CD, and this is literally it. There is no installation/warranty guide, nor an "I <3 my SSD" sticker that typically accompanies OCZ's retail packages. It is not like I actually use any of them, but the lack of their presence makes it feel a bit lonely.
---
Page Index
1. Introduction, Packaging, Specifications
2.
A Closer Look, Installation, Test System
3.
Benchmark: AIDA64 Disk Benchmark
4.
Benchmark: ATTO Disk Benchmark
5.
Benchmark: Crystal Disk Mark 3.0
6.
Benchmark: HD Tach 3.0.1.0
7.
Benchmark: HD Tune Pro 4.60
8.
Benchmark: PassMark PerformanceTest 8.0
9.
Benchmark: PCMark Vantage
10.
Conclusion