Page 10 - Conclusion
Ask me what is the most ridiculous prosumer/enthusiast solid state ever created, do not be surprised to hear the name "OCZ RevoDrive 350" as the answer from the man who wrote this review. When OCZ released the original RevoDrive back in 2010, it did not necessarily redefine the whole category of SSDs, but it became the cornerstone of what is to come from the company using PCI Express to eliminate any interface bottlenecks. Fast forward four years and many RevoDrive models to today, the OCZ RevoDrive 350 480GB evolved from what is really an experimental "duct tape" of two SSDs together, to one of the most glorious performers in the technology industry we have ever witnessed. Equipped with four tried-and-true SandForce SF-2282 controllers and OCZ's Virtualized Controller Architecture 2.0, the RevoDrive 350 480GB pulled a mind blowing 1983.513MB/s read and 1869.699MB/s write according to our tests, while delivering simply the highest IOPS demanding workstation simulation results here at APH Networks. Simply put, it is so fast, no SATA SSD can even hope to come close. At first, I was worried the OCZ RevoDrive 350, being a software RAID solution at heart, would be a CPU usage killer. As it turned out, my worry did not translate to a real life concern, even though our test platform was equipped with the old school Intel Core i5-2500K I have reviewed back in 2011. It is an incredible bootable drive with TRIM, NCQ, TCQ, SMART monitoring, power failure management, and wear leveling support; there is only one word that sums up the OCZ RevoDrive 350 480GB: Wow. The amount of speed you are getting is, fundamentally, ridiculous and beyond words. With my drops jawed, pants peed, and wallet emptied, this $800 SSD is, in fact, expensive by all metrics. But if this money will buy you the very best, then this is the very best you can buy. This OCZ RevoDrive 350 really is the Bugatti Veyron of SSDs.
And if this is the very best you can buy, ladies and gentlemen, three years after the OCZ Vertex 3 Max IOPS 240GB became the first and only product to have ever received the most prestigious award here at APH Networks, OCZ takes home once again the same award today with the RevoDrive 350 480GB. Good job, OCZ.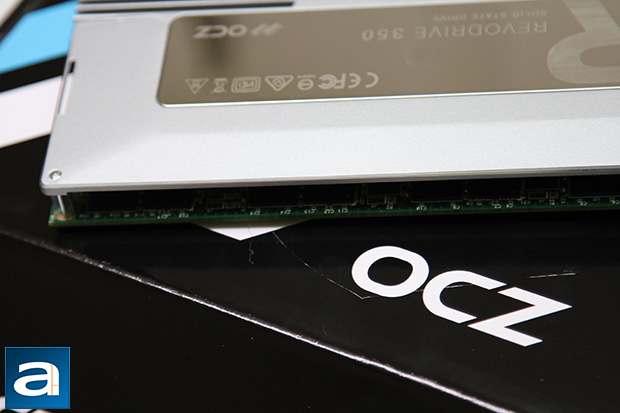 OCZ provided this product to APH Networks for the purpose of evaluation.


APH One Award
APH Review Score Record Holder - July 25, 2014 (Preceded by: OCZ Vertex 3 Max IOPS 240GB; Succeeded by: V-MODA XS)
Since April 30, 2007, Number Ratings have been dropped for all CPUs, motherboards, RAM, SSD/HDDs, and graphics cards. This is to ensure the most appropriate ratings reflected without the inherent limits of using numbers. Everything else will continue using the Number Rating System.
More information in our Review Focus.
To borrow the same closing line from the Vertex 3 Max IOPS review in 2011, all I have to say is the OCZ RevoDrive 350 480GB is a simply groundbreaking and exuberantly awesome SSD that takes storage to unmatched heights of truly matchless performance at press time.
Do you have any comments or questions about the OCZ RevoDrive 350 480GB? Drop by our Forums. Registration is free, and it only takes a minute!
---
Page Index
1.
Introduction, Packaging, Specifications
2.
A Closer Look, Installation, Test System
3.
Benchmark: AIDA64 Disk Benchmark
4.
Benchmark: ATTO Disk Benchmark
5.
Benchmark: Crystal Disk Mark 3.0
6.
Benchmark: HD Tach 3.0.1.0
7.
Benchmark: HD Tune Pro 4.60
8.
Benchmark: PassMark PerformanceTest 8.0
9.
Benchmark: PCMark Vantage
10. Conclusion