By: Jonathan Kwan
February 11, 2011
We have a little song we sing here at APH Networks. It goes along with the tune of Taio Cruz's Dynamite radio hit that plays every five minutes on every North American popular music station. "I put my foot down to the floor sometimes / Saying VTEC / Just kicked in yo. / I want to mount my laser jammers on / Saying VTEC / Just kicked in yo." (Which replaces the chorus, "I throw my hands up in the air sometimes...") I put my foot down to the floor sometimes. If you look at the products Intel has been spewing out to the mainstream and enthusiast markets in the past five years or so, "foot to the floor" is a pretty good description with regards to the incredible performance you are getting for the money, as compared to computer equipment in general, say, just ten years ago. When we reviewed the Intel Core i5-750 quad core desktop processor last year, its performance easily eclipsed the king of the hill $1000 Intel Core 2 Extreme QX9650 released just a couple of years before. For $200. More than a year after the release of Lynnfield Core i5 and i7 processors, Intel is back again with their latest release of code named "Sandy Bridge" processors. The bad news is that the traditional overclocking method by raising the processor's base clock does not work with second generation Core CPUs, because the new CPUs use a single clock generator controlling the speed of all electrical buses. The good news is, if you are willing to pay an extra $10 and give up business oriented features such as Intel TXT and Intel VT-d, the company will happily sell you a K edition processor with an unlocked multiplier up to 57x. With your mom, your uncle, your next door neighbor and just about everyone else hitting at least 4.5GHz for some Core i7-980X smoking performance (Well, and two less cores, but how many do you really need anyway?) at a fraction of the price, my advice to you is to get your credit card out and ready right about... now. Possibly your car keys, if you are going retail. Still not convinced? That's okay. We have eleven pages of geek talk coming up for you next. Actually, just a slight update since I wrote everything before this sentence prior January 31st, you might just need to wait a bit on Intel's now infamous P67 bug, since you can't buy any LGA 1155 boards right now.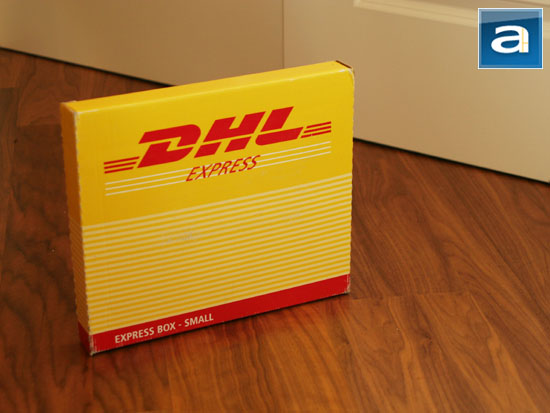 Our review unit of Intel's Core i5-2500K arrived at our doorstep last month, which is about the time when the processor was released on January 9, 2011. My tight review scheduling did not allow me to prepare this review for release until today. Using DHL Express, the processor was delivered safely in excellent condition inside an 'American small' (Which, in my opinion, is really a medium sized box. Yes, I know DHL is German.), DHL-branded yellow corrugated cardboard box from Intel's headquarters in Santa Clara, California, USA. We cracked open the box with a high level of enthusiasm, and went straight for the benchmarks for our article today.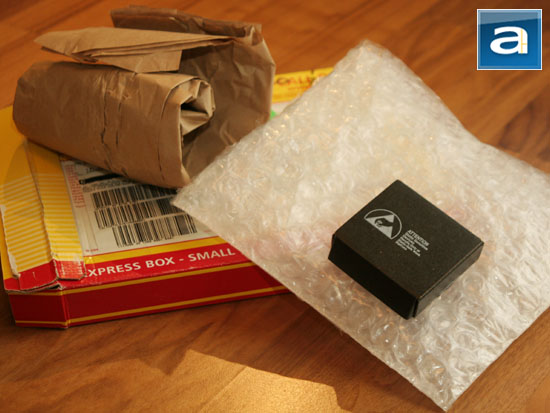 The good old Sharpie-labeled 'Intel Confidential' engineering sample processors are back in the lab here at APH Networks, following our surprising arrival of a retail box unit used in our previous review. Sandwiched between layers of foam inside a little black cardboard box enclosed by a flap, we popped our precious little chip into our high end Gigabyte GA-P67A-UD5 motherboard's LGA1155 socket for the tests. But before we move on, let's take a look at the specifications of this CPU, as obtained from the manufacturer's website:
Essentials
Status: Launched
Launch Date: Q1'11
Processor Number: i5-2500K
# of Cores: 4
# of Threads: 4
Clock Speed: 3.3 GHz
Max Turbo Frequency: 3.7 GHz
Intel® Smart Cache: 6 MB
Bus/Core Ratio: 33
DMI: 5 GT/s
Instruction Set: 64-bit
Instruction Set Extensions: SSE4.1/4.2, AVX
Embedded Options Available: No
Lithography: 32 nm
Max TDP: 95 W
Tray 1ku Budgetary Price: $216.00
Memory Specifications
Max Memory Size (dependent on memory type): 32 GB
Memory Types: DDR3-1066/1333
# of Memory Channels: 2
Max Memory Bandwidth: 21 GB/s
ECC Memory Supported: No
Graphics Specifications
Integrated Graphics: Yes
Intel® HD Graphics: Yes
Intel® HD Graphics with Dynamic Frequency: Yes
Graphics Base Frequency: 850 MHz
Graphics Max Dynamic Frequency: 1.1 GHz
Intel® Quick Sync Video: Yes
Intel® InTRU™ 3D Technology: Yes
Intel® Wireless Display: No
Intel® Flexible Display Interface (Intel® FDI): Yes
Intel® Clear Video HD Technology: Yes
Dual Display Capable: Yes
Expansion Options
PCI Express Revision: 2.0
# of PCI Express Ports: 1
Package Specifications
Max CPU Configuration: 1
TCASE: 72.6°C
Package Size: 37.5mm x 37.5mm
Sockets Supported: LGA1155
Halogen Free Options Available: Yes
Advanced Technologies
Intel® Turbo Boost Technology: 2.0
Intel® Hyper-Threading Technology: No
Intel® Virtualization Technology (VT-x): Yes
Intel® Virtualization Technology for Directed I/O (VT-d): No
Intel® Trusted Execution Technology: No
AES New Instructions: Yes
Intel® 64: Yes
Idle States: Yes
Enhanced Intel SpeedStep® Technology: Yes
Thermal Monitoring Technologies: Yes
Intel® Fast Memory Access: Yes
Intel® Flex Memory Access: Yes
Execute Disable Bit: Yes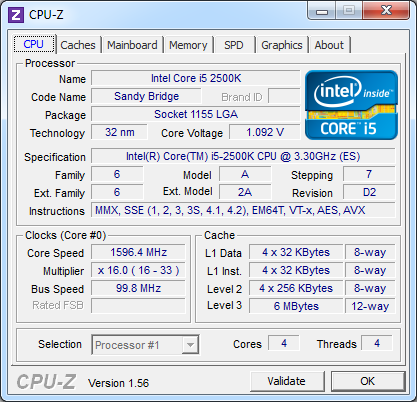 CPU-Z screenshot of the Intel Core i5-2500K processor, running at stock speeds with Intel SpeedStep enabled. This is an engineering sample unit.
---
Page Index
1. Introduction and Specifications
2.
Intel Core i5-2500K Architecture; Test System
3.
Benchmark: AIDA64 CPU
4.
Benchmark: AIDA64 FPU
5.
Benchmark: AIDA64 Memory
6.
Benchmark: BAPCo SYSmark 2007
7.
Benchmark: PCMark Vantage
8.
Benchmark: 3DMark 11
9.
Benchmark: PassMark PerformanceTest 7.0
10.
Benchmark: SuperPI 1M, Cinebench R11.5
11.
Overclocking, Power Consumption, and Conclusion