Page 6 - Benchmark: BAPCo SYSmark 2007
About BAPCo SYSMark 2007
SYSmark® 2007 Preview is the latest version of the premier performance metric that measures and compares PC performance based on real world applications.
SYSmark® 2007 Preview 1.06 supports 64 and 32-bit versions of Windows® 7, Windows® Vista® and Windows® XP.
SYSmark® 2007 Preview extends the SYSmark family, which has been widely accepted by IT Managers, PC OEMs, press and analysts worldwide to support Windows® 7, Windows® Vista® and Windows® XP.
The new release also incorporates numerous new features and enhancements such as an improved GUI allowing streamlined start-up and run along with a heads-up-display (HUD) and automated error reporting.
SYSmark 2007 Preview is an application-based benchmark that reflects usage patterns of business users in the areas of Video creation, E-learning, 3D Modeling and Office Productivity. This new release includes a robust and refreshed set of applications.
The SYSmark family of benchmarks are used by PC OEMs, hardware and software developers, IT departments, system integrators, publishers and testing labs as well as Information technologists and computer industry analysts.
BAPCo's SYSmark 2007 Preview builds upon its predecessors utilizing the strongest and broadest development team in PC benchmark history. BAPCo's depth of membership represents the breadth of the computing industry and harnesses a consortium of experts.
SYSmark 2007 Preview incorporates the following applications:
- Adobe® After Effects® 7
- Adobe® Illustrator® CS2
- Adobe® Photoshop® CS2
- AutoDesk® 3ds Max® 8
- Macromedia® Flash 8
- Microsoft® Excel 2003
- Microsoft® Outlook 2003
- Microsoft® PowerPoint 2003
- Microsoft® Word 2003
- Microsoft® Project 2003
- Microsoft® Windows Media™ Encoder 9 series
- Sony® Vegas 7
- SketchUp 5
- WinZip® 10.0
From: Developer's Page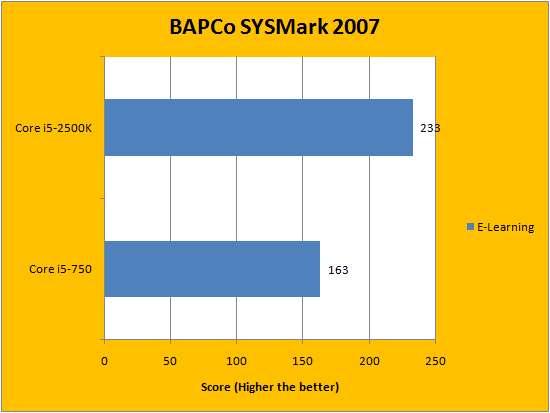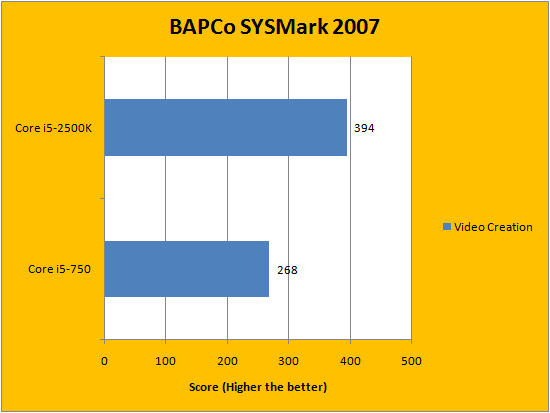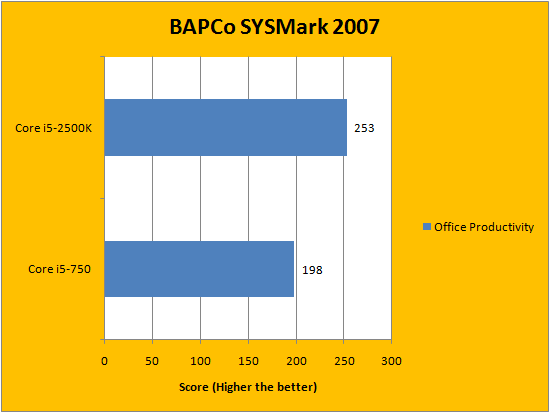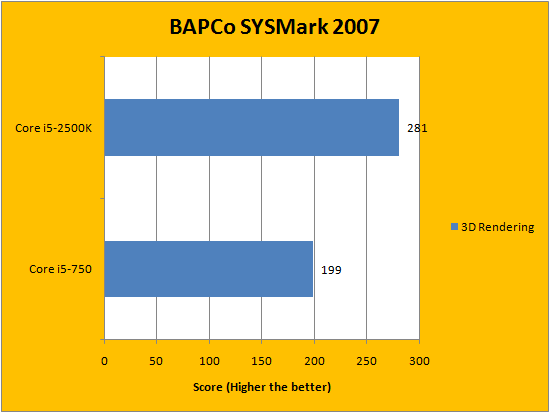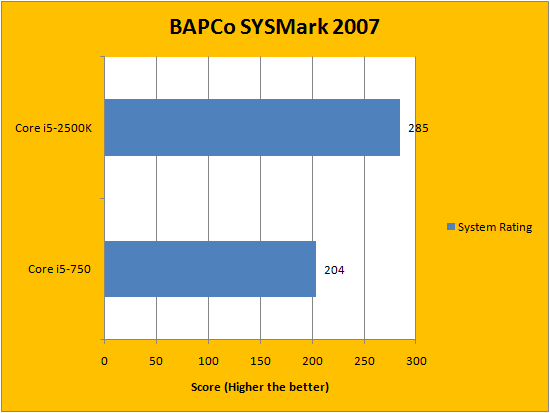 BAPCo's SYSMark 2007 is one of our favorite computer performance evaluation benchmarking suites, because it uses real life applications to obtain real life results. From Photoshop to Microsoft Office, it has all of them covered. It is actually quite interesting to watch, too -- as you witness programs open and close by themselves, the tests automatically in the foreground. Although the Intel Core i5-2500K completely blew the i5-750 away (Which was faster than the Core 2 Extreme QX9650, mind you) in our synthetic benchmarks, I actually did not expect it to do so exceptional in SYSMark 2007. But it did. I am going to stop posting percentage gains and just let the results speak for themselves. It is nothing short of incredible.
---
Page Index
1.
Introduction and Specifications
2.
Intel Core i5-2500K Architecture; Test System
3.
Benchmark: AIDA64 CPU
4.
Benchmark: AIDA64 FPU
5.
Benchmark: AIDA64 Memory
6. Benchmark: BAPCo SYSmark 2007
7.
Benchmark: PCMark Vantage
8.
Benchmark: 3DMark 11
9.
Benchmark: PassMark PerformanceTest 7.0
10.
Benchmark: SuperPI 1M, Cinebench R11.5
11.
Overclocking, Power Consumption, and Conclusion