By: Jonathan Kwan
May 28, 2007
Why make a brand new product when the original one is already near-perfect? The designers and engineers at Logitech are probably wondering the same thing. When the Logitech G5 was released during the end of 2005, implementation of a high precision laser tracking engine, along with the tried-and-true shell, brought an exciting change to consumers looking for a high end pointing devices -- whether it's for office work, or for recreational purposes. However, APH Networks along with many users complained about the lack of a "Forward" button and the such. Fast forward a year and a half later to 2007, Logitech quietly modified its original G5 to the "2007" version (Striking resemblance on how cars are marketed), while retaining its original name. How much do we like this mouse? That, you will get to see. Let's examine the Logitech G5 V2, or Logitech G5 Rev. 2, or Logitech G5 2007, or whatever you might want to refer it as, today. Before we start, I would just like to add that I am extremely impressed. And I really mean that.
Our review unit of Logitech's G5 V2 came in a unusually large box using DHL Express from Logitech's offices in Fremont, California. As usual from Logitech and DHL, it is blazing fast -- we are talking about next-day cross border here! (Thanks Logitech haha, the 1337 speed saved my [bottom] quite a few times for getting reviews on time.)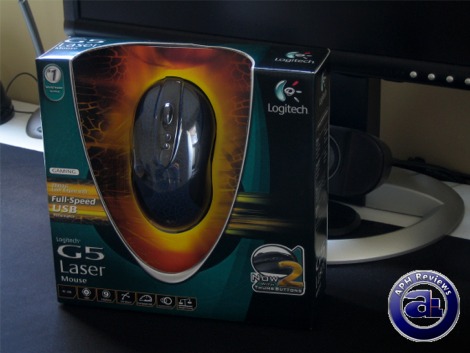 Out of the shipping package is a retail box of Logitech's G5 V2. While incorporating standard elements of Logitech's teal, black, and white color scheme, a sharp fire-orange set is also printed from the packaging around the mouse -- likely to highlight how 'intense' this mouse is.
As with the original Logitech G5's packaging (Actually, like all other Logitech mice), a partial cut is made on the front of the retail box and replaced with a custom molded clear plastic cover to display the mouse included out of the retail box. Some highlights have been made; for example, an icon denotes a slogan mentioning in large text -- "Now with two thumb buttons" -- which is one of the bigger changes made to the Logitech G5 V2.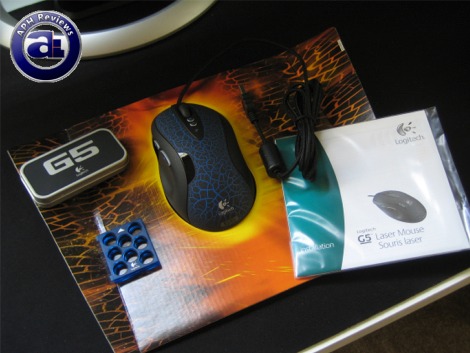 Out of the box, you will get the Logitech G5 V2 itself. A small tin box accommodates a total of sixteen weights. Also included is a weight holder cartridge, a manual of some sort, along with a driver CD containing Logitech's SetPoint software.
Before we move on, let's take a look at Logitech G5 V2's specifications, as obtained from Logitech's product page:
* Tracking Resolution: 2000/800/400 dpi (user selectable)
* Image Processing: 6.4 megapixels/second
* Max. Acceleration: 20 G
* Max. Speed: 45—65 inches/second (depending on surface)
* USB Data Format: 16 bits/axis
* USB Report Rate: 1000 reports/second
* Sleep Mode: Disabled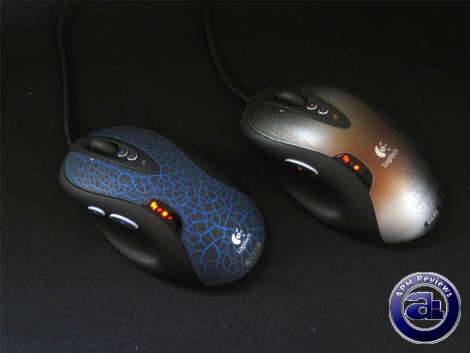 The upper exterior of the Logitech G5 V2, besides the shell shape, is quite different from the original Logitech G5. Slight tweaks have been implemented; but several aspects still remain the same.
The mouse USB cables on both G5 mice are identical -- same braided cord as last year. Placement of DPI increase/decrease buttons remain at the same easy-to access location (But not easily accidentally pressed). However, despite similarities of external experience of the wheels on both mice, the G5 V2's wheel is actually slightly improved. A smaller gap exists between the wheel's original position versus its clicking position, making it feeling more natural than before with less cushion feeling. It also scrolls with less resistance than the original G5.
Graciously, following outcries of many users, Logitech actually took their time and listened to their complaints. The 'Forward' side button is implemented back into the Logitech G5 V2; following the tradition of the Logitech gaming series extending all the way back to the MX500. Great addition in my opinion, the 'Forward' button is warmly welcomed. The side buttons also have smoother clicks than the original Logitech G5.
Another major change is the surface of the mouse. While the original G5 has a custom sprayed design similar to a building in Half-Life 2, Logitech's G5 V2 resorts to rubber-like textured surface. Logitech claims it's not rubber, because the G5 grips performs better under sweaty conditions than rubber. The textured surface is done by adding bits of rubber-like material (Similar to its side grips) over the plastic shell to increase user grip and control. However, the gaps between each bit are likely to collect dust and other material -- which is our only complaint so far.
Another minor change observed is the slightly brighter set of LEDs on the DPI indicator, as shown in the photo above. Other features still remain the same -- you can have custom DPI settings, each between 400 dpi to 2000 dpi at 50 dpi increments. The array of red DPI indicator LEDs would display your DPI setting like this:
High - Only top LED is lit
Medium High - Top and middle LED are lit
Medium - Only middle LED is lit
Medium Low - Middle and bottom LED are lit
Low - Only bottom LED is lit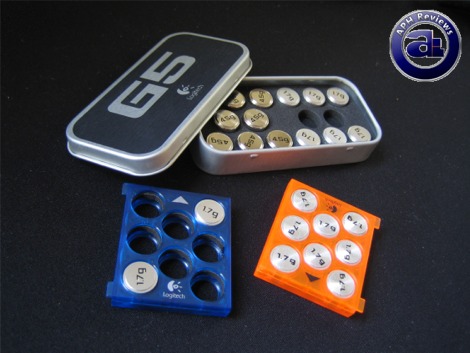 As part of the G5 legacy -- the Logitech G5 V2 implements the same weight cartridge and weight features of the original G5. Anytime-accessible weight configuration, out of the box system is definitely a favorite for Logitech G5 fans. Accommodating the blue color scheme of the new G5, it comes with a blue weight cartridge whereas the original G5 has an orange weight cartridge. Same weights are included -- including an identical weight box.
However, Logitech's G5 itself is a bit heavy even without weights to some people. Personally I have my cartridge configured with all 1.7g adjustment weights though.
The weight labels seems to be laser engravements and not stickers, so scratching it will not remove any paint. Just if you wonder, the weights are not interchangeable with the weight cartridges -- the new weights are slightly improved so the cartridge has a tigher accommodation of the adjustment weights. With the original G5, everything is much looser.
Logitech's original G5 has two LEDs inside the cartridge compartment of the mouse for aesthetic purposes. As far as I can tell, the Logitech G5 V2 only has a single faintly lit LED inside.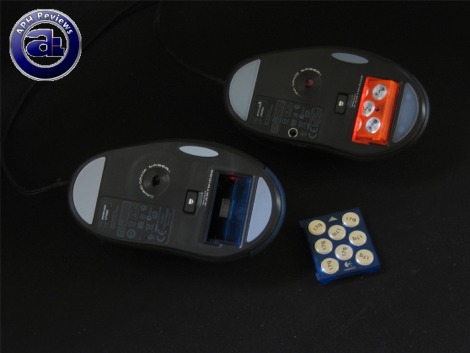 Base design of both Logitech G5 mice appears to be identical. However, a positive change committed to the new G5, as what we suggested in our review last year -- it now boasts a 1000Hz polling rate out of the box (It seems that with the latest version of SetPoint, you can select 1000Hz polling rate for the original G5 -- although if it is really operating at 1000 reports per second cannot be confirmed). It is definitely an excellent implementation for performance increase. Using Logitech SetPoint, you can adjust the speed and acceleration of the X and Y axis individually -- or link them if you like. Still no onboard memory for storing profiles though. Personally, I believe it would be nice if they increased the tracking resolution to 2500dpi as well.
With regards to the polytetrafluoroethylene feet, Logitech's product page for the G5 V2 indicates nothing about friction or durability. Assuming it's the same as the original G5, 250 kilometers mileage means roughly 3.42 years of usage -- that is, if you go 200m per day. This is calculated by the unit analysis formula of 250km * 1000m / 1km / 200m per day * 1 year / 365 days = 3.42 years. This is also quite dependent on how you use the mouse though -- as you can see in our photo above, the rear feet of my G5 that I've been using since February of last year (Hey remember that song?)... Anyways, the PTFE feet are becoming sort of thin.
Polytetrafluoroethylene is Teflon, by the way. In Organic Chemistry, ethylene/ethene indicates a carbon-carbon bond; with two carbons and a double bond (C2H4). Tetrafluoro replaces four hydrogens with fluorine atoms, making it C2F4. In non-scientific terms, 'poly' just means a bunch of them linked together.
The static coefficient of friction of the Logitech G5 is 0.13 on wood-veneer surface, according to Logitech. Assuming you are using it on flat desk, it means that the force of friction is 1.3N, as calculated by Ff = µFn, where Fn = Fg. A decent mousepad would probably have less friction occurring between the mouse and the surface.
---
The Tests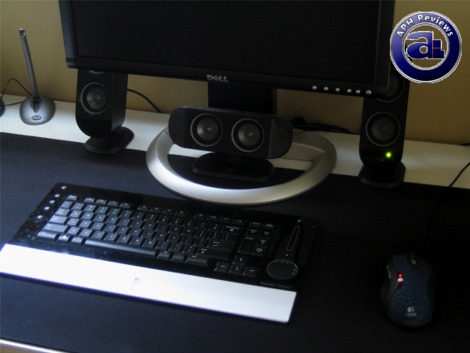 Tests are conducted on a computer with the following specifications:
CPU: Intel Core 2 Duo E6300 @ 2.80GHz (400MHz*7)
CPU Cooling: Asus Arctic Square
Motherboard: Asus P5W64-WS Professional
RAM: OCZ Flex XLC PC2-6400 2x1GB @ 4-4-4-10, 1:1 with CPU
Graphics: Asus EAX1950PRO 256MB
Case: Thermaltake Aguila (Noctua NF-S12-1200 @ 600RPM - Front; NF-S12-800 - Back)
Power: Seasonic M12 500W
Sound: Creative X-Fi XtremeMusic
Optical Drive: NEC AD-7170A 18X DVD+/-RW
Hard Drive: Seagate 7200.10 320GB 16MB SATA2
Operating System: Microsoft Windows XP Professional SP2
After installing and properly configuring SetPoint 3.3, we've put the Logitech G5 V2 through our series of standard tracking performance tests. This includes normal office usage as well as gaming within Counter-Strike: Source. Graphics work is done in addition to the regular office usage with Adobe Photoshop. The mousing surface used is the extra large XTracPads Ripper XXL.
The build quality of Logitech's G5 V2 is excellent. Absolutely no loose or squeaky keys (The wheel, however, squeaks slightly during quick scrolling) -- every button clicks cleanly with proper resistance; and the wheel scrolling is much more natural as mentioned earlier. The mouse is absolutely solid with regards to construction quality.
Personally, I am a palm mouse user as opposed to a finger mouse user. What this means is that I prefer to cover the whole mouse with the palms of my hands, therefore a comfortable ergonomic fit is a priority preference. The Logitech G5 V2, with its tried-and-true shell, is perfect for this occasion. Along with its PTFE feet, glide over our mousepads as well as different surfaces prove it capable without any problems.
The primary purpose of Logitech's G5 V2 is intended for the performance enthusiast crowd. This is not limited to gaming; it also includes graphic professionals and office users demanding the edge in tracking precision.
For graphics work and gaming, I know this has been said a million times by a million people -- but I literally mean it -- the Logitech G5 V2 is excellent for both. The sense of control and the smoothness of its glide over the tracking surface are superb, and the pointer goes exactly where I want it to go combined with the precision I want. At 1000Hz polling rate, the G5 V2 is a little 'sharper'; more responsive than the original Logitech G5 (The original G5 configured at 500Hz polling rate, since that is the actual specification). However, I don't know why, but personally on a subjective side the Razer Copperhead still seems to be slightly sharper despite same polling rate. Just slightly.
It can be for regular every day use, but it's also an excellent mouse for office and productivity use. I experienced zero issues using Logitech's G5 V2 on any regular tracking surface; however just like any laser mouse it will not work with over reflective or transparent surfaces. Whether it's dark or light, I've used every mousepad we have here at APH Networks -- including a Icemat 2nd Edition -- without a problem.
---
In general, Logitech's revised G5 for 2007 is an all-round winner. A perfected, revised design with a better wheel and extra side button accommodates the requests by the community. It takes the good out of original Logitech designs, and discards the negatives of Logitech's original G5. Tracking is also upgraded to 1000Hz polling rate capability out of the box -- a nice bonus for performance demanding consumers. Increase to 2500dpi tracking resolution would be nice though, but it's not a must as 2000dpi is good enough for me (You will really need to turn down the in-game sensitivity to use 2500dpi!) The tracking engine can be improved just
slightly
for maybe 'better' response, but it's really such a small deal because I can barely tell the difference between the G5 V2 and Razer's Copperhead. The Logitech G5 V2 also offers excellent fit for right handed palm mouse users; large PTFE feet provides the same glide as its predecessor. However, the textured mouse surface may be vulnerable to dirt accumulation, and it's too bad there's still no onboard memory for storing button mapping profiles on the mouse. Tracking resolution can be increased, and the wheel squeaks
slightly
when scrolling is quick. Those are just some minor complaints, however. We've got truly a near-perfect mouse in this area. Is this a mouse that breaks records? Combined with 3 years of Logitech's highly-acclaimed warranty, it's the highest mark we've given to any product in the history of APH Networks!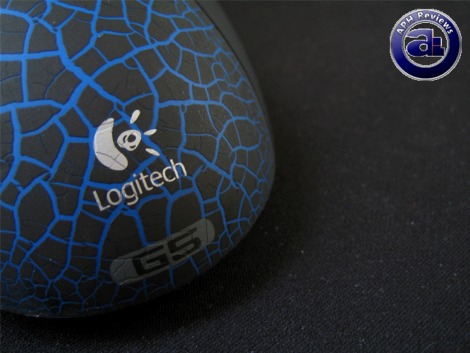 Special thanks to Kate over at Logitech for making this review possible.


Rating: 8.6/10 | APH Recommended
APH Review Score Record Holder - May 28, 2007 (Succeeded by: OCZ Vertex 3 Max IOPS 240GB)
- The rating 8/10 means "Definitely a very good product with drawbacks that aren't likely going to matter to the end user."
- The rating 9/10 means "Excellent product with very minor drawbacks that does not affect the overall product."
- More information of ratings and the "APH Recommended" award in our Review Focus.
Logitech has really done it right this time. In fact, we've had a really hard time finding major faults in this product. The Logitech G5 V2 broke the record here at APH Networks -- holding the highest score given to any product we've reviewed so far. And we give marks higher than 8 very, very rarely.