By: Jonathan Kwan
May 6, 2011
What do you do when you can't sleep at 2 o'clock in the morning? I don't know about you, but these are the times where I would just take out my laptop and get some work done, so I can slack off during the day. As I type away on my brand new Lenovo ThinkPad T420 I got just a few days ago to replace my beloved but aging -- and unfortunately, murdered by Yours Truly -- ThinkPad T400, let's talk about the idea of 'change' at this unholy hour of writing. Change is consistently happening in the world around us. Whether it be the Obama '08 campaign slogan or the recent news of Osama bin Laden's death in Pakistan carried out by members of the United States Navy SEALs, one thing we can draw from our observations can be rounded up by one famous quote: "Change is certain, progress is not". I'll let you ponder this in a political and human progress context -- but in the technology world, change is progress, right? My recent upgrade from the T400 with a Core 2 Duo P8600, 8GB RAM, Radeon 3470 hybrid switchable graphics, and 9-cell battery to a brand new T420 with a Core i5-2520M, 8GB RAM, NVIDIA NVS4200M with Optimus, and a 9-cell battery is an unquestionable change and progress on paper. Faster number crunching? Check. Better battery life? Check. Plays games? Check, and add a 'surprisingly well' to that, too. But better screen? Not with the infamously griddy AUO display I got to experience firsthand. What I am trying to say is, while the "change-is-certain-progress-is-not" attitude generally do not apply to the world of technology, this is not always... certain. It is true when we reviewed the Intel Core i5-2500K earlier this year, change was certain, and progress is unquestionable. But what about its little brother, the $138 Intel Core i3-2120? Did we make progress despite the fact you can't overclock this little monster? To answer this question, we took one into our labs here at APH Networks today, and see how well this CPU -- where its formula of taking an i5-2500, keep its clock speed, chop off two cores, half the cache, delete Turbo Boost, and add Hyper-Threading, performs against the current enthusiast favorite, along with the i5-750 of the last generation.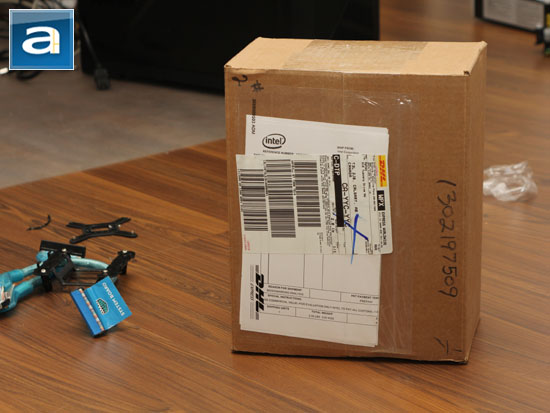 A few weeks ago, the man in a yellow van made a surprisingly late stop at our doorstep on a Monday evening here at Calgary, Alberta, Canada. But that is okay, because nothing stops our excitement from developing. Using DHL Express, our review unit of Intel's Core i3-2120 came in a relatively small brown corrugated cardboard box from the company's headquarters at Santa Clara, California, USA. Everything arrived in pristine conditions for our tests. We also felt great because we made sure we kept the SoCal to Calgary route busy with yet another review unit traveling this way, haha.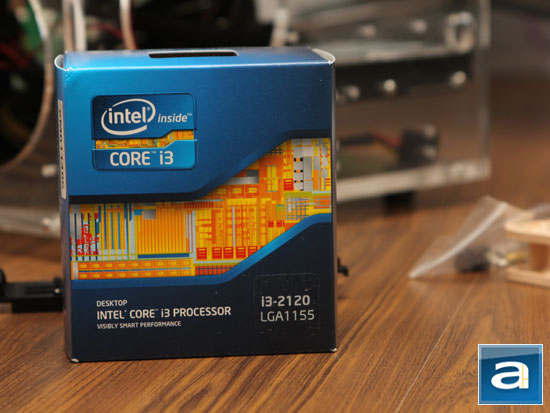 I took out my trust old boxcutter, and inside the shipping box is a retail package of the Intel Core i3-2120 we have been expecting. The last retail box we got from Intel was the Core i5-750; our Core i5-2500K is an Engineering Sample. We are glad to point out that the packaging is sealed, and identical to what regular consumers are able to buy at retail locations, although you probably realize by now you can't overclock this processor. Our particular Intel Core i3-2120 has FPO/Batch number L047B255 as marked on both the retail box and chip itself. This means that the CPU was made in Malaysia in the 47th week of 2010, lot number B225.
Before we move on, let's take a look at the specifications of the Intel Core i3-2120, as obtained from the manufacturer's website:
Essentials
Status: Launched
Launch Date: Q1'11
Processor Number: i3-2120
# of Cores: 2
# of Threads: 4
Clock Speed: 3.3 GHz
Intel® Smart Cache: 3 MB
Bus/Core Ratio: 33
DMI: 5 GT/s
Instruction Set: 64-bit
Instruction Set Extensions: SSE4.1/4.2, AVX
Embedded Options Available: Yes
Lithography: 32 nm
Max TDP: 65 W
Recommended Channel Price: $138.00
Memory Specifications
Max Memory Size (dependent on memory type): 32 GB
Memory Types: DDR3-1066/1333
# of Memory Channels: 2
Max Memory Bandwidth: 21 GB/s
Graphics Specifications
Processor Graphics: Yes
Graphics Base Frequency: 850 MHz
Graphics Max Dynamic Frequency: 1.1 GHz
Intel® Quick Sync Video: Yes
Intel® InTru™ 3D Technology: Yes
Intel® Wireless Display: No
Intel® Flexible Display Interface (Intel® FDI): Yes
Intel® Clear Video HD Technology: Yes
Dual Display Capable: Yes
Expansion Options
PCI Express Revision: 2.0
Package Specifications
Max CPU Configuration: 1
TCASE: 69.1°C
Package Size: 37.5mm x 37.5mm
Sockets Supported: FCLGA1155
Halogen Free Options Available: No
Advanced Technologies
Intel® Turbo Boost Technology: No
Intel® Hyper-Threading Technology: Yes
Intel® Virtualization Technology (VT-x): Yes
Intel® Virtualization Technology for Directed I/O (VT-d): No
Intel® Trusted Execution Technology: No
AES New Instructions: No
Intel® 64: Yes
Idle States: Yes
Enhanced Intel SpeedStep® Technology: Yes
Thermal Monitoring Technologies: Yes
Intel® Fast Memory Access: Yes
Intel® Flex Memory Access: Yes
Execute Disable Bit: Yes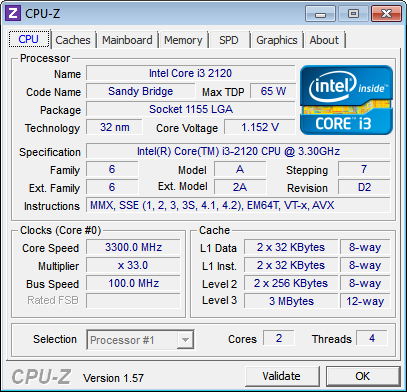 CPU-Z screenshot of the Intel Core i3-2120 processor, running at stock speeds. This is a retail, non-engineering sample unit.
---
Page Index
1. Introduction and Specifications
2.
Intel Core i3-2120 Architecture; Test System
3.
Benchmark: AIDA64 CPU
4.
Benchmark: AIDA64 FPU
5.
Benchmark: AIDA64 Memory
6.
Benchmark: BAPCo SYSmark 2007
7.
Benchmark: PCMark Vantage
8.
Benchmark: 3DMark 11
9.
Benchmark: PassMark PerformanceTest 7.0
10.
Benchmark: SuperPI 1M, Cinebench R11.5
11.
Power Consumption and Conclusion