By: Jonathan Kwan
October 23, 2015
How often do we expect outcomes that defy expectations? When Justin Trudeau and the Liberal Party of Canada swept the country with a majority government on Monday, it did not come as much of a surprise to me. They were leading the opinion polls at 37% to 39% up to the election, which, by Canadian tradition, is already very close to take on more than half the seats in parliament. Now, living in the part of the country with almost unwavering support for the Conservatives -- and I will admit I have not voted for anyone else ever since I was old enough to vote -- many people I know hoped for an outcome in defiance of the opinion polls for a blue victory. This has happened before in the 2012 Alberta general election and 2013 British Columbia general election, where the opposition had a massive lead in opinion polls over the governing party before seeing the actual results on Election Day. The incumbents, in both cases, won majorities, despite the fact the BC Liberal's leader even lost her own seat. This time around in the federal election, no such miracle happened, and everything went as expected. As you can see, opinion polls can be wrong, but more often than not, they paint a pretty clear picture of what we expect. In the same way, numbers may not tell you the whole story of how a computer component performs, but more often than not, they are quite indicative of what to expect. In the past few weeks, we have published several reviews on DDR4 memory on the Intel Skylake platform, which ranged from DDR4-2666 to DDR4-3200. Today, we will take a look at the DDR4-2800 dual channel kit from Patriot. Will it defy expectations, or will it perform as expected? Also, with a somewhat modest clock speed and designed to operate at 1.2V, will it leave some room for overclocking if we bumped the voltage to 1.35V? Let us find out.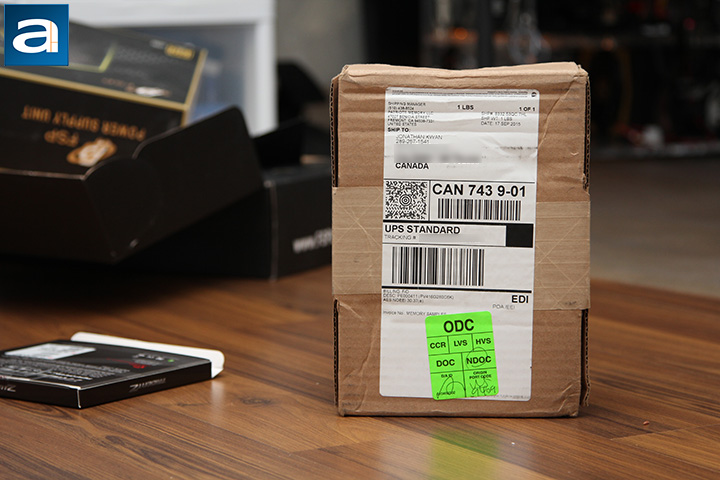 As with the last few times, our review unit of the Patriot Viper 4 PC4-22400 2x8GB came in a small, brown corrugated cardboard box from the company's American headquarters in Fremont, California, USA. This packaging is quite familiar to us here at APH Networks; the last time I have seen this was probably when the Patriot Ignite 480GB landed on our doorstep here in Calgary, Alberta, Canada in May of this year. Since the Viper 4 was last to arrive when we laid out of series of DDR4 RAM review on the Intel Skylake platform, I had it up and running in my test system literally minutes after the good people at UPS dropped it off. Needless to say, using the Standard service, everything arrived in excellent condition for our review today.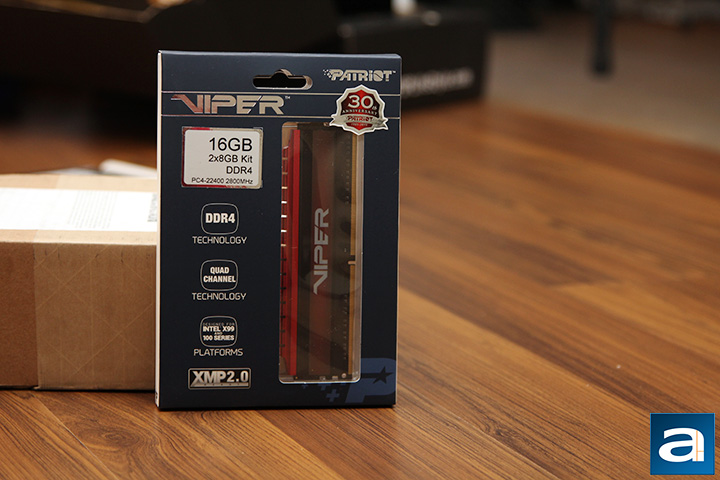 I found Patriot's retail memory packaging to be classy, and the latest Viper 4 is no exception. As you can see in our photo above, the Patriot Viper 4's retail box design is very similar in nature to the Patriot Viper 3 Low Profile PC3-17000 4x8GB we reviewed a couple of years ago. I am a big fan of products that come in an actual retail box, and not a blister pack. The navy blue background is certainly very appealing to my tastes; a vertical window on the right side shows off the memory module itself with aluminum heatspreaders in red. The company's logo is located at the upper right hand corner with a 30th anniversary badge underneath it. Meanwhile, on the left half portion of the box, you will find a label indicating its speed, configuration, and capacity, followed by three feature highlight icons below. I am not sure why they advertise quad channel technology, since there are only two modules inside. Inside the box is a clear plastic clamshell package to hold the memory in place.
Before we move on, let us take a look at the features and specifications of the Patriot Viper 4 PC4-22400 2x8GB, as obtained from the manufacturer's website:
Weight: 150 g
Dimensions: 1.37 x 12.24 x 17.78 cm
Capacity: 16GB
Memory Speed: 2800MHz
DRAM Memory Technology: DDR4
DRAM Memory Timings: 16-18-18-36
Color: Black/Red
Memory Type: Non-ECC Unbuffered
Voltage: 1.2V
Memory Configuration: Dual Channel Kit
Warranty: Limited Lifetime
Certifications: RoHS
Country of Origin: Taiwan
Unit Dimension Width: 13.3cm
Unit Dimension Height: 4.26cm
Unit Dimension Length: 0.71cm
Unit Weight: 105gm
UPC: 0814914020234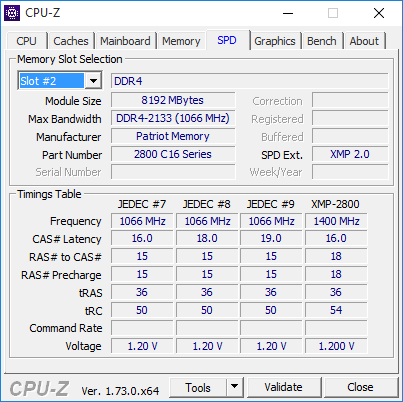 A screenshot of the memory tab in CPU-Z with Patriot's Viper 4 PC4-22400 2x8GB installed. The SPD timings table in CPU-Z reads standard JEDEC specifications programmed into the memory, as well as Intel XMP data for running the memory at various speeds. Using the latest BIOS revision, our Gigabyte GA-Z170X-UD5 motherboard used for testing had no issues detecting and working with the Patriot RAM right out of the box. The Patriot Viper 4 PC4-22400 2x8GB's retail price cannot be found at press time, but given the company's record, it should be pretty close to the competition.
---
Page Index
1. Introduction, Packaging, Specifications
2.
A Closer Look, Test System
3.
Benchmark: AIDA64 CPU
4.
Benchmark: AIDA64 FPU
5.
Benchmark: AIDA64 Memory
6.
Benchmark: PCMark 8
7.
Benchmark: 3DMark
8.
Benchmark: PassMark PerformanceTest 8.0
9.
Benchmark: SuperPI 1M, Cinebench R15
10.
Overclocking and Conclusion