By: Aaron Lai
May 22, 2015
I recently played a strategy/adventure video game called Apollo Justice: Ace Attorney on the Nintendo DS. While the game was released more than seven years ago, it belongs in one of my favorite series. In this game particular, you play as a defense attorney named Apollo Justice, who defends his clients through a whole series of different murder cases. Each of the murders are unique with different methods, motives, and contextual backgrounds. In one of the cases I was playing, another defense attorney is speaking to Apollo about how everyone has something that will make them ignite. A weak spot of sorts, where if attacked, would cause them to implode on themselves. I will not give away any spoilers, but the statement is quite true, even when extended to our product reviews. The majority of the products we have reviewed, with some exceptions, have had some sort of weakness. Whether they are physical design issues, implementation problems, or performance details, most items, when revealed, has an Achilles heel. There are exceptions of course, like our top products in the V-MODA XS or the SteelSeries Sensei Wireless. Even then, these high caliber products still have small things we would want fixed or improved upon. Thus when we see Patriot come in with another lineup of SSDs, the Ignite series, I can only wonder where the igniting point for this product is. Using a higher end controller in the Phison S10 compared to the Patriot Blaze, the result should be faster and better performance. Only a full review will actually squash my curiosity of whether this holds true or not, so let us get on it!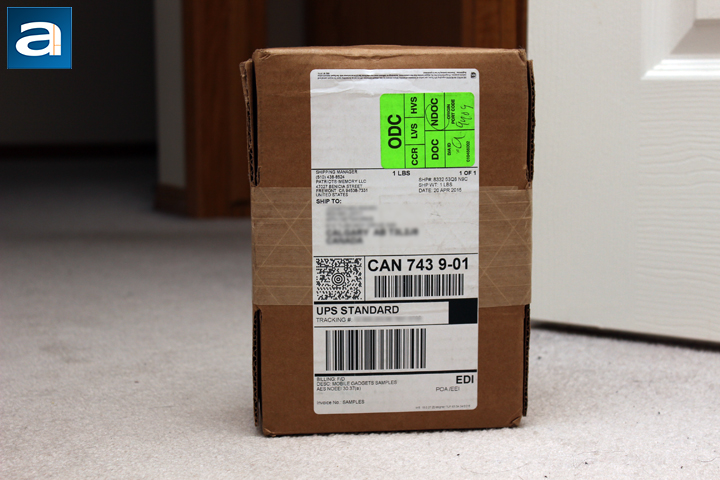 Today's review sample of the Patriot Ignite 480GB arrived from Patriot's offices in Fremont, California. Traveling with UPS Standard, the box came to us with very few bumps or bruises. A standard corrugated cardboard box is here, with brown packing tape wrapping around the box. The box is also containing the Patriot Supersonic Rage 2 256GB, which I reviewed last week. Both of these products were cushioned with large air pockets, which is becoming the norm over bubble wrap or packing peanuts. Popping these pockets are not generally as fun, but they definitely cushion the products well. Neither of the products had any physical damage, which is good to see.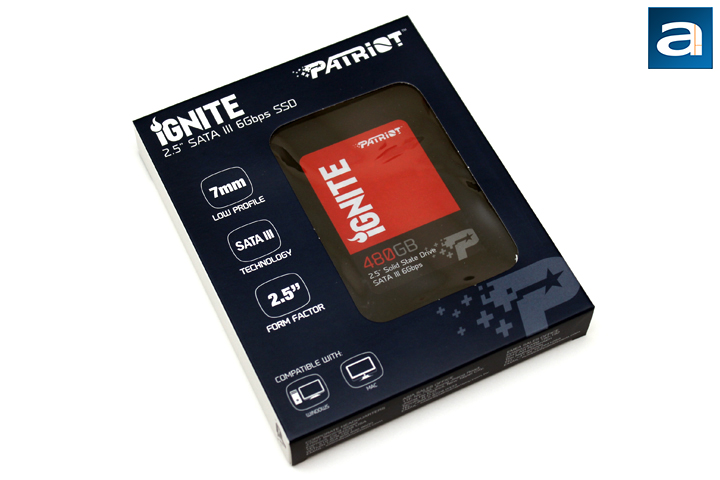 For the pyromaniacs, you probably have noticed the past few Patriot solid state drives have been named with flames in mind. The fire-induced naming is interesting, as most computer parts manufacturers, besides AMD, do not try to advertise themselves as running hot. However, I think they were trying to refer to its blazing fast speeds, and not operational temperature. The Patriot Ignite comes in a relatively normal retail container. Originally, this box came shrink-wrapped, but we removed it during our photos to reduce glare. The front window displays the drive, with its red coloring scheme. As for the box, it is in the standard Patriot blue, with their logo on the top right side. The left shows the "Ignite" logo, with a small flame above the first "I" in the name. Some key features are listed on the front as you can see, but we will post all of the specifications below. Underneath, both Windows and Mac operating systems are listed as being compatible with this drive.
Before continuing on, let us peruse the specifications and features of the Patriot Ignite 480GB, as obtained from the manufacturer's website:
Features
- Phison S10 Series SSD Processor paired with qualified MLC NAND flash for best performance value and reliability
- DRAM Cache: 512MB
- SATA3 6Gbps/SATA2 3Gbps
- TRIM support (O/S dependent)
- End-to-end data path protection (ETEP)
- Advanced wear-leveling
- Advanced Garbage Collection
- Smart ECC
- Smart Refresh
- Operating Temperature - 0° ~ 70°C
- Native Command Queuing (NCQ) - Up to 32 commands
- ECC Recovery: Up to 115bits/2KB
- MTBF: 2,000,000 hours
- 4K Aligned Random Read: 80K IOPs
- 4K Aligned Random Write: 75K IOPs
- Sequential Read & Write Transfer: Up to 560MB/s Read | 545MB/s Write (Based on ATTO)
- O/S Support: Windows® XP / Vista / 7 / 8 / Mac® OS / Linux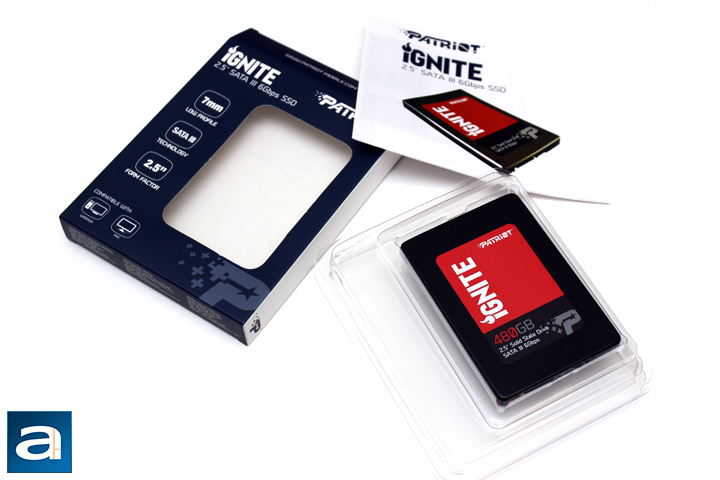 Inside the box is a standard set of things we expect with most solid state drives. First, you get the Patriot Ignite 480GB itself. Just to note at press time, the Ignite is offered in 480GB and 960GB capacities. The drive sits in a plastic clamshell tray, which holds the drive without hampering the visibility of the product to curious customers. In addition, there is a small user manual for the Ignite. Otherwise, there are no other accessories or extras, like adapters, chocolate, or earbuds, but this is becoming the norm for most solid state drives. Otherwise, there is not much to look at, so let us take a closer look at the Patriot Ignite 480GB.
---
Page Index
1. Introduction, Packaging, Specifications
2.
A Closer Look, Test System
3.
Benchmark: AIDA64 Disk Benchmark
4.
Benchmark: ATTO Disk Benchmark
5.
Benchmark: Crystal Disk Mark 3.0
6.
Benchmark: HD Tach 3.0.1.0
7.
Benchmark: HD Tune Pro 4.60
8.
Benchmark: PassMark PerformanceTest 8.0
9.
Benchmark: PCMark Vantage
10.
Conclusion