By: Aaron Lai
May 15, 2015
This NHL season has been one of the most interesting seasons. Personally I saw my beloved team, the Calgary Flames, make the post-season after a six year hiatus. There was also an increased interest in advanced statistics. For example, one of the newer metrics is Corsi. This refers to the number of shots on goal, the number of missed shots, and the number of blocked shots. This can be applied to a team or to a specific player. As such, there is a Corsi for and a Corsi against. For comparison's sake, the Corsi percentage is the positive Corsi for a team or a player over the total Corsi. On paper, a stat like this makes a ton of sense. More shots, and more blocked shots compared to the competition, will result in a generally better goal differential, and therefore more wins. On the ice, however, the stats do not always line up. This season, the Calgary Flames ended the season with a Corsi percentage of 44.3%, ranking 28th in a league of thirty teams. Yet, they headed into the playoffs, while twelve other teams with better Corsi ratings sent their players golfing. The fact is these statistics do not take into regard the intangibles, like attitude or heart. The Flames played with a "never quit" mentality at all times, and truly believed they could win. They got timely goals when it mattered. In the end, it shows you can have all the statistics on your side, but the real metric to measure is performance in a classical manner. Today's review is of the Patriot Supersonic Rage 2 256GB, a USB 3.0 flash drive with speedy numbers. It does not take advanced math to understand Patriot boasts read and write speeds of up to 400MB/s and 300MB/s. However as we have read, statistics only matter if they can translate into actual results. Will this USB flash drive actually outmatch the competition? Are there other factors to consider than just the speed? Let us read on to find out if it really delivers supersonic speed to become the new rage among enthusiasts!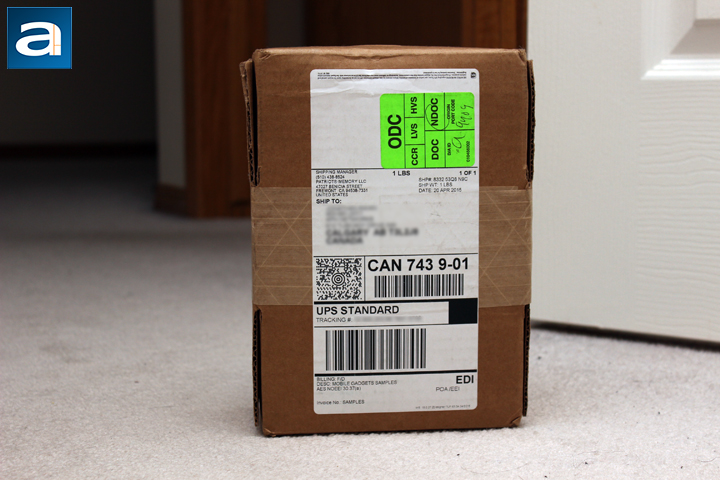 Today's review sample of the Patriot Supersonic Rage 2 256GB arrived from the company's offices in Fremont, California. Traveling with UPS Standard, the box arrived with very few bumps or bruises. As always, a standard corrugated cardboard box is here, with brown packing tape wrapping around the box. The only other type of packaging we have received has been a bubble envelope. As this shipment contains the Patriot Ignite 480GB, it makes sense they would choose a more substantial shipping option. Just to note, I will be reviewing the Ignite in the coming weeks. Both of these products are cushioned with large air pockets, which is becoming the norm over bubble wrap or packing peanuts. Popping these pockets is not generally as fun, but they definitely cushion the products well. Neither of the products have any physical damage, which is good to see.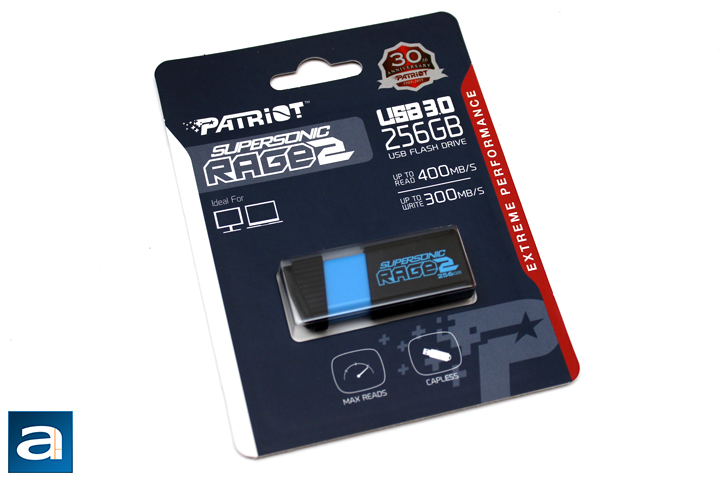 Pulling the Patriot Supersonic Rage 2 out of the corrugated cardboard box, and we are greeted with the retail packaging of the product. The last Rage USB drive we reviewed, the Patriot Supersonic Rage XT was held in a similar container as today's unit, and is also similar to other USB flash drives we have reviewed. This entails a two-layered cardboard backing, with a plastic insert to hold the USB stick itself. This keeps the packaging minimal in material, while making the product visible for potential buyers. The top shows Patriot's star-spangled logo, with the product's name right underneath. On the right side is the capacity of 256GB. Just to note, the Rage 2 is also available in 128GB as well. Right underneath are the quoted maximum read and write numbers, which we will put to the test later on. At the very bottom of the front are two features of "max reads" and "capless". Finally, at the top, Patriot notes 2015 as their thirtieth year of operation, which is no small feat for any company. Otherwise, the packaging is simplistic and clean. The back of the container has more information about specifications and warranty, but we will list them below for your curiosity's sake.
- Capacity: 256GB
- Dimensions: 0.99cm (D) x 5.3cm (W) x 2.1cm (H)
- Weight: 9g
- Warranty: 5 years
- Up to 400MB/s Read; Up to 300MB/s Write
- Durable design extends the life of your drive
- Rubber coated housing protects from drops, spills, daily abuse
- Retractable design protects USB connector when drive not in use
- LED Light Indicator
- Compatible with Windows® 8, Windows® 8.1, Windows® 7, Windows Vista®, Windows XP®, Windows 2000®, Windows® ME, Linux 2.4 and later, Mac® OS9, X
---
Page Index
1. Introduction, Packaging, Specifications
2.
A Closer Look, Test System
3.
Benchmark: AIDA64 Disk Benchmark
4.
Benchmark: ATTO Disk Benchmark
5.
Benchmark: Crystal Disk Mark 3.0
6.
Benchmark: HD Tach 3.0.1.0
7.
Benchmark: HD Tune Pro 4.60
8.
Conclusion