By: Jonathan Kwan
March 22, 2013
Nowadays, everything is about "the cloud". Need to back up your files? Upload it to the cloud. Need to transfer data between machines? Upload it to the cloud. Need to synchronize your calendars? Upload it to the cloud. Need to meet some girls, because you have been spending too much time on your computer? Upload it to the cloud. As you can see, "the cloud" is the solution to all of our problems today, whether you are just looking to make life easier, or suffering from a case of severely limited social skills. Okay, maybe not exactly the last one, but you get the idea. That said, while I am a big fan of things like using Rainlendar 2 Pro to seamlessly mesh my schedule between my smartphone and desktop computers via Google Calendar, I am not exactly a big fan of keeping everything on the internet. For one thing, I would much rather not have my files in anyone else's hand but mine, regardless of how unimportant they are, or how secure the service provider promises it to be. Secondly, most internet service providers in North America have pathetic upload speeds -- my LTE data plan on my phone puts my landline to shame. The third one is obvious: If you have everything in the cloud, the moment you lose your internet connection, good luck. Maybe carrying a USB flash drive on your have more merit than you think. As such, my speedy and trusty Patriot Supersonic Magnum 64GB is always with me in my wallet. Here is the problem though: Not everyone wants something this physically large. If you are willing to sacrfice some speed for a reduction in size, what do you get? We took in a Patriot Supersonic Rage XT 32GB for our review today. Read on to see what we have found!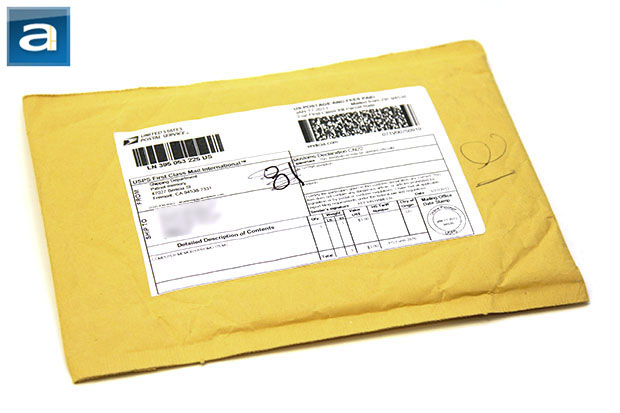 Our review unit of the Patriot Supersonic Rage XT 32GB card came in a bubble envelope from the company's headquarters in California, USA. Even though going through USPS and Canada Post via a transfer as it crossed the border is not exactly the fastest way to our Calgary, Alberta location, sometimes you really have to appreciate the ability to pick up items securely from a locked mailbox instead. It took approximately two weeks in transit -- but to be absolutely fair, a month has elapsed before we even opened the package after we have received it. Yes, this is the average time it takes here at APH Networks, haha. As always, everything arrived in perfect condition for our review today.
As always, our Patriot Supersonic Rage XT 32GB arrived in retail packaging. It uses the exact same design as the EP Pro SDHC 32GB, except with everything alluding to being an SDHC card changed to reflect the USB flash drive inside, just like this paragraph you are reading right now. Although there is nothing exquisitely special about it, I found it entirely appropriate for what it is intended for. Consistent with the rest of Patriot's flash memory line, it combines a clean black background with "USB 3.0" text markings and a clear plastic shell that encases the card itself. Red highlights in the design along with prominent feature highlight icons ensure the user is aware this is a "extreme performance" grade product, as shown in our photo above. This is the same kind of packaging where you can hang it on a store shelf rail, but chances are that it will be locked up in the glass cabinet behind a counter, since they are quite easy to steal, haha. Patriot's logo and model name is prominently displayed on the left, capacity in the red band, and OS compatibility logos at the bottom.
Before we move on, let's go over the specifications of this drive, as obtained from the manufacturer's website:
USB Specification: USB 3.0
Capacity: 32GB
Read Speed: Up to 180 MB/s
Write Speed: Up to 50 MB/s
Dimensions: 1.1cm (D) x 5.3cm (W) x 2.18cm (H)
Weight: 11g
Warranty: 5 years
---
Page Index
1. Introduction and Specifications
2.
A Closer Look, Test System
3.
Benchmark: AIDA64 Disk Benchmark
4.
Benchmark: ATTO Disk Benchmark
5.
Benchmark: Crystal Disk Mark 3.0
6.
Benchmark: HD Tach 3.0.1.0
7.
Benchmark: HD Tune Pro 4.60
8.
Conclusion