By: Jonathan Kwan
October 12, 2012
A few days ago, I was talking to my coworker about the speed of one of our old computers in the performance testing lab. "I could have sworn old computers get slower and slower over time," I said. "But I think it is just our expectations that are rising." My coworker nodded in agreement. In reality, whether it is our expectations that are rising, or just old hardware that are magically degrading, consumers like you and I have an insatiable need for speed. Faster. Better. Cheaper. These are things we desire, and many engineers are here to provide. But it is not just our lack of patience that is continuously pushing electronics to the new heights of performance requirements. Earlier this year, when we were filming "Fail to Gain" (As introduced in our Genius SW-G2.1 3000 speaker set review introduction a couple of weeks ago), we forgot a Class 6 SD card at church. To test our luck, my colleague Preston took out a Class 4 SD card he had lying around at home, and plugged it into our shooting equipment. Because we film in 1080p Full HD, needless to say, it did not work at all. Since we did not want to lose out one camera in our multicamera configuration, Preston had to make the effort to go grab his Class 6 card back from church. Vowing to never let this happen again, he picked up a Patriot EP Pro SDHC card from a local computer store. As I pulled up more information on this particular product, the promised performance as a flagship flash memory card seemed enticing in every way. To see how it compares against the Patriot LX Series SDXC we have reviewed in December last year, I decided to pick one up myself for benchmarking. Read on to see how the Patriot EP Pro SDHC 32GB performed!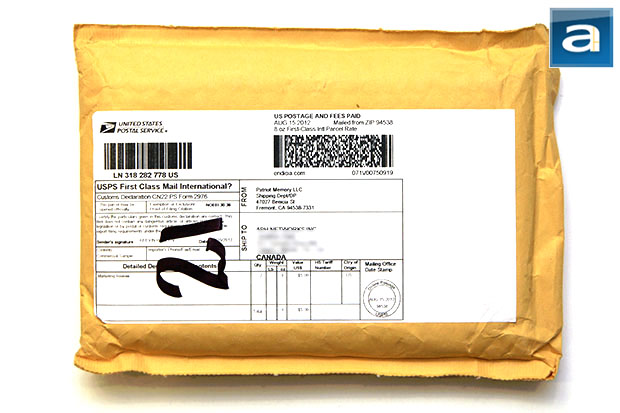 Our review unit of the Patriot EP Pro SDHC 32GB card came in a bubble envelope from the company's headquarters in California, USA. In the past, it has always arrived in a small brown corrugated cardboard box, so we are in for a nice change. They have also included a Patriot Intel Extreme Master PC3-17000 2x4GB dual channel kit in the same package for our upcoming review, in which we will cover in the next few weeks. Using USPS and transferred to Canada Post as it crossed the border, everything arrived in perfect condition for our review today.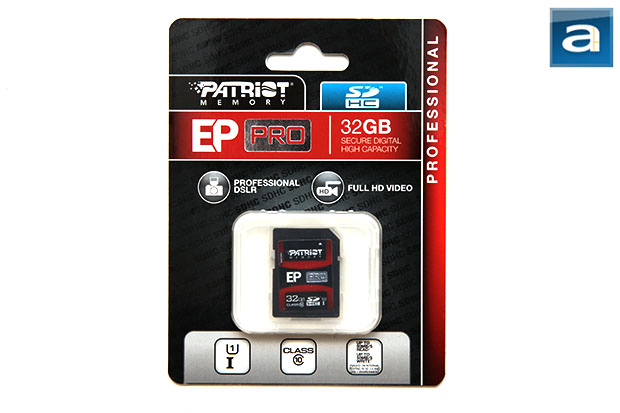 As always, our Patriot EP Pro SDHC 32GB arrived in retail packaging. Although there is nothing exquisitely special about it, I found it entirely appropriate for what it is intended for. The overall concept is extremely simple, but it gets the job done. Consistent with the rest of Patriot's flash memory line -- it has a strong family resemblance with the Patriot LX Series 64GB -- it combines a clean black background with "SDHC" text markings and a clear plastic shell that encases the card itself. Red highlights in the design along with prominent feature highlight icons ensure the user is aware this is a professional grade performance product, as shown in our photo above. This is the same kind of packaging where you can hang it on a store shelf rail, but chances are that it will be locked up in the glass cabinet behind a counter, since they are quite easy to steal, haha. Patriot's logo and model name is prominently displayed on the left, capacity in the red band, and speed class at the bottom.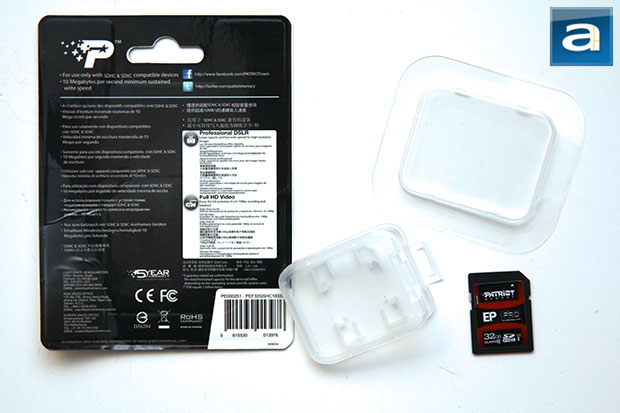 Although I am not entirely sure what is the right way to crack open the package, I am particular thankful that it is not a blister pack, so there is really little risk in cutting myself regardless of how I execute this task. With all the safety risks out of the way, and a little more experience from opening the same type of packaging last year, I realized it was actually possible to peel between the cardboard layers of the main flap. This is a lot cleaner than the "rip it apart like a kid on Christmas morning" approach I executed last year. Out of the box, you will get a clear plastic box that holds your Patriot EP Series 32GB SDHC card, and the SDHC card itself inside. Yep, that's it. With regards to the Patriot EP Series 32GB SDHC card, I can spend all day talking about the sticker design, but what good does that do if you can just look at our photo that came right before this paragraph? Other than that, it is just a normal looking, black colored flash memory card that carries the size and shape of any other member in the Secure Digital family, with a write protection switch on the left, and prints on the back indicating that it is made in Korea.
Before we move on to our series of benchmarks (Wow, that is fast!), let's take a look at the specifications of this product, as obtained from the manufacturer's website:
- Complies with SDA 3.0 specifications (host device must support SDXC for 64GB and 128GB)
- Speeds up to 50MB/sec read and up to 35MB/sec write (Speed is based on internal testing on SD 3.0 and UHS-I mode environment)
- Performance maybe lower depending on host device.
- UHS-I (Ultra High Speed) Compliant
- Class Speed 10
- Write protection switch to avoid accidental data deletion
- Voltage Range: 2.7 - 3.6V
-----------------------------------------
The Tests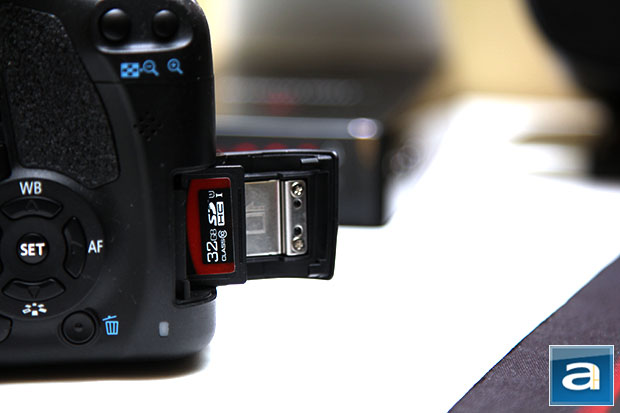 For real life testing, the Patriot EP Pro SDHC 32GB is used with a Canon EOS 60D and Canon Digital Rebel T2i dSLR camera. To ensure that the benchmarking performance is not interface bottlenecked, we used a system equipped with a PCI Express based Ricoh media card reader, and is configured as follows:
Laptop Model: Lenovo ThinkPad T420 (BIOS Revision 1.22)
CPU: Intel Core i5-2520M (Sandy Bridge 2.50GHz, Turbo Boost 3.00GHz, 3MB L3, 1333MHz FSB)
Chipset: Intel QM67
Memory: Kingston HyperX PnP DDR3-1600 2x8GB
Display: 14" AUO LED backlit LCD @ 1600x900
Graphics: NVIDIA Quadro NVS 4200M 1GB with Optimus
Primary Storage: Patriot Pyro SE 240GB
Wireless: Intel Centrino Ultimate-N 6300 AGN
Operating System: Microsoft Windows 7 Professional x64 SP1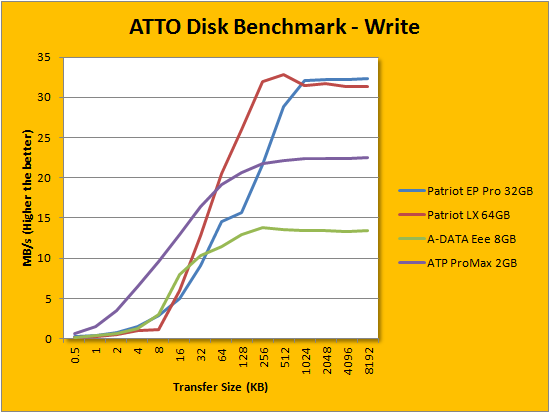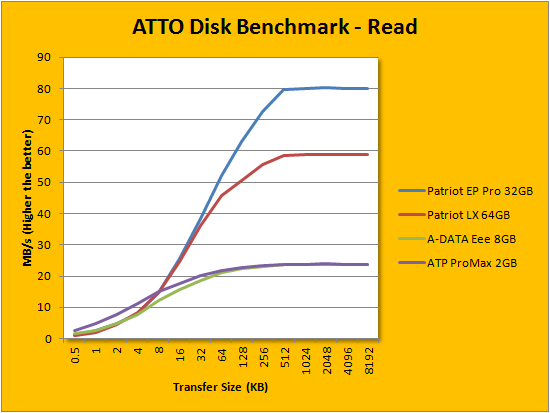 When I requested the Patriot EP Pro SDHC 32GB for review, they made sure I have a reader that would not bottleneck the performance of the card. If you look at our results above, you can see why a run-of-the-mill USB 2.0 reader simply will not cut it. Taking out my laptop as I did last year, and thanks to the PCI Express based Ricoh card reader as aforementioned, the results turned out to be very impressive -- even more impressive than the LX Series 64GB I have tested last year. On the comparison list are a couple of oldies as well; namely the ATP ProMax II SD Class 6 2GB and A-DATA SDHC Class 6 Eee PC Edition 8GB I have reviewed back in 2008. As you can see in our graphs above, the Patriot 32GB SDHC card didn't perform too well initially in small transfer sizes -- but it quickly regained prominence after 32KB in the write benchmark and 8KB in the read benchmark, just like the LX Series SDXC card. This lead continued well after that, and flattens out at a simply unmatched 32.3MB/s write and a whopping 80.2MB/s read. Normally, if this was a USB flash drive, I would have criticized it for its low small file I/O performance. However, since you are going to be dealing with primarily large files anyway, the Patriot EP Pro SDHC 32GB is simply going to smoke everything in its way in real world usage. Based on my real life experiences using my Canon EOS 60D dSLR camera, shooting videos in 1080p, or firing off a burst of shots is not going to be a problem at all -- the Patriot EP Pro SDHC 32GB is a very fast card by all any standard.
-----------------------------------------
If computers and electronics really do not become slower over time, then it is just our expectations that are rising. If it is just our expectations that are rising, blame it on products like the Patriot EP Pro SDHC 32GB. It is stuff like this that are spoiling us. Seriously, this card is fast. Like, really fast. Cracking our ATTO benchmarks at just over 80MB/s read and 32MB/s write in our PCI Express-based card reader, the Patriot EP Pro SDHC will ensure that you will have no excuse for low quality work or reduced productivity time. The Patriot EP Pro SDHC won't even break a sweat if you plug it into your dSLR and decide to shoot RAW in burst mode. Ready to load all those gigabytes of 1080p HD video into your computer? Even if you fill up the entire card, it will take only about 400 seconds to transfer every last bit and every last byte into your system. Retailing for about $45 at press time, the Patriot EP Pro 32GB SDHC card is far from being the cheapest. But if you are one of those who are serious about quality and performance, this is something you would want to keep up with your equipment. After all, $45 is probably just a drop in the bucket compared to everything else you own anyway. I know this first hand.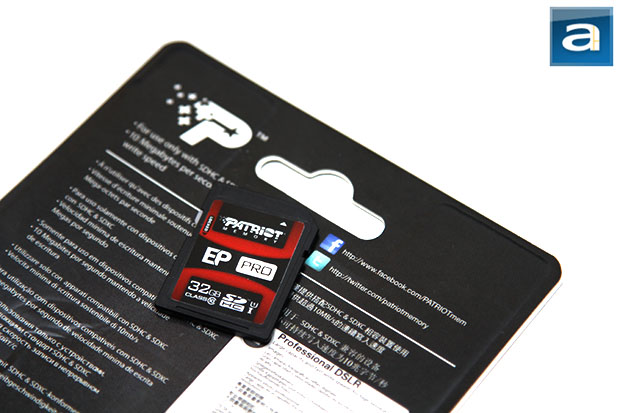 Patriot Memory provided this product to APH Networks for the purpose of evaluation.

APH Recommended Award | APH Review Focus Summary:
8/10 means Definitely a very good product with drawbacks that aren't likely going to matter to the end user.
-- Final APH Numeric Rating is 8.0/10
Please note that the APH Numeric Rating system is based off our proprietary guidelines in the Review Focus, and should not be compared to other sites.
The Patriot EP Pro SDHC 32GB is a seriously fast card that is well worth of its name.
Do you have any comments or questions about the Patriot EP Pro SDHC 32GB? Drop by our Forums. Registration is free, and it only takes a minute!