By: Jonathan Kwan
September 28, 2012
"Forget it!? How can you forget something like this?" my friend's dad said to him one evening before dinner, after he failed another quiz in school. "You know, when I was your age, my lowest mark was B+, and it put me to shame for weeks! And you're just sitting there, 'Oh forget it, dad'. It's something you cannot forget!" Of course, this dialog was taken from a movie we have made earlier this year, where you can get a glimpse of it in one of the trailers we have posted on YouTube. Ahh, Asian parents. You know, a lot of times, we focus on the mistakes -- whether small or big -- we have made in the past that we often forget to look ahead and see what we can do better in the future. After all, while we cannot change what we have done, we can definitely decide what we are going to do. For those who have never heard about the computer peripheral manufacturer Genius, let me just tell that they have been around for a really long time. However, they did not have a very large market here in North America, and for the products they do sell such as the SlimStar 8000, their products are just... well, to put it nicely, nothing special. But this is okay, because the company has not stopped at mediocrity and closed their ears to criticism like many we have seen in the past. Hoping to reinvent themselves, what we have here today is the company's new SW G2.1 3000 gaming speaker set. Marketed as a performance product and priced competitively at less than $80 at press time, is it too good to be true? Read on to find out!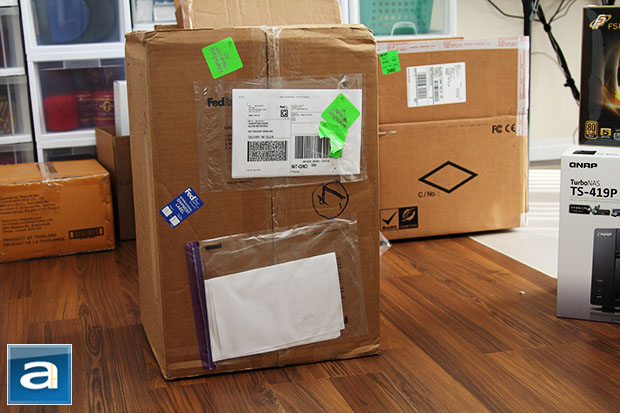 Okay, to be fair, when I say "new", this product has been out for quite a few months already. This is because we got this in our labs for a while now. Our review unit of the Genius SW-G2.1 3000 came in a rather large brown corrugated cardboard box from KYE International Corporation -- also known as Genius -- from their American offices in Chino, California, USA. At first, when the delivery person arrived at our doorstep here in Calgary, Alberta, I was wondering what was inside, since I could not recognize the name of the shipper. Upon opening the package, everything became clear. Using FedEx Ground, everything arrived safely for our review this today, so let's crack down to the details.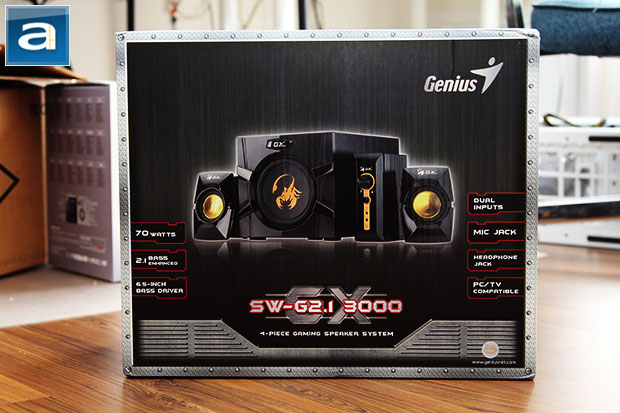 I have seen previous retail boxes from the company (Again, I must make reference back to the SlimStar 8000 reviewed by my colleague Devin last year), and they were generic looking at best. The SW-G2.1 3000 takes a completely different approach in this regard. Aimed at computer gamers and enthusiasts, this 2.1 speaker set is shown off by a packaging design that resembles a brushed metal background on a riveted stainless steel frame. A photo of the Genius SW-G2.1 3000 set is displayed bold and center across the front, with the model number situated right beneath it. Genius' logo can be seen at the upper right hand corner. Along the edges are tabs highlighting features of this product. Around the box, we will find things such as a specifications table and a close up diagram detailing information of these speakers. Overall, I found it quite appropriate for its intended market, and at no point was it overloaded with too much information.
Before we move on, let's take a look at the features and specifications of the Genius SW-G2.1 3000, as obtained from the manufacturer's website:
RMS (Watts): 70
Satellite (Watts): 15W x 2
Subwoofer (Watts): 40
Signal-to-Noise Ratio: 85 dB
Frequency Response: 35 Hz ~ 20K Hz
Power Source: AC transformer built-in
Volume Control: YES
Channel volume Control: YES
Headphone Jack: YES
Power ON/OFF: YES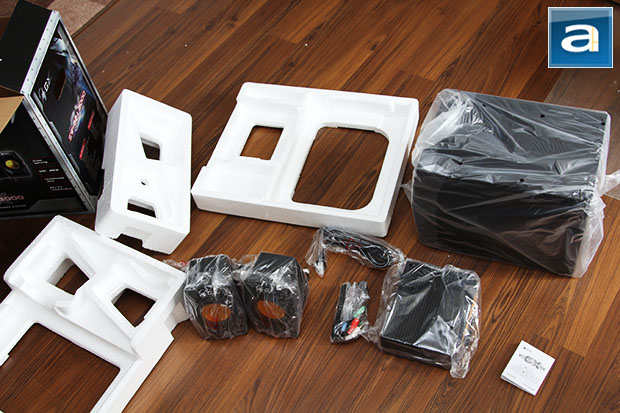 The top cover is engaged by a small flap to ensure it is properly closed when intended to be. Once you get past this point, you will find all the contents to be packed very nicely and securely inside, although I am really not a big fan of Styrofoam brackets. Sure, they provide very good protection against bumps and bruises during transport, but it really gets on my nerves to hear that annoying squeal when you take it out of the box. Also, it makes me feel really bad when I throw them out. That said, I think Genius has done an excellent job at ensuring everything arrives in the consumer's hand in absolutely pristine condition besides just using large Styrofoam brackets. Everything -- including the cables -- are individually wrapped in plastic bags for maximum protection. You can grasp an idea of what I am talking about in our photo above. Out of the box, you will receive the following items:
- Subwoofer
- Controller
- Two satellite speakers
- Two audio cables
- Multi-language user's manual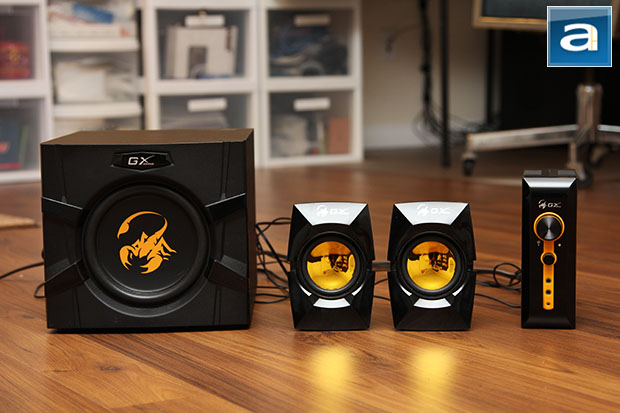 There may be many words to describe the design of the Genius SW-G2.1 3000 speakers, but if you ask me, there is only one, and that is "daring". Most manufacturers will play the conservative game and refuse to stray too far away from the good old matte black finish, but these guys let their imagination run to production line a little more than the common crowd. The pair of rather compact satellite speakers come in a glossy black finish, and so does the controller unit. Across the center of each speaker is a 3-inch, 4-ohm driver rated at 15W with a reflective golden yellow finish to create a look that really distinct it from the crowd. No speaker grille is included. Now just to ensure that I am not sending the wrong message, the descriptive terms I am using right here are pretty neutral. Whether you see it as a good thing or bad thing is your call; after all, aesthetics are personal preferences on every level. The only downside is a shiny finish will be quite prone to fingerprints and scratches, so watch those oily fingers and sharp nails.
As far as the controller module is concerned, it is designed to sit vertically on your desk. Those who are familiar with Logitech or other computer speakers may find this unit a bit larger than the competition, but there is a pretty good reason why. Many PC audio manufacturers like to place the amplifier into the subwoofer for packaging reasons, but Genius kept it separate. With the controller unit being the amplifier instead, this is the way it is supposed to be designed in my personal opinion, albeit slightly more cumbersome. This separation allows you to operate the system without relying on the presence of the subwoofer. With this in mind, the controller module has two knobs in front; with the larger being main volume, and the smaller being subwoofer volume. Two 3.5mm jacks for headphone and mic, respectively, can be seen below. To turn on the speakers, simply up the volume know until a click is engaged. A blue LED will glow when there is power.
The subwoofer is probably the most conservatively designed component of them all, and even at that, you will still see a yellow scorpion sitting happily on the 6.5-inch, 8-ohm driver rated at 40W. A solid wooden enclosure measuring in at 21.0cm high, 31.5cm deep, and 23cm wide houses the components that makes up the subwoofer. I found it to be surprisingly lightweight after giving it a quick lift. With everything in mind, the Genius SW-G2.1 3000 as a set is rated at 70W RMS with 85dB signal to noise ratio. The rated frequency response is 35Hz to 20kHz according to the manufacturer.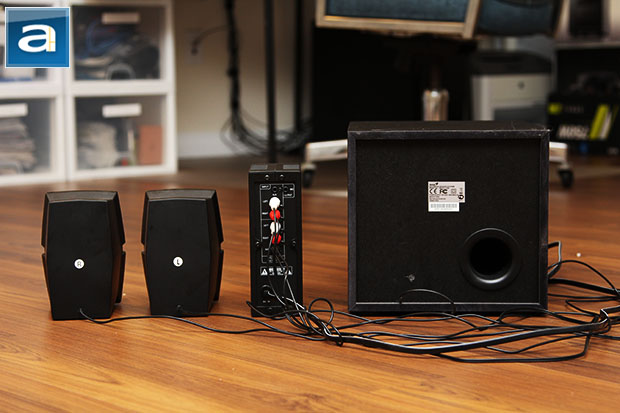 A shot at the back of the speakers and controller. Really, here is nothing too much to discuss here, so I will be as quick as possible before we move onto the meat of this review -- the tests. The speakers are labeled left and right for the user's convenience. The subwoofer features a bass reflex port at the back, as the driver occupies the entire front face. The signal cables permanently attached to the speakers and subwoofer, as shown in our photo above. However, other than the AC power input on the controller, nothing else is permanently attached, and this is a good thing in my opinion. From the top, we have a set of inputs; including a 3.5mm auxiliary jack and two RCA jacks for the left and right speaker channels, respectively. There is also a single 3.5mm microphone output at the upper right hand corner, which acts as a passthrough for the front microphone jack. Underneath the input section is the output section, where you will get connectors for the left speaker, right speaker, and subwoofer, respectively. For a standard PC configuration, all necessary cables are included out of the box to get you going.
Generally speaking, I have no real complaints about the design and layout of the Genius SW-G2.1 3000, other than the lack of speaker grilles. This is a pretty minor issue in my opinion. Now that we have the physical aspects examined and out of the way, let's jump in to our subjective listening tests.
-----------------------------------------
The Tests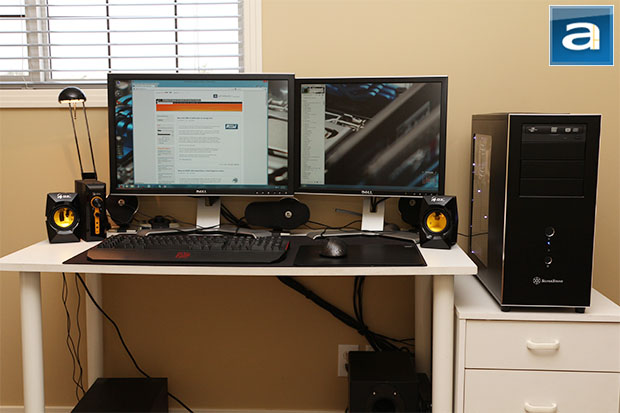 As we always say in our audio reviews, there are really no true objective measurements for speaker sound quality. As the reviewer, however, I'll put it through a series of subjective tests to try to come up with the most objective rating possible (Yes, it's quite a paradox haha). The tests were conducted primarily with the Auzentech X-Fi HomeTheater HD sound card with the Genius SW-G2.1 3000 speaker system plugged in directly to the front channel 3.5mm analog output. (Creative CA20K2 DSP/APU, National Semiconductor LME49720NA OpAmp, Cirrus Logic CS4382A DAC, Nichon MUSE ES capacitors.) This sound card is probably the best consumer/prosumer computer sound cards out there in the market today, and will reduce its potential to be a limiting factor in our benchmarking today.
After over 30 hours of break-in time (Well above the typically required period), we put the Genius SW-G2.1 3000 to the tests. All tracks are uncompressed CDs, FLAC, or LAME encoded MP3s at 192kbps or higher.
I am usually quite wary of audio products marketed as gaming accessories, because it usually means overboosted bass, artificially high treble, and a chunk of missing midrange. Being a set of 2.1 desktop gaming speakers, the Genius SW-G2.1 3000 might sound like a bit of a hard sell to enthusiasts looking for speakers that can do a little more than just hearing where your virtual enemies are. As I plugged this set into my high performance sound card, the three inch drivers on the satellite speakers and the six and a half inch subwoofer driver worked together much better than I first imagined. Of course, on an absolute scale, it is far from perfect, and I will tell you why. But for that $80 or so they want for it right now, it is a surprisingly good for the cash it commands. I started off the tests with a bass heavy song. As I scribbled my analysis notes into my APH Networks engineering logbook, commenting on how solid, clean, and rounded the bass is, I realized there is a vibration sound around the room. A quick inspection of the pictures on the wall revealed nothing shaking -- until I glanced up at the ceiling light. That's right, the subwoofer caused the ceiling light to vibrate. Even though I am not a bass head by a long shot, the impressive bass output delivered by the Genius SW-G2.1 3000's subwoofer simply cannot be ignored, and is definitely the highlight of the evening.
The well integrated and cohesive bass is complemented by treble performance that I would consider slightly recessed, dark, and slightly more dry than I would like it to be. Interestingly, it is produced at an acceptably clean manner from the upper midrange to lower treble. In other words, it was particular distinct and clean at the lower end of the spectrum, which is good -- but it will get a bit messy as you progress up the frequency range. The Genius SW-G2.1 3000's frequency separation is noticeably limited at high treble as well. As far as the midrange is concerned, I feel that it is missing about a chunk of midrange -- the lower third -- with a noticeably high emphasis on the higher two-thirds in order to make it sound a little more dynamic. Unfortunately, this kind of tuning will make voices sound more artificial, and can be very tiring to listen to after extended periods of time. It would have been better if it sounded a bit warmer and neutral, especially if you prefer a pleasant listening experience.
As soundstaging can be very dependent on good midrange and especially strong treble clarity (Although not exclusively), the Genius SW-G2.1 3000 does not exhibit a whole lot of depth or width. Its narrow soundstaging is due to limited treble performance and clean distinction in areas where the human ear is most sensitive to. As such, deriving from my analysis above, the overall detail of this 2.1 speaker set is pretty good at the bass and lower treble. Midrange is acceptable in general, but the upper treble definitely needs some work. The sound cohesiveness is about average, because the missing frequencies at the lower midrange made the higher midrange and treble a bit disconnected from the rest of the range. I found the layering and distinction of the reproduced audio is a bit wide in between as well, making it lacking in definition. Generally speaking, you would want more precision for things to sound natural; unfortunately the SW-G2.1 does sound a bit rough at times. Frequency separation can be improved at the lower midrange and upper treble, as it is not very well defined. High midrange to lower treble is pretty good, however.
With all this in mind, try not to get the wrong message -- while Genius SW-G2.1 3000 are definitely not the best speakers in the world, we never expected an $80 set to be as such in the first place. Compared to other speakers in the price range, I would say this set is very competitive in our subjective listening tests.
-----------------------------------------
As my friend loads up the university grading website a couple of months later, the dreaded 'F' appeared next to one of his courses on the computer screen. He looked closer. It was not a mistake. He leans back and covers his face with both his hands. The worst has happened. He has failed a course. The screen fades to black. But this was not the end of 'Fail to Gain". Without giving any spoilers away, the fact is, the worst has happened to every character in the story; not just my friend I have introduced to you in the beginning of this review. However, their ending could not have been more dissimilar. How can the outcome be so different? It was because of the choices they make, not someone else's. In the same way, the Genius SW-G2.1 3000 demonstrates to us how a positive approach to a problem in a strive for continuous improvement can bring not only bring an individual a start to success, but even an entire company. For around $80 at press time, this 2.1 speaker set is very competitive for the money it commands. I am a big fan of its strong bass performance and excellent packaging configuration; if its looks are your cup of tea, the SW-G2.1 looks like nothing else on the market today, too. Areas that has noticeable room for improvement include its midrange and upper treble performance. But let me put it this way. If they can make something like this for $80, what can they do with $120? At the end of the day, the Genius SW-G2.1, by itself, is definitely a competitive set for gamers and casual music listeners on a budget -- especially for those who like some real quality bass.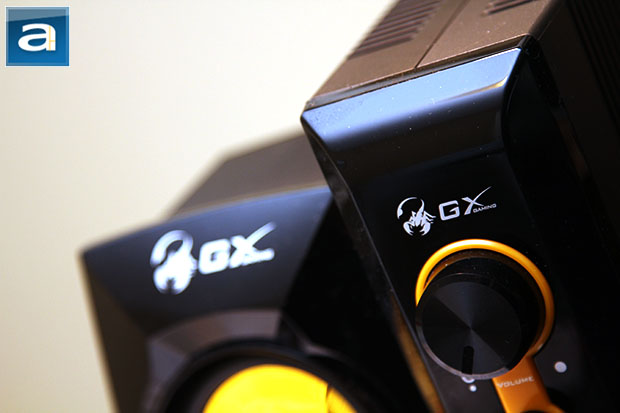 Genius provided this product to APH Networks for the purpose of evaluation.
APH Review Focus Summary:
8/10 means Definitely a very good product with drawbacks that aren't likely going to matter to the end user.
7/10 means Great product with many advantages and certain insignificant drawbacks; but should be considered before purchasing.
-- Final APH Numeric Rating is 7.1/10
Please note that the APH Numeric Rating system is based off our proprietary guidelines in the Review Focus, and should not be compared to other sites.
The Genius SW-G2.1 3000 is a 2.1 speaker set that delivers competitive audio quality for the price.
Do you have any comments or questions about the Genius SW-G2.1 3000? Drop by our Forums. Registration is free, and it only takes a minute!