By: Jonathan Kwan
January 20, 2012
With an outside temperature of about -30 degrees Celsius at the time of writing this review (That's -22 degrees Fahrenheit for those oddballs who still use such a weird unit of measurement, but we will leave that discussion for another day), sometimes, I kind of wonder where Al Gore is when you need him. Okay, I guess we do know where he is. So meanwhile Al Gore is happily tapping away in his Nashville, Tennessee mansion at above freezing temperatures, us here in Calgary could really use some warmth. A bonfire or something would be nice, as long as it is not inside my igloo house. Speaking of bonfires, a few months ago, we have covered the Patriot Pyro 120GB solid state drive. The Pyro 120GB is one sleek looking drive with the performance to boot -- a quick hop over to a popular online retailer's website shows us it is finally in the same price range as the OCZ Agility 3 120GB; its main competitor. But there seems to be something missing in Patriot's SSD lineup. If the Wildfire stacks up against the OCZ Vertex 3 Max IOPS and the Pyro against the Agility 3, what does Patriot have that competes with the vanilla Vertex 3? Without the need to come up with a completely new name, the Pyro SE 240GB we have here at APH Networks this morning is the company's answer to OCZ's Vertex 3. Enough said, let's get straight to the juicy details.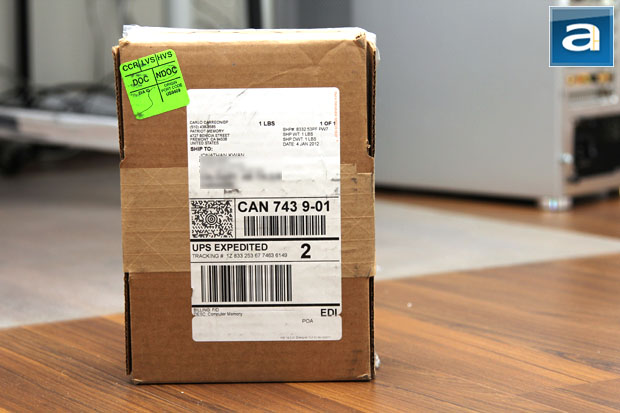 We were happy to see yet another one of these small, brown corrugated boxes landing at our offices here in Canada, because, like most Christmas presents, it always has stuff inside we can all get excited about. As usual, using UPS Expedited, it arrived in excellent condition from Patriot's headquarters in California, USA. With much excitement, I took out my knife, ripped out the tape, and arrived at the meat.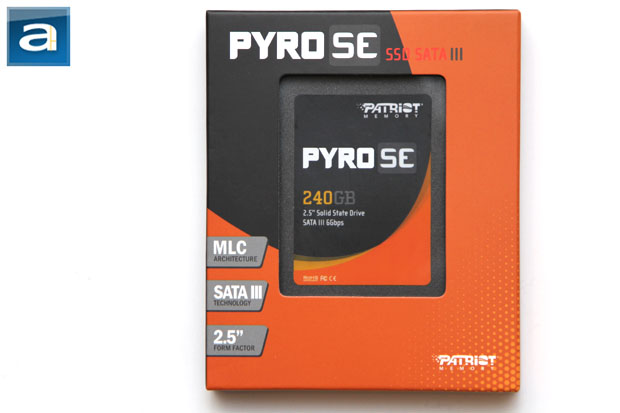 Appropriately colored orange and black, the Pyro SE's retail box design is pretty much identical to the Patriot Pyro non-SE version. The difference is the packaging is a little bit smaller in size, but that is about it. A window in the middle shows off the SSD itself, and since the drive capacity is already printed on the disk label, they can just use generic packaging for all variants in same product line. Unlike most computer part manufacturers, the design is also relatively simple and clean. Patriot's logo can be found at the bottom right corner along a matrix of yellow dots, while the Pyro model branding can be found at the upper left corner. An array of tabs on the left hand side indicates the Patriot Pyro SE 240GB uses MLC flash chips, on the SATA 6Gb/s interface, and 2.5" in form factor. At the back, we have a brief list of features in various languages.
Before we move on, let's take a look at the features specifications of the Patriot Pyro SE 240GB, as obtained from the manufacturer's website:
- SandForce SF-2200 series SSD processor paired with qualified MLC NAND flash for best performance, value and reliability
- SATA 6Gb/s, 3Gb/s and 1.5Gb/s
- TRIM support (O/S dependent)
- DuraClass™ technology
- DuraWrite™ extends the endurance of SSDs
- Intelligent Block Management and Wear Leveling
- Intelligent Read Disturb Management
- Intelligent "Recycling" for advance free space management (Garbage Collection)
- RAISE™ (Redundant Array of Independent Silicon Elements)
- Intelligent Data Retention optimization
- Best-in-class ECC protection for longest data retention and drive life.
- Power/Performance Balancing
- Thermal Threshold Management
- Native Command Queuing (NCQ) - Up to 32 commands
- ECC Recovery: Up to 55 bits correctable per 512-byte sector (BCH)
- Sequential Read & Write Transfer: 60GB model; Up to 550MB/s read | 500MB/s Write, 240GB & 120GB models; Up to 550MB/s read | 520MB/s Write
- Max Random Write IOPS: 60GB model; Up to 80K, 240GB & 120GB models; Up to 85,000 (4K aligned)
- O/S Support: Windows XP / Vista / 7 / Mac OS / Linux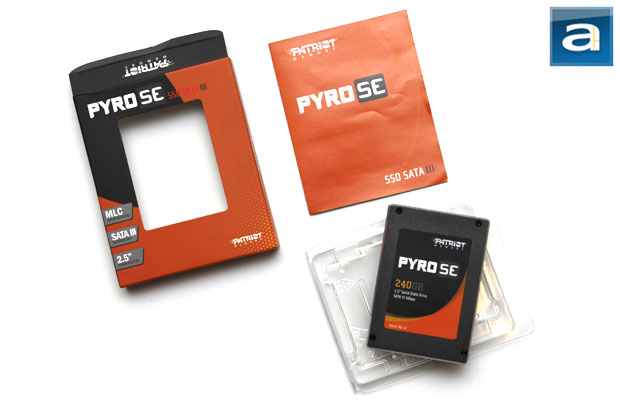 Everything from this point on is intrinsically simple. Opening the package is a clear plastic shell that can be flipped open, which holds the SSD in place. That's pretty much it. An insert at the back has provides the user with some technical information on the Patriot Pyro SE 240GB, along with some simple installation instructions (After all, how hard can it be?). An adapter bracket is not included from the factory. If you have a modern computer chassis that already supports 2.5" drives out of the box, then it is not like you will need anything else either, haha. If you don't, then, well, you will need to makeshift your own solution.
---
Page Index
1. Introduction and Specifications
2.
A Closer Look, Installation, Test System
3.
Benchmark: AIDA64 Disk Benchmark
4.
Benchmark: ATTO Disk Benchmark
5.
Benchmark: Crystal Disk Mark 3.0
6.
Benchmark: HD Tach 3.0.1.0
7.
Benchmark: HD Tune Pro 4.60
8.
Benchmark: PassMark PerformanceTest 7.0
9.
Benchmark: PCMark Vantage
10.
Conclusion