By: Jonathan Kwan
September 23, 2011
Unless you have never exposed yourself to the outside world before, chances are that you have heard of Nero. No, I am not talking about Ahead Software's Nero Burning ROM, but rather, Roman Emperor Nero from AD 54 to 68. Known for his obsession with fire, historical sources say he could be the one who started the Great Fire of Rome, with facts indicating he burned Christians in his garden at night for a source of light. Others say he sang the "Sack of Ilium" during the Great Fire of Rome in stage clothes, along with popular legends describing him playing the fiddle at the same time (Wikipedia says this is not true, however). But regardless of whether some stories are true and some stories were made up, let's put it into a modern perspective and think about it for a moment: If Nero works for your company's marketing department, what kind of product names will he come up with? Pyro? Wildfire? If that is indeed the case, I think we have found the company that hired him: Patriot Memory. Jokes aside, if you look at the company's latest line of solid state drives based off the SandForce SF-2281 SATA 6Gb/s controller, this is exactly what it is, haha. Their flagship product -- the Wildfire series -- competes against the OCZ Vertex 3 Max IOPS, while the lower priced Pyro series takes on the Agility 3; which we have both reviewed in the past. Reviews on the web say the Wildfire can burn to the Vertex, but can the Pyro outdo OCZ's Agility? (Yes, all puns intended.) Read on to find out!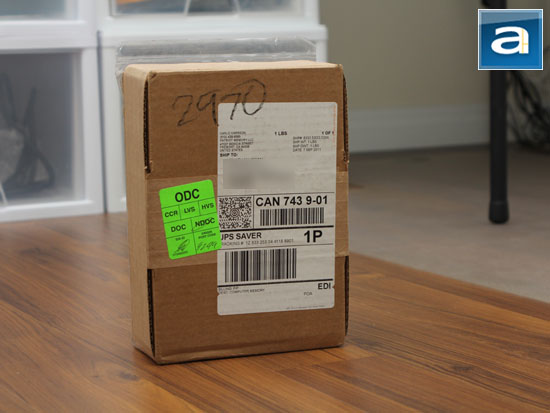 Our review unit of the Patriot Pyro 120GB solid state drive came in a relatively compact, brown corrugated cardboard box from Patriot's American headquarters in California, USA. This shipping package should be quite familiar to those who have been following our Patriot product reviews in the last few months, with the Patriot Supersonic Magnum 64GB and Patriot Viper Xtreme Division 2 PC3-15000 2x4GB both arriving in the same form. Using UPS Saver, everything arrived in excellent condition for our review today.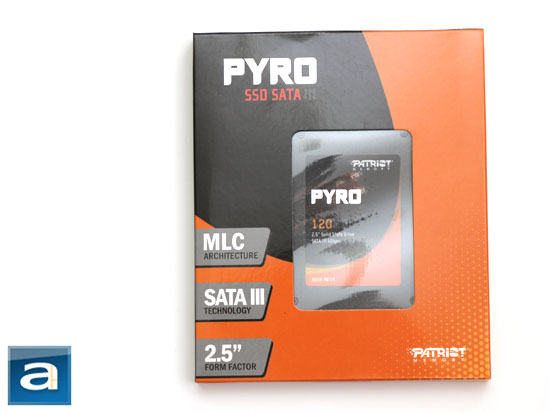 Appropriately colored orange and black, our Patriot Pyro 120GB's retail box is also a compact and small package, with a window in the middle to show off the solid state disk itself. Unlike most computer part manufacturers, the design is also relatively simple and clean. Patriot's logo can be found at the bottom right corner along a matrix of yellow dots, while the Pyro model branding can be found at the upper left corner. An array of tabs on the left hand side indicates the Patriot Pyro uses MLC flash chips, on the SATA 6Gb/s interface, and 2.5" in form factor. At the back, we have a brief list of features in various languages.
Before we move on, let's take a look at the features specifications of the Patriot Pyro 120GB, as obtained from the manufacturer's website:
- SandForce SF-2200 series SSD processor paired with qualified MLC NAND flash for best performance, value and reliability
- SATA 6Gb/s, 3Gb/s and 1.5Gb/s
- TRIM support (O/S dependent)
- DuraClass™ technology
- DuraWrite™ extends the endurance of SSDs
- Intelligent Block Management and Wear Leveling
- Intelligent Read Disturb Management
- Intelligent "Recycling" for advance free space management (Garbage Collection)
- RAISE™ (Redundant Array of Independent Silicon Elements)
- Intelligent Data Retention optimization
- Best-in-class ECC protection for longest data retention and drive life.
- Power/Performance Balancing
- Thermal Threshold Management
- Native Command Queuing (NCQ) - Up to 32 commands
- ECC Recovery: Up to 55 bits correctable per 512-byte sector (BCH)
- Sequential Read & Write Transfer: 240GB & 120GB models; 550MB/s read | 515MB/s Write 60GB model; 520MB/s read | 490MB/s Write.
- Max Random Write IOPS: Up to 85,000 (4K aligned)/240GB & 120GB models; up to 80,000 (4K aligned)/60GB model.
- O/S Support: Windows® XP / Vista / 7 / Mac® OS / Linux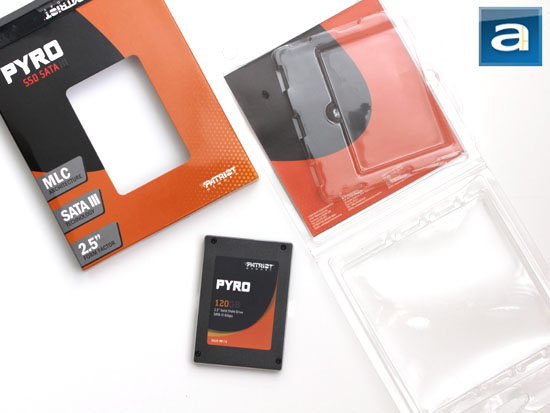 Everything from this point on is intrinsically simple. Opening the package is a clear plastic shell that can be flipped open, followed by a tray on the inside that holds the SSD in place. That's it. No manual, no adapter bracket, nothing. All you get is one Patriot Pyro 120GB SSD. If you have a modern computer chassis that already supports 2.5" drives out of the box, then it is not like you will need anything else either, haha. If you don't, then, well, you will need to makeshift your own solution.
---
Page Index
1. Introduction and Specifications
2.
A Closer Look, Installation, Test System
3.
Benchmark: AIDA64 Disk Benchmark
4.
Benchmark: ATTO Disk Benchmark
5.
Benchmark: Crystal Disk Mark 3.0
6.
Benchmark: HD Tach 3.0.1.0
7.
Benchmark: HD Tune Pro 4.60
8.
Benchmark: PassMark PerformanceTest 7.0
9.
Benchmark: PCMark Vantage
10.
Conclusion