By: Jonathan Kwan
August 19, 2011
Unlike our neighbors down south, everyone knows the Canadian military consists of only about three people: The guy who appears on TV all the time, the security guard who eats donuts while watching hockey, and the janitor who cleans the washroom. A couple of months ago, our family visited Ottawa -- and being the capital city of Canada, it probably does not come as a surprise to you it is filled with lots of government buildings. Upon leaving the beautiful city on a bright Sunday afternoon, we went to a local gas station to fill up our rental car. Unfortunately, the local gas station's washroom is out of order, so my cousin and I went across the street, and spotted an entrance next to a convenience store. We went inside, and asked the security guard if we could borrow the washroom. He quietly mentioned that they don't normally let people in, but he escorted us to the door labeled "Men's" anyway. We were a bit curious about why he said this, so before after we left through the exit, we glanced back, and noticed we have just done some 'business' at what is called the Constitution Building -- a building that belongs to the Government of Canada's Department of National Defense. Oops. At this point, you may be thinking to yourself, "That's nice to know. But what does that have to do with anything?" My answer is, to be honest, "Not a whole lot". The only reason why this incident came to mind is due to a long series of random associations in my mind, originating from the name of the RAM we are reviewing today. To not waste any more of your time, here's the $1,000,000 question: How well does the Patriot Viper Xtreme Division 2 PC3-15000 2x4GB, a product from our fellow American neighbors, step up against the competition? With popular entries from Taiwan, other American manufacturers, and nothing from Canada, read on to find out what we have found!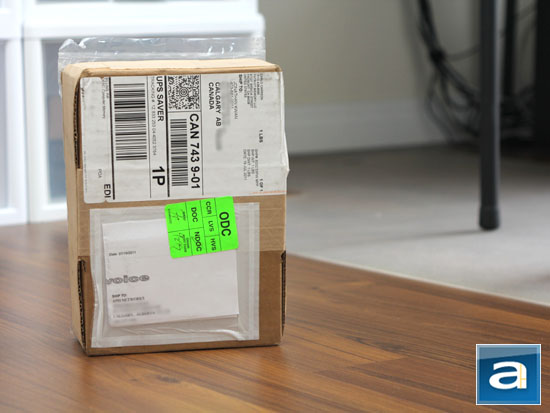 Our review unit of the Patriot Viper Xtreme Division 2 PC3-15000 2x4GB dual channel kit came in a relatively compact, brown corrugated cardboard box from Patriot's American headquarters two thousand kilometers away in California, USA. Using UPS Saver, it landed here at Calgary, Alberta, Canada with less than a day in transit. Surprisingly, the brown suited man just left it at our doorstep without any notifications; I wasn't really aware of its arrival until quite a bit of time later, haha. Nevertheless, I opened the package, brushed the packing peanuts aside, and broke out the RAM to get some work going.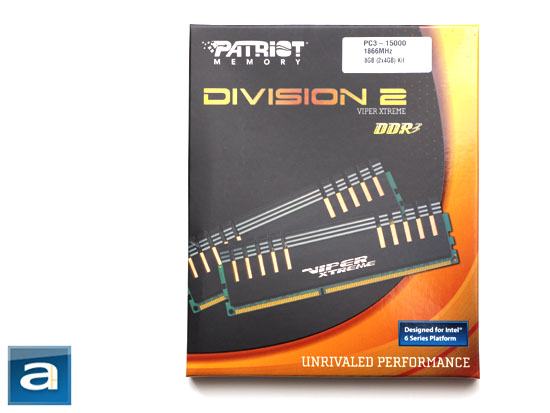 Similar to the Patriot Viper II Sector 5, but different from what you would expect from a regular set of DDR3 RAM, the Patriot Viper Xtreme Division 2 comes in a retail box -- the usual clamshell package is actually the second layer enclosed within. The packaging's design theme is consistent and appropriate to what you would see at your local computer store. Composed of a predominantly black background bordered by an orange gradient along three outside edges, Patriot's logo and product branding occupies the top half; while an image of the Viper Xtreme dual channel kit is the most noticeable feature along the bottom half. While you won't find any detailed specifications of the RAM anywhere on the box, a white label adjacent to Patriot's logo indicates its speed, bandwidth and capacity. A product description paragraph can be found at the back of the retail package.
Before we move on, let's take a look at the specifications of the Patriot Viper Xtreme Division 2 PC3-15000 2x4GB DDR3 RAM, as obtained from the manufacturer's website:
- Extreme Performance PC3-15000 (1866MHz)
- Enhanced Latency (9-11-9-27)
- Voltage: 1.65V
- XMP Ready
- Equipped with an extruded aluminum shield build around a copper core to provide improved cooling
- 100% Tested and Verified
- RoHS Compliant
- Tested on Intel® P67 platform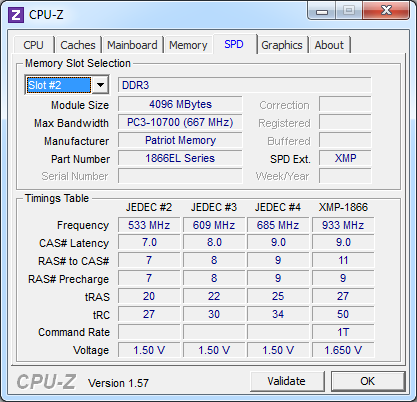 A screenshot of the memory tab in CPU-Z with Patriot's Viper Xtreme Division 2 PC3-15000 2x4GB installed. The SPD timings table in CPU-Z reads standard JEDEC specifications programmed into the memory, as well as Intel XMP data for running the memory at DDR3-1866. Using the latest BIOS revision, our ASUS P8P67 PRO motherboard used for testing had no issues detecting and working with the Patriot RAM and its XMP settings. As you can see in our screenshot provided above, this dual channel kit runs at a frequency of 1866MHz (933MHz actual clock) in conjunction with modest 9-10-9-27 latencies at 1T command rate. The Patriot Viper Xtreme Division 2 PC3-15000 2x4GB retails for approximately $90 at press time.
---
Page Index
1. Introduction, Packaging, Specifications
2.
A Closer Look, Installation, Test System
3.
Benchmark: AIDA64 CPU
4.
Benchmark: AIDA64 FPU
5.
Benchmark: AIDA64 Memory
6.
Benchmark: PCMark 7
7.
Benchmark: 3DMark 11
8.
Benchmark: PassMark PerformanceTest 7.0
9.
Benchmark: SuperPI 1M, Cinebench R11.5
10.
Overclocking and Conclusion