Page 2 - A Closer Look, Installation, Test System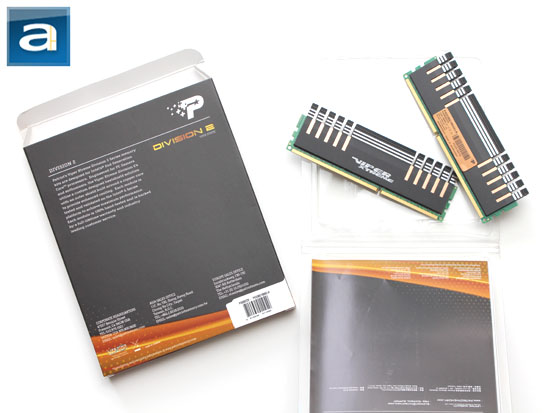 Patriot's Viper Xtreme Division 2 PC3-15000 2x4GB RAM -- which I'll refer to as 'Patriot Viper Xtreme' for short -- uses a medium to high profile, black colored aluminum heatspreader with copper plates sandwiched in between. We will disassemble it to take a closer look in just a moment. This means the heatsinks take up some room above the actual PCB due to the placement of cooling fins, and will have clearance issues with large heatsinks like the Noctua NH-D14 we have reviewed a while back. Aluminum is lightweight, and serves as a decent heat conductor; while copper is an excellent heat conductor, but very heavy. Whether you like to call it marketing gimmick or not, it is almost impossible nowadays to find performance memory without any form of a heatspreader attached, haha. They do undeniably serve a purpose in dissipating heat, but for most memory modules, unless run at a voltage significantly over design limits -- which you won't, special thanks to integrated memory controllers on Intel processors -- this feature is certainly not a requirement. But I will admit they look pretty cool in any windowed chassis.
The heatspreader design of the Patriot Viper Xtreme Division 2 modules is symmetrical. This makes sense, because memory ICs reside on both sides of the PCB. Besides functional purposes, it also improves the look. The funny thing is Patriot's logo does not appear anywhere important on the modules -- the only time you will see it is at the top right corner on the sticker at the back. Instead, styled right in the center is the company's Viper Xtreme branding. If you take a closer look at the specifications label as aforementioned, you will find its model number (PXD38G1866ELK), speed (DDR3-1866), latencies (9-11-9-27), size (2x4GB kit), and voltage (1.65V). I think it is safe to assume one of the series of numbers at the back corresponds to the serial number, but everything else is quite standard.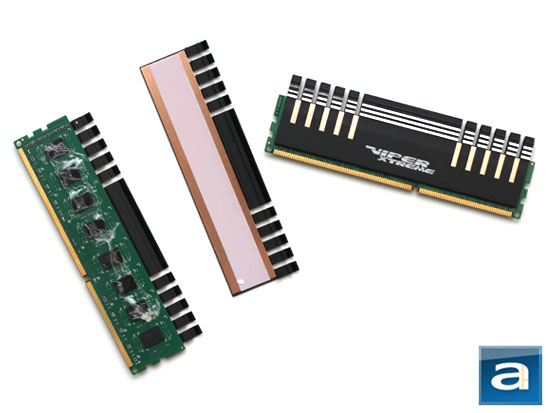 As you can see more clearly in our photo above, the Patriot Viper Xtreme Division 2 has a green PCB. Its heatspreader on top is composed of two separate pieces, which are not mechanically interlinked. The heatspreaders are held to the module itself by a strip of thermally conductive adhesive, and each half part of the heatsink is aligned visually by a reciprocating teeth. While the adhesive force between the two heatspreader and memory ICs are not particularly strong, it uses a strip of clear messy adhesive I have never seen before. You can easily take them off with bare hands without risking any damage to their memory modules, but chances are that it will turn out to be quite messy, and you are not likely to gain the same level of sticking power after this procedure as it did from the factory.
From our above photo, it should also be clearer on how the heatspreaders are designed. Each tooth on the heatspreader is curved inwards, and meets its corresponding tooth from the other half piece at the top for a complete symmetrical design. Since the teeth are made from relatively thin aluminum, it does not hold a lot of heat, therefore dissipating the heat energy relatively quickly into the surrounding environment. Patriot claims the aluminum casing is made with aircraft grade material. The teeth are reasonably resistant to bending forces. Meanwhile, the contact surface is layered by a strip of copper inside the aluminum exterior to improve cooling performance. In the end, if you are going to be pushing your system to the limits with high memory voltages, the heatspreaders may be beneficial to improve system stability and overclocking potential (But you probably won't, thanks to Intel as aforementioned). But other than that, if you need to remove your RAM sinks to install your CPU heatsink, then the Patriot Viper Xtreme Division 2 PC3-15000 2x4GB will have no problems operating normally either.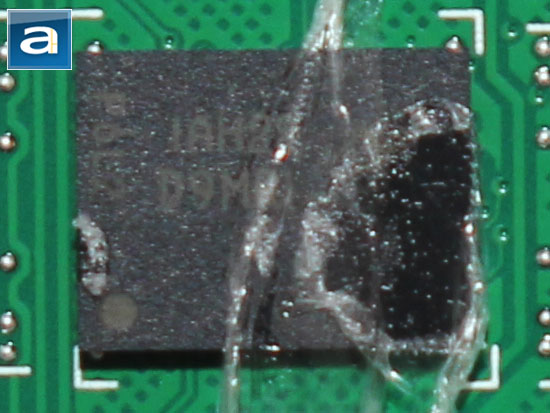 A closer look at the memory chips on the Patriot Viper Xtreme Division 2 PC3-15000 2x4GB dual channel memory kit. The photo above is not very clear, thanks to the messy glue Patriot used to stick the heatspreaders on. However, if you can make it out, it says "D9MRL" on each IC. These are Micron manufactured chips, with eight 256MB chips on each side for a total of 4GB on each DIMM. As mentioned earlier, these RAM modules run at a frequency of DDR3-1866 with 9-11-9-27 latencies. Since these RAM are designed for the latest Intel Core i3/i5/i7 Sandy Bridge processors, they operate at a stock voltage of 1.65V.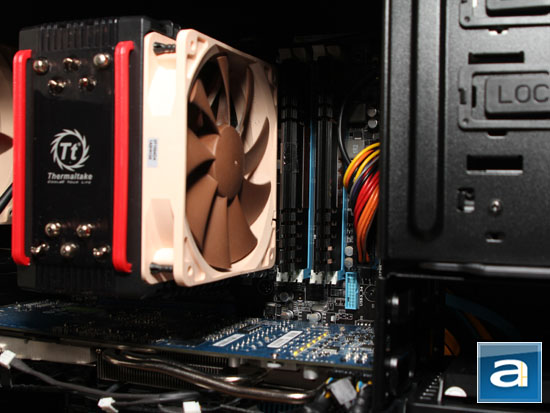 Our test configuration as follows:
CPU: Intel Core i3-2120
CPU Cooling: Thermaltake Frio (Noctua NF-P12)
Motherboard: ASUS P8P67 PRO
Graphics: Gigabyte Radeon HD 6870 1GB SOC
Chassis: Cooler Master Silencio 550 (Noctua NF-S12B FLX)
Storage OCZ Vertex 2 160GB 25nm; Western Digital Scorpio Blue 320GB
Power: FSP AURUM CM Gold 650W
Sound: Auzentech X-Fi Bravura
Optical Drive: LiteOn iHAS224-06 24X DVD Writer
Operating System: Microsoft Windows 7 Professional SP1 x64
Compared Hardware:
- Patriot Viper Xtreme Division 2 PC3-15000 2x4GB @ DDR3-1866 9-11-9-27
- G.SKILL Ripjaws F3-12800CL7D-8GBRH 2x4GB @ DDR3-1600 7-8-7-24
- G.SKILL Ripjaws-X F3-14900CL9D-8GBXL 2x4GB @ DDR3-1866 9-10-9-28
- G.SKILL Ripjaws-X F3-17000CL9D-8GBXLD 2x4GB @ DDR3-2133 9-11-9-28
- G.SKILL Sniper F3-12800CL9D-8GBSR2 2x4GB @ DDR3-1600 9-9-9-24
- Kingston HyperX KHX1600C9D3X2K2/8GX 2x4GB @ DDR3-1600 9-9-9-27
---
Page Index
1.
Introduction, Packaging, Specifications
2. A Closer Look, Installation, Test System
3.
Benchmark: AIDA64 CPU
4.
Benchmark: AIDA64 FPU
5.
Benchmark: AIDA64 Memory
6.
Benchmark: PCMark 7
7.
Benchmark: 3DMark 11
8.
Benchmark: PassMark PerformanceTest 7.0
9.
Benchmark: SuperPI 1M, Cinebench R11.5
10.
Overclocking and Conclusion