By: Jonathan Kwan
May 27, 2011
Everyone knows everything is upside down in Australia. They sit, sleep, and eat upside down. They celebrate Christmas in the summer. They drive on the wrong side of the road. But here are some things you might not know. Did you know that the Liberal Party of Australia is actually conservative? Did you know you can get slapped with a bigger fine and gain more demerit points if you own a radar detector (Where it is legal in 48 of the 50 states in America) than, say, if you do a burnout in your car, and then drive 45km/h over the speed limit? Did you know they heat their houses using air conditioners? In other words, if I went to Australia one day and wanted to bake a chicken, I would probably need to put it in the freezer. Indeed, Australia is a very weird place. But as time went on, I sooner or later realized Australia is not the only place in the world where weird things happen. Meanwhile, inside my igloo here in Canada, sitting next to me in the snow is G.SKILL's Sniper F3-12800CL9D-8GBSR2 2x4GB DDR3 RAM. What's so weird and against the norm about this dual channel kit is it has the looks and capabilities of high performance memory, but its voltage requirements is along the line of low performance 'eco' RAM designed to save power. How can this be? And if we gave it full voltage, can it move beyond what it is designed for? Read on to find out what we have found!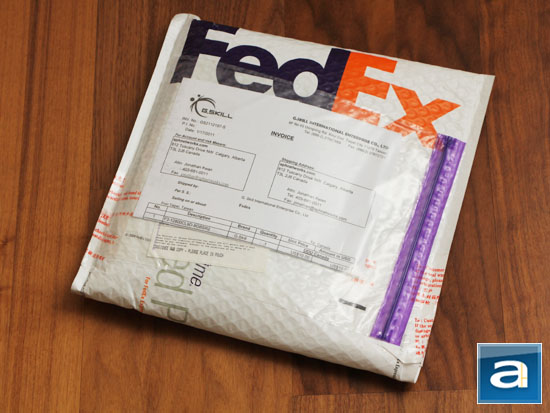 Our review unit of the G.SKILL Sniper F3-12800CL9D-8GBSR2 2x4GB dual channel kit came from G.SKILL's headquarters in Australia Taiwan. With everything nicely packed inside a FedEx bubble wrap envelope, the package traveled half way around the world to our Calgary, Alberta, Canada offices using FedEx International Priority. As always, everything arrived in beautiful condition for our review today. We took out our trusty old boxcutter, sliced open the seal, and got straight to work.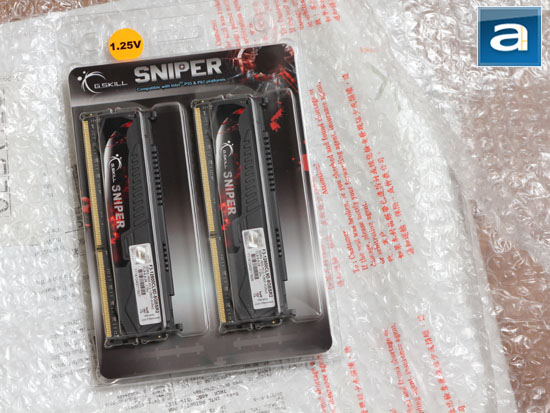 G.SKILL uses fairly standard retail packaging for their Sniper PC3-12800 2x4GB 1.25V dual channel memory kit. The clamshell package is simple and held closed together at the top by two friction buttons; no blister pack techniques were used in this case -- which is, as usual, truly excellent in my opinion. A black gradient insert with G.SKILL's logo and Sniper product line branding are placed at the top, with a bullet hole on the right give it a more intense feel. A circular orange label indicates this is the 1.25V kit, because a 1.5V variant is also available. Both memory modules can be seen through its clear plastic exterior placed vertically next to each other, where differentiating features of similar memory kits can be found on the warranty and specification label placed on each heatspreader. At the back are miscellaneous company, warranty, and specifications information.
Before we move on, let's take a look at G.SKILL's Sniper F3-12800CL9D-8GBSR2 2x4GB RAM, as obtained from the manufacturer's website:
System: Desktop
System Type: DDR3
M/B Chipset: Intel Z68, Intel P67, Intel P55
CAS Latency: 9-9-9-24-2N
Capacity: 8GB (4GB x2)
Speed: DDR3-1600 (PC3 12800)
Test Voltage: 1.25 Volts
Height: 42 mm / 1.65 inch
Registered/Unbuffered: Unbuffered
Error Checking: Non-ECC
Type: 240-pin DIMM
Warranty: Lifetime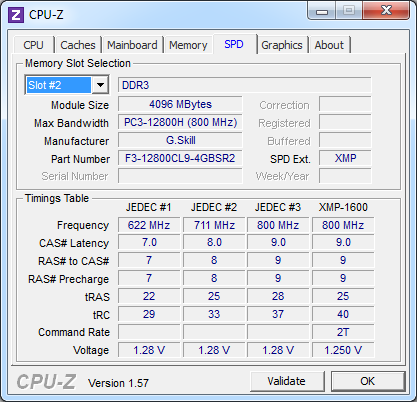 A screenshot of the memory tab in CPU-Z with G.SKILL's Sniper F3-12800CL9D-8GBSR2 installed. The SPD timings table in CPU-Z reads standard JEDEC specifications programmed into the memory, as well as Intel XMP data for running the memory at DDR3-1600. Using the latest BIOS revision, our ASUS P8P67-WS Revolution motherboard used for testing had no issues detecting and working with the G.SKILL RAM and its XMP settings. There seems to be a little difference in the XMP programming compared to manufacturer specifications of 9-9-9-24 latencies at 2T command rate, but that's not a huge issue. The G.SKILL Sniper F3-12800CL9D-8GBSR2 2x4GB retails for approximately $100 at press time.
---
Page Index
1. Introduction and Specifications
2.
A Closer Look, Installation, Test System
3.
Benchmark: AIDA64 CPU
4.
Benchmark: AIDA64 FPU
5.
Benchmark: AIDA64 Memory
6.
Benchmark: PCMark Vantage
7.
Benchmark: 3DMark 11
8.
Benchmark: PassMark PerformanceTest 7.0
9.
Benchmark: SuperPI 1M, Cinebench R11.5
10.
Overclocking and Conclusion