By: Jonathan Kwan
April 21, 2011
A few weeks ago, my main desktop computer decided cash in on me. And before you ask, yes, as the Editor-in-Chief here at APH Networks, I do have tons of replacement components readily available on hand. The thing is, I am not about to reinstall Windows when I will have to do so again shortly anyway -- thanks to a collection of vastly superior equipment coming my way in the next week or so. So I decided to wait it out, and during this time, I took my spare computer upstairs and connected everything in. Now my "spare" computer probably isn't as bad as you think it is. In short, it consists of an Intel Core 2 Extreme QX9650, ASUS Striker II NSE, a mix of OCZ Platinum XTE 2x2GB and Patriot Viper II Sector 5 2x2GB for a total of 8GB RAM, plus a Gigabyte Radeon HD 4850 1GB to boot. Pretty good, right? Well, I will have to tell you this: My spare computer drives me absolutely nuts. It is not because the processor is slow, or it has a lack of memory; it is because all my fast SATA hard drives are in use somewhere else, so I simply shoved an old school Seagate Barracuda 7200.7 160GB PATA drive in there. Back in 2005, it was probably a pretty decent drive. But fast forward to 2011, putting Windows 7 Professional on it simply ends up in an endless cycle of disk activity. Windows takes forever to boot. Programs take forever to load. What I am trying to say is, even if you have great hardware, a slow hard drive will ruin it all. This is why I want you to meet my new friend, the OCZ Vertex 2 160GB. Wait a second. What happened to our old friend, the OCZ Vertex 2 60GB? Other than the obvious of the new kid having bigger storage capacity, the last Vertex 2 we have reviewed back in November has 34nm flash ICs, whereas the one we are reviewing today is from a new batch consisting of 25nm chips. This is where all the controversy started. People were complaining about OCZ silently swapping to 25nm, resulting in degraded performance and lower usable capacity. But with all the controversy around lower capacity units like the 120GB version, how is the slightly more expensive 160GB unit? So we stacked up some benchmarks and put them in to the ring for a nice boxing match. OCZ Vertex 2 34nm vs. OCZ Vertex 2 25nm. Is it really as bad as you think? Read on to find out!
Our review unit of OCZ Vertex 2 160GB 25nm solid state disk came in a medium sized, UPS Express branded corrugated cardboard box from OCZ's corporate headquarters at San Jose, California, USA. Using UPS Saver, everything was handled appropriately, and arrived in pristine condition in less than a day. Due to complications in scheduling, I decided it was wise to squeeze this review in this week to get it done as soon as possible -- despite receiving it only a couple of days ago -- rather than leaving it to the end of May. So I wasted no time, ripped the box apart, and got straight to work.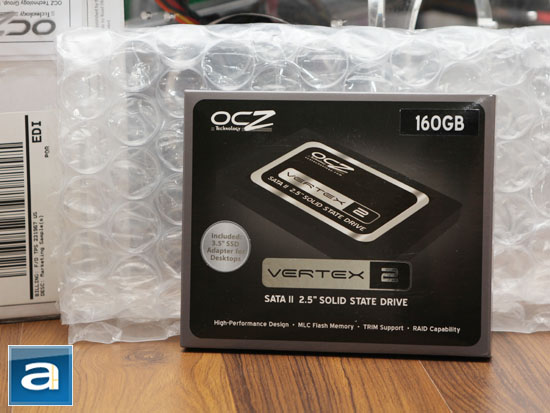 Wrapped neatly between an army of bubble wrap from OCZ is a retail package of the Vertex 2 160GB SSD. It is quite a compact and lightweight box, just like the 34nm one -- it makes it almost hard to believe the stuff inside costs almost $300 at press time. The company incorporates a very clean design; composed mainly of a black, gray, and white color scheme with elements of shiny silver where it says "Vertex 2" across the front. The text in the little bubble under the SSD that says "Included: 2.5" SSD Adapter for Desktops" is also shiny. Meanwhile, other than the OCZ logo in the upper left corner, and a picture of the Vertex 2 at 3/4 angle taking up majority of the room, its storage capacity is indicated by a label in the upper right corner along with an array of feature highlights across the bottom.
If you turn the box around, you will find a product description paragraph as well as a specifications table. OCZ's product page does not provide any information for the 25nm unit directly, but everything you need to know can be found on a data sheet linked found on their website. Here is what we have extracted for your convenience:
Capacity: 160GB
Max Read Compressible Data: up to 280 MB/s
Max Write Compressible Data: up to 270 MB/s
4KB Random Read Compressible Data: 35,000 IOPS (135MB/s)
4KB Random Write Compressible Data: 45,000 IOPS (175MB/s)
Sequential Read Incompressible Data: 170MB/s
Sequential Write Incompressible Data: 100MB/s
4K File Size Read Incompressible Data: 19MB/s
4K File Size Write Incompressible Data: 60MB/s
NAND Components: 25nm IMFT Multi-Level Cell (MLC)
Interface: SATA II / 3Gbps
Form Factor: 2.5 Inch
Controllers: SandForce® 1222
Dimensions (L x W x H): 100 x 70 x 9.19mm
Seek Time: 0.1 ms
Weight: 77g
Power Consumption Idle: 0.5 W; Active: 2 W
Operating Temperature: 0°C ~ 55°C
Storage Temperature: -45°C ~ 85°C
Shock Resistance: 1500G
Certifications: RoHS, CE, FCC
MTBF: 2 million hours
ECC Recovery: Up to 24 bytes correctable per 512-byte sector
Serial ATA (SATA): Fully compliant with Serial ATA International Organization: Serial ATA Revision 2.6. Fully compliant with ATA/ATAPI-7 Standard Native Command Queuing (NCQ)
Operating System: Windows XP 32-Bit and 64-Bit; Windows Vista 32-Bit & 64 Bit; Windows 7 32-Bit and 64-Bit; Linux, Mac OSX
Power Requirements: Standard SATA Power Connector
Performance Optimization: TRIM (requires OS support)
System Integration: Bundled with 3.5" desktop adapter bracket
Service & Support: 3-Year Warranty, Toll-Free Tech Support, 24 Hour Forum Support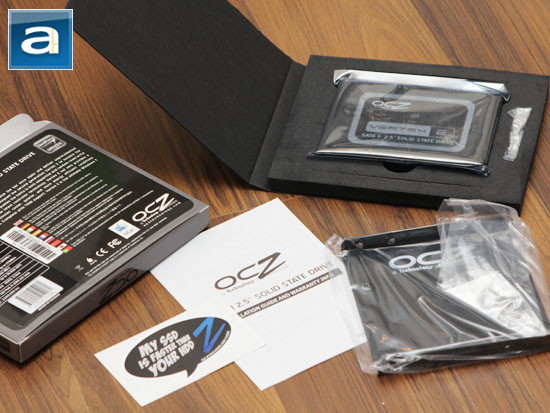 Inside the retail box is completely black package, consisting of a foam bracket sandwiched between a cardboard flap to house its internal contents. Despite the natural ability of SSDs to withstand high impact forces, OCZ made sure everything will end up safe and sound for the end user. Out of the box, you will receive an OCZ Vertex 2 SSD inside an anti-static bag, 3.5" adapter bracket, eight screws (Four for attaching your SSD to the adapter bracket, with the remaining four for installing it into your chassis), installation/warranty guide, and a not-so-modest "My SSD is faster than your HDD" sticker.
---
Page Index
1. Introduction and Specifications
2.
A Closer Look, Installation, Test System
3.
Benchmark: ATTO Disk Benchmark
4.
Benchmark: Crystal Disk Mark 3.0
5.
Benchmark: AIDA64 Disk Benchmark
6.
Benchmark: HDTach 3.0.1.0
7.
Benchmark: HDTune Pro 4.60
8.
Benchmark: PassMark PerformanceTest 7.0
9.
Benchmark: PCMark Vantage, Conclusion