By: Jonathan Kwan
November 19, 2010
I still distinctively recall myself saying this out loud back in the early 2000s. "60GB? What can I do with that!?" As we approach the end of 2010, I caught myself saying the same thing -- albeit in an entirely different context. "60GB? What can I do with that!?" In the days where 1000GB hard drives are a dime a dozen, the rise of solid state drives in recent years among enthusiasts and high end computer users has always been focused on one thing: Performance. Sure, you can fill up a 60GB drive with a couple movies and a few songs, but that's not the point. Because the cost-per-gigabyte of an SSD is probably more than thirty times higher than a traditional mechanical hard drive at the time of writing this review, most users probably can't afford to use them for mass storage -- and at the same time, they are not a practical solution at the time being, either. After all, you probably don't go through everything in your hard drive every single day, right? Therefore, here is a popular solution for people trying to squeeze more performance out of their system: Buy a modest capacity SSD for your operating system and all your programs, and a big fat hard drive to store everything else. The OCZ Vertex 2 60GB solid state drive we are reviewing today is designed for this very purpose. Powered by the popular SandForce SF-1222 controller, promising up to 285MB/s and 275MB/s read and write speed respectively, 0.1ms access latency, and up to 50,000 IOPS, how well does this high performance storage device improve your computing experience? Read on to find out!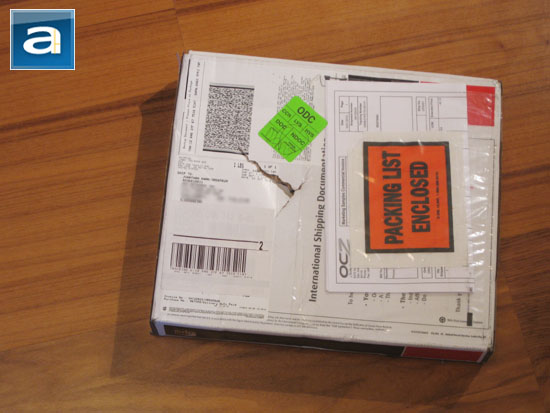 Our review unit of OCZ Vertex 2 60GB solid state disk came in a medium sized, UPS Express branded corrugated cardboard box from OCZ's corporate headquarters at San Jose, California, USA. Using UPS Expedited, everything was handled appropriately, and arrived in pristine condition. It was conveniently left at my doorstep by the UPS delivery man. Little did he know that he would come again the next day with four Bridgestone Blizzak DM-V1 winter tires sized P225/70R16 (For you non-car buffs out there, that's 225mm wide, sidewall height 70% of the width, and designed for 16" rims). I can assure you they are a breeze to carry in comparison to this SSD, haha.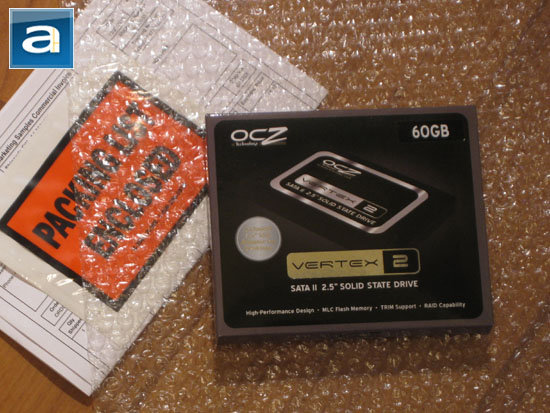 Wrapped neatly between an army of bubble wrap from OCZ is a retail package of the Vertex 2 60GB SSD. It is quite a compact and lightweight box -- it makes it almost hard to believe the stuff inside can cost hundreds of dollars and up for higher capacity units. The company incorporates a very clean design; composed mainly of a black, gray, and white color scheme with elements of shiny silver where it says "Vertex 2" across the front. The text in the little bubble under the SSD that says "Included: 2.5" SSD Adapter for Desktops" is also shiny. Meanwhile, other than the OCZ logo in the upper left corner, and a picture of the Vertex 2 at 3/4 angle taking up majority of the room, its storage capacity is indicated by a label in the upper right corner along with an array of feature highlights across the bottom.
If you turn the box around, you will find a product description paragraph as well as a specifications table. Contents in the specifications table is as of below, which can also be found on the OCZ's website:
- Max Read: up to 285MB/s
- Max Write: up to 275MB/s
- Sustained Write: up to 250MB/s
- Random Write 4KB (Aligned): 50,000 IOPS
- Native TRIM support
- Max IOPS Firmware
- Seek Time: .1ms
- Slim 2.5" Design
- 99.8 x 69.63 x 9.3mm
- Lightweight: 77g
- Operating Temp: 0°C ~ 70°C
- Storage Temp: -45°C ~ +85°C
- Low Power Consumption: 2W in operation, .5W in standby
- Shock Resistant up to 1500G
- RAID Support
- Included 3.5" Desktop adapter bracket
- Compatible with Windows XP, Vista, 7, Mac OS X and Linux
- MTBF: 2 million hours
- 3-Year Warranty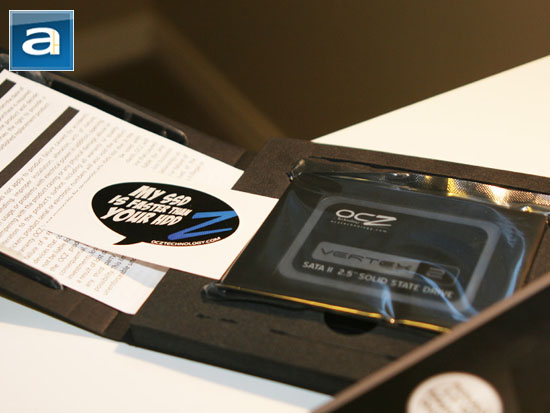 Inside the retail box is completely black package, consisting of a foam bracket sandwiched between a cardboard flap to house its internal contents. Despite the natural ability of SSDs to withstand high impact forces, OCZ made sure everything will end up safe and sound for the end user. Out of the box, you will receive an OCZ Vertex 2 SSD inside an anti-static bag, 3.5" adapter bracket, eight screws (Four for attaching your SSD to the adapter bracket, with the remaining four for installing it into your chassis), installation/warranty guide, and a not-so-modest "My SSD is faster than your HDD" sticker.
---
Page Index
1. Introduction and Specifications
2.
A Closer Look, Installation, Test System
3.
Benchmark: ATTO Disk Benchmark
4.
Benchmark: Crystal Disk Mark 3.0
5.
Benchmark: EVEREST Disk Benchmark
6.
Benchmark: HDTach 3.0.1.0
7.
Benchmark: HDTune Pro 4.60
8.
Benchmark: PassMark PerformanceTest 7.0
9.
Benchmark: PCMark Vantage, Conclusion