Page 9 - Benchmark: PCMark Vantage, Conclusion
About PCMark Vantage
PCMark Vantage is a PC benchmark suite designed for Windows Vista offering one-click simplicity for casual users and detailed, professional grade testing for industry, press and enthusiasts.
A PCMark score is a measure of your computer's performance across a variety of common tasks such as viewing and editing photos, video, music and other media, gaming, communications, productivity and security.
From desktops and laptops to workstations and gaming rigs, by comparing your PCMark Vantage score with other similar systems you can find the hardware and software bottlenecks that stop you getting more from your PC.
From: Developer's Page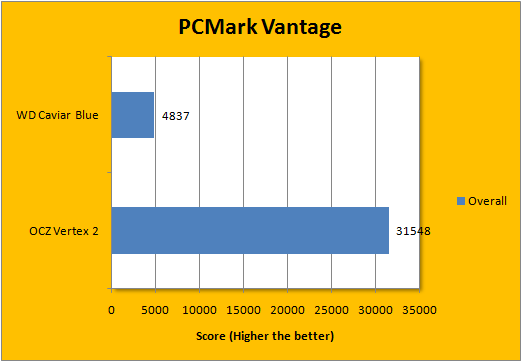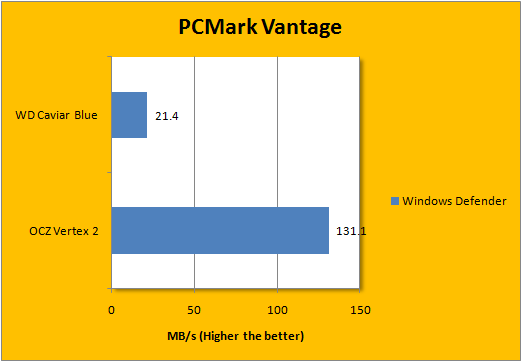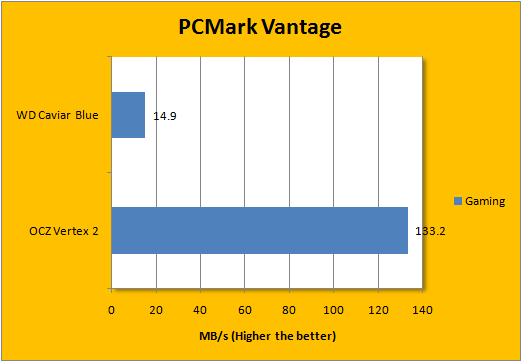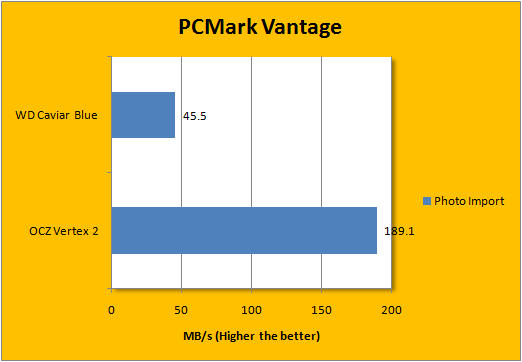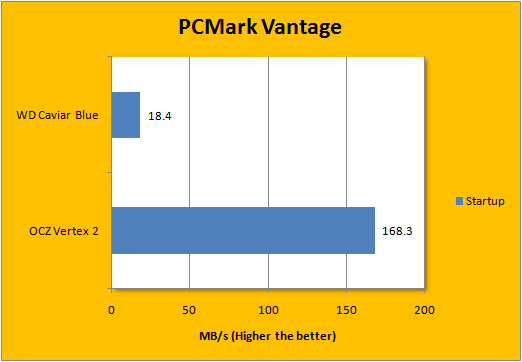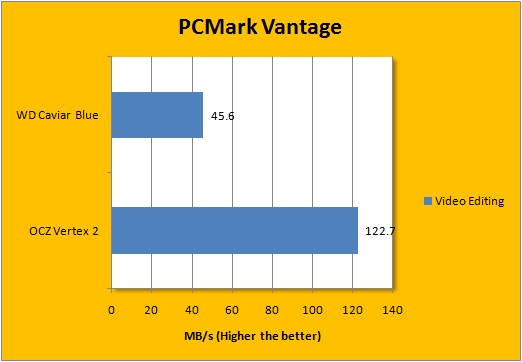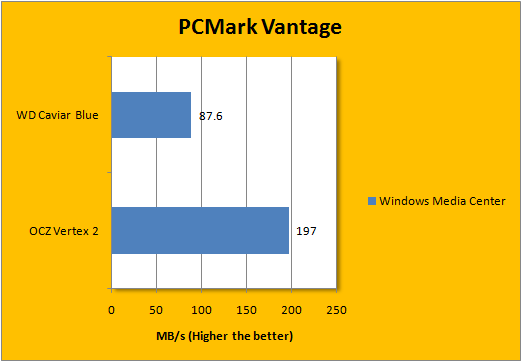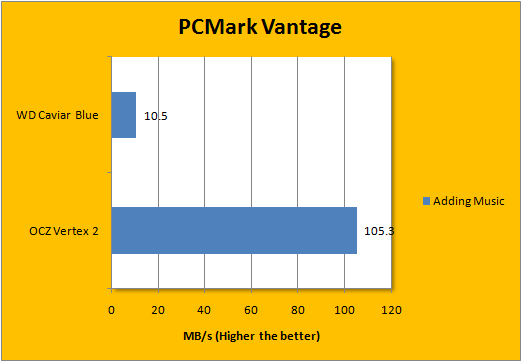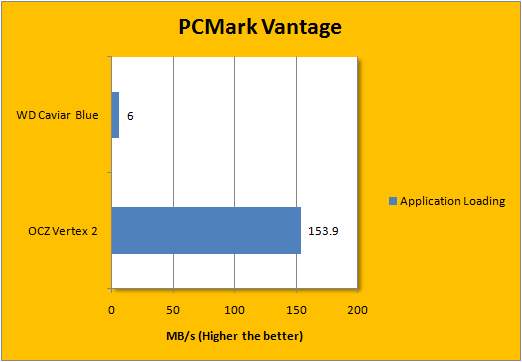 I have saved you the best part for the last. (Actually, I lied -- the benchmarks are actually in alphabetical order.) Whatever it may be, PCMark Vantage's disk benchmark simulates real world performance and quantifies them into practical and easy to understand results. Other than crushing the Western Digital Caviar Blue AAKS 500GB by a factor of nearly seven in the overall score, the OCZ Vertex 2 demonstrated simulated real life transfer rates of anywhere from 169% to 2465% faster. Yes, that's two thousand four hundred and sixty five percent faster -- I am not missing a decimal point. Again, I'll let the results speak for themselves. If you are not a believer in SSDs up until this point, it is time to repent. I am not directly comparing an SSD to an HDD, but as a point of reference, you can see how much faster a solid state drive can be.
-----------------------------------------
Benchmarking OCZ's Vertex 2 60GB SSD was a lot of fun for me personally. Unlike motherboards and RAM, which is not necessarily evaluated for its raw performance because they all within a couple percent of each other, it was particularly entertaining to witness how one of the fastest SATA solid state disks money can buy (Excluding stuff like the RevoDrive featuring internal RAID) in the market today completely crush a traditional mainstream performance hard disk drive in every single given benchmark by such a wide margin. Let me make it clear to you that Western Digital's Caviar Blue AAKS 500GB is no slowpoke for what it's worth -- it is a very popular drive for a combination of commendable performance, competitive pricing, low noise, and good power consumption. But boy, if I was the Caviar Blue, I'd be crying right now. If you are looking for a seriously fast boot drive, the OCZ Vertex 2 60GB can be had for around $100 after rebate at press time. And by 'seriously fast', I don't mean just fast against a hard disk drive -- the magnitude of its performance is simply top notch on its own. The OCZ Vertex 2 is already known to be one of the fastest 2.5" SATA SSDs money can buy right now. Combine that with OCZ's excellent warranty and support, in which a few of us here at APH Networks has experienced firsthand in the past without revealing our press status at any point, it is time dump your HDD to make it a storage drive and let your OCZ Vertex 2 SSD take over as the boot drive -- because my SSD is faster than your HDD.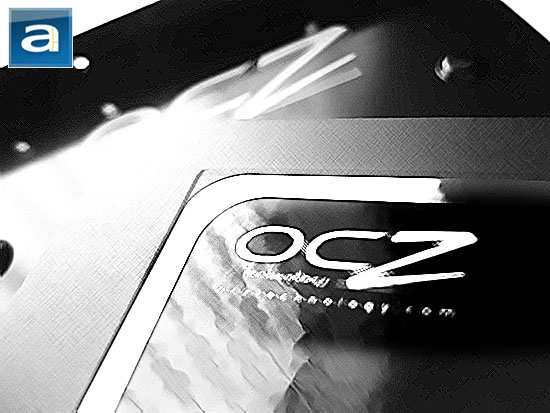 Special thanks to Sandria over at OCZ for making this review possible.

APH Recommended Award
Starting from April 30, 2007, Number Ratings have been dropped for all CPUs, motherboards, RAM, SSD/HDDs, and graphics cards. This is to ensure the most appropriate ratings reflected without the limits of using numbers. Everything else will continue using the Number Rating System.
More information in our Review Focus.
Don't just take my word for it -- the benchmark results speak for themselves. The SandForce SF-1222 based OCZ Vertex 2 60GB is one sizzling fast piece of storage device for $100!
Do you have any comments or questions about the OCZ Vertex 2 60GB? Drop by our Forums. Registration is free, and it only takes a minute!
---
Page Index
1.
Introduction and Specifications
2.
A Closer Look, Installation, Test System
3.
Benchmark: ATTO Disk Benchmark
4.
Benchmark: Crystal Disk Mark
5.
Benchmark: EVEREST Disk Benchmark
6.
Benchmark: HDTach 3.0.4.0
7.
Benchmark: HDTune Pro 4.60
8.
Benchmark: PassMark PerformanceTest 7.0
9. Benchmark: PCMark Vantage, Conclusion