By: Jonathan Kwan
May 17, 2008
Imagine this: You are an engineer working at Asus. As a member of the team to design and engineer boards for the company's Republic of Gamer line, you and your team are given a task to create what the world will soon define as the ultimate enthusiast motherboard on the Intel platform. The goal of this project is to make a board that totally dominates the competition in the market as a flagship enthusiast motherboard, which naturally has to be completely-really-uber-1337 in all areas. Did you say performance? Check. Did you say features? Check. How about the looks? We got that covered. Anything else a hardcore computer enthusiast will appreciate? That's quite a challenge -- you got to be creative and imaginative. Fortunately, none of us here at APH Networks works in quite a department that requires such superior engineering skills and imagination at hand. The great thing of being a reviewer is that instead of thinking about what to implement in the design, we were instead given a product as a result of such marvelous work -- the Asus Striker II NSE motherboard, based upon NVIDIA's 790i chipset -- and we can have all the fun in criticizing (And praising, what were you thinking?) the hard work of these people. So we present to you our review of the Asus Striker II NSE motherboard, a product that's based off the Striker II Extreme that the Asus bosses probably told their engineers, "Make the ultimate motherboard. Go absolutely nuts, good luck, have fun." So they did. Just don't pass out when you see the price tag.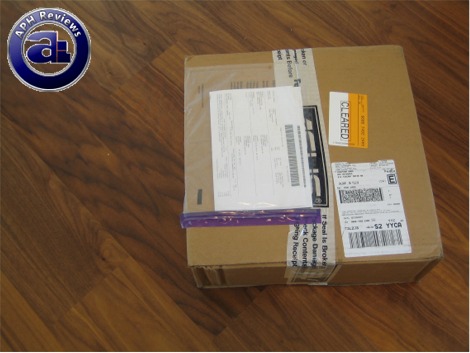 Our review unit of the Asus Striker II NSE motherboard came in a medium sized corrugated cardboard box using FedEx International Economy, sealed with Asus tape -- a type of box that we more or less gathered a really large collection over time haha. It doesn't take long for us to guess what kind of product is inside -- the only thing is that we didn't exactly know what was inside until the truth was revealed when we cut the tape seal up.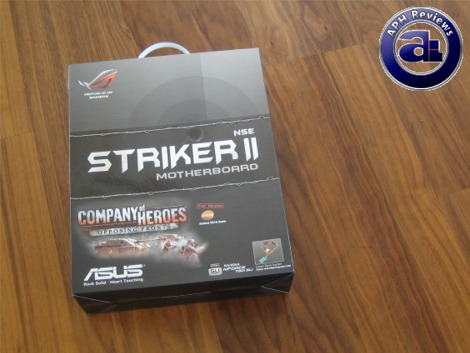 As an Asus Republic of Gamers line of motherboards, the Striker II NSE does not carry over any of the packaging of the company's mainline motherboards. To distinct itself from the rest of the brand, the RoG packaging box has a tall vertical orientation rather than horizontal design; along with a more prominent multi-variation brushed metal gray color scheme. The "Striker II NSE" name is boldly placed in the middle -- right below what appears to be a printed bullet hole to highlight its gaming motif. A Company of Heroes: Opposing Fronts logo is also displayed as this motherboard comes with a full version of this game.
The front cover is actually a flap held closed by a long Velcro strip. Inside the flap shows an array of boxes with icons and pictures to highlight special features of this board, such as the Voltminder LEDs, onboard switches, and the LCD poster. A couple of windows are along the bottom to show off the Fusion Block system and SupremeFX II audio card. We'll get into the details shortly.
Inside the box, things are separated into two different boxes. A clear plastic tray with cover holds the motherboard with a separate compartment hold the SupremeFX II sound card, while a slim cardboard box holds all the accessories and driver discs. I'm actually very impressed by the packaging -- something that definitely competes with the Gigabyte X48T-DQ6 -- but in a much slimmer box. It's well organized and impressive as compared to the rest of the Asus line of motherboards.
More feature highlights are printed at the back; mostly repeats of what's inside the flap. A table of specifications are also shown on the retail box. Speaking of specifications, before we move on, let's take a look at the manufacturer's specifications of this board, as obtained from Asus' website: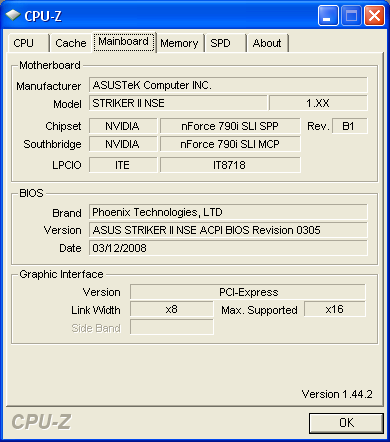 CPU-Z screenshot of the motherboard tab of the Asus Striker II NSE.
---
Page Index
1. Introduction, Features, and Specifications
2.
Bundle, Chipset, BIOS
3.
A Closer Look, Board Layout
4.
Test System; Benchmark: 3DMark06
5.
Benchmark: PCMark05
6.
Benchmark: Cinebench R10, SuperPI 1M
7.
Benchmark: EVEREST CPU
8.
Benchmark: EVEREST FPU
9.
Benchmark: EVEREST Memory
10.
Benchmark: EVEREST Memory Latency, HDTach 3.0.1.0
11.
Onboard Sound (RMAA 6.06) Analyzation
12.
Overclocking and Conclusion