Page 3 - A Closer Look, Board Layout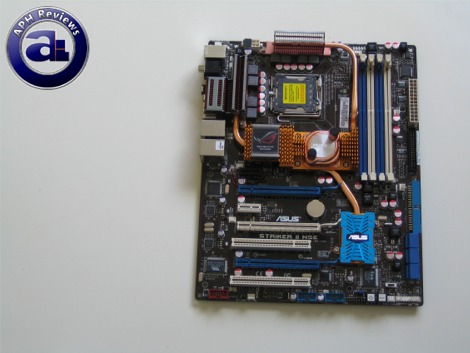 Like the majority of Asus' high end motherboards, it features a beautiful chestnut-colored printed circuit board. Copper heatpipes are implemented in their natural color to create contrast and give an elegant, high end feel to the board. Most Asus motherboard users should be quite familiar with this color scheme and design style -- it carries on the tradition of colors used by other Asus products. Surprisingly, as an Asus Republic of Gamers (RoG) board, it doesn't have any particularly unique usage of colors, but we'll tell you this: It does have a ton of LEDs. Some are used to indicate voltage status in different colors for different components, while others are used for aesthetic purposes -- such as the white perimeter lighting around the "Republic of Gamers" logo on the left of the Fusion Block. Heck, there's even a small HDD LED -- the designers thought of everything.
Instead of using an L-shaped heatpipe system, the Asus Striker II NSE uses a full perimeter heatpipe design -- or what us at APH Networks call, the Q-shaped heatpipe design. The Asus Fusion Block is placed over the NVIDIA 790i Northbridge for water cooling support out of the box; but this is entirely optional because the heatpipes used already cools the Northbridge. Two heatpipes lead in different directions -- one leads to the back so system fans can bring airflow over it and exhaust heat out the back of the case, while a second heatpipe leads to the top to cool additional motherboard components there. A single heatpipe leads up from the NVIDIA Southbridge to the main section of the heatpipe system.
Personally, I found Asus' Fusion Block as we've originally introduced on the Maximus Formula SE to be quite innovative, as it gives the user an option of adding water cooling over the chipset if required -- a scenario that may happen in hardcore overclocking sessions with tons of voltage increases. Meanwhile, it works fine without water cooling for maximum flexibility -- additionally, there are lots of copper fins and a large surface area for heat dissipation, because NVIDIA chipsets aren't necessary the type that runs entirely cool all the time. We'll see how the 790i works out to be after our NVIDIA 6-series chipset nightmares last year.
As with all current Asus motherboards, the Striker II NSE uses 100% solid aluminum capacitors for durability and quality.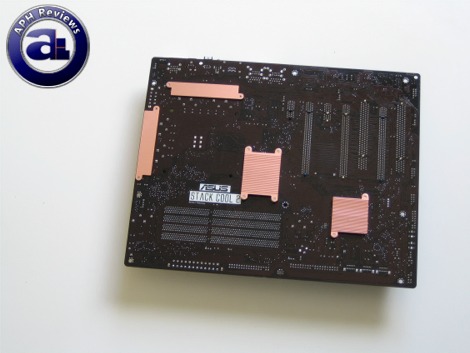 A shot at the back of the motherboard. With Asus' Stack Cool 2, where a layer of metal is integrated into the motherboard to spread heat generated by components around more evenly. Through this, it lowers the amount of concentrated heat spots in one area but instead distributes it over a larger surface area for better heat dissipation.
We can also see a total of four copper pieces at the back, corresponding to the Northbridge and Southbridge locations in front -- two other copper plates are placed behind the voltage regulator modules. Fortunately, nothing gets in the way at the back of the CPU, so installing an aftermarket cooler that uses a proprietary backplate will not be much of an issue.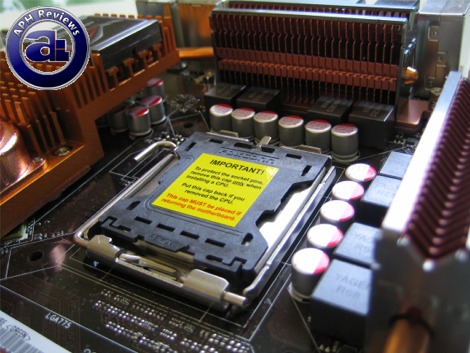 A series of relatively low profile capacitors and components constituting Asus Striker II NSE's 8-phase power design reside fairly close to the CPU socket, but generally I haven't had any problems regarding clearing with any heatsinks I've tried in the past. The surrounding heatpipes are either far enough or low enough to accommodate larger heatsinks that we have here at APH Networks, such as our current favorite, the Noctua NH-U12P.
However, I was actually quite surprised to see a continuation of 8-phase power design on Asus motherboards. While 8-phase power designs has an advantage that would theoretically reduce the input ripple currents and permit the CPU to operate at a more stable voltage, I have seen motherboard manufacturers utilize up to 12-phase power designs, while others has jumped the boat to utilize digital PWM instead -- which is more flexible and appealing to the enthusiast than this implementation used in multiple generations of Asus motherboards. The new Intel P45 boards from Asus such as the Maximus II series and P5Q-Deluxe/P5Q3-Deluxe motherboards will use 16-phase power designs.
The standard four DDR3 memory slots are placed in a fairly favorable location on the Asus Striker II NSE; we've previously complained about how motherboards with multiphase memory power regulations have their slots way too low. In this case, it was done pretty well -- the two phase power design still allowed the slots to be placed quite high. An approximate one centimeter clearance between the lower clips and graphics card in the first PCIe slot is present. It's also placed an adequate distance from the CPU socket, so memory modules with tall heatsinks will not interfere with large CPU heatsinks.
The RAM slots are actually reversed in relation to other Intel motherboards we've used -- this means that the orientation of RAM will be upside down as compared to how you would install them on an Intel motherboard. RAM modules with single sided coolers like the Super Talent Project X would face some issues in regards to the looks with the green PCB showing on one side.
A few centimeters diagonal from the top right corner of the CPU socket is the Asus Energy Processing Unit (EPU). The EPU is a chip taking the form of an application-specific IC (Commonly known as ASIC) that digitally monitors and controls power levels on the Asus Striker II NSE. The digital control comes from included software that runs under Windows; which takes live CPU power draw readings -- another advantage with the EPU is that it removes CPU overhead with previous generation power management software. Asus has been criticized by Gigabyte for misleading consumers regarding the effectiveness of the EPU, while Asus later smacks the back with a lawsuit and launched a mini-site on more detail of the EPU. But either way, I found it more or less marketing by both companies -- I didn't even bother installing the corresponding software on my P5E3-Deluxe which also features the EPU. With Gigabyte's Dynamic Energy Saver, it doesn't even work when the CPU is overclocked -- but hey, we don't buy performance motherboards to save 20W of power or whatever, it's like someone driving a 2008 Subaru WRX STi and activating fuel economy mode. (Yes, there's a fuel economy mode in that car, believe it or not!)
Anyways, that aside, the soldered BIOS chip is placed above the 24-pin ATX power connector. We've previously suggested that the floppy connector should be placed below th 24-pin ATX power connector, and here it is, on the Striker II NSE.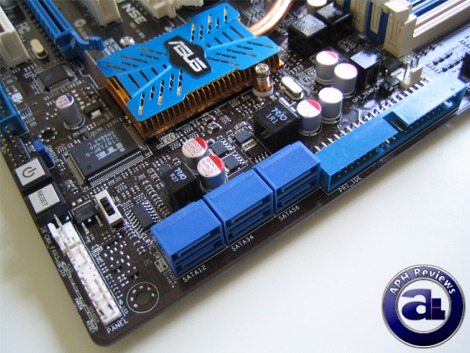 Six SATA2 ports and a single PATA port are placed rotated at an 90 degree angle; facing the outer edge of the board. This is inevitable because the Striker II NSE supports 3-way SLI, so with those uber long NVIDIA graphics card you really don't want them interfering with these connectors. The blue SATA2 ports are placed below the only IDE connector. A JMicron JMB363 PATA/SATA controller supplies this PATA port, along with the two eSATA ports at the back of the Asus Striker II NSE. The SATA2 ports are natively supported by the NVIDIA chipset.
The case I/O connector pin layout is standard amongst all Asus motherboards, and out of the box it comes with Asus' Q-Connector block to combine all the mess into a neat single block. An orange HDD LED is placed above the case I/O connectors for your convenience.
Backlit power and reset buttons are also placed on the motherboard itself, next to the case I/O connectors -- you know, as far as enthusiasts goes, those buttons can be so valuable especially if you are not just testing out the motherboard without a case. Gone are the days where we use screwdrivers to short out the power pins to start the computer.
An ITE 8718 chip is placed right below the NVIDIA Southbridge.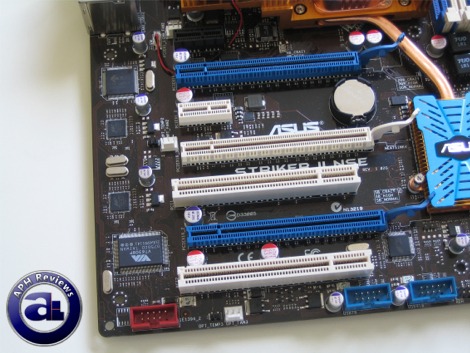 '
Along the bottom of the Asus Striker II NSE are two USB internal connectors for up to four USB ports/devices. A VIA chipset supplied internal Firewire connector is placed at the bottom left corner. There are also three unique connectors on this motherboard to allow the user to connect the supplied temperature sensing probes on, to obtain temperature values from different areas of the case. I have to be honest -- I never owned a motherboard with this feature, so I actually found that to be really thoughtful and useful as a computer enthusiast.
As the NVIDIA 790i SLI chipset supports 3-way SLI, there are obviously three PEG slots -- but there are no lack of other expansion slots either. From the top is a PCIe x1 slot, followed by a PCIe x16, PCIe x1, PCI, PCIe x16, and another PCI slot at the bottom. The first PCIe x16 slot is normally used to connect the included SupremeFX II sound module, as longer expansion cards are prone to be physically interfered by the Fusion Block and RAM slots. That aside, the slots are placed in a well defined specific order so that the user can have something like a PCI sound card even when 3-way SLI is used. The only thing that I want to complain about is the battery placement -- is is impossible to remove the battery from the motherboard with a graphics card installed. On the positive side, you can easily reset CMOS settings even without pulling out the battery by the switch near the bottom right corner or the motherboard, or at the back I/O connectors location. I guess that's probably the designer's explanation as well haha.
And in case you wonder, the "Striker II NSE" is actually a... sticker, if you look carefully. This board shares the same PCB as the Striker II Extreme.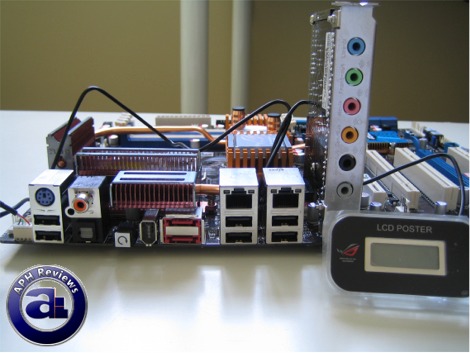 While the Asus Striker II NSE is a hardcore enthusiast motherboard, it certainly does not lack in rear I/O connectors -- unlike many 'gaming' motherboards I've come across in the past. A total of six USB 2.0 ports are available, along with two JMicron powered eSATA connectors and a single VIA powered Firewire port. Two Teaming supporting Gigabit Ethernet ports are placed at the back, as well as two S/PDIF connectors (One coaxial and one optical) and a PS/2 port. A CMOS reset button is also placed for convenient access, but placing it at the back I/O connector location prevents it from being accessed too easily. A separate sound module containing the 3.5mm analog connectors, known as the SupremeFX II -- powered by an ADI 1988B audio codec, separates itself from the main motherboard unit claiming for better sound performance. We'll verify that in our RMAA tests shortly.
The Asus RoG LCD Poster plus into a proprietary connector at the top left corner of the board, as shown in our photo above. The backlit LCD screen on this unit shows the entire POST process, such as "CPU INIT, RAM INIT, USB INIT" (Not really in that exact sequence, but you get the idea) -- it's very useful if your computer doesn't boot. For example, if it's stuck on CPU INIT, then you'll know that your CPU is not initializing immediately -- instead of spending 20 minutes trying to find what's wrong. After the POST process, the LCD Poster acts as a clock or a user defined text sting up to eight characters as configurable in the BIOS. This thing is simply awesome.
---
Page Index
1.
Introduction, Features, and Specifications
2.
Bundle, Chipset, BIOS
3. A Closer Look, Board Layout
4.
Test System; Benchmark: 3DMark06
5.
Benchmark: PCMark05
6.
Benchmark: Cinebench R10, SuperPI 1M
7.
Benchmark: EVEREST CPU
8.
Benchmark: EVEREST FPU
9.
Benchmark: EVEREST Memory
10.
Benchmark: EVEREST Memory Latency, HDTach 3.0.1.0
11.
Onboard Sound (RMAA 6.06) Analyzation
12.
Overclocking and Conclusion