Page 10 - Benchmark: EVEREST Memory Latency, HDTach 3.0.1.0
EVEREST Memory Latency
For more information on EVEREST, please read the description on Page 9 of this article.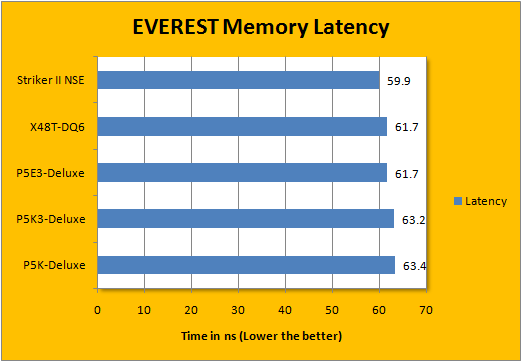 In our EVEREST Memory Latency test, the Striker II NSE's relatively strong memory controller gave a result of 59.9ns -- roughly 2ns better than its closest competitors.
About HDTach 3.0.1.0
HD Tach will test the sequential read, random access and interface burst speeds of your attached storage device (hard drive, flash drive, removable drive, etc). All drive technologies such as SCSI, IDE/ATA, 1394, USB, SATA and RAID are supported. Test results from HD Tach can be used to confirm manufacturer specs, analyze your system for proper performance, and compare your performance with others. HD Tach is very easy to use, quick, and presents data in easy to read graphs, including the ability to compare two storage devices on screen at the same time for easy analysis.
From: Developer's Site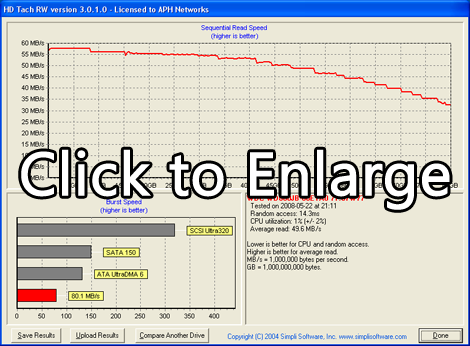 We were actually quite interested to see the PATA performance of the NVIDIA 790i chipset. It's actually actually very consistent with what we've previously tested on the Gigabyte X48T-DQ6 on the Intel platform, as well as almost identical in performance as the NVIDIA 780a based Asus M3N-HT Deluxe. The average read speed in our HDTach Long Bench is 49.6MB/s with our Western Digital Caviar 80GB hard drive; identical to the Gigabyte X48T-DQ6's PATA performance. Burst speed on the Striker II NSE was slightly better at 80.1MB/s as juxtaposed to the 79.4MB/s score obtained from M3N-HT Deluxe motherboard. Latency difference is negligible in relative.
Again, like our PATA performance above, the SATA2 performance tested with our Seagate 7200.10 hard drive is almost identical to the rest with negligible difference -- we'll end up publishing the same chart over again anyways at 64.6MB/s average read speed.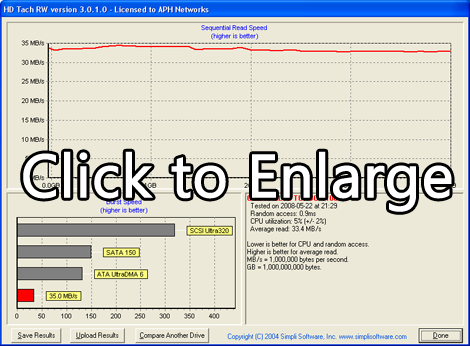 A Full Bench has been run to analyze USB performance. The drive used is a flash drive that we have with the fastest read speed -- and that's the OCZ Rally2 Turbo 4GB we've recently reviewed.
Again, USB performance was very good -- just slightly under the Intel ICH7/8/9 series in terms of average read. The tested USB performance with the Rally2 Turbo on NVIDIA 790i was 33.4MB/s; a little ahead of Intel ICH9R's nominal performance of 32.8MB/s. Latency was also 0.9s in our HDTach results.
Generally speaking, the storage performance on the Asus Striker II NSE is slightly better than the competition according to our test results.
---
Page Index
1.
Introduction, Features, and Specifications
2.
Bundle, Chipset, BIOS
3.
A Closer Look, Board Layout
4.
Test System; Benchmark: 3DMark06
5.
Benchmark: PCMark05
6.
Benchmark: Cinebench R10, SuperPI 1M
7.
Benchmark: EVEREST CPU
8.
Benchmark: EVEREST FPU
9.
Benchmark: EVEREST Memory
10. Benchmark: EVEREST Memory Latency, HDTach 3.0.1.0
11.
Onboard Sound (RMAA 6.06) Analyzation
12.
Overclocking and Conclusion