Page 9 - Benchmark: PCMark Vantage, Conclusion
About PCMark Vantage
PCMark Vantage is a PC benchmark suite designed for Windows Vista offering one-click simplicity for casual users and detailed, professional grade testing for industry, press and enthusiasts.
A PCMark score is a measure of your computer's performance across a variety of common tasks such as viewing and editing photos, video, music and other media, gaming, communications, productivity and security.
From desktops and laptops to workstations and gaming rigs, by comparing your PCMark Vantage score with other similar systems you can find the hardware and software bottlenecks that stop you getting more from your PC.
From: Developer's Page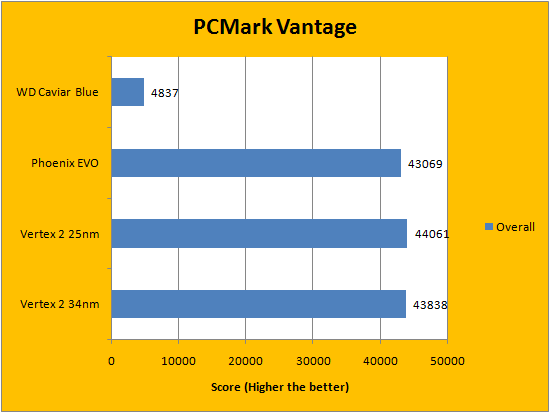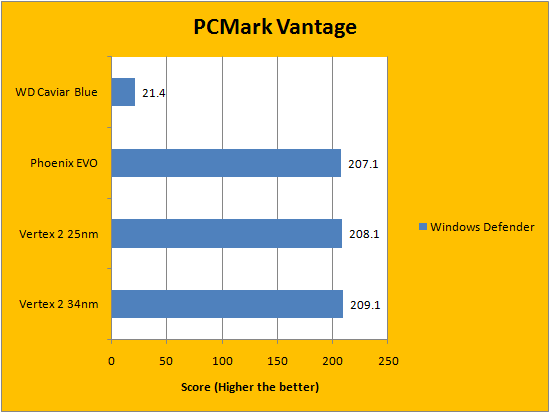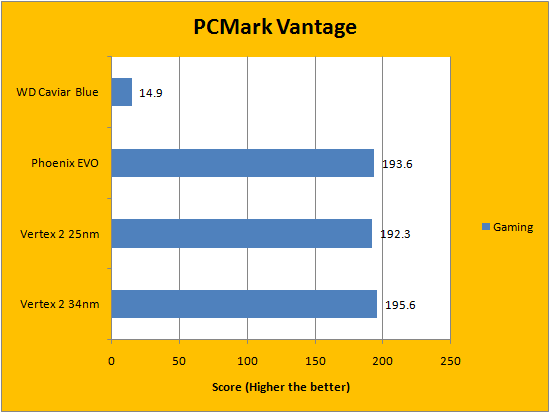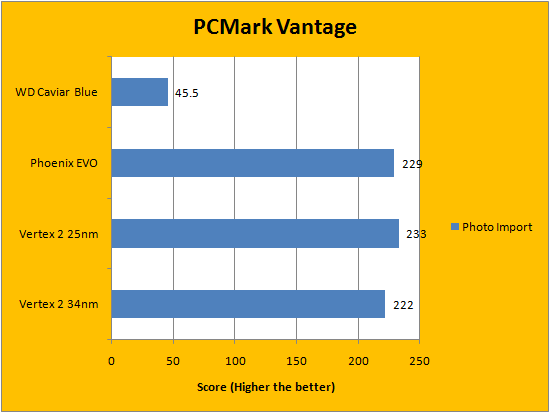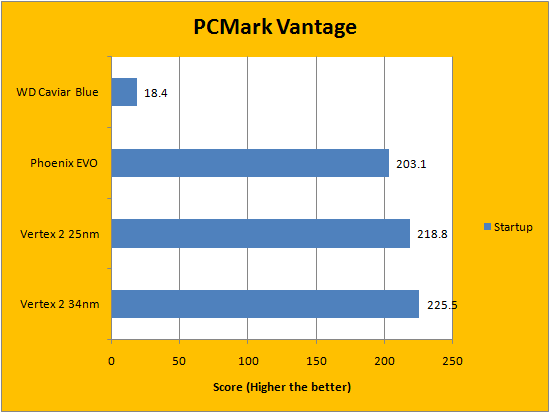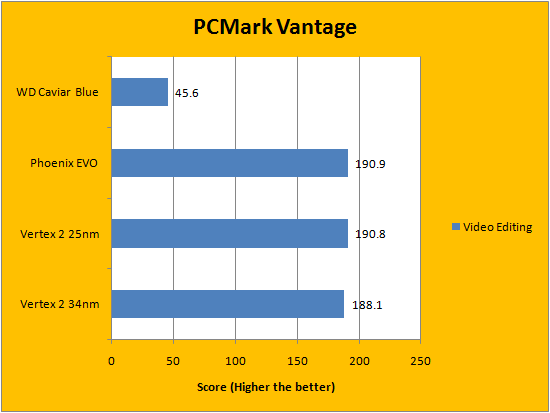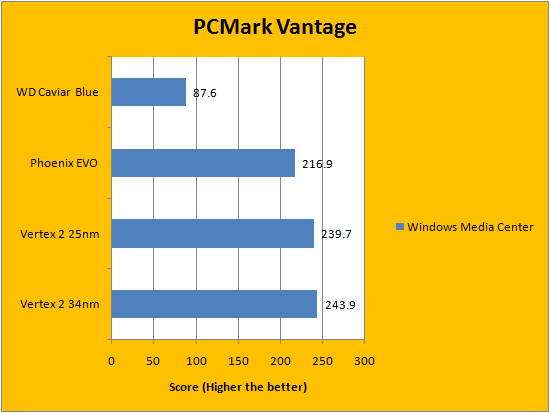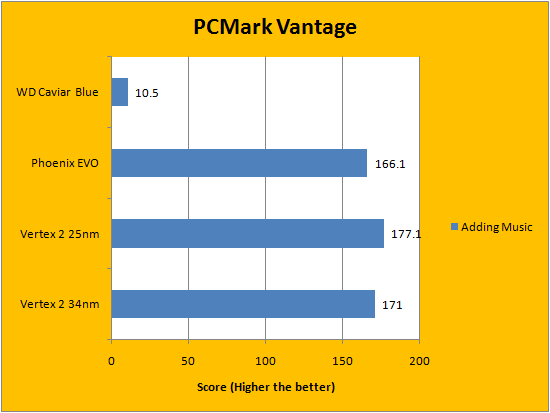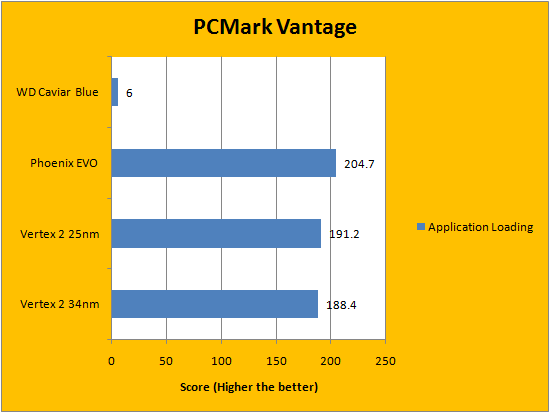 PCMark Vantage aims to shed a little more insight into real life performance of your computer hardware by semi-synthetic means -- and all insight is good, right? The great thing about standardized tests is anyone can repeat them and get very similar results, given identical hardware. Well, I am not going to narrate the stuff above in detail, because we all know graphs are there for a very good reason. What we can draw in conclusion from the charts is the performance between all three SSDs is fundamentally comparable, with the trio consistently trading positions in the race. It is certainly a neck to neck competition; but if you were to ask who came out top, the PCMark Vantage Overall results say the OCZ Vertex 2 160GB 25nm is actually the fastest of the bunch.
-----------------------------------------
Now I don't know about you, but after out the pair of 25nm drives -- the OCZ Vertex 2 160GB 25nm we are reviewing today, along with the G.SKILL Phoenix EVO 115GB we are covering in the next few weeks -- I am even more confused about its performance. Despite what I have read on the internet, from my tests, there is little considerable difference from the 34nm OCZ Vertex 2 60GB I have reviewed back in November. As far as that is concerned, yes, there is some variance in simulations like PassMark PerformanceTest 7.0's disk benchmarks, but for the rest of the set they are all within several percent of each other. In real life applications, I highly doubt you are going to notice a difference at all, unless you are running some uber specific program that has uber issues with the Sandforce SF-1222's ECC scheme on 25nm ICs. Other than that, as aforementioned, in many cases, the Vertex 2 160GB 25nm is just as fast, if not faster, than the original Vertex 2. While I am not going to defend OCZ over the confusion of other Vertex 2 models, all I have to say is, before you start losing sleep over whether you are getting a 25nm or 34nm SSD on your next internet order, I would say 'official' 25nm variants of OCZ's Vertex 2 like the 160GB model I have is simply no slouch in performance (It is important to note that models like the 60GB and 120GB have no official 25nm part numbers on OCZ's product page at press time, whereas the 160GB one I have today does. You are going to lose about 5GB from the 34nm to 25nm change in the unofficial units, but for official models like this one, 160GB is 149GB in Windows, which is indeed its true capacity by drive maker standards). You don't have to take my word on it. Our benchmark results simply speak for themselves. If you don't believe my benchmark results, most of the programs I have used are free downloads, but don't be surprised if you get the same results I did, haha. At the end of the day, our OCZ Vertex 2 160GB 25nm is still an unquestionably fast SATA 3Gb/s SSD that delivers impressive performance for only $270 after mail in rebate at press time. So is it a buy? Oh, yes. Absolutely.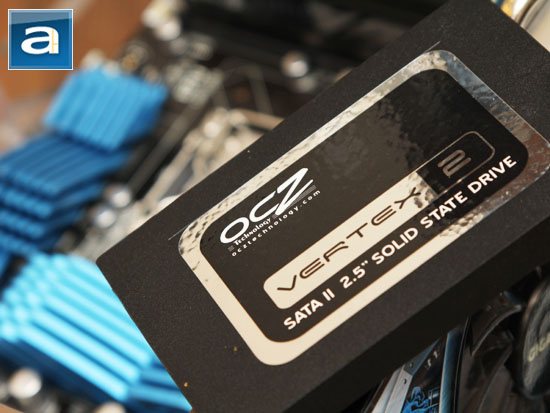 OCZ provided this product to APH Networks for the purpose of evaluation.

APH equal.balance Award
Since April 30, 2007, Number Ratings have been dropped for all CPUs, motherboards, RAM, SSD/HDDs, and graphics cards. This is to ensure the most appropriate ratings are reflected without the inherent limits of using numbers. Everything else will continue using the Number Rating System.
More information in our Review Focus.
If the OCZ Vertex 3 isn't already shipping at press time, I'd give it another APH Recommended. The ICs may have changed, but the performance is still the same. That said, even though the Vertex 2 is no longer at the top of the heap, the 25nm 160GB is still a seriously fast drive -- at a more competitive price than before.
Do you have any comments or questions about the OCZ Vertex 2 160GB 25nm? Drop by our Forums. Registration is free, and it only takes a minute!
---
Page Index
1.
Introduction and Specifications
2.
A Closer Look, Installation, Test System
3.
Benchmark: ATTO Disk Benchmark
4.
Benchmark: Crystal Disk Mark 3.0
5.
Benchmark: AIDA64 Disk Benchmark
6.
Benchmark: HDTach 3.0.1.0
7.
Benchmark: HDTune Pro 4.60
8.
Benchmark: PassMark PerformanceTest 7.0
9. Benchmark: PCMark Vantage, Conclusion