By: Jonathan Kwan
January 28, 2011
Unless you have been hiding under a rock for the last little while, news of OCZ leaving the computer RAM business completely by February 28 of this year has been spreading like wildfire on the internet. This announcement came after OCZ's statement in August 2010, when the company decided to withdraw from the unprofitable commodity memory market to focus on high performance enthusiast RAM instead. However, two weeks ago, news dawned upon us that even that move is no more. Being a major player in the solid state disk drive market (Not surprisingly, as it seems to me the OCZ Vertex 2 is the Honda Civic of the SSD world, except with Lamborghini performance), OCZ recently claimed 78% of their revenue came from SSDs in the past financial quarter. While we wish OCZ the best in their future ventures, it was a certainly a sad day for us upon hearing about this. I have personally witnessed OCZ's substantial growth back in the early 2000's. From their awesome marketing in widely popularizing the use of heatspreaders on high performance overclocking RAM when DDR1 RAM was still the standard and AMD Athlon 64s were the craze, to competitively priced high quality modules, OCZ have unquestionably won the hearts of many casual system builders and hardcore enthusiasts alike. I still remember their Special Ops Edition Urban Elite DDR2 with cool looking 'camo' heatspreaders, the epic Flex XLC that can be hooked up to your water cooling system, and my first ever set of DDR3 RAM, back when 2x1GB modules ran for $600 a kit. Before we wave goodbye to our long time friend, today we will publish what is probably our last OCZ RAM review on the Platinum XTE PC3-16000 2x2GB dual channel kit.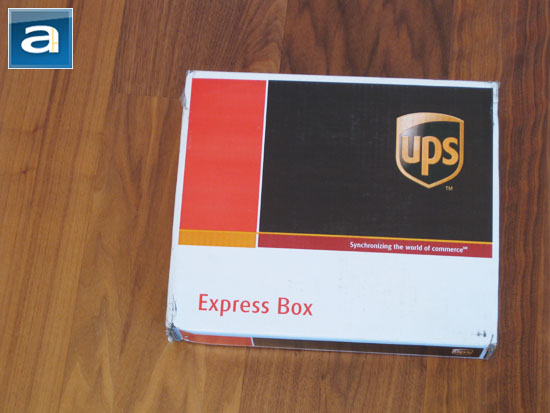 Our review unit of the OCZ Platinum XTE PC3-16000 2x2GB dual channel kit came in a medium sized, UPS Express branded corrugated cardboard box from OCZ's corporate headquarters at San Jose, California, USA. Using UPS Saver, everything was handled appropriately, and arrived to us in pristine condition. The delivery man happily dropped off the package at our doorstep on the last day of 2010, marking the last review sample to arrive at our Calgary, Alberta, Canada location for the year.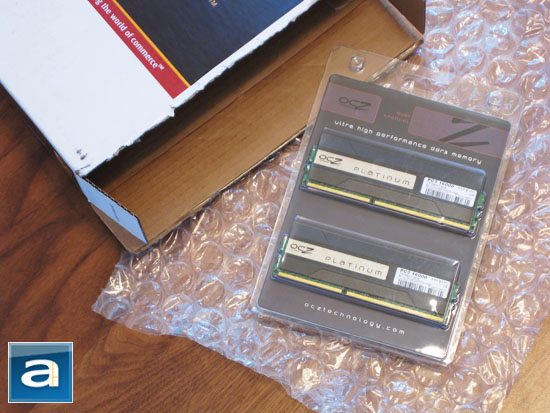 Unwrapping the bubble wrap reveals a retail package of OCZ's Platinum XTE memory. As usual, the simple clamshell package is held closed together at the top by two friction buttons -- no blister pack techniques were used in this case, which we have grown to appreciate for the last little while. Unlike products we have reviewed from OCZ in the past, a new, much cleaner product packaging design has been implemented. The background insert sheet now comes with a flat charcoal background with sharp silver text across the front. Orange lines draw out two rounded rectangles at the top; where the left one encompasses OCZ's logo, while the right one has an oversized 'Z' styled over its 'passionate about performance' slogan. Branding highlights can be found in various languages at the back. Meanwhile, the RAM modules are placed horizontally in relative to each other and are displayed in front in all its glory with OCZ's XTE heatspreader behind the custom molded clamshell packaging. Specifications can be seen through the clear plastic by a label on the memory modules themselves.
Before we move on, let us take a look at the specifications of OCZ's Platinum XTE PC3-16000 2x2GB memory set, as obtained from the manufacturer's website:
- 2000MHz DDR3
- CL 9-9-9-24 (CAS-TRCD-TRP-TRAS)
- Available in 4GB Dual Channel Optimized kits
- XTE Aluminum Alloy Heatspreader
- Lifetime Warranty
- 1.65 Volts
- 240-Pin DIMM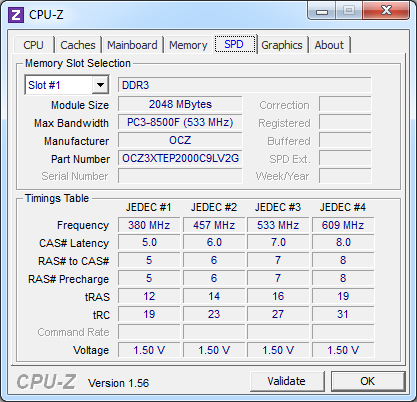 A screenshot of the memory tab in CPU-Z with OCZ's Platinum XTE PC3-16000 2x2GB installed. The SPD timings table in CPU-Z reads standard JEDEC specifications programmed into the memory, as well as Intel XMP data for running the memory at DDR3-1600. Using the latest BIOS revision, our ASUS P7P55D-E Premium motherboard used for testing had no issues detecting and working with the OCZ RAM and its XMP settings. As you can see in our screenshot provided above, this OCZ dual channel kit runs at a high frequency of 2000MHz (1000MHz actual clock) in conjunction with 9-9-9-27 latencies at 1T command rate. This is slight better than other memory kits in its price range, which runs at 9-10-9-28 latencies on average.
---
Page Index
1. Introduction and Specifications
2.
A Closer Look, Installation, Test System
3.
Benchmark: AIDA64 CPU
4.
Benchmark: AIDA64 FPU
5.
Benchmark: AIDA64 Memory
6.
Benchmark: PCMark Vantage
7.
Benchmark: 3DMark 11
8.
Benchmark: PassMark PerformanceTest 7.0
9.
Benchmark: SuperPI 1M, Cinebench R11.5
10.
Overclocking Results and Conclusion