By: Jonathan Kwan
February 26, 2010
It's been a while since I have last reviewed an Asus motherboard. It's also been a while... actually, I am not going to lie, haha -- I've never reviewed two motherboards consecutively on APH Networks before. Because of my relatively intense workload in my second year of Electrical Engineering, especially compared to what I have done in the past during high school, it is often very challenging to maintain decent academic performance while working with a demanding review schedule. This holds especially true when it comes to reviewing motherboards. The sheer amount of writing in conjunction with the need of benchmarking (Which includes fresh installs of Windows every time, oh man!) is not only very time consuming, but also requires high levels of patience and effort. But things are a bit different this time around. After finishing my Gigabyte GA-P55A-UD6 review last week, I simply could not contain the excitement I had for testing the latest and greatest motherboards based off Intel's P55 Express chipset for Lynnfield processors. This curiosity continued on, as I soon discovered that the only way to quench this thirst is to put the motherboards through our battery of benchmarks. So today, we'll be taking a look at the Asus P7P55D-E Premium -- Asus' high end P55 motherboard on this platform. How does it stack up against its rival Gigabyte's enthusiast product, and does it continue the tradition of Asus motherboards in performance, features, and quality? Let me answer these questions in our review today!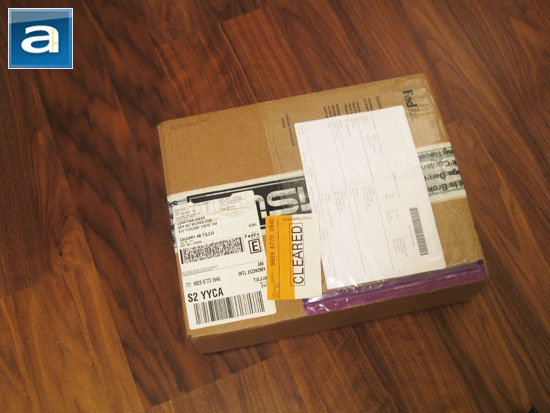 Our review unit of Asus' P7P55D-E Premium came in a relatively small brown corrugated cardboard box from the motherboard giant's offices at Fremont, California, USA. Using FedEx International Economy, everything was delivered in excellent condition to our doorstep. We cracked open the package, and soon began working on this review.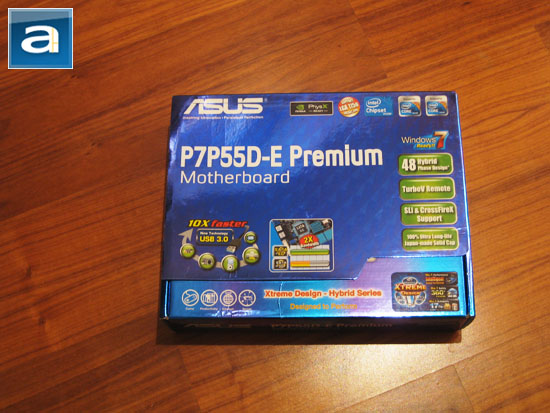 Asus has always used compact and simple retail boxes in the past (With the exception of Republic of Gamer boards), and the P7P55D-E Premium is no exception. The shiny blue box has Asus' logo and new slogan on the upper left corner, with the "P7P55D-E Premium motherboard" label printed boldly across the center. There's certainly no confusion of what's inside the box. Around the edges are arrays of icons highlighting its features, such as the motherboard being PhysX ready, Windows 7 ready, having a 48 Hybrid Phase Design, TurboV remote, SLI and CrossFireX support, and 100% Japanese-made solid state capacitors. At the bottom are two large images featuring its USB 3.0 and SATA 6Gb/s support, which is also denoted by the '-E' suffix in the name 'P7P55D-E Premium'. Further feature highlights with their respective description and pictures are shown on the inside flap of the box, as well as the back. Before we move on, let's take a look at the specifications of the Asus P7P55D-E Premium, as obtained from the manufacturer's website: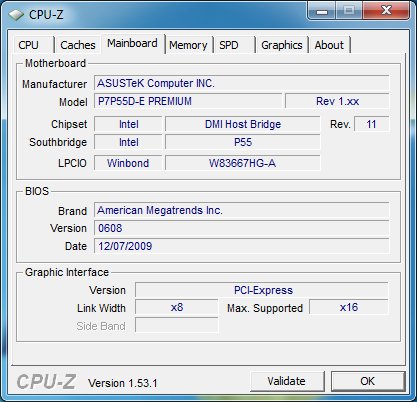 CPU-Z screenshot of the motherboard tab running Asus' P7P55D-E Premium in Windows 7 Professional x64. At press time, we were using Asus' 0608 BIOS revision. This is the latest BIOS revision at the time of writing this review.
---
Page Index
1. Introduction, Features, and Specifications
2.
Bundle, Chipset, BIOS
3.
A Closer Look, Board Layout, Test System
4.
Benchmark: EVEREST CPU
5.
Benchmark: EVEREST FPU
6.
Benchmark: EVEREST Memory
7.
Benchmark: PCMark Vantage
8.
Benchmark: 3DMark06 Professional
9.
Benchmark: PassMark PerformanceTest 7.0
10.
Benchmark: SuperPI 1M, Cinebench R10
11.
Onboard Sound (RMAA 6.2.3) Analyzation
12.
Asus Express Gate Onboard Linux
13.
Overclocking and Conclusion