Page 13 - Overclocking and Conclusion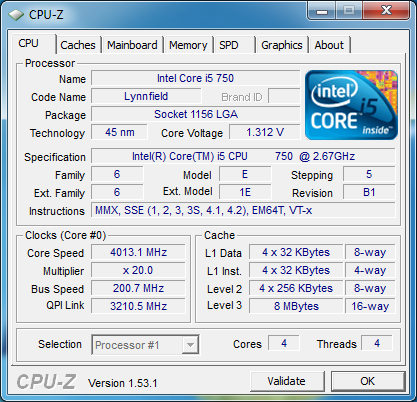 The highest raw overclock I was able to attain using the Asus P7P55D-E Premium motherboard with my Intel Core i5-750 processor is a tick over 4.00GHz; that's with the base clock set to 200MHz with 20x multiplier. Prime95 was run on all four cores for an extended period of time to ensure full stability. The Asus P7P55D-E Premium had no issues delivering stable, reliable power to the CPU to attain this overclock. This is pretty much the same results we were able to obtain with the P55A-UD6 we reviewed last week, so it is logical that the limitation is processor-based, and not motherboard-based.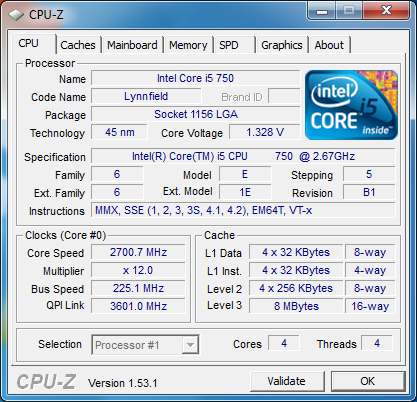 My second round of overclocking involved an attempt to attain the highest base clock frequency, with all other limiting variables minimized. As you can see in our CPU-Z screenshot above, the highest CPU BCLK I was able to achieve with my Core i5-750 is 225MHz on the Asus P7P55D-E Premium -- an otherwise excellent result! I was incredibly surprised by the capabilities of this motherboard, and the fact that this can be handled stably in Prime95 for extended periods of time is simply brilliant. In fact, it is a full 15MHz higher maximum base clock than the Gigabyte GA-P55A-UD6 that we have recently tested!
-----------------------------------------
It has been quite a while since I have last tested an Asus motherboard in detail, and I have already long forgotten why Asus motherboards are so popular here at APH Networks. No, it is not because we have any brand loyalty. It is also not because there aren't any truly excellent competitors out there. And as someone working at an online technology publication, keeping an open mind to all new products from any manufacturer is certainly a requirement for the job! Most enthusiasts would tend to agree that the brand name never really made a difference for anyone -- it is the performance, usage experience, design, reliability -- and to an extent, the price -- that makes the product from one brand more preferable to another. The Asus P7P55D-E Premium brings back everything in my memory of why we have enjoyed Asus motherboards so much in the past. Sure, it's not perfect by any means. But from its relatively refined board layout, commendable performance, huge abundance of features, proven quality and reliability, to the fact that it simply works out of the box without any troubles -- the Asus P7P55D-E Premium has everything that makes it a well deserved enthusiast P55 motherboard. In my opinion, shifting the CPU socket a bit up and to the left would make worlds of difference with larger heatsinks in terms of clearance. Regardless, this Asus motherboard has all the bells and whistles, too -- Asus ExpressGate onboard Linux for your convenience, USB 3.0 and SATA 6Gb/s for the cutting edge, and even excellent onboard sound for those who can't find a dedicated sound card justified. If you are looking for an ultra high end motherboard on the Intel LGA1156 socket, the Asus P7P55D-E Premium is the one to get!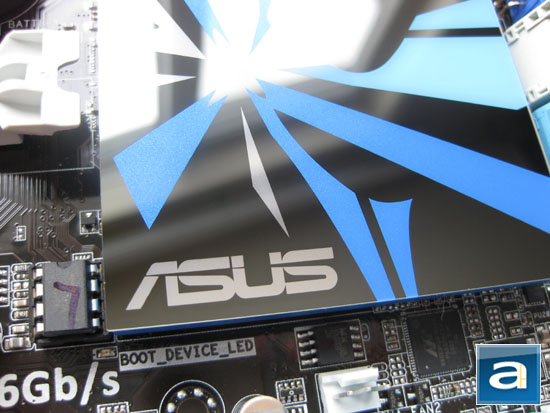 Special thanks to JJ over at Asus for making this review possible.

APH:Renewal Award
Starting from April 30, 2007, Number Ratings have been dropped for all CPU, motherboards, RAM, and graphics cards. This is to ensure the most appropriate ratings reflected without the limits of using numbers. Everything else will continue using the Number Rating System.
More information in our Review Focus.
The Asus P7P55D-E Premium is an impressive enthusiast motherboard with USB 3.0 and SATA 6Gb/s. It delivering a high level of performance, and comes more features that you could ever ask for!
Do you have any comments or questions about the ASUS P7P55D-E Premium? Drop by our Forums. Registration is free, and it only takes a minute!
---
Page Index
1.
Introduction, Features, and Specifications
2.
Bundle, Chipset, BIOS
3.
A Closer Look, Board Layout, Test System
4.
Benchmark: EVEREST CPU
5.
Benchmark: EVEREST FPU
6.
Benchmark: EVEREST Memory
7.
Benchmark: PCMark Vantage
8.
Benchmark: 3DMark06 Professional
9.
Benchmark: PassMark PerformanceTest 7.0
10.
Benchmark: SuperPI 1M, Cinebench R10
11.
Onboard Sound (RMAA 6.2.3) Analyzation
12.
Asus Express Gate Onboard Linux
13. Overclocking and Conclusion