Page 3 - A Closer Look, Board Layout, Test System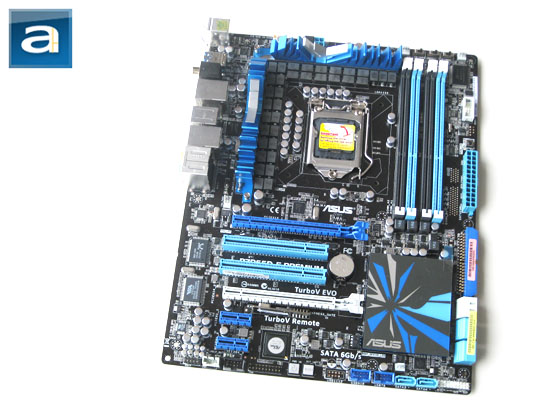 Asus continues to use their signature chestnut colored printed circuit board with their P7P55D-E Premium motherboard. Like the Gigabyte GA-P55A-UD6 we've reviewed last week, components this P55 based mainboard also come in a variation of blue, ivory, or black in color. The difference is that the dark chestnut printed circuit board of Asus' P7P55D-E Premium better accentuates its contrast and style, whereas the Gigabyte motherboard in question didn't quite appeal to my personal tastes -- this is due to the fact that it was used with blue PCB. Again, aesthetics is not really an issue when it comes to internal components of a computer, so I don't think disliking a motherboard's look really stopped anyone from buying it if it's truly an excellent product, haha. The comments on the look are just a personal opinion. As with all current Asus motherboards, the P7P55D-E Premium uses 100% Japanese made solid state aluminum capacitors for durability and quality.
Users new to Intel's new platform and P55 chipset will immediately notice a few things about the Asus P7P55D-E Premium. For one thing, this motherboard does not have any heatpipes extending from the Southbridge to the Northbridge, and then leads around the processor socket to dissipate the heat. Secondly, there's no... Northbridge in the first place, haha. As I have mentioned on the previous page on the design of Intel's P55 chipset, many of the features previously provided by the Northbridge now reside of the LGA1156 CPU itself, while the rest of the communication functions are now handled by the Southbridge -- eliminating the need of having a separate Memory Controller Hub (MCH) and I/O Controller Hub (ICH). The P55 Platform Controller Hub (PCH) is generally very power efficient, and does not require a lot of specific cooling. Therefore, Asus simply ended up putting a relatively large but low profile heatsink over the PCH as well as its adjacent controller chips near the bottom right corner, as shown in our photo above. Heatsinks are still placed on top of power regulating modules near the processor socket for heat dissipation, in which we will cover in detail in just a moment.
A shot of the back of the motherboard. It's a relatively clean design, nothing in particular here. No additional copper plates were installed, other than a blue L-shaped bracket that clips behind the front MOFSET heatsinks. Fortunately, it is very low profile, and its sheer distance from the processor socket prevents it from interfering with aftermarket heatsink backplates. The standard Foxconn-made Intel backplate is present like all LGA1156 motherboards, but all heatsinks designed for this socket are supposed to work with this backplate in its place. Asus' Stack Cool 3+ features two ounces of copper on the power and ground layers of the P7P55D-E Premium; used to improve its electrical and cooling efficiency, as well as delivering more stable power to the components. Regarding the use of capacitors, Asus chose to use traditional mounting methods rather than surface mounts, as shown in the image above. The advantage it presents over SMT is that traditional capacitor mounting methods provide higher resistance to mechanical stress.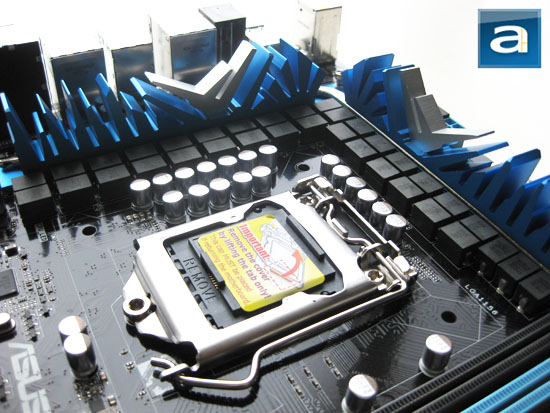 Taking a look around the CPU socket area reveals an impressive array of chokes. You don't even need to count them to see that there's a serious quantity of them on the CPU voltage regulator circuit! Asus specifies a 48 Hybrid Phase power design on the P7P55D-E Premium, which is calculated by a 32-phase power design for the processor, three for the memory controller on the processor, and additional phases over the T.Probe to balance current over these phases. The T.Probe is a hardware based IC that is capable of monitoring temperature in the phase bank, which reduces voltage regulator module hot spots by reassigning or rebalancing phases on the fly. The phases are also designed with unique phase angles for improved efficiency and load scaling, and is capable of scaling from having four enabled under light loads to all thirty-two activated under heavy loads. It wasn't all too long ago when 8-phase power designs were the standard for high end performance motherboards. We have sure gone a long way with 32 phases found on this motherboard! This is excellent for low voltage ripples and steady power delivery to the CPU, which also contributes to better overclocking results. Power usage and processor life may also be improved to a certain extent with Asus' Xtreme Phase design as discussed. Generally speaking, the P7P55D-E Premium should deliver superior performance and stability in the long run, while reducing heat and power loss. The low profile components should not be a problem with aftermarket heatsinks, either.
The MOFSETs are covered by an interesting L-shaped aluminum heatsink that extends on the left and upper perimeter of the CPU socket area. A heatpipe runs through the heatsinks in parallel to the surface of the motherboard, used for spreading out heat in a more efficient manner. Because of its location on the motherboard, it can also take advantage of airflow generated by the CPU heatsink to speed up heat dissipation. These heatsinks also incorporate a very unique design; I am not sure if the angled V-array of heatsink fins with varying lengths is actually designed for maximum cooling capabilities, but they sure look cool, haha.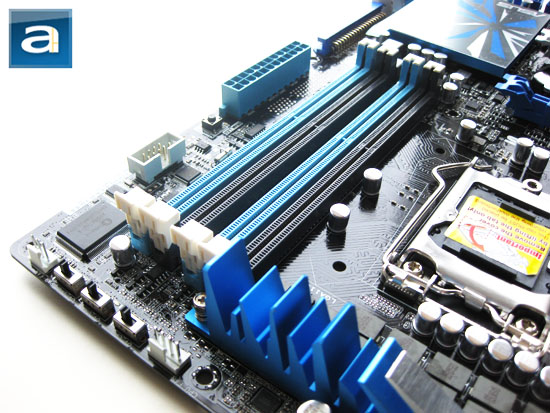 Because the CPU socket is placed very close to the center of the motherboard itself, its distance from the four DDR3 memory slots is inevitably closer than optimal. Users with large processor heatsink/fans and memory modules with high profile heatspreaders will experience clearance problems. My Noctua NH-D14, even without the front NF-P12 fan installed, extends over the left memory slot on the Asus P7P55D-E Premium. It would have been better if the LGA 1156 socket was shifted just a little more to the left to reduce clearance issues with larger heatsinks. Moving it a little bit up will also create more clearance with the PCI Express graphics slot when large heatsinks are installed. Interestingly, only the top clips on the DIMM slots are movable clips; the bottom ones are fixed. The funny thing is that I actually like it, because I always end up slipping in RAM at an angle from the top, so I don't make contact with the graphics card below it -- not to mention that it makes memory installation faster.
Along the right hand side of the printed circuit board are two connectors near the top; namely an internal COMM part header, and the standard ATX 24-pin connector. Both are located and ordered in a very good position. Meanwhile, a MemOK! button that is situated between the COMM and 24-pin connector allows the user to auto start the system in working with the memory in the pre-post state by first attempting relaxing the timings, followed by adjusting frequency, and finally increasing the voltage to allow the system to POST. This is very beneficial, since there may be boot issues with higher voltage memory kits or otherwise problematic memory -- and users won't be stuck looking for standard voltage memory in order to modify settings in their BIOS just to start their system. Overclockers may also find this feature beneficial by using MemOK! to reset their memory settings only, rather than resorting to clearing the CMOS.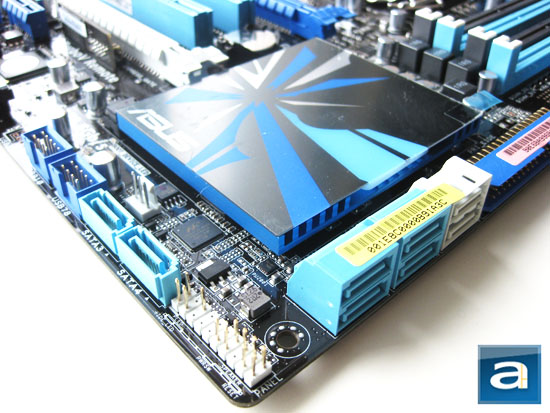 A large aluminum heatsink that covers the Intel P55 PCH chip can be seen in our photo above. The heatsink actually has LED backlights for a stylish look over its transparent areas. Anyway, six Serial-ATA 3Gb/s connectors, colored blue as shown, native to the Intel P55 chipset are located on this motherboard -- supporting JBOD, RAID 0, 1, 5 and 10. Four out of six connectors are placed at a 90 degree angle to make cabling easier, while the remaining two are placed along the bottom of the motherboard just in case the user needs even more. Two gray colored connectors provided by the Marvell 88SE9123 SATA 6Gb/s chip are located above the four blue SATA connectors. Additionally, a JMicron JMB368 PATA controller supplies one IDE connector, also angled off along the right side of the motherboard, and placed above the SATA ports. The Asus P7P55D-E Premium does not feature a floppy connector.
The case I/O connector pin layout is standard amongst all Asus motherboards, and out of the box it comes with Asus' Q-Connector block to combine all the mess into a neat single block for maximum convenience. Good placement of connectors in this segment of the motherboard is usually very challenging, and Asus has done an excellent job of organizing it in an efficient and user friendly manner.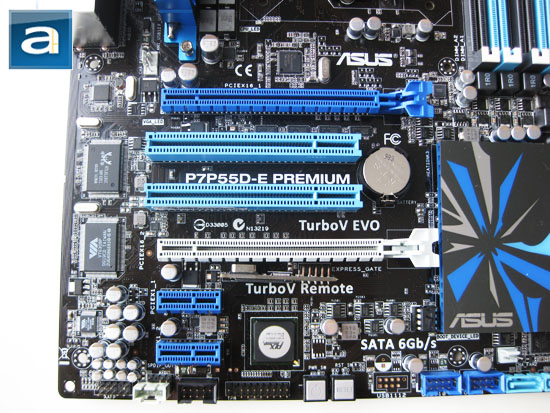 Six expansion card slots are available on Asus' P7P55D-E Premium motherboard. From the top, we have a PCIe x16 slot, followed by two PCI slots, a second PCIe x16 slot, and finally two PCIe x1 slots. The Asus P7P55D-E Premium takes the best of both worlds and supports both CrossFireX and SLI. However, do keep in mind that only the first PCIe x16 slot is a "true" PCIe x16 slot; the second one will do a split (Share the bandwidth) with the first slot if a graphics card is installed to become two x8 slots. This is due to limited availability of PCIe lanes provided by Lynnfield core processors.
Under the second PCI Express graphics is the Express Gate chip, used for storing the onboard Linux based operating system. We will get to this in detail in this review shortly. Of all, the most interesting feature is the PLX PEX8613 bridge chip located on the right side of the PCIe x1 slots, which combines the bandwidth of four PCIe 1.1 lanes on the chipset into two PCIe 2.0 lanes to ensure its SATA 6Gb/s and USB 3.0 ports operate at close to full speed when two graphics card are installed. This boosts the available bandwidth to 5Gb/s for the Marvell SATA controller at all times, which is close to the 6Gb/s specification set by SATA-IO. Competitor products such as Gigabyte's P55A-UD6 does not offer this feature, but they argue that modern SATA 6Gb/s hard drives aren't even close to maximizing this bandwidth -- which is true. It is really up to you to determine if this is beneficial or not.
Two sets of USB headers are located along the bottom of the motherboard for up to four USB ports/devices. A Firewire header is located near the bottom left, powered by a VIA 6308P controller chip, located on the left side of the motherboard. Square shaped red Power and green Reset backlit buttons are also found at the bottom of the P7P55D-E Premium to allow enthusiasts to easily turn on and reset their systems easily without a separate switch, or shorting the power pins with a screwdriver. After all, we might not be using the motherboard in a case at all times -- especially when benchmarking in an open operating environment. The backlit buttons is a plus, because we all know hardcore computer enthusiasts do our job alone in dark, lonely basements.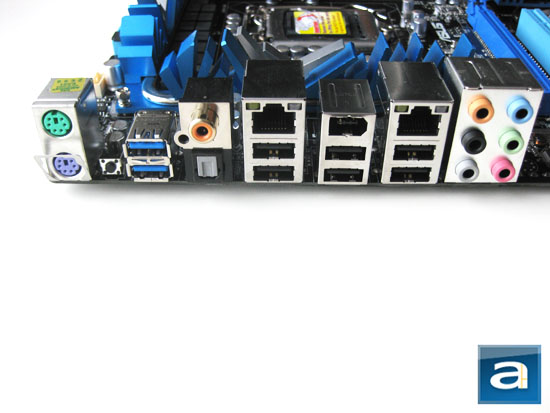 Asus offers a good amount of available external connectors at the back panel. It has notably less USB ports than the Gigabyte GA-P55A-UD6; also missing are eSATA connectors. What you do get are PS/2 ports for both keyboard and mouse (To be honest I'd rather take an extra two USB ports than dedicated connectors for both PS/2 keyboard and mouse), six USB 2.0 connectors in black, two NEC D720200F1 powered USB 3.0 connectors in blue, two Realtek RTL8112L powered Gigabit LAN ports, and one VIA 6308P powered Firewire connector. It is important to note that a 2-port USB and eSATA backplate module is included for those needing those features, but I'd much rather have it here instead. A convenient clear CMOS switch is placed between the PS/2 and USB 3.0 ports. The rest are audio connectors based off the VIA VT2020 chip; both S/PDIF coaxial and optical outputs can be seen in addition to the six standard 3.5mm analog jacks. The included EMI shielded I/O backplate, which Asus calls the "Q-Shield", also has a passthrough for the TurboV Remote that connects to the top of the motherboard for on-the-fly overclocking.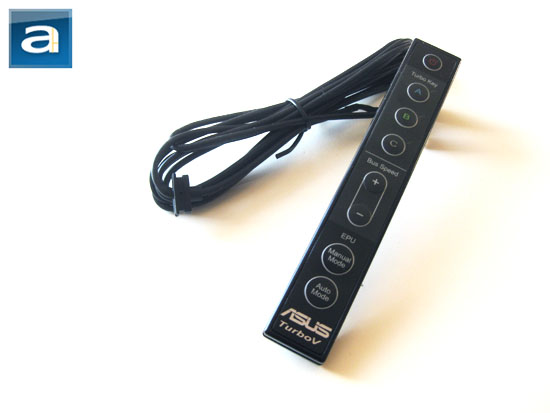 The Asus TurboV Remote works in conjunction with Asus' EPU-6 engine and TurboV EVO chip as well as installed Windows software to facilitate its on-the-fly overclocking features. Connected to a proprietary 5-pin connector at the top of the P7P55D-E Premium, the TurboV Remote is actually a very cool feature. The Power button turns your computer on or off, while the buttons labeled A, B, and C allows the user to select one of three different overclocking profiles. An LED indicates the current active profile. Meanwhile, the +/- buttons increments the CPU base clock by 1MHz every time. The last two buttons launches the EPU software in manual or automatic mode, as labeled, to operate power saving or performance presets as defined respectively. A clear CMOS button is located at the back of the TurboV Remote. Description of these features is printed at the back as well, just in case you forget what they are and what they do.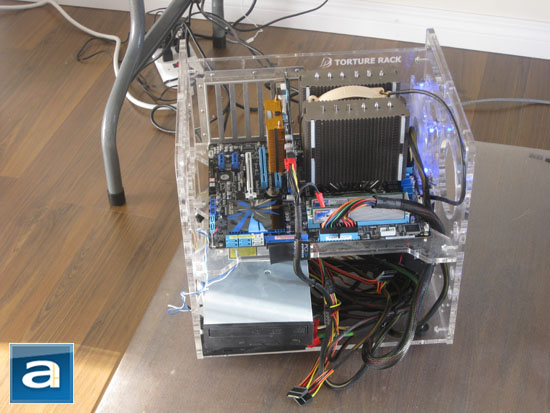 We benchmarked the Asus P7P55D-E Premium motherboard using our test platform with the following specifications:
CPU: Intel Core i5-750 (133*20, 2.66GHz, 8MB L3, 45nm Lynnfield, Turbo Mode/SpeedStep disabled)
CPU Cooling: Noctua NH-D14
Graphics: Gigabyte GeForce 8800GT TurboForce
Memory: Patriot Extreme Performance 2x1GB @ DDR3-1333 7-7-7-20 2T
Chassis: Danger Den Torture Rack (1x Thermaltake 120mm LED Fan)
Power: OCZ EliteXStream 800W
Sound: Integrated (Motherboard)
Optical Drive: Liteon 16X DVD-ROM
Hard Drive: Western Digital Caviar 7200RPM 80GB 8MB Cache
Operating System: Microsoft Windows 7 Professional x64
Compared hardware
- Gigabyte GA-P55A-UD6 (Intel P55, $249 retail at press time)
- Asus P7P55D-E Premium (Intel P55, $279 retail at press time)
---
Page Index
1.
Introduction, Features, and Specifications
2.
Bundle, Chipset, BIOS
3. A Closer Look, Board Layout, Test System
4.
Benchmark: EVEREST CPU
5.
Benchmark: EVEREST FPU
6.
Benchmark: EVEREST Memory
7.
Benchmark: PCMark Vantage
8.
Benchmark: 3DMark06 Professional
9.
Benchmark: PassMark PerformanceTest 7.0
10.
Benchmark: SuperPI 1M, Cinebench R10
11.
Onboard Sound (RMAA 6.2.3) Analyzation
12.
Asus Express Gate Onboard Linux
13.
Overclocking and Conclusion