Page 2 - Bundle, Chipset, BIOS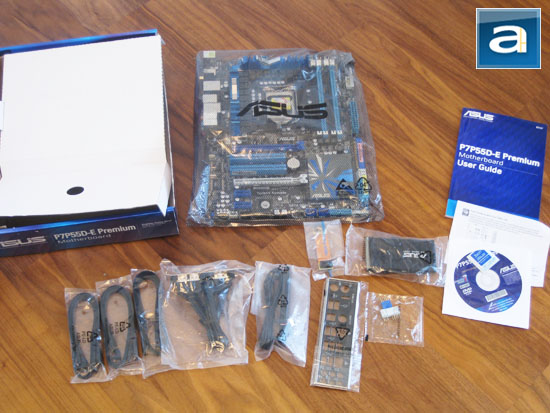 Asus typically organizes their retail package with accessories on the top, followed by a cardboard divider, and the motherboard wrapped in a large antistatic bag at the bottom. Out of the box, you will receive the following contents:
- 1x Asus P7P55D-E Premium motherboard
- 1x Q-Shield I/O backplate
- 1x TurboV Remote
- 2x SATA cables (6Gb/s)
- 4x SATA cables (3Gb/s)
- 1x PATA cable
- 1x Q-Connector block (Case)
- 1x Q-Connector block (USB)
- 1x SLI Bridge
- 1x 2-port USB and eSATA module
- 1x User manual
- 1x Driver/software DVD
There are no excess accessories, but everything you need is included.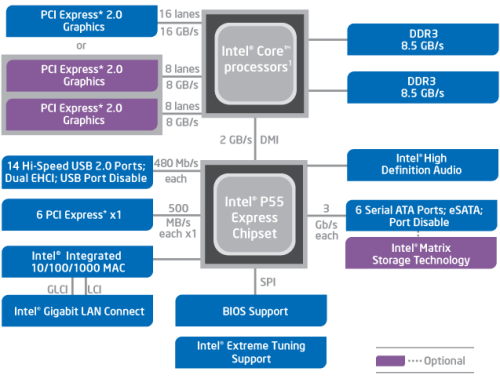 The code-named "Lynnfield" Core i7 and Core i5 processors prove to be an interesting bunch, as you can see in our chipset diagram above. When the original LGA1366 Core i7 Bloomfield processors were released in late 2008, they offered undeniably excellent performance -- unfortunately, they also came at a high price point. Many consumers chose to stay with Intel's processors predating the company's new Nehalem microarchitecture. To combat this and move the market ahead, Intel launched a series of processors for mainstream consumption at a lower price point. Based on the Lynnfield core fabricated using a 45nm process and packaged into the new LGA1156 socket, Intel hopes to provide consumers with a price break in conjunction with the new P55 chipset. The Asus P7P55D-E Premium, like the Gigabyte GA-P55A-UD6 we reviewed last week, addresses this market, providing enthusiasts with a high end P55-based motherboard to unleash the potential of their Lynnfield processors.
The main difference between Bloomfield and Lynnfield -- besides the socket -- boils down to the replacement of Intel's high bandwidth 25.6GB/s QuickPath Interconnect (QPI) link with the slower 2-4GB/s DMI (Direct Media Interface) chip to chip link, as well as deletion of one of the memory controllers. The latter means that rather than having triple channel memory, Lynnfield processors will only support dual channel. Users familiar with Intel's previous designs should also be familiar with the company's DMI interface; however, it is now integrated onto the processor, rather than the Northbridge, to replace the legacy Front Side Bus. This reduces the physical size and number of pins required for the processor, but having different sockets for Nehalem microarchitecture processors may prove inconvenient with regards to the upgrade path in the future.
In addition to the DDR3-1333 64-bit wide on-die memory controller, Intel also integrated 16 PCI Express 2.0 lanes into the processor to overcome the inherent bandwidth limitation of the DMI interface. There are only two chips on the LGA1156 platform, as seen in the block diagram above. What was previously known as the Southbridge takes care of the standard connection interfaces such as providing up to 14 USB ports and 6 SATA ports, as well as providing six additional PCI Express lanes for PCIe based devices such as Ethernet. Because many Northbridge functions are now on the CPU itself as aforementioned, the P55 chipset doesn't do nearly as much as it did in the past -- thus, Intel has resolved to call it the Platform Controller Hub, or PCH, instead. You will see later in this review that the Northbridge appears to be "missing" on the Asus P7P55D-E Premium motherboard, as reflected in the block diagram above, and this is certainly no mistake!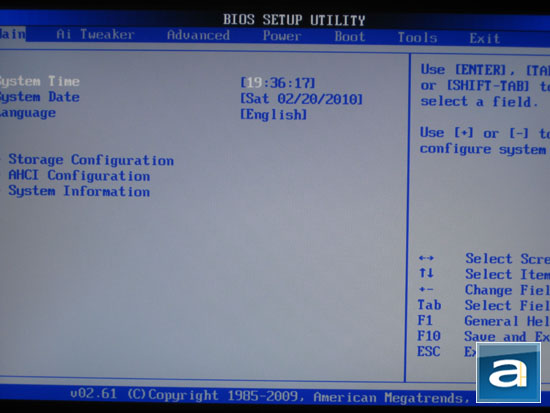 Loaded with an American Megatrends BIOS, we've grown quite accustomed to it as expected from an Asus motherboard. Everything is organized into their respective tabs in a logical manner; navigation is simple and desired features are easily found, even for first time users. Like Asus motherboards we have used in the past, enthusiasts will be happy to know that all overclocking options are placed under the Ai Tweaker tab for maximum convenience. This means that the user won't need to go in and out of several different menus repeatedly just to adjust a few common overclocking options.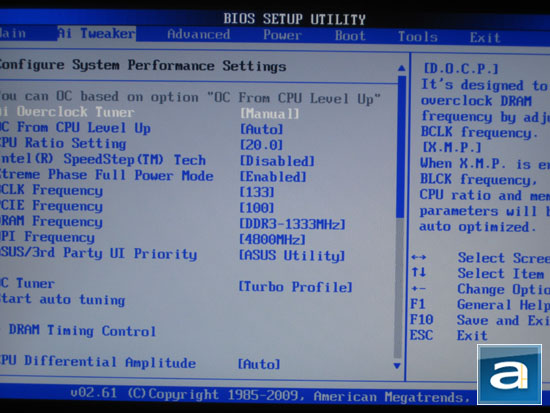 I am not going to waste your time by going every single menu on the Asus P7P55D-E Premium's BIOS, so I will mainly cover the more significant bits, such as overclocking options in the Ai Tweaker tab shown above. Asus offers a generous array of overclocking options for experienced and novice users alike -- from the good old manual methods to automatic settings, you will be able to find them all here. Frequency and related settings such as multiplier base clock can be conveniently adjusted by typing in an integer number directly -- no tedious menu scrolling, or even repetitive pop up boxes. Automatic overclocking options including CPU level up to Core i7-860 and i7-870 (From my Core i5-750), and fully automatic tuning to reach maximum stable operating frequency are all found here as well. To make things better, you don't even need to exit this menu to toggle Intel SpeedStep settings!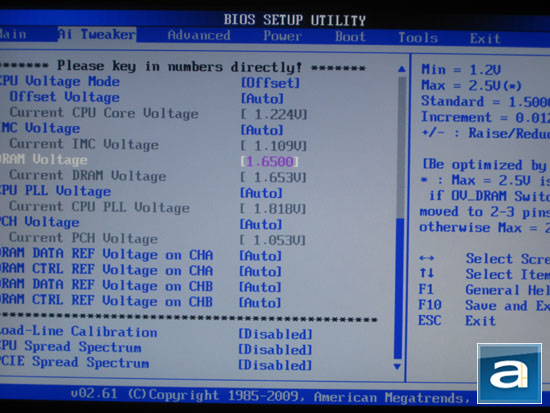 Voltages can be adjusted by simply scrolling down on the same screen. CPU, IMC, CPU PLL, and PCH voltage settings can all be adjusted here -- again, you can simply enter desired values directly for maximum convenience and speed. Often times, I find it extremely annoying taking half a minute to go through a long list of voltages every single time just to find the desired value. The Asus P7P55D-E Premium's well designed BIOS in conjunction with excellent voltage regulation hardware allow CPU and IMC voltage adjustments accurate to 0.00625V increments in absolute voltage adjustment, as well as offset voltage control for maximum flexibility. The maximum DRAM voltage is 2.0V. The text color of the entered value will reflect whether your voltage setting is within standard safe operating limits. Blue means you are good, purple indicates warning, and red means your limit is kinda... high.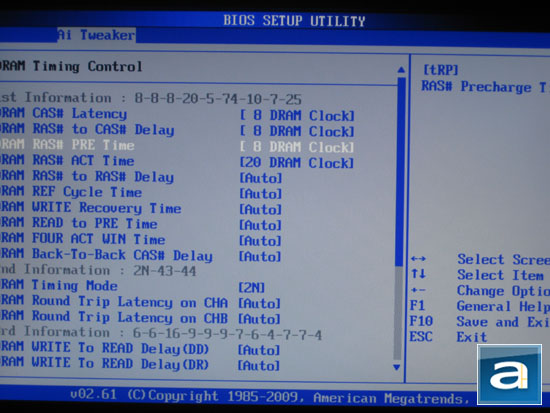 The memory configuration screen can be accessed from the Ai Tweaker tab. Default values that are programmed into the modules are listed across the top, while settings can be adjusted by bringing up a list of permissible settings by the user. It's certainly nothing out of the ordinary as far as timing options are concerned.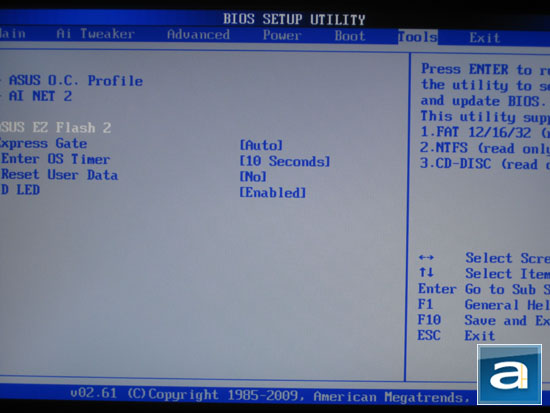 The Tools tab carries the usual array of options that users would expect in a high end Asus enthusiast motherboard. Features such as Asus' O.C. Profile permit the user to save and restore their overclock settings, and underneath it are configuration options for the Express Gate onboard Linux. You can set its timeout on boot, disable it completely, or reset it back to default settings.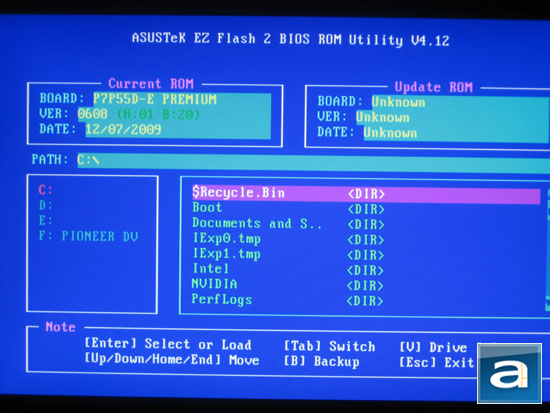 As usual with Asus motherboards, the Asus P7P55D-E Premium features Asus' EZ Flash BIOS update utility. This allows flashing without a floppy or the problems of Windows utility flashing. It has no problems accessing all drives on my computer, as well as going through its subdirectories. Since our Asus P7P55D-E Premium is already equipped with BIOS revision 0608 (The latest BIOS revision at the time of writing this review), there was no need for updates in this area. However, we must note that the BIOS chip on the Asus P7P55D-E Premium, as with all of Asus' current generation motherboards, is actually soldered onto the motherboard, and not a socketed unit, meaning the chip is not self-replaceable. The P7P55D-E Premium does feature the company's CrashFree BIOS 3 to allow users to restore corrupted BIOS data from an USB flash drive. Personally, I am not sure how well this works out, since thankfully I never had any BIOS flash problems with my Asus motherboards.
---
Page Index
1.
Introduction, Features, and Specifications
2. Bundle, Chipset, BIOS
3.
A Closer Look, Board Layout, Test System
4.
Benchmark: EVEREST CPU
5.
Benchmark: EVEREST FPU
6.
Benchmark: EVEREST Memory
7.
Benchmark: PCMark Vantage
8.
Benchmark: 3DMark06 Professional
9.
Benchmark: PassMark PerformanceTest 7.0
10.
Benchmark: SuperPI 1M, Cinebench R10
11.
Onboard Sound (RMAA 6.2.3) Analyzation
12.
Asus Express Gate Onboard Linux
13.
Overclocking and Conclusion