By: Jonathan Kwan
February 18, 2010
Intel's Lynnfield based Core i5 and Core i7 processors are implemented on quite an interesting platform. Although AMD has used integrated memory controllers on their processors for years, it wasn't until recently that Intel started implementing such controllers to replace their legacy Front Side Bus design on their budget Nehalem products. But Intel did not stop there, and actually took it a step further. In addition to the integrated dual channel memory controller, Intel has also moved features such as the Direct Media Interface chip to chip link and PCI Express controller to the CPU itself. Because most of the features that formerly resided on the Northbridge are now moved onto the processor, it has practically eliminated the need for having both a Northbridge and Southbridge on the motherboard. Additionally, as the chipset now does significantly less than it did before, Intel has resolved to call the P55 chipset a Platform Controller Hub, abbreviated as PCH. The Gigabyte GA-P55A-UD6 is one such example of a motherboard designed with Intel's new budget oriented Platform Controller Hub. Combined with USB 3.0 and SATA 6Gb/s, how does it step up in the world of being an high end P55 motherboard from the motherboard giant? (By the way, the "A" in the P55A-UD6 name, like the rest of the Gigabyte motherboard line, symbolizes that it has USB 3.0 and SATA 6Gb/s -- its close brethren, the P55-UD6, is pretty much the same motherboard, but without USB 3.0 and SATA 6Gb/s.) Read on to find out -- and to make things more interesting, we even got some benchmarks against the ASUS P7P55D-E Premium, another P55 high end motherboard of Gigabyte's main rival!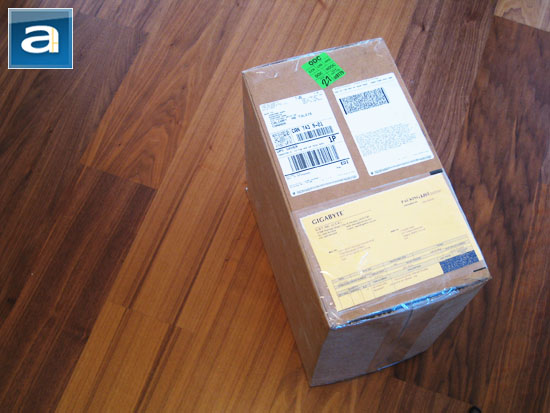 Our review unit of the Gigabyte GA-P55A-UD6 motherboard came in a medium sized, corrugated brown cardboard box from Gigabyte's offices in City of Industry, California, USA. Using FedEx International Economy, the package was handled well as always -- and with the abundance of packing peanuts used for protection, everything arrived in excellent condition to our doorstep.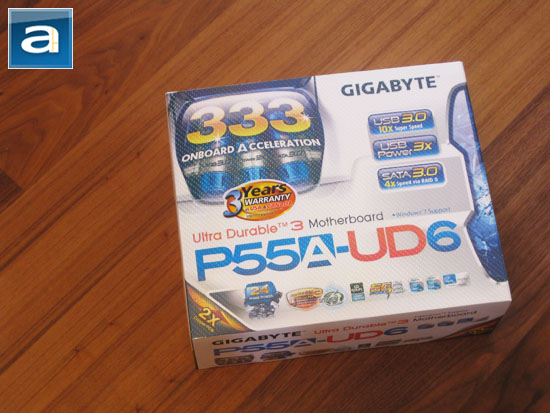 While Gigabyte refreshed their motherboard retail box design color scheme, the company has largely retained its excellent style and organization we have seen in the past. The white background is complimented by a constant matrix of mini-reflectors for a shiny, glittering look, combined with the abundance of eye catching graphics that makes it a particularly interesting and exciting retail box design. At first look, the branding is clear with Gigabyte's logo at the top right corner, and the model name "P55A-UD6" printed boldly across the center of the package. Accentuating its USB 3.0, 3x USB power, and SATA 3.0 features is shown in Gigabyte's popular repeated numbering slogan -- this time written as '333' in the rocket image near the upper left corner. Meanwhile, an array of icons are placed at the bottom to highlight its features such as the 24 phase power design, Ultra Durable 3, Smart 6, Dolby Home Theater, and SATA 3.0. At the end of the icon array are Core i7, Core i5, and Intel P55 chipset logos. Further elaboration of feature highlights are located at the inside flap behind the front, as well as the back of the box -- again with tons of colorful graphics, diagrams, and graphs. The inside flap, held closed by two Velcro buttons, overlays a large window opening, so the consumer can take a physical look at the motherboard itself, even without opening the package.
Before we move on, let's take a look at the specifications of Gigabyte's GA-P55A-UD6 motherboard, as obtained from the manufacturer's website: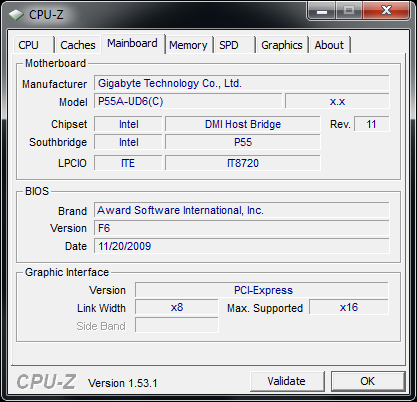 CPU-Z screenshot of the motherboard tab. At the time of benchmarking, we were using Gigabyte's F6 BIOS revision. The latest BIOS revision at press time for the P55A-UD6 is revision F7, available for download at Gigabyte's website to improve memory compatibility.
---
Page Index
1. Introduction, Features, and Specifications
2.
Bundle, Chipset, BIOS
3.
A Closer Look, Board Layout, Test System
4.
Benchmark: EVEREST CPU
5.
Benchmark: EVEREST FPU
6.
Benchmark: EVEREST Memory
7.
Benchmark: PCMark Vantage
8.
Benchmark: 3DMark06 Professional
9.
Benchmark: PassMark PerformanceTest 7.0
10.
Benchmark: SuperPI 1M, Cinebench R10
11.
Onboard Sound (RMAA 6.2.3) Analyzation
12.
Overclocking and Conclusion