Page 12 - Overclocking and Conclusion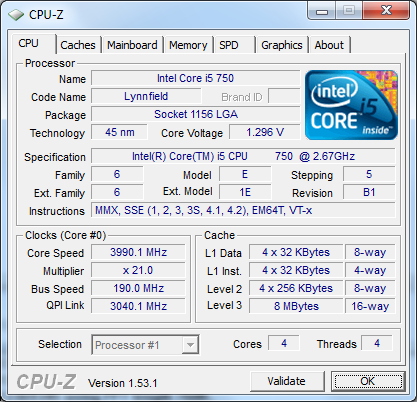 The highest raw overclock I was able to attain using the Gigabyte GA-P55A-UD6 motherboard with my Intel Core i5-750 processor is 3.99GHz; that's with the base clock set to 190MHz with 21x multiplier. Prime95 was run on all four cores for an extended period of time to ensure full stability. That's quite an impressive overclock in my opinion -- a 50% increase over stock on a Nehalem based quad core processor delivers simply incredible performance, and the Gigabyte GA-P55A-UD6 had no issues delivering stable power to the CPU.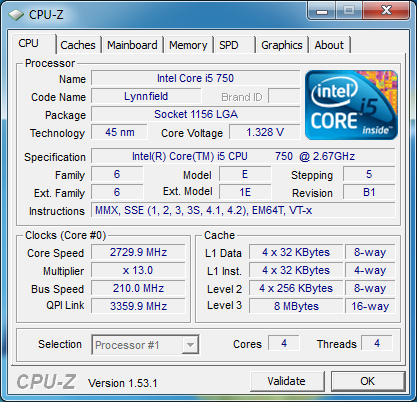 My second round of overclocking involved an attempt to attain the highest base clock frequency, with all other limiting variables minimized. As you can see in our CPU-Z screenshot above, the highest CPU BCLK I was able to achieve with my Core i5-750 is 210MHz -- not bad at all. I was able to go a little higher, but the computer soon became Prime95 unstable. It wouldn't load Windows with BCLK set to 220MHz in the BIOS. Generally speaking, 210MHz is not bad at all!
-----------------------------------------
The Gigabyte GA-P55A-UD6 is a very well rounded motherboard! Despite the fact that it consistent came a hair behind the Asus P7P55D-E Premium in majority of our benchmarks, the difference is very little -- a lot of emphasis on the 'very' -- the differences could simply come down to BIOS and driver optimizations. It is also important to note that despite they are both high end P55 motherboards from their respective manufacturers, the Gigabyte retails for $249 at press time, while the Asus commands a price of $279 USD. That said, Gigabyte continues to produce motherboards with excellent, high quality electrical components and implementation. The physical layout is generally commendable, and Gigabyte offers a generous and innovative array of connectors at the back. While they are at it, the motherboard giant also made excellent refinements to the details, such as its high power availability USB ports. There are certain component placements that could be placed elsewhere in a better location for improved cabling, but in all honesty, things like PATA and floppy in 2010 isn't really a huge deal anymore, haha. Objective sound quality results according to our tests are also very good. However, competitors such as Asus already offers integrated sound with full 24-bit/192kHz for both input and output that delivers equally as excellent RMAA results, the Realtek ALC889 codec used on the P55A-UD6 is really beginning to show its age. With regards to overclocking, the results turned out great in both maximum clock speed and maximum base clock with our Intel Core i5-750 processor. Gigabyte's Motherboard Intelligent Tweaker in the BIOS is clearly aimed at the enthusiast, and their latest revision made the overclocking experience significantly better than the past. Combined with the latest in communication ports such as SATA 6Gb/s and USB 3.0, the Gigabyte GA-P55A-UD6 certainly won't disappoint if you are looking for a high quality, full featured enthusiast LGA1156 motherboard!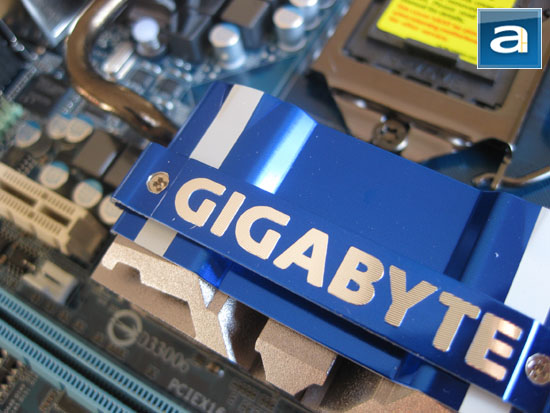 Special thanks to Angela over at Gigabyte for making this review possible.
Starting from April 30, 2007, Number Ratings have been dropped for all CPU, motherboards, RAM, and graphics cards. This is to ensure the most appropriate ratings reflected without the limits of using numbers. Everything else will continue using the Number Rating System.
More information in our Review Focus.
The Gigabyte GA-P55A-UD6 is a well designed, full featured, and all round commendable P55 motherboard -- now with USB 3.0 and SATA 6Gb/s.
Do you have any comments or questions about the Gigabyte GA-P55A-UD6? Drop by our Forums. Registration is free, and it only takes a minute!
---
Page Index
1.
Introduction, Features, and Specifications
2.
Bundle, Chipset, BIOS
3.
A Closer Look, Board Layout, Test System
4.
Benchmark: EVEREST CPU
5.
Benchmark: EVEREST FPU
6.
Benchmark: EVERSET Memory
7.
Benchmark: PCMark Vantage
8.
Benchmark: 3DMark06 Professional
9.
Benchmark: PassMark PerformanceTest 7.0
10.
Benchmark: SuperPI 1M, Cinebench R10
11.
Onboard Sound (RMAA 6.2.3) Analyzation
12. Overclocking and Conclusion